When the Broad announced a new special exhibition last week, it came with the news that Yayoi Kusama's overwhelmingly popular Infinity Mirrored Room would stay up through at least next spring. Well, rejoice, museum selfie lovers, because even more mirrored marvels are on their way.
Next fall, the Broad will host Yayoi Kusama: Infinity Mirrors, a traveling exhibition dedicated entirely to the Japanese artist's immersive Infinity Mirror Rooms. The exhibition will include six rooms as well as more than 60 paintings, sculptures and works on paper from the 87-year-old-artist.
To answer the most pressing question: What will happen to the museum's existing first-floor Infinity Mirrored Room? It's not part of the touring show, so the first-come, first-served installation will stay open for free until mid-October 2017. It will then become part of the Kusama paid special exhibition, which it will remain part of through early January 2018.
The roughly chronological exhibit will begin with Infinity Mirror Room — Phalli's Field, 1965/2016, a field full of hundreds of red-spotted phallic tubers in a mirror-lined room.
Yayoi Kusama, Infinity Mirror Room—Phalli's Field, 1965. Photograph: Courtesy Ota Fine Arts, Tokyo/Singapore; Victoria Miro, London; David Zwirner, N.Y.; © Yayoi Kusama
Moving onward, you'll encounter Infinity Mirror Room — Love Forever, 1966/1994, a hexagonal flashing chamber that viewers can peer into; Dots Obsession — Love Transformed into Dots, 2009, a domed mirror room with inflatables suspended from the ceiling; Aftermath of Obliteration of Eternity, 2009, a starfield-like installation similar to the Broad's current Kusama, albeit with hanging lanterns instead of LED lights; and All the Eternal Love I Have for the Pumpkins, 2016, which features dozens of her bright yellow, dotted pumpkins. The exhibition wraps up with the participatory installation The Obliteration Room, 2002, an all-white domestic setting that invites visitors to cover every surface with multicolored polka dot stickers.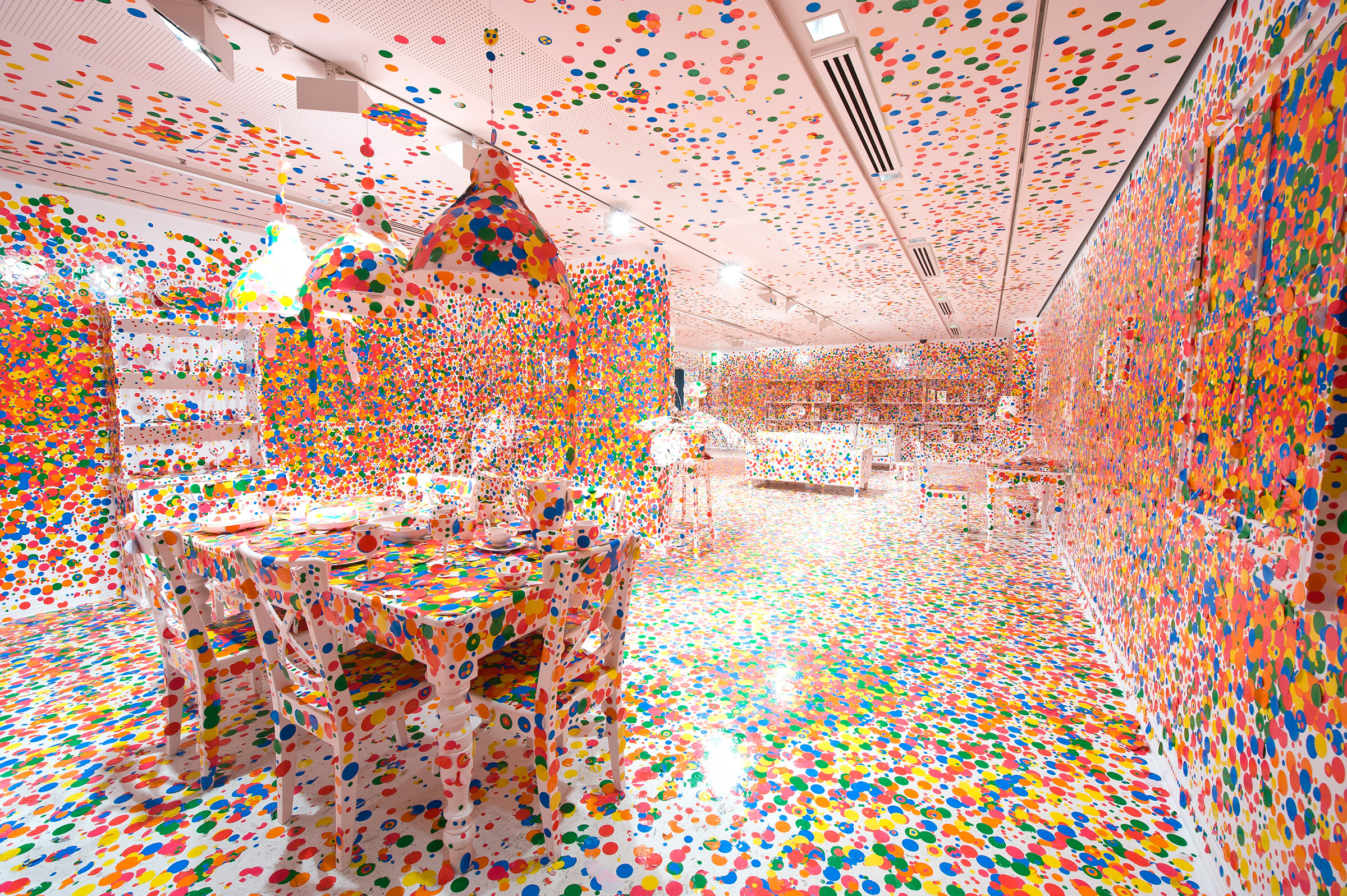 Yayoi Kusama, The Obliteration Room, 2002. Photograph: Courtesy QAGOMA, © Yayoi Kusama
Like the current Cindy Sherman exhibition, Yayoi Kusama: Infinity Mirrors will be a paid exhibition and include access to the rest of the otherwise free museum. The exhibition will make its debut at its organizing institution, Smithsonian's Hirshhorn Museum and Sculpture Garden on February 23, 2017, before traveling to the Seattle Art Museum (June 30-Sep 10 2017), the Broad (Oct 2017-Jan 2018), the Art Gallery of Ontario (March-May 2018) and the Cleveland Museum of Art (July-Oct 2018). Exact dates and ticketing information for its stop at the Broad will be released closer to the exhibition.