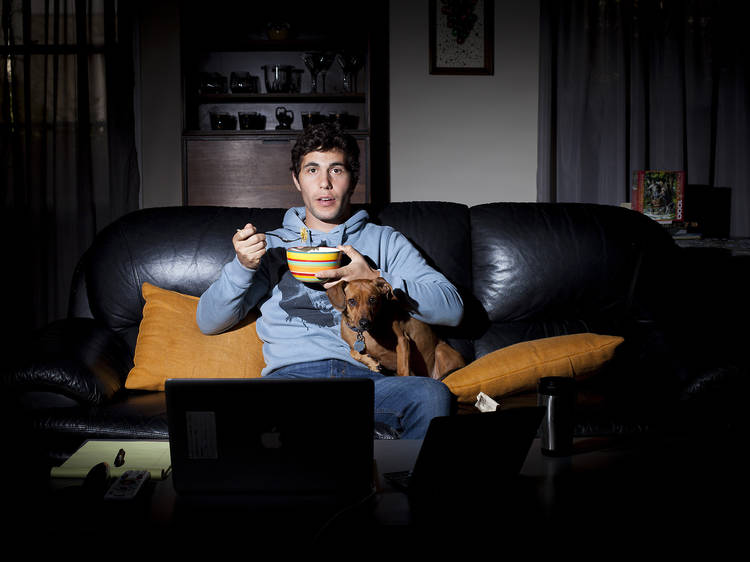 Photograph: Jakob N. Layman
Chris Smith is a guy you always knew would make it because he's LA's version of a triple threat: He's funny, he can act and he's a looker. CBS's highly promoted fall sitcom, We Are Men has already been canceled, but Smith left a lasting impression as the likable straight character Carter, the innocent in a sea of agendas, who is suddenly single for the first time since freshman year of college. Even though his image—jumping into a pool between Tony Shalhoub and Jerry O'Connell—was plastered all over LA, he says he's most frequently recognized as a member of the eight-years running sketch group Harvard Sailing Team. The award-winning, nine-member ensemble is known for executing high-concept ideas with nimble precision and, frequently, choreography. One of their best sketches is nothing more than a series of greetings at a cocktail party, but the repetition of the greeting—an awkward pelvic motion followed by an exaggerated vertical clap, which is never explained—builds in a hilarious momentum. Also a member of HST is Smith's wife Rebecca Delgado Smith, a successful actor herself, who's been with him since college.
Time Out Los Angeles: As a long-term-relationship guy, could you relate to your character on We Are Men?
Chris Smith: I totally got that. If I were newly single, I'd not know what to do, or how to date. I've been with Rebecca for ten and a half years now.
Time Out Los Angeles: That was before texting!
Chris Smith: I wonder how we communicated. I think I just called her on my Nokia? I don't know how I wooed her, but it was probably a lot of talking face-to-face, which was nice because she has a good face.
Time Out Los Angeles: Has it been difficult to both be actors?
Chris Smith: I don't know any other way, but I feel lucky to have a partner. We help each other with emails and auditions. And we're able to vent about the stresses, the things you can't control. We lean on each other. It's made me feel more in control of this really unpredictable path.
Time Out Los Angeles: You have the least Google-able name. Do you have a Google alert?
Chris Smith: No. Never. There are just so many Chris Smiths. But I want to be the best Chris Smith—not only that I can be, but that others can be.
Catch Smith in Enough Said, in theaters now, and in CBS' We Are Men. Stay tuned to HarvardSailingTeam.com for performance dates of a new live revue currently in the works, and for a release date of the group's forthcoming Above Average channel.
Follow Smith @smithchris and @HSTsketchcomedy