Academy Awards 2013: Our Oscar picks
Steadfast commanders in chief, secret CIA missions and a sexy, mentally unstable ballroom dancer: We predict this year's Oscars winners.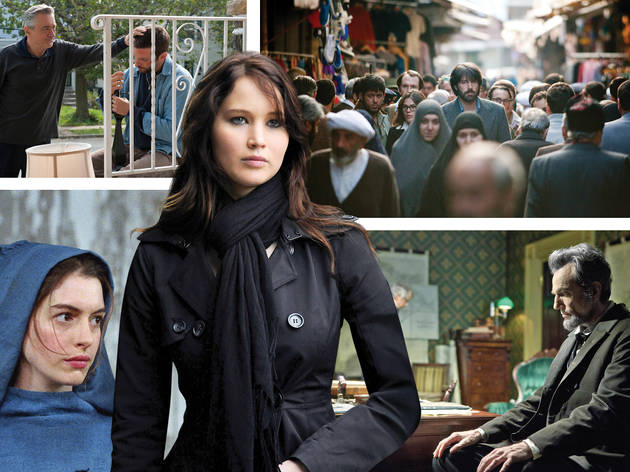 BEST PICTURE
Even though nine titles still feels like four too many, it's hardly a bad batch, ranging from director-driven quirk (Django Unchained) to satisfying Hollywood gush (Les Misérables).
Who will win: Argo continues to accrue momentum, less for audacity than likability. Having heroic movie producers in it doesn't hurt.
Who should win: The total command of Lincoln is breathtaking; Spielberg really earned it this time.
Who ought to be at the table: Richard Linklater's black comedy Bernie said more about America than any other film from 2012.

BEST DIRECTOR
Had Argo's Ben Affleck not been inexplicably shut out, this category would have been his to lose; with the Golden Globe–to-BAFTA winner out of the running, it's anybody's game.
Who will win: Well, not really anybody's game: Given Steven Spielberg's restrained (for him) yet majestic work on Lincoln, only an executive order could keep his name from being called.
Who should win: Spielberg's ability to both pay tribute to a great leader and make a wonky All the 16th President's Men–style political drama is nothing if not Oscar-worthy.
Who ought to be at the table: Sorry, Academy, but the fact that neither Zero Dark Thirty's Kathryn Bigelow nor The Master's Paul Thomas Anderson is nominated is a freakin' crime.

BEST ACTOR
An alcoholic pilot, two guys with anger issues and a man who can't stop singing haven't a snowball's chance against the POTUS.
Who will win: Lincoln's Daniel Day-Lewis will be the only President since FDR to win a third term…at the Oscar podium.
Who should win: Day-Lewis—few actors have brought a historical figure to life as vividly and memorably.
Who ought to be at the table: Matthew McConaughey's career-redefining work as Killer Joe's seductive psycho should have been honored.

BEST ACTRESS
The year's most evenly matched race includes both the oldest nominee in Oscar history, Amour's Emmanuelle Riva (85), and its youngest, Beasts of the Southern Wild's Quvenzhané Wallis (9).
Who will win: As Silver Linings Playbook's prickly love interest, Jennifer Lawrence mines unspoken complexity from a difficult part.
Who should win: While we admire Jessica Chastain's ferocity in Zero Dark Thirty, Lawrence is worthiest.
Who ought to be at the table: Where's The Deep Blue Sea's romantic Rachel Weisz?

BEST SUPPORTING ACTOR
Every one of the nominees is a previous winner, and pre-Oscar awards haven't offered up the usual indicators. This is by far the toughest category to call this year.
Who will win: Tough, but not impossible: After Robert De Niro's emotional display in that recent Katie Couric interview, we'd be surprised if on-the-fence voters weren't swayed toward honoring his Silver Linings Playbook turn.
Who should win: We admire De Niro's complex portrayal of a damaged-goods dad; we love Philip Seymour Hoffman's cracked-charlatan-cum-spiritual-guru in The Master.
Who ought to be at the table: How Matthew McConaughey (him again!) didn't score a nod for his stellar portrayal of a sleazy strip-club boss in Magic Mike leaves us mystified.

BEST SUPPORTING ACTRESS
You've got three spouses and a sex surrogate (hawt!). But there's little doubt that the poor prostitute who dreams a dream will wipe the floor with her competition.
Who will win: Anne Hathaway stopped the show as Les Misérables' tragic Fantine—
this is the kind of go-for-broke work Oscar loves to reward.
Who should win: As Lincoln's shrewd Mary Todd, Sally Field shows who really wore the pants in the first family.
Who ought to be at the table: Zero Dark Thirty's Jennifer Ehle took a token best-friend role and gave it all kinds of tender and tenacious shades.

The 85th Annual Academy Awards airs Sun 24 at 7pm EST on ABC.