The best Christmas 2014 film events in LA
We've rounded up the best classic and quirky films playing this holiday season, from family-friendly flicks to stop-motion animation and more.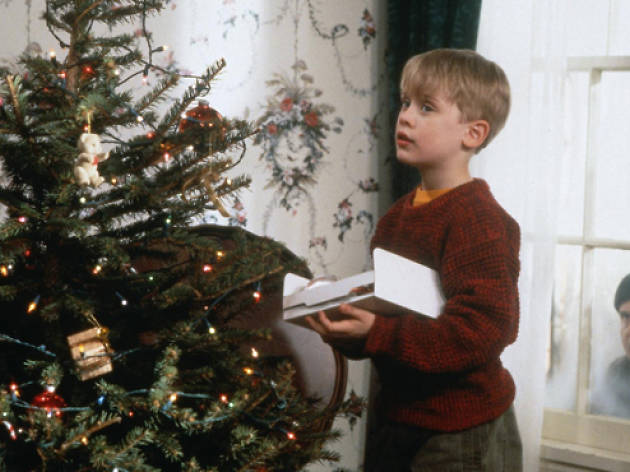 If you rely on snowfall to get you in the Christmas spirit, you're obviously stuck outta luck in LA. Instead, let Hollywood do the work—get ready for Christmas with these classic holiday movies screening all over the city. Whether you're looking for old-school musicals, stop-motion animated reindeer or some classic Macaulay Culkin hijinks, there's something for everyone in our round-up of the best classic holiday films screening this December. Rather stay home in your slippers sipping eggnog? We get it. Scroll down to see our best movie recommendations for every mood—no need to leave the fireside. Enjoy!
RECOMMENDED: See more Christmas in LA

VIP: $25 (kids & adults) General 13+: $20 Children 12 and under: $16
Read more
Scrooged—the 1988 comedy modernization of Charles Dickens' A Christmas Carol—stars Bill Murray as mean television executive Frank Cross, a.k.a. Ebenezer Scrooge, who gets haunted by three spirits on Christmas Eve. See the strange take on Dickens from the warmth of your car at the Electric Dusk Drive-In. If you don't think it's funny, you might need to make another batch of eggnog. Bah, humbug!
Read more
Because nothing says "Merry Christmas" like child neglect and terrorizing young'uns. Home Alone is an odd sort of holiday classic, but you can't help but love it. Plus, it's genuinely funny—it was written by John Hughes, fresh off of finishing Ferris Bueller. Add a particularly cute Macaulay Culkin, a John Candy cameo and Chris Columbus' direction, and you get a reliable '90s blockbuster. LA Conservancy is hosting this special holiday matinee inside downtown's classic Orpheum Theatre.
Read more
VIP: $25 (kids & adults) General 13+: $20 Children 12 and under: $16
Read more
There's nothing like watching a green, furry Jim Carrey find the true meaning of Christmas to get us in the holiday spirit. This December, amp up your movie-going experience on the big screen without sacrificing the comfort of your couch. Make your way to Westwood's iPic Theater for a premium viewing of this Christmas classic while sipping on a little liquid happiness and indulging in upscale bites. Kick your feet up in the reclining chairs (gasp!) and enjoy a traditional flick in a not-so-traditional theater. Let's get fancy for the holidays, people.
Read more
Watch the dreamy holiday favorite in an equally dreamy venue at Westwood's luxurious iPic Theater. Treat yourself to a glass of wine while watching Bing Cosby and Danny Kaye dance and sing their way into your hearts—who knows, you could even get a little sing-along going.
Read more
Tim Burton's heart warming fairytale is just the sort of offbeat Christmas movie to lend some relief from the overplayed seasonal classics. And to make things even more interesting, Cinespia is presenting the film in gorgeous 35mm at the Palace Theater, with holiday cocktails from Temple Bar Concepts in the upstairs lounge, live DJs and a photo booth to capture you in your festive holiday attire (which is strongly encouraged).
Read more
Don't let that wide-eyed, furry creature fool you—with simple three broken rules, that Furby-esque ball of sunshine turns into an impish nightmare (multiplying, turning into a hellish goblin, and terrorizing the streets of Kingston Falls). This 1984 sci-fi black comedy is celebrating its' 30th year (yes, we feel old too) with a midnight screening at West LA's Nuart Theatre.
Read more
Not all Christmas movies have the effect of grandma's warm hug—in fact, some may have you saying, "Ho, Ho, HELL NO!" Watch as the so-called holy, silent night quickly transpires into a silent, deadly night and slashes all your jolly holiday spirit. Basically, if you're having Halloween withdrawals, this movie will satisfy all your blood curdling horror movie desires.
Read more
Show more
If you'd rather watch movies at home...