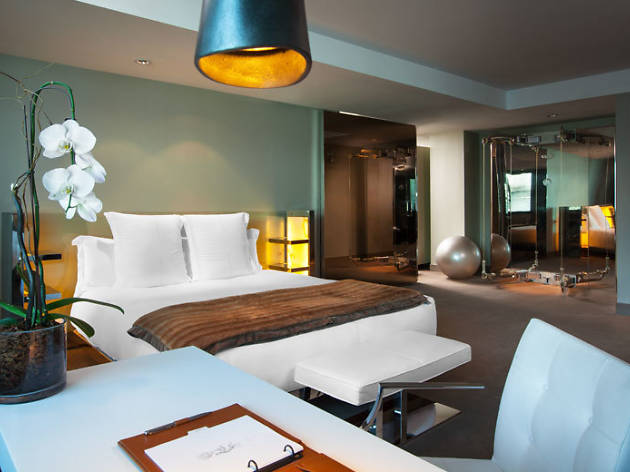 Time Out says
Split into two buildings, this pleasure palace claims well-heeled travelers from all corners of the globe seeking a bit of fun. From the rooftop pool, where cabanas and skimpy bikinis reign supreme, to the molecular gastronomic thrills of José Andres' Bazaar restaurant, it's non-stop thrills at this whimsical Philippe Starck-designed hotel.
SLS feels like a small boutique hotel, but the concept—founded by nightlife impresario Sam Nazarian—has been replicated in other high-profile cities like Miami and Las Vegas. Hence, the point of SLS (which stands for "Style, Luxury, Service") is to feel intimate and entrancing, while actually catering to a high volume of diners and drop-ins. Suites come with terraces and balconies, there are free-standing tubs in the bathrooms, and the fabulous on-site Ciel Spa supplies all of the bath amenities. But we haven't even gotten to the most pertinent aspect of the hotel: its otherworldly design. Philippe Starck was called in to animate the interiors, and the results are… hard to ignore. Aside from the ubiquitous mirrors, which populate every surface of the guest rooms (this may or may not be your idea of fun), there are whimsical touches like metallic-print furniture and pool tables placed in the middle of hallways. While Starck's oversaturated, erratic style can border on the heavy-handed, it also means that there's a high economy of space. No matter where you wander, there's always a cozily arranged nook to sit down with a cocktail and admire all the shiny ornaments.
Location: Despite the name, this hotel sits on the eastern border of Beverly Hills, on the border with mid-city and Melrose. Despite not being directly on Rodeo Drive, it's walking distance from the Beverly shopping center, and just a few blocks from popular weekend hangout the Grove—so shoppers need not wander far.
Nearby:
LACMA: A 20-minute walk east of the hotel, L.A.'s premier venue for cutting-edge contemporary art makes for a fun day trip.
The Grove: On a lazy Saturday morning, this upscale open-air shopping center is the place to be. Despite all the big-name brands occupying retails space, the gourmet-minded Original Farmers Market (open every day) is this landmark's crowning feature.
Urth Caffe: Walk a mile from the hotel to get to this beloved lunch and breakfast spot, part of a small local chain. The fair-trade coffee, boba tea and matcha-ccinos are worth the trip alone, but the frequent celeb sightings will be of interest to out-of-towners.
Greystone Manor: The 10,000 square foot space, a 15-minute drive from SLS, offers a tantalizing pairing: cocktails and aerialists. The interiors here are just as elaborate as at the hotel (makes sense, as they're owned by the same company), so this over-the-top nightlife venue pairs well with the SLS experience.
Good for: Spa lovers, bon vivants, fitness freaks, foodies—basically anyone who likes to live well will feel at home here. The hedonist vibe extends omnidirectionally, from the decadent, whimsical tapas plates at José Andres' Bazaar restaurant, to the spa, which in addition to the usual hot stone massages adds on more rarefied offerings like hangover relief IV therapy ($235).
Amenities: pool, hot tub, sauna, room service, free Wi-Fi, minibar, restaurant, bar, shop, gym, concierge, spa
Time Out tip: The allure of Beverly Hills is timeless, and while you're here you might wish to follow Julia Roberts' footsteps on the famed Rodeo Drive. No problem: the hotel offers complimentary car service to all guests traveling within 2 miles of the hotel, which works out great, as the designer label mecca sits just within the cut-off range.
Details