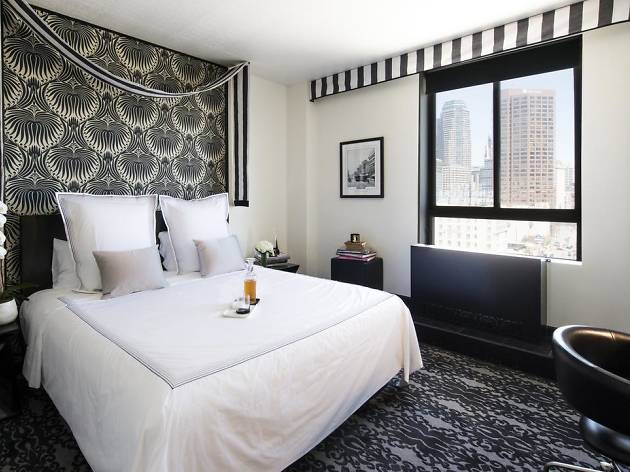 Created as the sister property to Hollywood's glamorous Roosevelt hotel, this 1926 gem stays faithful to its roots, with a roaring 20s-themed cocktail bar, plus live jazz, a cigar patio and a 3rd-floor pool deck. It's an inspired space for drinking, learning downtown LA lore, and, of course, sleeping.
Modeled after the grand European hotels of yore, this subtly elegant 15-story tower opened in 1926. That rich history (the hotel famously hosted the after-party for the first-ever Oscars award ceremony in 1929) and design is on view throughout the lavish lobby and rooms, which are all fresh from a top-to-bottom renovation in late 2017. First up: the rooms, which are done in playful, 1920-inspired black-and-white motif, with white orchids, pinstripe curtains and giant black-and-white maps of old LA installed over the beds. It's an old structure, so the bathrooms are small. Upgraded suites simply add space, but the amenities (free Wi-Fi, coffeemakers, media hubs with USB charging ports) remain consistent throughout all 295 rooms. A big focus for the remodel were the hotel's many dining outlets, which include a lobby lounge with iron lattice atrium and a vintage martini cart (it wheels right up to your table!), as well as Eve, an American bistro by Scott Cummings, winner of season 12 of Hell's Kitchen, plus a coffeeshop, live piano bar, and a pool deck with a cafe on the third floor.
Location: The 110 freeway splits downtown in two, and the Mayfair Hotel sits on the west side of it, but remains within easy walking distance of tons of restaurants and shopping outlets along 7th Street. It's close to the 7th Street/Metro Center station, and the Arts District is just a few avenues over.
Nearby:
Staples Center: Less than a mile from the hotel, this Downtown sports shrine is best known as home turf for the Lakers basketball team (as well as the Clippers basketball team, and the Kings hockey team), but it doubles as a 20,000-capacity arena for musical acts like Kanye West and U2.
Bottega Louie: One of the best places to score authentic French macarons in Los Angeles, this patisserie and lunch spot is a 16-minute walk from the hotel, and offers hand-tossed pizzas, signature Portabello fries, and a wide array of European pastries.
Spire 73: A 13-minute walk from the hotel, this is the tallest open-air hotel bar in America, and offers craft cocktails, lounge cabanas, and impressive views from (you guessed it) the 73rd floor.
Grand Hope Park: Dotted with fountains, picnic lawns, and bright pink benches, this bright oasis in the midst of dreary downtown LA proves the city has a sense of romance. Walk a mile from the hotel to enjoy frequent in-park performances and other community events.
Good for: Cocktail nerds will have plenty to explore in the hotel's three distinct lobby bar spaces, while flapper girl wannabes will relish the hotel's playful nods to its roaring 20s past.
Amenities: pool, room service, free Wi-Fi, minibar, restaurant, bar, concierge
Time Out tip: After so many nights falling asleep to your favorite podcast, the thought must have crossed your mind: what if I made my own podcast? Well, you can here. This might be the only hotel in LA (or the world?) to house its own podcast recording studio—prepare for your glittering hour or storytelling brilliance by researching in the lobby library.
Venue name:
The Mayfair Hotel
Contact:
Address:
1256 West 7th Street
Los Angeles
90017

Price:
$115.00 to $209.00 per night
Do you own this business?
You may be interested in: