Everything you need to know about the LA Marathon 2020
Here's all you need for the LA Marathon: running songs, where to train, where to watch the race and photos from marathons past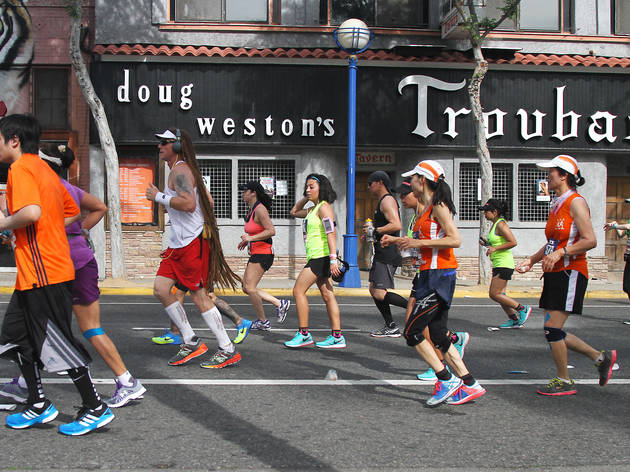 Every year, thousands of LA Marathon runners train for the 26.2-mile race that winds through the city from Dodger Stadium to Santa Monica. But the LA Marathon is way more than just the miles—it's about knowing where to train, having a solid playlist of running songs and having the support of spectators and the city behind you. Whether you're a runner or a spectator, here's our guide to SoCal's other parade (this one has way more Lycra than roses).
When is the LA Marathon?
This year's edition will be held on Sunday, March 8, 2020.
Where does the LA Marathon start and end? What does the route look like?
Runners start near Dodger Stadium and head down Sunset Boulevard to do a loop through Downtown L.A., back toward Echo Park and then once again onto Sunset, this time heading west. The route follows a combination of Hollywood, Santa Monica and San Vicente Boulevards before eventually crossing the finish line on Ocean Avenue in Santa Monica, just north of Wilshire Boulebard. Find more course map info here, plus more of our insight into the Los Angeles Marathon route.
What time does the LA Marathon start?
Early. Wheelchair racers are the first to cross the starting line at 6:30 am, followed by handcycles at 6:42am, elite women at 6:45am and elite men and the full field at 6:55am.
And when does it finish?
Expect the elite winners to cross the finish line just after 9am. The rest of the 20,000-plus finishers should trickle across the line between then and the 6 hour, 30 minute time limit.
Where to watch the LA Marathon
LA Marathon photos