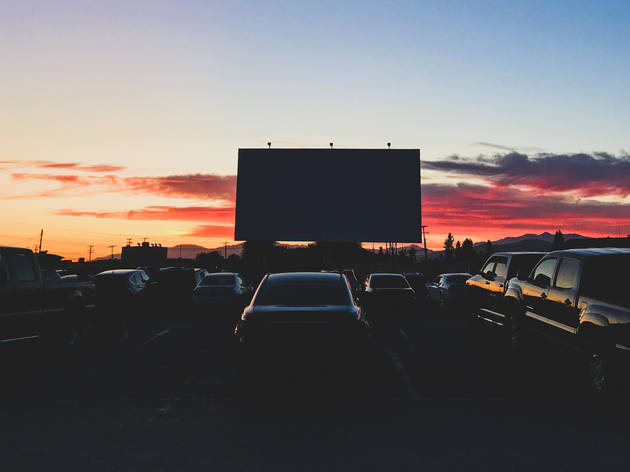 The best drive-in theater options in Southern California
There just is nothing quite like a drive-in theater. Lucky for us, Southern California still has several in operation.
Looking for a fun date idea? Travel back to a simpler time, when going to a movie was a major Friday night activity and most certainly enough to land you a second date. We're not talking about the ArcLight or AMC, or even some of the newer dine-in theaters that have popped up—we're talking about drive-in theaters. Yes, they still exist. In fact, there are a number of drive-in theater options in Southern California that have stayed true to those mid-century ways. Skip the romantic restaurant, pack a picnic or stock up at the snack bar, and enjoy a flick at one of these classic drive-in theater locations. Enjoy your movie!
Drive-ins in Los Angeles have been allowed to resume their screenings—with some adjustments—and almost all of the nearby theaters have reopened. Here's what you need to know.
These are the drive-ins near L.A. that are open right now
View this post on Instagram
Located just outside the L.A. County line in Montclair, this tiki-themed drive-in theater was the only one near L.A. in operation during the time of mass shutdowns last spring. Mission Tiki is showing double features nightly on four screens, with a mix of the few existing current releases and recent classics like Knives Out.
There are three important rules you need to know, though: You may not park your vehicle within 10 feet of another vehicle, you must view the movie from within your vehicle and you must practice social distancing at all times.
Tickets are only available in-person at the drive-in, so do prepared to wait in a line of cars, especially on weekends.
One of the only drive-ins located within L.A. County, this Paramount spot also has some now-familiar social distancing guidelines: You need to stay in your car, at least 9 feet from other vehicles (the drive-in will operate at half capacity); face covers and social distancing will be enforced; and bathrooms will operate at half capacity. Though tickets are currently only available at the box office, the Paramount Drive-In Theatre says it's working on an online ticketing system.
This two-screen drive-in theater, which opened in 1952, is once again screening films nightly—mostly new-ish release with the occasional cult favorite thrown in. The theater operators discourage anyone not feeling well from attending, but for everyone else they have a few rules, including staying in your vehicle, leaving an open space between cars and wearing a mask (particularly for trips to the bathroom or snack bar). Vineland also encourages credit card transactions; if you're paying with cash, they suggest bringing exact change.
This mid-century South Bay swap meet hasn't consistently screened movies since the '80s, but the drive-in experience comes alive on most Friday nights with some old favorites. Like other drive-ins, you'll need to remain in your car and wear a mask any time you leave it, be it to sit in your truck's flatbed, go to the bathroom or get a snack. But unlike other spots, the Roadium lets you book tickets online.
Somewhere between a parking lot pop-up and a bona fide drive-in, this new spot is showing first-run flicks at the former Sears in Santa Monica (302 Colorado Avenue). Expect a single movie to screen exclusively for a couple of weeks (starting with Minari in February) with picks pulled from a mix of buzzworthy indies and big-budget blockbusters (the rest of the announced lineup so far includes Nomadland, Raya and the Last Dragon and Godzilla vs. Kong. In addition, you can preorder meals from Mendocino Farms or Tocaya Organica up to the morning of your showtime, or pick up concession snacks during the screening.
A sibling spot to the Mission Tiki, this Riverside staple has a similar setup and set of restrictions: You must watch the movie from your car, and you can only leave it to visit the bathroom or the snack bar (where you'll need to wear a mask and practice social distancing).
This drive-in in Riverside is once again screening new releases on its three screens. The theater is operating at half occupancy, and you'll need to remain in your car during the film. You can venture over to the snack bar, but concessions are to-go only (and you'll need to stay six feet back from the person ahead of you in line). And maybe think twice about gulping down a big soda: The restrooms are also open at half capacity.
West Wind is a family-owned and operated drive-in theater company with multiple locations, but Santa Barbara is its only Southern California location. If you're venturing out there, here's what you need to know: You'll need to stay in your car at all times, except to use the restroom (which is operating at a limited capacity and requires that you wear a face covering). West Wind also asks that you don't park within 10 feet of another car.
Looking for more drive-in screenings?
This summer is all about the (pop-up) drive-in.