All of LA's outdoor movies in one calendar
Summer is finally here, and that means all the outdoor movies are here, too. And here, in this calendar!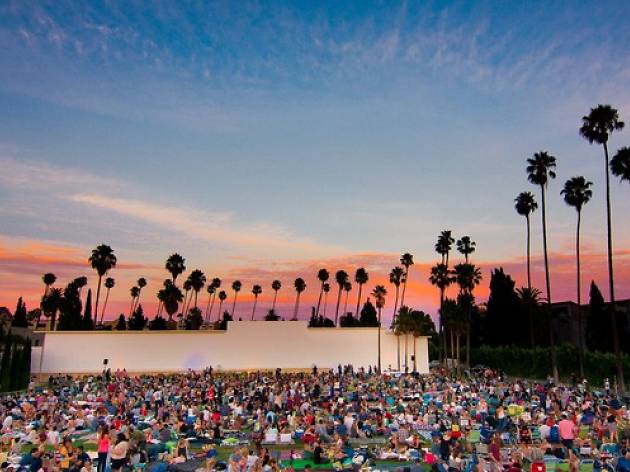 Outdoor movies combine two obvious things about LA and the people who live here: we're really into film and we love being outside, whether it's for working out, hitting the beach or dining rooftop. Makes sense, right? This summer, add outdoor movies to your list of budget-friendly things to do in LA. Here's your guide to the best spots to watch al fresco screenings of classics and new releases under the stars, for all ages. Be sure to check back for updates on the list—seems like at least one or two new outdoor movie series pops up every summer.
RECOMMENDED: Full guide to things to do in the summer in Los Angeles
Sunday May 1, 6pm: Rooftop Film Club presents The Breakfast Club at the Montalbán

Monday May 2, 6pm: Rooftop Film Club presents The Big Short at the Montalbán

Tuesday May 3, 6pm: Rooftop Film Club presents Breakfast at Tiffany's at the Montalbán

Wednesday May 4, 6pm: Rooftop Film Club presents Blade Runner at the Montalbán

Friday May 6, 6pm: Rooftop Film Club presents Dazed and Confused at the Montalbán

Saturday May 7, 6pm: Rooftop Film Club presents The Godfather at the Montalbán

Saturday May 7, 5:30pm: Eat|See|Hear presents Dirty Dancing at Santa Monica High School Amphitheatre, with musical guest Summer Twins

Saturday May 7, 8:30pm: Street Food Cinema presents Romeo + Juliet at Exposition Park

Tuesday May 10, 6pm: Rooftop Film Club presents 10 Things I Hate About You at the Montalbán

Wednesday May 11, 6pm: Rooftop Film Club presents Lock, Stock and Two Smoking Barrels at the Montalbán

Thursday May 12, 6pm: Rooftop Film Club presents Spotlight at the Montalbán

Friday May 13, 6pm: Rooftop Film Club presents Top Gun at the Montalbán

Saturday May 14, 6pm: Rooftop Film Club presents Pyscho at the Montalbán
Saturday May 14, 5:30pm: Eat|See|Hear presents The Princess Bride at Santa Monica High School Amphitheatre, with musical guest Mothlight

Saturday May 14, 7pm: Cinespia presents Fast Times at Ridgemont High at Hollywood Forever Cemetery

Saturday May 14, 8:30pm: Street Food Cinema presents Almost Famous at Exposition Park

Saturday May 14, 8:30pm: Street Food Cinema presents Raiders of the Lost Ark at Victory Park Recreation Center

Tuesday May 17, 6pm: Rooftop Film Club presents Casablanca at the Montalbán

Wednesday May 18, 6pm: Rooftop Film Club presents E.T.: Extra Terrestrial at the Montalbán

Thursday May 19, 6pm: Rooftop Film Club presents Mulholland Drive at the Montalbán

Friday May 20, 6pm: Rooftop Film Club presents Jurassic Park at the Montalbán

Saturday May 21, 6pm: Rooftop Film Club presents Pulp Fiction at the Montalbán
Saturday May 21, 5:30pm: Eat|See|Hear presents Labyrinth at Centennial Square at Pasadena City Hall, with musical guest Faulkner

Saturday May 21, 7pm: Cinespia presents The Silence of the Lambs at Hollywood Forever Cemetery

Saturday May 21, 8:30pm: Street Food Cinema presents Toy Story at Griffith Park

Saturday May 21, 8:30pm: Street Food Cinema presents Mean Girls at Syd Kronenthal Park

Saturday May 21, 8:30pm: Street Food Cinema presents Back to the Future at Westchester Park

Tuesday May 24, 6pm: Rooftop Film Club presents Roman Holiday at the Montalbán

Wednesday May 25, 6pm: Rooftop Film Club presents Trumbo at the Montalbán

Thursday May 26, 6pm: Rooftop Film Club presents Beetlejuice at the Montalbán

Friday May 27, 6pm: Rooftop Film Club presents Creed at the Montalbán

Saturday May 28, 6pm: Rooftop Film Club presents Lost Boys at the Montalbán
Saturday May 28, 5:30pm: Eat|See|Hear presents The Big Lebowski at the Autry Museum in Griffith Park, with musical guest Opus Orange

Saturday May 28, 7pm: Cinespia presents Singin' in the Rain at Hollywood Forever Cemetery

Saturday May 28, 8:30pm: Street Food Cinema presents Hook at Will Rogers State Historic Park

Saturday May 28, 8:30pm: Street Food Cinema presents Space Jam at Victory Park Recreation Center

Sunday May 29, 7pm: Cinespia presents E.T. the Extra Terrestrial at Hollywood Forever Cemetery

Tuesday May 31, 6pm: Rooftop Film Club presents Amelie at the Montalbán


Wednesday June 1, 8pm: Rooftop Film Club presents Spice World at the Montalbán

Thursday June 2, 8pm: Rooftop Film Club presents Trainspotting at the Montalbán

Friday June 3, 8pm: Rooftop Film Club presents Pulp Fiction at the Montalbán

Saturday June 4, 8pm: Rooftop Film Club presents Titanic at the Montalbán

Saturday June 4, 5:30pm: Eat|See|Hear presents Ferris Bueller's Day Off at North Hollywood Recreation Center, with musical guest Jaime Wyatt & the Bang Bangs

Saturday June 4, 8:30pm: Cinespia presents Mean Girls at Hollywood Forever Cemetery

Saturday June 4, 8:30pm: Street Food Cinema presents Superbad at Westchester Park

Saturday June 4, 8:30pm: Street Food Cinema presents Labyrinth at Glendale Central Park

Saturday June 4, 8:30pm: Street Food Cinema presents Dirty Dancing at Poinsettia Recreation Center

Tuesday June 7, 8pm: Rooftop Film Club presents Hail, Caesar! at the Montalbán

Wednesday June 8, 8pm: Rooftop Film Club presents Psycho at the Montalbán

Thursday June 9, 8pm: Rooftop Film Club presents The Goonies at the Montalbán

Friday June 10, 8pm: Rooftop Film Club presents Fast Times at Ridgemont High at the Montalbán

Saturday June 11, 8pm: Rooftop Film Club presents The Godfather at the Montalbán
Saturday June 11, 5:30pm: Eat|See|Hear presents Jurassic Park at the North Hollywood Recreation Center, with musical guest Night Lights

Saturday June 11, 8:30pm: Cinespia presents To Catch A Thief at Hollywood Forever Cemetery

Saturday June 11, 8:30pm: Street Food Cinema presents Monsters, Inc. at Griffith Park

Saturday June 11, 8:30pm: Street Food Cinema presents Jaws at King Gillette Ranch

Tuesday June 14, 8pm: Rooftop Film Club presents Clueless at the Montalbán

Wednesday June 15, 8pm: Rooftop Film Club presents Stripes at the Montalbán

Thursday June 16, 8pm: Rooftop Film Club presents Deadpool at the Montalbán

Friday June 17, 8pm: Rooftop Film Club presents Straight Outta Compton at the Montalbán

Saturday June 18, 8pm: Rooftop Film Club presents Top Gun at the Montalbán

Saturday June 18, 5:30pm: Eat|See|Hear presents Trainwreck at Santa Monica High School Amphitheatre, with musical guest Sleeping Wolf

Saturday June 18, 8:30pm: Cinespia presents Goodfellas at Hollywood Forever Cemetery

Saturday June 18, 8:30pm: Street Food Cinema presents Do The Right Thing at Exposition Park

Saturday June 18, 8:30pm: Street Food Cinema presents The Sandlot at Verdugo Park

Saturday June 18, 8:30pm: Street Food Cinema presents Indiana Jones and the Last Crusade at Syd Kronenthal Park

Tuesday June 21, 8pm: Rooftop Film Club presents 500 Days of Summer at the Montalbán

Wednesday June 22, 8pm: Rooftop Film Club presents Pan's Labyrinth at the Montalbán

Thursday June 23, 8pm: Rooftop Film Club presents Dirty Dancing at the Montalbán

Thursday June 23, 8pm: Silver Lake Picture Show presents Raiders of the Lost Ark at Sunset Triangle

Friday June 24, 8pm: Rooftop Film Club presents Interstellar at the Montalbán

Saturday June 25, 8pm: Rooftop Film Club presents Raiders of the Lost Ark at the Montalbán
Saturday June 25, 5:30pm: Eat|See|Hear presents Dazed and Confused at the Autry Museum in Griffith Park, with musical guest Maszer

Saturday June 25, 8:30pm: Cinespia presents Raising Arizona at Hollywood Forever Cemetery

Saturday June 25, 8:30pm: Street Food Cinema presents Some Like It Hot at Will Rogers State Historic Park

Saturday June 25, 8:30pm: Street Food Cinema presents Pitch Perfect at Victory Park Recreation Center

Tuesday June 28, 8pm: Rooftop Film Club presents The Notebook at the Montalbán

Wednesday June 29, 8pm: Rooftop Film Club presents Harold & Maude at the Montalbán

Thursday June 30, 8pm: Rooftop Film Club presents Less Than Zero at the Montalbán

Saturday July 2, 8:30pm: Cinespia presents Purple Rain at Hollywood Forever Cemetery

Saturday July 2, 5:30pm: Eat|See|Hear presents Coming to America at the Autry Museum in Griffith Park
Saturday July 9, 5:30pm: Eat|See|Hear presents John Waters' Hairspray at Santa Monica High School Amphitheatre
Saturday July 16, 5:30pm: Eat|See|Hear presents North by Northwest at the Autry Museum in Griffith Park, with musical guest Paper Pilots
Saturday July 23, 5:30pm: Eat|See|Hear presents 500 Days of Summer at Centennial Square at Pasadena City Hall, with musical guest Dutch Party
Saturday July 30, 5:30pm: Eat|See|Hear presents Trainspotting at the Autry Museum in Griffith Park, with musical guest Naomi