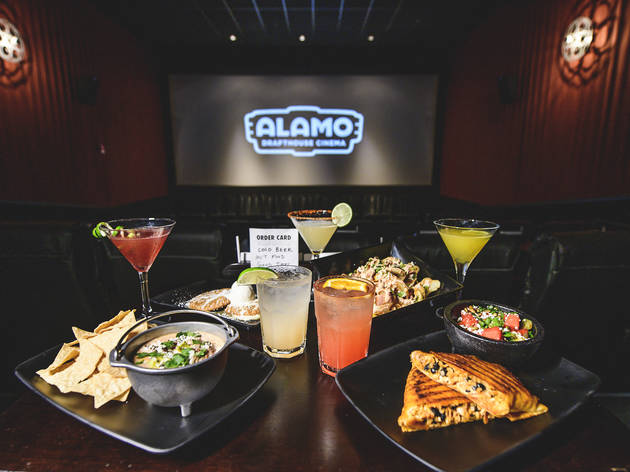 The best dine-in movie theater options in Los Angeles
Upgrade your stale popcorn and flat fountain drinks for a gourmet cinematic experience at one of the best dine-in movie theaters in L.A.
Movie theater snacks are great, but being able to order a full meal (plus alcohol!) certainly sweetens the deal. The dine-in movie theater concept has become the crème de la crème of movie-watching experiences, with servers at your beck and call so you don't have to miss a scene. The cushy reclining seats don't hurt either.
As the film capital of the world, Los Angeles isn't hurting for places to catch a movie—there are plenty of traditional theaters and outdoor movie options—but for a premium experience, dine-in movie theaters are the way to go. With an average theater ticket costing about $25, this will be a spendy night out. Though depending on the theater, sometimes there are added perks like free popcorn thrown in.
Dine-in theaters tend to be more well-kempt (no more sticky floors!), and there's less people jammed in thanks to the walking aisles situated between rows for servers to effectively deliver concessions. Don't fret about missing your favorite movie theater snacks like Milk Duds, Twizzlers and overly buttery popcorn – those are all still available. The hard part will be trying to stay awake in the darkness of the theater, with a full belly, while fully reclined to a prone position. Luckily an action-packed thriller or endearing romantic comedy on the big screen will help keep you engaged.
Next time you're planning dinner out, enjoy it with a blockbuster film at one of L.A.'s best dine-in theater spots.
Dine-in theater options in L.A.