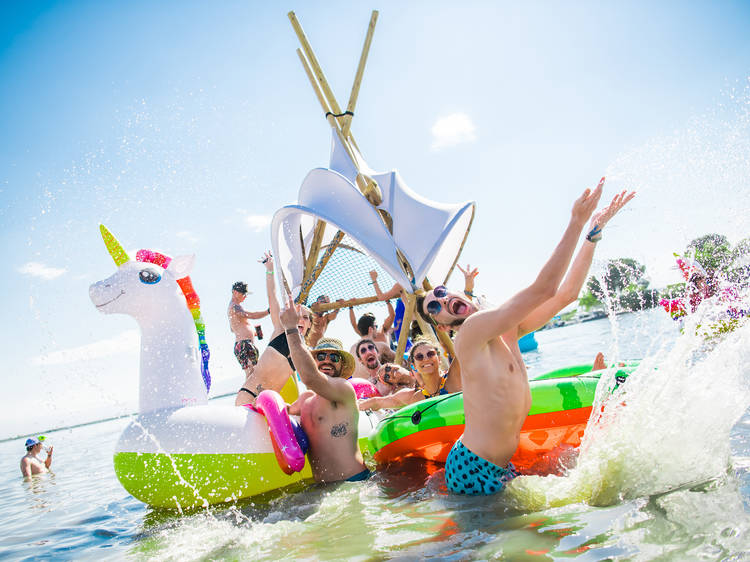 Photograph: Courtesy Jess Bernstein
Here's what it's like to attend Lightning in a Bottle
The sun rises on Lightning in a Bottle, a five-day extravaganza combining music acts, culture talks and holistic programming—all set against the sweet scenes of Buena Vista Lake in Kern County.
This is not Coachella, and it's definitely not trying to be. At Lightning in a Bottle, you'll forget all about your cell phone and dig down into your spiritual consciousness, but without the same deep-in-the-Nevada-desert, "Kumbaya" sort of commitment as Burning Man.
Festivalgoers are awake at their campsites and getting ready for the day in expressive outfits like faux-fur jackets over a kaleidoscope of bralettes, bohemian harem pants and leather harnesses. Others are just sporting bathing suits for now, ready to recharge by the lake or hop from one extracurricular activity to another. Worried about showering at Lightning in a Bottle? Psst: Last year they were sponsored and stocked by the hippest soap brand, Dr. Bronner's.
Lightning in a Bottle encapsulates the thrill summer camp used to bring, only it's for adults who are here to party—and boost their well-being, too. Attendees can keep entertained all day with yoga, meditation, body healing (think: accupuncture), fermentation cooking lessons at the Learning Kitchen, sex lectures at the Beacon and abstract art classes at the Artclave. Others may wander the festival grounds to shop among vendors or hunt for an acai bowl or a crepe from the mostly vegan and vegetarian food trucks.
By late afternoon and long into the night, groups come back from their campsites ready to dance and boasting decked-out totems (stick-topping crafts used to keep groups together and strike up conversations, like just how much hot glue and bedazzling went into their creation). The energy shifts as each stage erupts with bass. The Thunder stage booms with low-end rowdiness thanks to acts like G Jones. Woogie is for techno and deep house devotees getting down to the likes of Damian Lazarus and Shiba San, and at Lightning, heavy-hitter headliners like Disclosure, Flying Lotus and Big Gigantic take the helm. Positive vibes persist across the dusty dance floors, and everything—including the crowd—smells like patchouli oil. Instead of sticking with their crew, people mingle around plenty with strangers, because that's the kind of neighborly ethos the festival sets.
LIB is also extremely green—maybe one of the greenest festivals in America. Yeah, their cups and cutlery are compostable, but there's an even bigger differentiator: Those who flock in to LIB also seem fully cognizant of their role there when it comes to leaving Buena Vista Lake how they found it—trash-free. At the end of each day when a stage's sets are over, a "clean up" song even plays, encouraging folks to dispose of fallen trash on their way out. Attendees are just as ready to get rowdy on new levels as they are to take personal responsibility towards environmental sustainability. (Yes, we're still talking about a music festival here.)
All in all, only a few hours outside of L.A. and a better bang for your buck than Coachella to get to let loose for five days straight, LIB is your gateway festival for those wanting to go off the grid, see a stacked lineup of music, pretend you're at sleepaway camp and get as weird as you'd like. This community will back you up.