Make Music Pasadena 2017 guide
Get your Make Music Pasadena 2017 info here, from this year's lineup to how to get to the free festival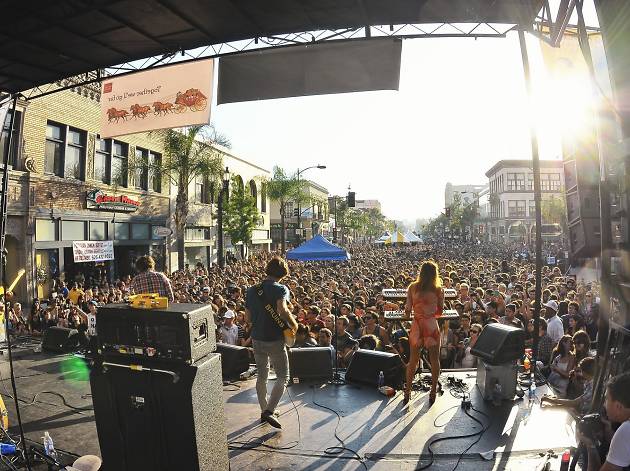 Every June, Pasadena's walkable downtown streets host Make Music Pasadena. The free, all-ages summer music festival manages to squeeze more than 150 concerts into a single day. While the lineup mostly features local up-and-coming talent, Make Music Pasadena always manages to nab a few indie darlings on the verge of hitting it big; past headliners include Best Coast, Cults, Grimes, Surfer Blood and Yacht. Before you make your way to the San Gabriel Valley, here's everything you need to know about Make Music Pasadena 2017.
When is Make Music Pasadena 2017?
Unfortunately, the festival has announced a hiatus this year. The festival will not take place in 2017, and its future is unknown. To find out more about the hiatus or to read the organizers' statement, click here.
What's the Make Music Pasadena 2017 lineup like?
There are no headliners this year due to the festival's hiatus.
Where exactly does it take place?
When the event takes place, the main stage is set up in the middle of Colorado Boulevard (between Raymond Avenue and Arroyo Parkway) in Old Pasadena, with three others only a few blocks away. Two other large stages are set up in the Playhouse District, along Coulevard Boulevard near both El Molino and Madison avenues. In addition, you'll find two dozen other supporting stages and pop-ups around town.
What's the best way to get there?
An estimated 50,000 people turn up each year for Make Music Pasadena. While Old Pasadena has plenty of parking garages—three in particular with 90 minutes free—they're already overcrowded on a typical Saturday. We highly suggest taking Metro instead; four of the main stages are within a few blocks of the Del Mar and Memorial Park Gold Line stations while two others sit within three-quarters of a mile from the Lake stop. In addition, Pasadena Transit buses offer free transportation between the otherwise walkable stages.
More things to do while you're in Pasadena