16 essential things to do in Pasadena
Whether you're looking to dine in Old Town Pasadena or tour the Gamble House, you'll want to make a stop at all of these things to do in Pasadena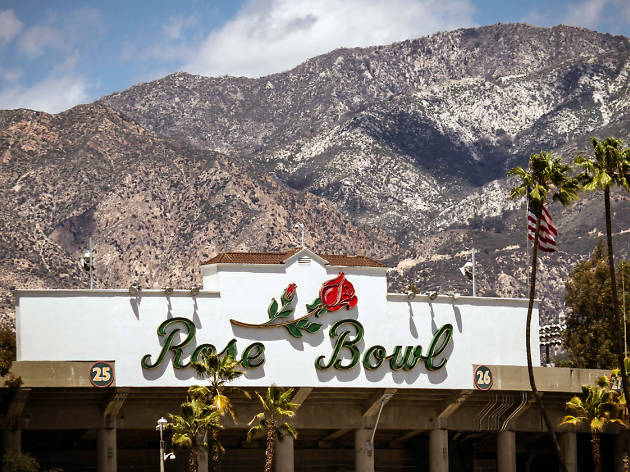 Pasadena will never be as bustling as Hollywood or as painfully trendy as the Eastside, but that's exactly what makes this city in the San Gabriel Valley so enjoyable. Set against the San Gabriel Mountains, the town packs in enough things to do without feeling either hectic or sleepy. You can go shopping along Colorado Boulevard, tour turn-of-the-century mansions and hike Echo Mountain, all within the space of an afternoon. Whether you're spending a day or an entire weekend here, you can't go wrong with these 16 essential things to do in Pasadena.
RECOMMENDED: More things to do in Pasadena
The best things to do in Pasadena
1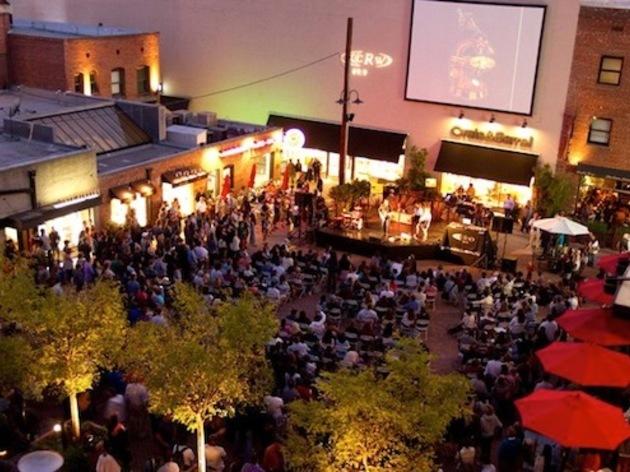 Photo courtesy One Colorado
Also known as Old Town, this classic downtown district is among Southern California's most walkable. Stroll along Colorado Boulevard—historic Route 66 and home of the Rose Parade—where you'll find shops, restaurants and bars housed in turn-of-the-century brick buildings. Duck into Miller Alley to explore the lovely courtyard at One Colorado and pop into Indiana Colony for a treat from Coolhaus or the Pie Hole. You can take the Gold Line to Memorial Park or Del Mar Station, where you can grab pizza and a drink at the Luggage Room.
The massive circular tower at the front of Pasadena City Hall sets the tone for what to expect from the rest of the city: wealth, beauty and an atypically (for SoCal, at least) well-preserved architectural history. You can spot its 206-foot-tall centerpiece, a series of arches and domes, from all over town but it's best appreciated up close. Walk through the rose-filled courtyard (where you'll surely come across a wedding photo shoot) to admire the Renaissance-inspired details on John Bakewell and Arthur Brown's 1927 construction. We'll always hold a special place for the building after it doubled as Pawnee City Hall in Parks and Recreation.
The Pasadena area nature park is one of the most accessible and easygoing trails where you'll truly feel like you've slipped into the wilderness. This waterfall hike isn't without its faults: crushing weekend crowds, defaced rocks, occasional litter. That said, it's one of the few spots in LA where you can follow the sound of running water through a forest.
Things to do, Cultural centers
This graceful house originally built for one of the heirs of the Procter & Gamble fortune remains one of the best examples of both the Arts and Crafts movement and Charles and Henry Greene's masterful handiwork. Programming at the Gamble House is exceptional; there are tours that focus on things like the art glass or the details and joinery in the house, as well as more casual events like Brown Bag Tuesday, when visitors bring their own picnic lunch to eat on the grounds, followed by a 20-minute tour.
Built in the '20s and revived in the '80s, this gracious 672-seat venue anchors the Playhouse District. The main space offers mostly new plays and musicals, while its Spanish Colonial courtyard hosts all sorts of neighborhood events, including food trucks and music every Thursday night during the summer.
Things to do, Event spaces
Built on top of the Arroyo Seco dry riverbed, this 90,000-seat stadium has been used for football tournaments, American Idol auditions, the Jay-Z/Beyonce tour and a yearly fireworks show every fourth of July. It is also, of course, home to the UCLA Bruins football team and the annual New Year's Day Rose Bowl Game. On the second Sunday of each month, the bowl is home to a stadium-sized flea market.
Just south of the Arroyo Seco's most famous tenant—the Rose Bowl—this 62-acre park provides a scenic green space for locals and out-of-towners alike. Set against the stunning San Gabriel Mountains, you'll find plenty of open space to run and play among the multipurpose sports fields, along with some shade near the pirate ship-themed playground. There's a proper fitness trail around the park, but you'll find many active visitors running and biking along a trail that flanks the entire east side of the park.
Things to do, Event spaces
The bequest of entrepreneur Henry E. Huntington is now one of the most enjoyable attractions in the Los Angeles region. Though technically it's just across the border in San Marino, we think of the Huntington as a Pasadena must-do. It's also not a destination that you should attempt to explore in full during a single day: between the art, the library holdings and the spreadeagled outdoor spaces, there's plenty to see, and most of it is best enjoyed at lingering leisure rather than as part of a mad day-long dash. From a Gutenberg Bible to an exquisitely landscaped Japanese garden, nearly every inch of the estate's ever-growing grounds and collection is essential.
The Norton Simon's Gehry-helmed makeover in the late 1990s raised the museum's profile, but it also helped to expand the range of the museum's collection, giving it more space and creating a calm, simple environment. The museum is still best known for its impressive collection of Old Masters, notably pieces by 17th-century Dutch painters such as Rembrandt, Brueghel and Frans Hals. The French impressionists are represented by, among others, Monet, Manet and Renoir. After you've checked out the temporary shows, head into the excellent sculpture garden.
This 210-adjacent rock in Pasadena is known for its craggy profile of Satan, naturally chiseled into an outcropping on the Arroyo Seco. Here are the only facts you need to know: Devil's Gate lent its name to a nearby dam and gated channel. But fall down the rabbit hole of paranormal enthusiast websites and you'll find a few common threads involving Aleister Crowley (infamous occultist), L. Ron Hubbard (infamous Scientologist) and Jack Parsons (infamous JPL co-founder), as well as mentions of Native American lore, "moonchild" rituals and the Seven Gates of Hell.
Things to do, Schools and universities
The California Institute of Technology, one of the world's preeminent science and engineering universities, sits on a picturesque 124-acre campus in Pasadena. In addition to housing some of the generation's finest minds, Caltech also offers the chance for laymen to attend musical performances and to stroll the historic grounds, laid out with the sort of obsessive organization you would expect from a bunch of rocket sicentists.
Things to do, Cultural centers
Robots in space—that's enough to sell us on this hillside NASA facility. It's the home of the Voyager probes and Mars rovers; you can catch scientists steering the Curiosity rover during the high in demand public tours. You'll also have a chance to see Voyager Space Flight Operations Facility and the Spacecraft Assembly Facility. If you can't find a tour reservation, be on the lookout for JPL's annual open house.
Attractions, Historic buildings and sites
There are plenty of buildings that evoke old Hollywood glamor, but nothing conjures an air of Gilded Age mystery and elegance quite like this former hotel in Pasadena. The original building in the three-part complex was demolished in the '30s, but the more impressive Moorish-meets-Victorian central annex still stands behind a curtain of lush gardens. The building offers two interior tours a year, but it's still worth walking by just to see its striking exterior.
Attractions, Historic buildings and sites
Formerly owned by chewing gum magnate William Wrigley, Jr., this grand old mansion is now home to the offices of the Tournament of Roses Parade. It's open for tours six months out of the year, and is worth a look as much for its stately gardens as for its handsome interior.
This Pasadena establishment has been a mainstay in the comedy scene since 1960. While its lineups are neither as edgy nor as hip as some of the LA clubs, it's an intimate, no-frills room that manages to pull in some big names (or at least, names that were once big).
16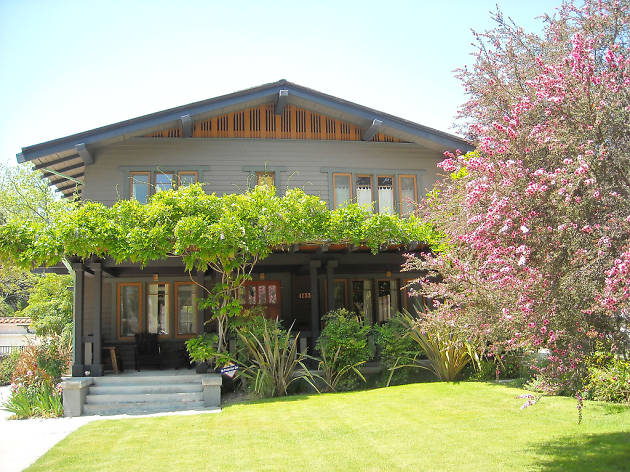 Photograph:
This singular, leafy and quiet neighborhood contains over 800 homes from the Arts and Crafts movement. Bordered by Orange Grove and Washington Boulevards and Lake and Hill Streets, the mostly intact bungalows are a showcase of the handmade craftsmanship that swept Pasadena in the early 20th century. Once a year, the district holds tours with docents set up throughout the neighborhood.