Where to hear folk music in Los Angeles
If you're looking to listen to some folk music in L.A., settle in for an evening at one of these intimate venues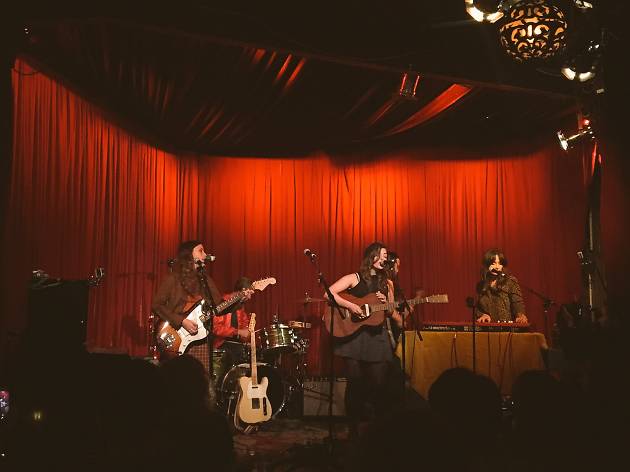 From Dust Bowl poets to modern day buskers, folk music has always found a place in L.A.'s music scene. As raucous as live music in Los Angeles can be, there's a whole scene of sophisticated songsmiths strumming acoustic yarns. Whether's it's a Santa Monica guitar shop or a storied West Hollywood club, here are the best places to listen to live folk music in Los Angeles.
7 places to hear folk music in L.A.
1
This 1,100-seat circular auditorium regularly hosts lectures for mathematicians and astrophysicists. But the temple-like theater and its golden tented ceiling is also home to Caltech's performing arts programs. Since 1981, the Pasadena Folk Music Society (formerly the Caltech Folk Music Society) has programmed monthly sets of acoustic music from around the world, with everything from bluegrass to nueva canción.
Book now
Read more
3
On most nights, Largo rounds up a consistently stellar stable of big-name comedy talent. But the 280-seat theater is still L.A.'s home for cultured, bankable singer-songwriters. Loudon Wainwright III, Robyn Hitchcock, Andrew Bird and Jenny Lewis have all swung by and, most notably, Jon Brion performs on a near-monthly basis.
Buy tickets
Read more
4
This storied club has a rich musical history: Randy Newman got his start here, and Elton John made his U.S. debut on its stage in 1970. It hasn't lapsed into irrelevance in the time since, often showcasing bands on the rise and—true to its name—acoustic guitar-toting troubadours. The sound is great and the views are decent from almost anywhere in the room—just stay out from under the balcony.
Book now
Read more
5
This intimate haven hosts local singer-songwriters, from incubating newbies such as folk-popper Meiko to veterans like Gus Black, as well as touring acts on the verge of hitting it big. When the place is packed—and it often is, especially when a celebrity takes the stage—sightlines aren't great, and the bar chatter sometimes overwhelms the music.
Buy tickets
Read more
7
Along with Tom Bergin's, Tam O'Shanter is one of those pubs that has been around forever (more than 90 years, in fact), and with good reason. Representing the Scottish tier of L.A.'s British pub scene, the Tam is the real deal, from the red phone booth outside to the grumpy old men drinking at the bar. On Thursday, Friday and Saturday nights, the Atwater Village spot hosts live music—typically traditional Celtic folk.
Book now
Read more
Looking for more live music?
Not necessarily interested in acoustic tunes? Here are more live music venues in L.A.
Read more