Angelenos already have a wealth of choice when it comes to fried chicken, but today, one of the country's biggest celebrity chefs is throwing his tenders into the ring.
Fuku, the fast-casual Asian-influenced fried chicken concept from Momofuku's David Chang, lands in a corner of Santa Monica's Gallery Food Hall at 11am; if you get lost trying to find it in the two-story food maze, just follow the lines for opening specials like $5 chicken sandwiches and $3 beers all day long, plus free tees and totes for the first 50 customers.
With outposts already in New York, Boston and a handful of stadiums across the country—including a recently-opened one at the L.A. Memorial Coliseum—Fuku's generally known for its tender, gratuitously seasoned fried chicken thighs smashed onto Martin's Potato Rolls. That distinction could change, considering the strength of the chain's new L.A.-only secret-menu items.
Of course, you can find the trademark, pickle-topped spicy fried chicken sandwich ($8) or go for white meat with a chicken tender sandwich ($7), or you can skip the buns completely and opt for tenders ($7.50), which come in a gluten-free standard set or an upgraded sweet-and-spicy gochujang glaze. But the real fun starts when you go off-roading.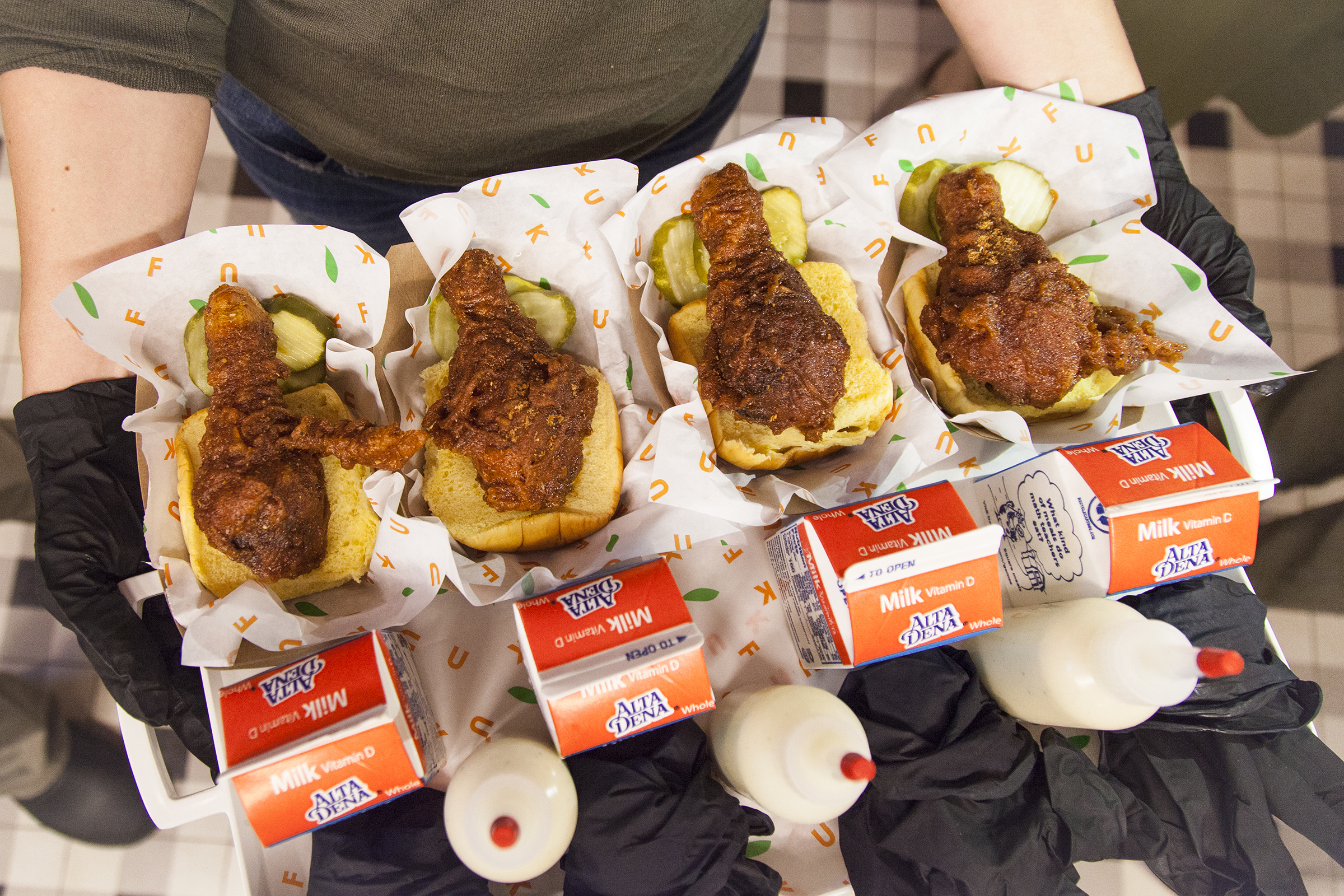 Just try the new Rippin' Hot chicken ($15): Fuku's off-menu hot chicken that's served cold and tastes searingly spicy. The team will only make 50 orders a day, and the leg-and-thigh plate comes with its own rubber gloves, potato bun, pickles, cooling ranch and a carton of milk to protect you. The chain conceived the make-it-more-than-a-few-bites-we-dare-you option to compete with L.A.'s onslaught of Nashville-style fried chicken, but Fuku's take doesn't gain its heat from a dousing of cayenne and paprika; instead, its rub gets packed with Carolina reapers, scorpion peppers, Szechuan peppercorn, cinnamon and fennel, among other spices.
Looking for something milder? There's also an off-menu $5 grilled American cheese sandwich—griddled, gooey and buttery, and also topped with pickles and served on a Martin's roll—and the usual Fuku sides: waffle fries dusted in a sweet jalapeño seasoning; seasonal options such as snow peas with horseradish and a crumbling of wasabi peas; and a dessert of layered, whipped cheesecake.
Wash it all down with Fuku's strawberry lemonade slushie or the yuzu lemonade or some $5 beers—or, you know, something from the food hall's beer wall or the adjacent wine bar, Adelaide. You're going to need something, anything, after that Rippin' Hot chicken.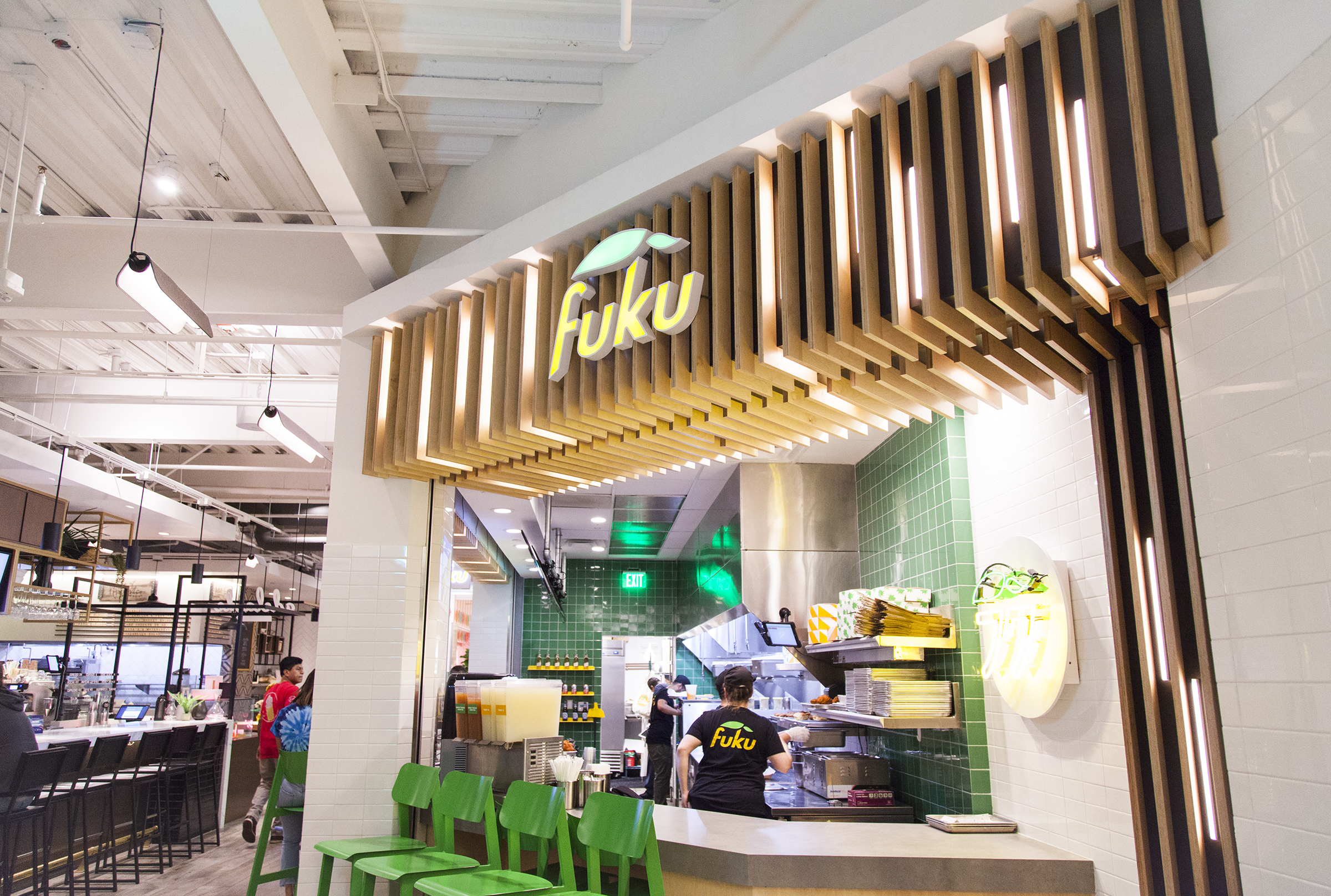 Santa Monica's Fuku outpost arrives via food incubator SOCIALEATS, which more or less runs the ground floor of the complex at 1315 3rd Street Promenade. Fuku opens today at 11am, running until 9pm in Gallery Food Hall.