Heads up! We're working hard to be accurate – but these are unusual times, so please always check before heading out.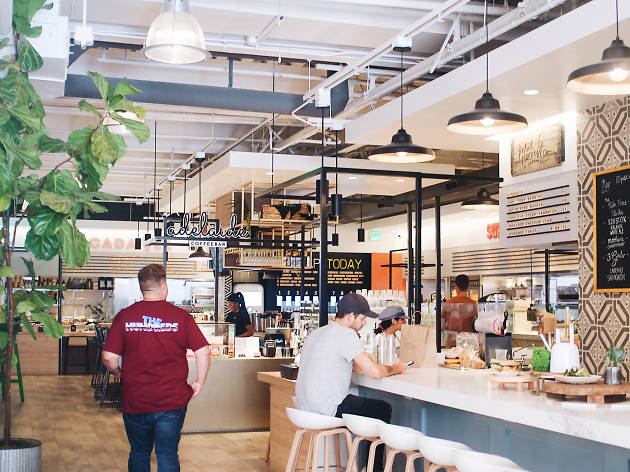 Here's everything you need to eat in Gallery Food Hall
Third Street Promenade's food hall is finally fleshed out, offering everything from a tasting menu to pan-fried noodles
For those of us who can't ever decide on what to eat, there's nothing quite like a food hall. Packed with vendors hawking dishes from all corners of the globe, the modern dining temple offers a little bit of everything—giving us a perfect opportunity to order the ultimate mix-and-match meal.
Santa Monica's Third Street Promenade has long been a destination for shopping, but now that its Gallery Food Hall is finally complete and buzzing with restaurants, the stretch has become a destination for dining, too. The two-story space—find it between Arizona Avenue and Santa Monica Boulevard—features one of the best tasting menus in the city, plus a wine bar, a noodle shop, Top Chef celebs and a sweets factory, and it's also the home of David Chang's chicken sandwich chain, Fuku.
But Gallery didn't do it alone: They teamed up with K2 Restaurants, who curated half of the site's vendors to create SOCIALEATS, the hall-within-a-hall that the group is calling its "food discovery platform." The result? More than 10 stalls with delectable menus under one roof. Before you make a visit and get caught up in the culinary whirlwind, check out our guide to Gallery Food Hall's best restaurants so you can plan your delicious, delicious attack.
Here's what to eat in Gallery Food Hall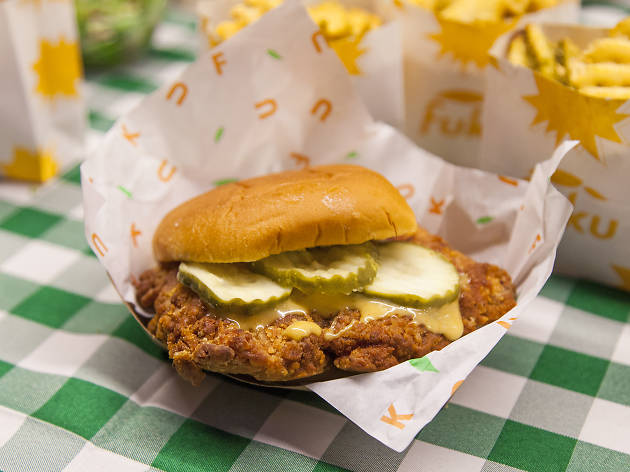 Photograph: Stephanie Breijo
David Chang's fast-casual fried chicken shop is finally here, filling a corner of the SOCIALEATS-heavy ground floor with chicken tenders, Asian-inspired sauces, fried-thigh sandwiches betwixt potato buns, and a few off-menu, L.A.-only items, to keep the West Coast hungry for more. There's a secret grilled cheese sandwich, rich with butter, but the real star is the off-menu hot chicken, served cold, which is some of the spiciest bird in all of Los Angeles—in fact it's so hot, it comes served with gloves and a carton of milk to cool you down.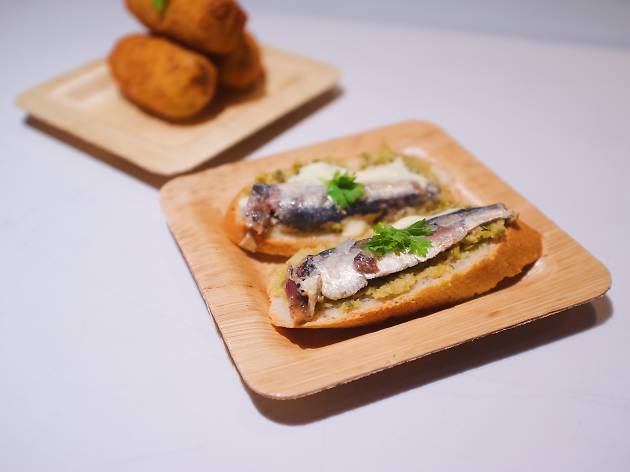 Photograph: Stephanie Breijo
Sure, the concept of tapas is everywhere now, but actual Spanish tapas in a food hall? Well, you can only find that in one place in L.A. SOCIALEATS's Cada Vez serves pintxos, tater tot bravas, croquettas, jamon plates and bacon-wrapped dates conveniently right next to the serve-yourself beer wall and Adelaide wine bar. And Cada Vez also serves its own selection of sherry, for an authentic taste of the Iberian Peninsula.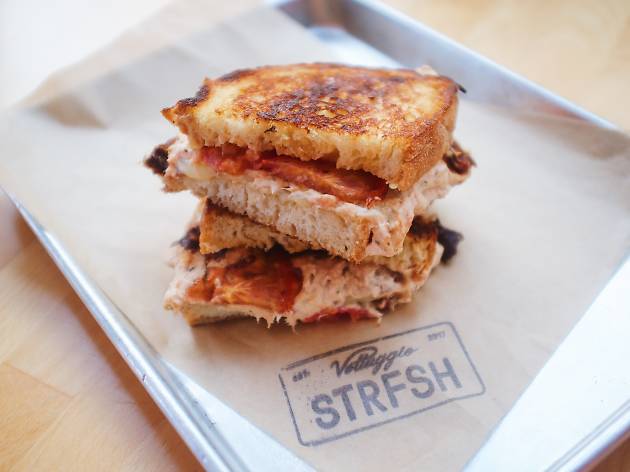 Photograph: Stephanie Breijo
Chef-brothers Michael and Bryan Voltaggio know how to please on the plate. The Top Chef celebs went on to open some of the country's most ambitious restaurants—including Michael Voltaggio's groundbreaking, now-shuttered L.A. spot, ink.—but in Santa Monica, they're keeping the focus on comfort food and the freshest fish you can find in a fast-casual setting. With an eye toward sustainable seafood, their joint venture, STRFSH, slings build-your-own sandwiches featuring the likes of swordfish and salmon, not to mention a killer smoked-trout melt. They've even got freshly shucked oysters and po'boys, and, for those not craving something from the sea, a Nashville-style hot chicken sandwich.
Photograph: Stephanie Breijo
David Lespron took a break from his busy schedule running the kitchens of Lono and the Corner Door to bring us a Pan-Asian street noodle spot. The Umbrella Hospitality Group chef teamed up with SOCIALEATS for this pan-fried station, where inspiration from late-night Asian food culture and California cuisine translates to pork-belly gyoza, udon cacio e pepe, farmers'-market–veggie yakisoba, and garlicky chicken dan dan noodles. Oh, and there's frozen beer and fresh coconut water, too, to help with all that spice.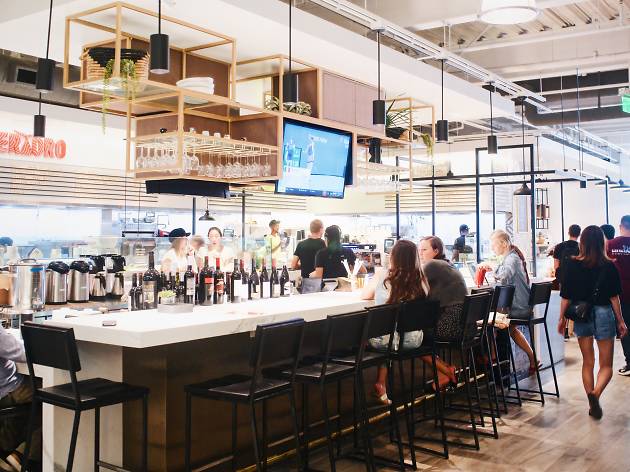 Photograph: Stephanie Breijo
The city's seen its fair share of Aussie cafés over the last few years, but an Aussie café that's also a wine bar? Well, those are more rare. At Adelaide, SOCIALEATS's gem at the heart of the ground floor, you'll find all the trappings of Australian coffee shops—artful flat whites, Bundaberg ginger beer and Vegemite on toast among them. In the afternoon you can find champagne, sparkling wines and red and white varitals both by the glass and bottle, most of which hail from New Zealand, the California Coast and, of course, the land of Oz.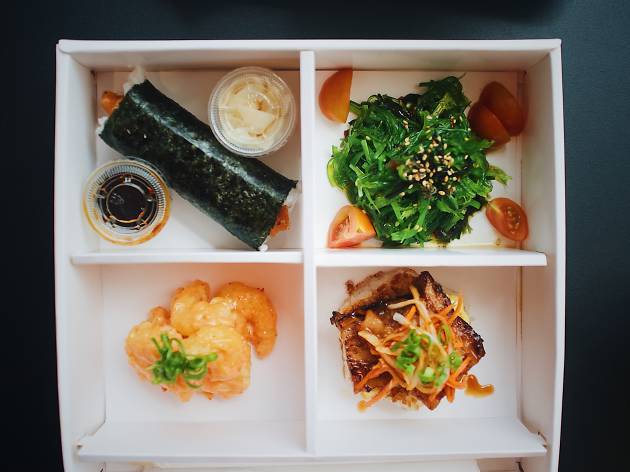 Photograph: Stephanie Breijo
For those who want it all, Supertoro's for you. SOCIALEATS's build-your-own bento format allows for a whole lot of mix and match, giving you four options across categories of crispy-rice patties, sushi rolls, greens and Japanese classics. There are traditional options such as spicy tuna, albacore, edamame, seaweed salad and salmon, with a few contemporary American offerings, too: seared pork belly, creamy spinach, mushroom hand rolls. Throw in some matcha tea and a range of sake, and you've got yourself a perfect office escape—especially considering the fact that some of that sake comes in 720ml bottles. Go on. Take a long lunch.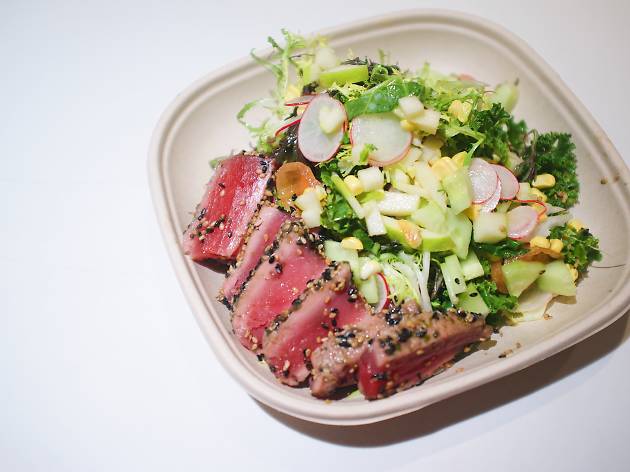 Photograph: Stephanie Breijo
Given the proximity to the Santa Monica Farmers Market, it's a no-brainer that Top Chef Masters star Graham Elliot opened a food stall that whips up produce-forward sandwiches, salads and other California fare all sourced from the nearby market. The SOCIALEATS concept slings the kind of dishes you crave on a hot day: watermenlon-and-feta salads, avocado toasts, za'atar-dusted sweet potato fries, ahi bánh mì sandwiches. Wash it all down with California wines, naturally.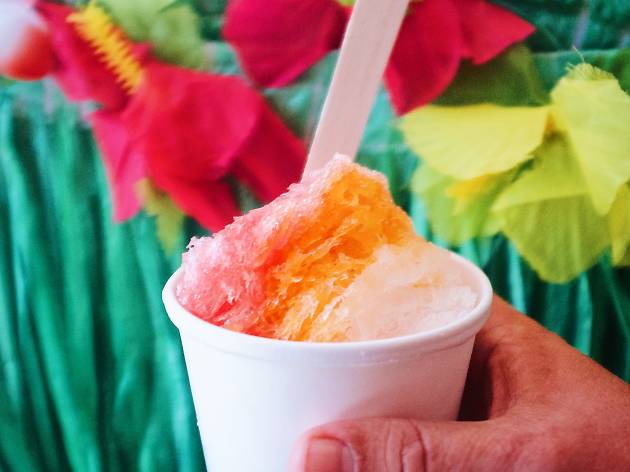 Photograph: Stephanie Breijo
The Promenade might be but a few blocks from the coast, but SOCIALEATS's shaved-ice pop-up brings the beach even closer. Kameo's little alcove serving the Hawaiian dessert is located right at the entrance to the food hall, and given the dozens of colorful syrup bottles to choose from, you can't miss it. Choose from syrups in flavors like lemongrass, coconut, orange cream and blue raspberry, layered solo or in a rainbow across freshly shaved ice for a refreshing and affordable treat.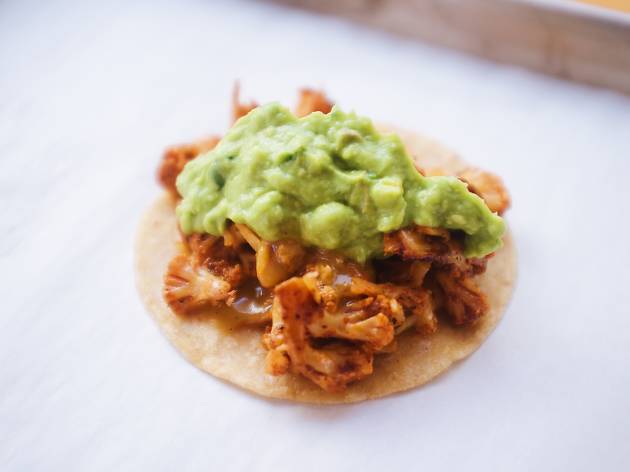 Photograph: Stephanie Breijo
Los Angeles is the country's taco mecca, so you'd better believe there's a taqueria tucked into this food hall. Azulé's variety lean street taco in size, but beachy and farmers' market when it comes to fillings. Grilled meats under bright, fruity salsas; a vegan cauliflower take on al pastor; slow-roasted mushrooms with manchego and daikon sprouts; and charred pineapple and pork belly are just a few of the options here. Can't decide? Try the sampler platter of six—especially on Mondays, when margarita pitchers are half-off.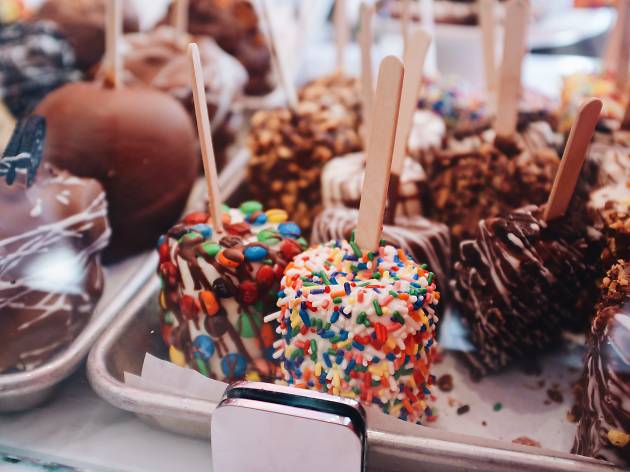 Photograph: Stephanie Breijo
Abandon all diets, ye who enter here. Sloan's practically pumps out the scent of sugar onto the Promenade and the front of Gallery, drawing in kids and the young at heart alike. There are caramel apples, blocks of fresh fudge, cases of scoopable ice cream, massive sundaes and milkshakes, chocolates, cookies, an array of colorful candy—you get the idea. It's all here for the taking. What self control?