As someone who loves movies and lives in Los Angeles, it's embarrassing how few films I see in theaters. Only event-sized flicks seem to pull me away from the comforts of home viewing: a crisp screen, a comfy couch for two and a quiet room with a fridge full of cold drinks along with snacks secured at supermarket prices. But I just might give that all up for Downtown L.A.'s long-awaited Alamo Drafthouse.
It's been "coming soon" for more than half of this current decade, but the dine-in movie theater chain finally opens its first L.A. outpost this weekend at the Bloc. Alamo Victory members get the first crack with screenings on Friday, July 19 while the general public can see flicks like The Lion King, Spider-Man: Far From Home and Midsommar starting July 20. And for the theater's first two weeks, it'll be in staff training mode—meaning you can snag some serious discounts on food and non-alcoholic beverages. Expect the average ticket to run you $17.50, with $15 matinees every day and $18 on weekend evenings. In addition, the theater will offer a movie-a-day season pass (details are still to be announced).
If you've never been to an Alamo Drafthouse, here's the gist: The theater screens first-run flicks along with repertory picks (for example, Terror Tuesday, with deep-cut horror films, and Weird Wednesday, with all sorts of dusted-off oddities) all within plush cinemas that boast in-theater food and drink service (including booze) and a hardline no talking, no texting policy.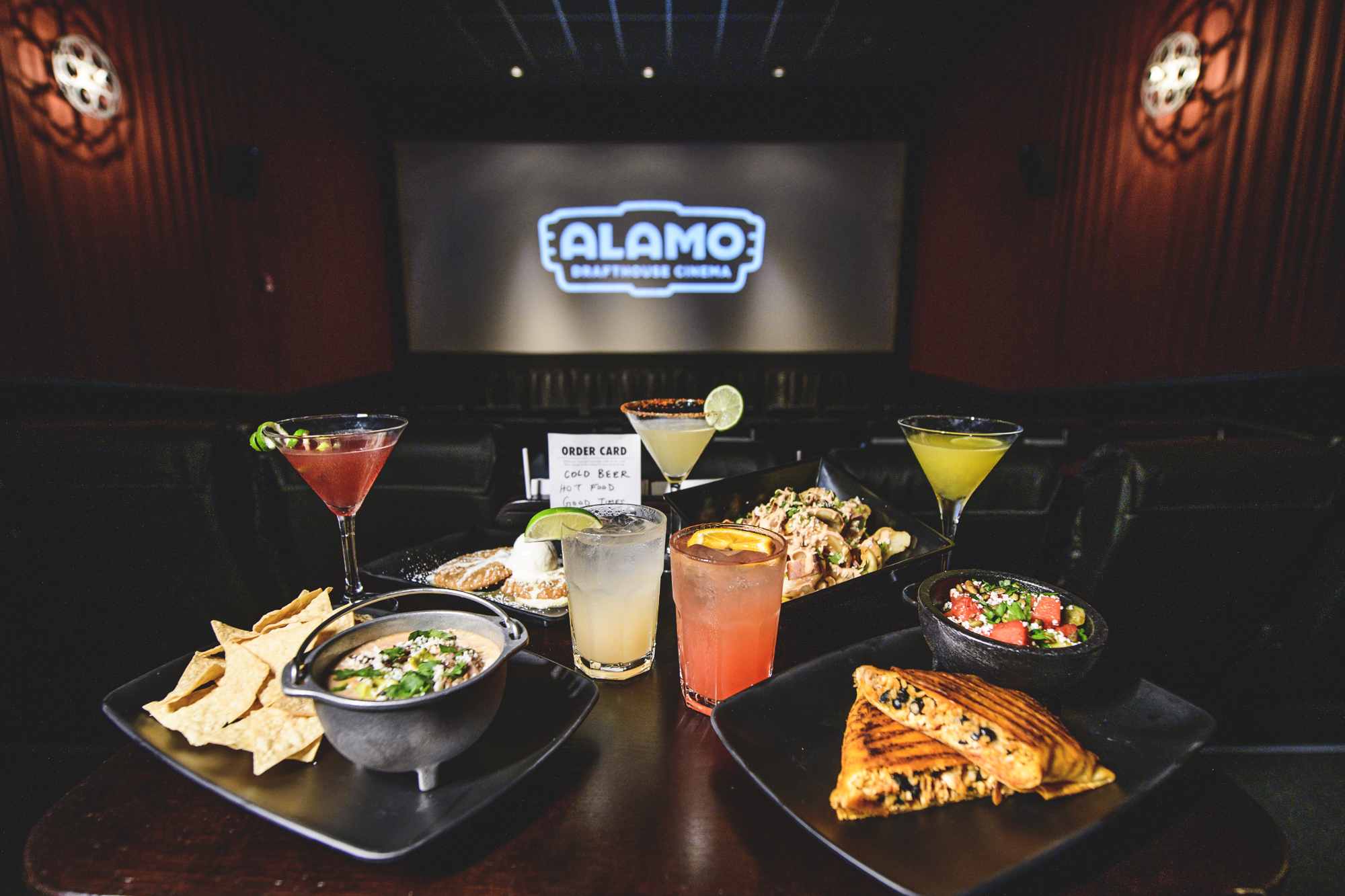 We'd say the theater falls somewhere between the efficiency of the Arclight and the luxury of the iPic, but with the programming and panache of an arthouse; there's some serious cinephile style thanks to 80-plus wall-sized movie posters from around the globe, an eclectic gift shop and a free—free!—video rental service and Vidiots revival in the lobby's hangout area. Speaking of that lobby, it feels like a boozier version of your childhood friend's basement that's been plucked into the middle of Downtown in a space where you can play tabletop versions of The Thing or The Dark Crystal and feed quarters into Donkey Kong and Galaga arcade cabinets.
As for the actual moviegoing experience, you can reserve your spot in advance at each of the 12 auditoriums, which range from 40 to 63 seats—all of which recline at the push of a button. There's no stadium seating, but the sumptuous legroom means sight lines should never be an issue. Crystal-clear laser projectors (plus a single 35mm) illuminate the screens, which cover nearly a full wall of the modest-sized auditoriums (despite their size, the ones we visited never felt claustrophobic).
You'll find a staggering 48 beers on tap, with an emphasis on craft breweries (local spots like Three Weavers, Angel City and Arts District Brewing are well represented). Expect to pay about $7 for a pint. On the food side, you'll find Tex-Mex fare like chips and queso ($9) and a chipotle chicken burrito ($14) as well vegan-friendly dishes like a roasted veggie quinoa salad ($14) and crispy buffalo cauliflower ($8.50). And yes, there's popcorn—three different varieties, actually, including butter, herb parmesan and truffle parmesan. All of these items, plus some cocktails, wines and sweets, can be ordered directly from your seat, either during a lights-on pre-show that runs for a half hour prior to the posted screening time, or during the movie itself—you need only scribble onto an order form and a server will stealthily swing by and place it.
Meanwhile at the lobby bar, a more extensive cocktail menu (housed in an old VHS case) is split between familiar classics (around $14 each) and some contemporary twists ($14–$16), all with movie-inspired names. There's the classic White Russian, of Big Lebowski fame, alongside a True Grit interpretation, with bourbon, coffee liquor and egg whites. You can have Faye Dunaway's drink of choice in Chinatown, a Tom Collins, or you can sip its contemporary noir update with an L.A. Confidential take that throws in spicy tequila.
If you've been tallying up the numbers, you've probably realized a night at the Alamo Drafthouse isn't cheap; if you're getting a beer and a burger during a screening you're looking at upwards of $40 per person. But consider the price of a bucket of popcorn or some mediocre chicken strips at most multiplex chains and the Drafthouse actually starts to look like a reasonable deal for a quality night out at the movies with some legit libations. And that's where the Drafthouse seems like a compelling option not just for avid moviegoers, but for wait-and-watch-at-home people like me: As founder Tim League described it to us, it's an out-of-home experience that, yes, is competing with your nearest multiplex, but also a night at a comedy show or a concert. There's nothing quite like it, certainly not in DTLA, where the Regal LA Live and Downtown Independent were previously your only movie theater options. Add in $4 validated parking and a Metro stop right in the basement, and you have a Downtown resident's dream come true.