A typical National Pizza Day is cause for celebration—at very least, you're entitled to a large pie guiltlessly all to yourself—but this year, it's an above-and-beyond delicious holiday for Angelenos: Last night, one of the L.A.'s most hotly anticipated new restaurants flung open its doors and fired up its ovens to bring us pizza from some of the best chefs in town.
Serving Roman-style pies that are cut with scissors and paid for by the ounce, Triple Beam Pizza is a powerhouse that's landed in Highland Park by way of Nancy Silverton—the James Beard Award-winning magnate of the Mozza complex—and former Mozza chef Matt Molina, also a Beard Award winner, who happens to also be the brain behind Everson Royce Bar's beloved food menu.
The duo teamed up with the owners of Silverlake Wine and E.R.B. for this fast-casual concept, which offers a brief menu of five-or-so types of pie, currently available in potato, sausage, salami, margherita and nettles-topped varieties. Simply walk up to the counter and hold out your hands in a "this much" display of just how much pizza you think you can eat, and the team will cut your pizzas accordingly. For the more precise, give the team a heads up on how many ounces you can take down; a standard slice anywhere weighs in around four ounces—do with that information what you will. There's beer, plus red, white and rosé by the glass, plus the promise of future sandwiches.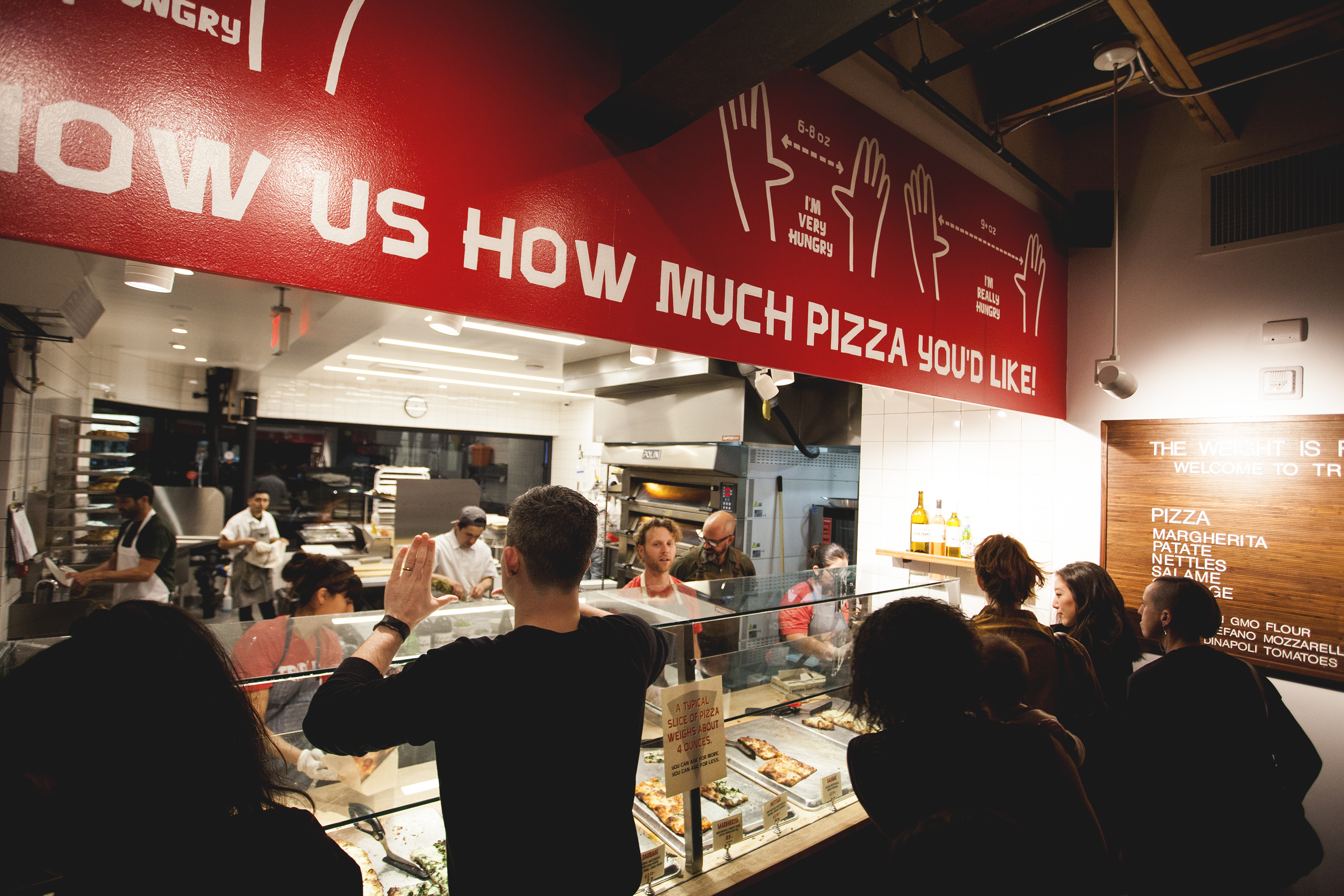 "All we want is a never-ending party," says co-owner Randy Clement, who also owns Silverlake Wine, E.R.B. and Triple Beam's new neighbor, Highland Park Wine. "We've been fortunate enough to live in a never-ending party, and here it feels like one. We just want to make it better and better all the time."
Because this party only gets better, there's much more on the way from the team's new maze of concepts, which all sit under one very large complex's roof. Walk through the front entrance and you'll see Triple Beam on your left; straight ahead is a forthcoming restaurant and bar—fronted by Molina—which should open in late spring or early summer. Turn to the left and you'll find a large patio—perfect for dining on Triple Beam slices now, and once Molina's restaurant opens, it'll be a shared space come dinnertime. Keep walking the length of the patio and you'll hit the freshly opened Highland Park Wine, the bottle-shop sibling to Silverlake Wine. Within the same structure, toward the front and across the hall from Triple Beam, you'll soon find Go Get 'Em Tiger as a tenant (not via the same ownership players as the rest of the complex), bringing coffee and light bites to the neighborhood.
As to the yet-to-be-named, Molina-fronted restaurant, the California-meets-Mediterranean concept follows the surprise of E.R.B.'s entrance from the unassuming front door, through a bar to a stunning back patio. Here, you'll enter the complex and head straight back, through the restaurant's also-unassuming door, which opens to a large, wood-beamed dining room and bar with an open layout and an open kitchen—which is where Molina and co. will be open-fire cooking.
Take a virtual look around by way of these photos, then stop by for yourself tonight: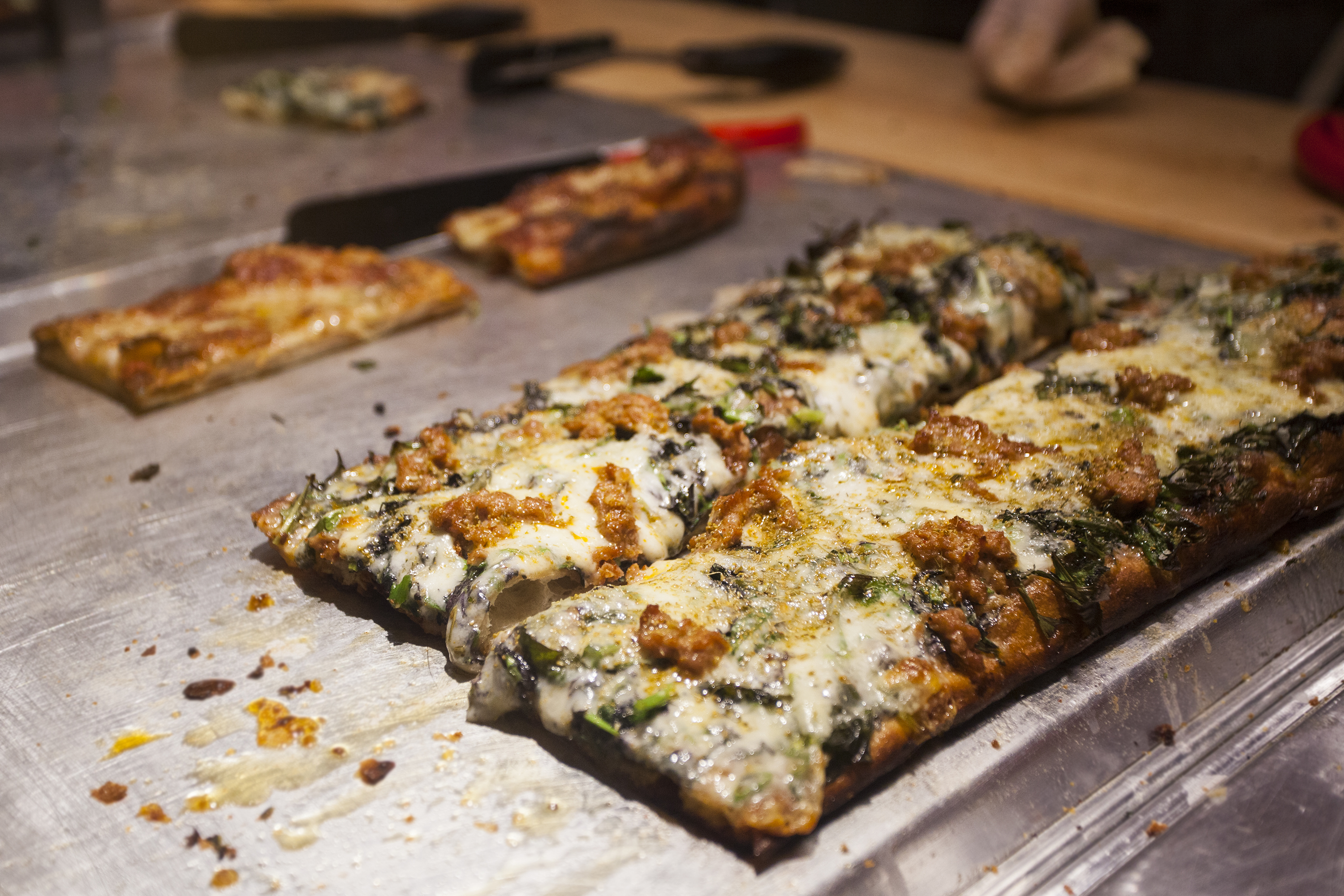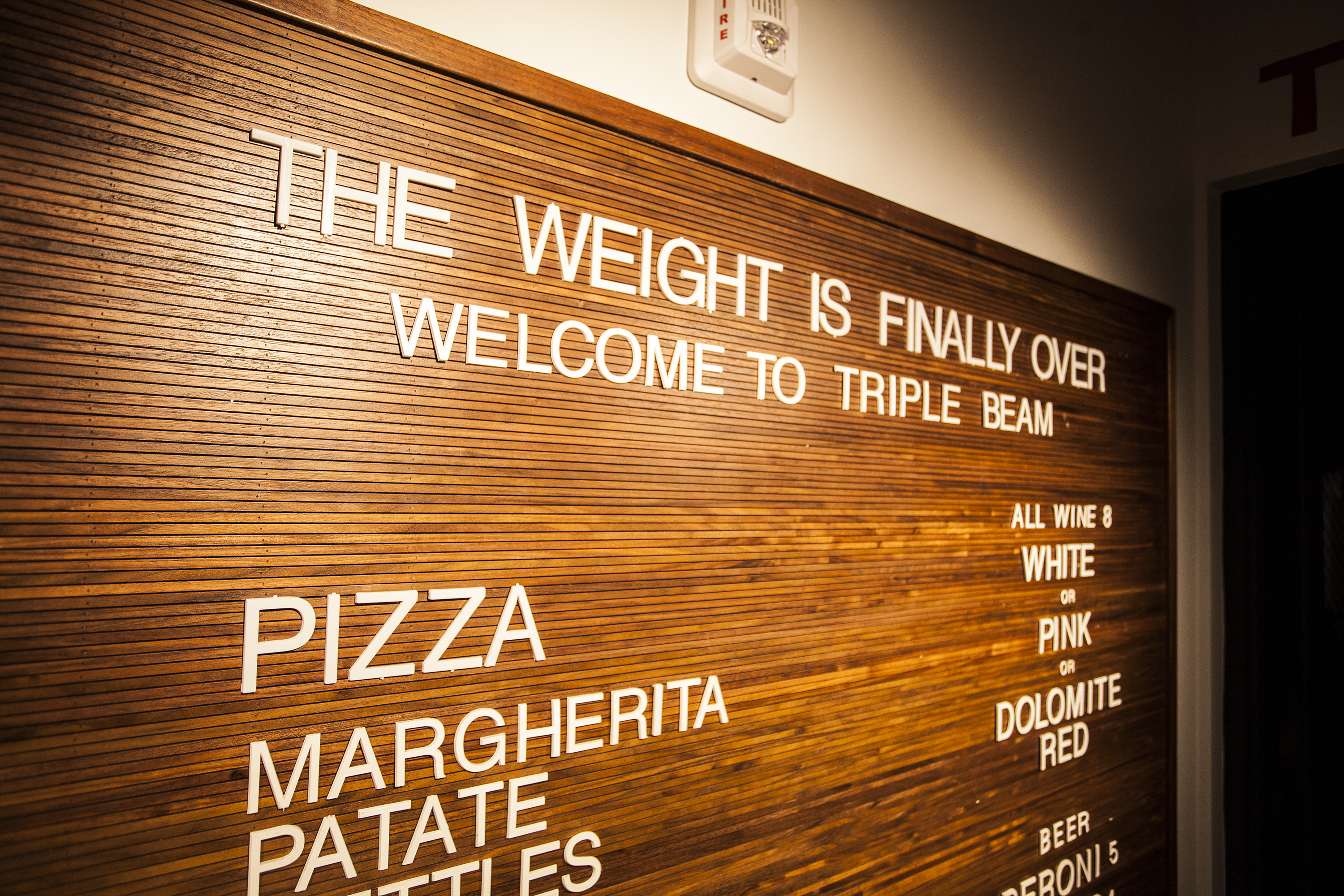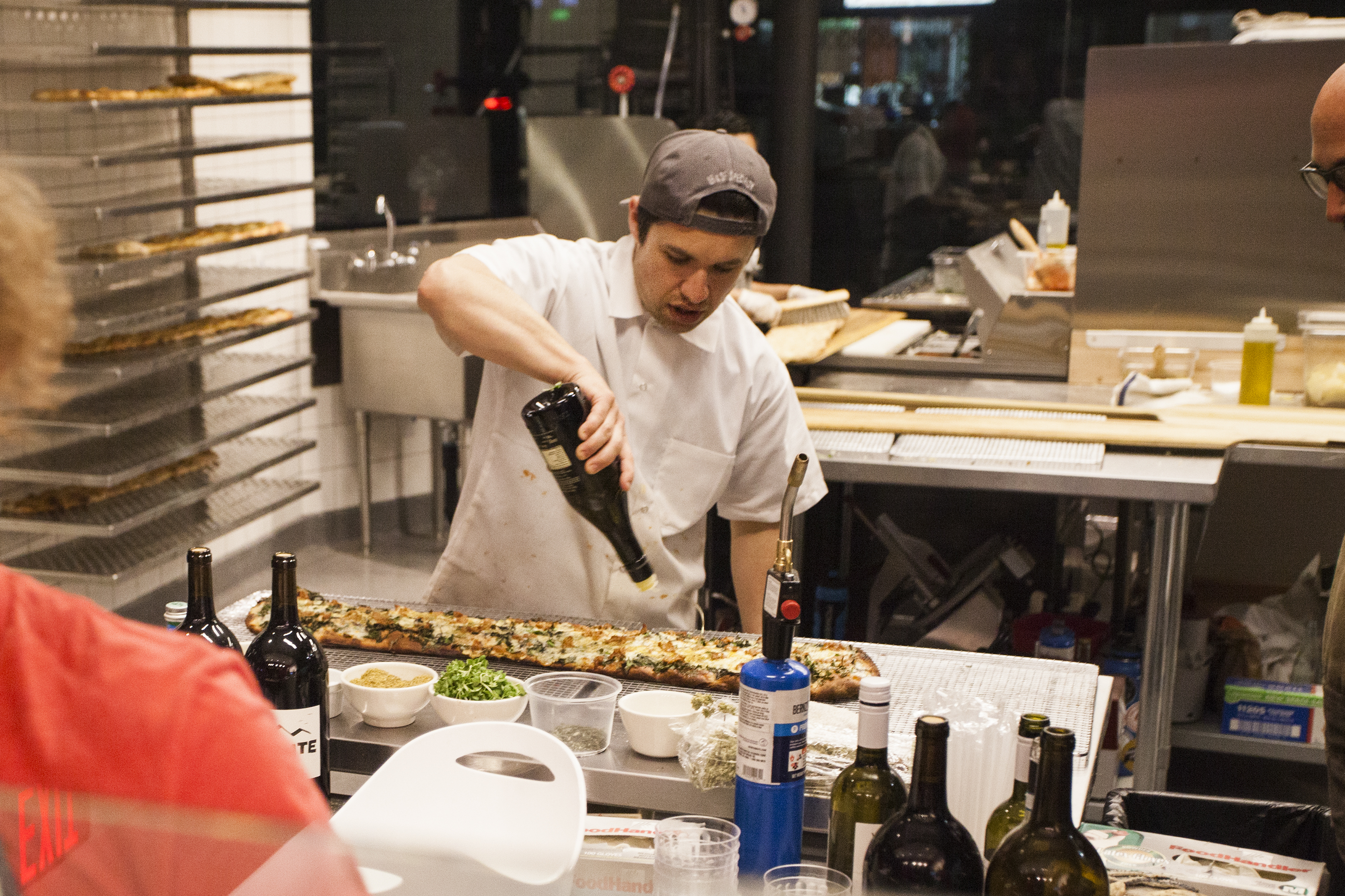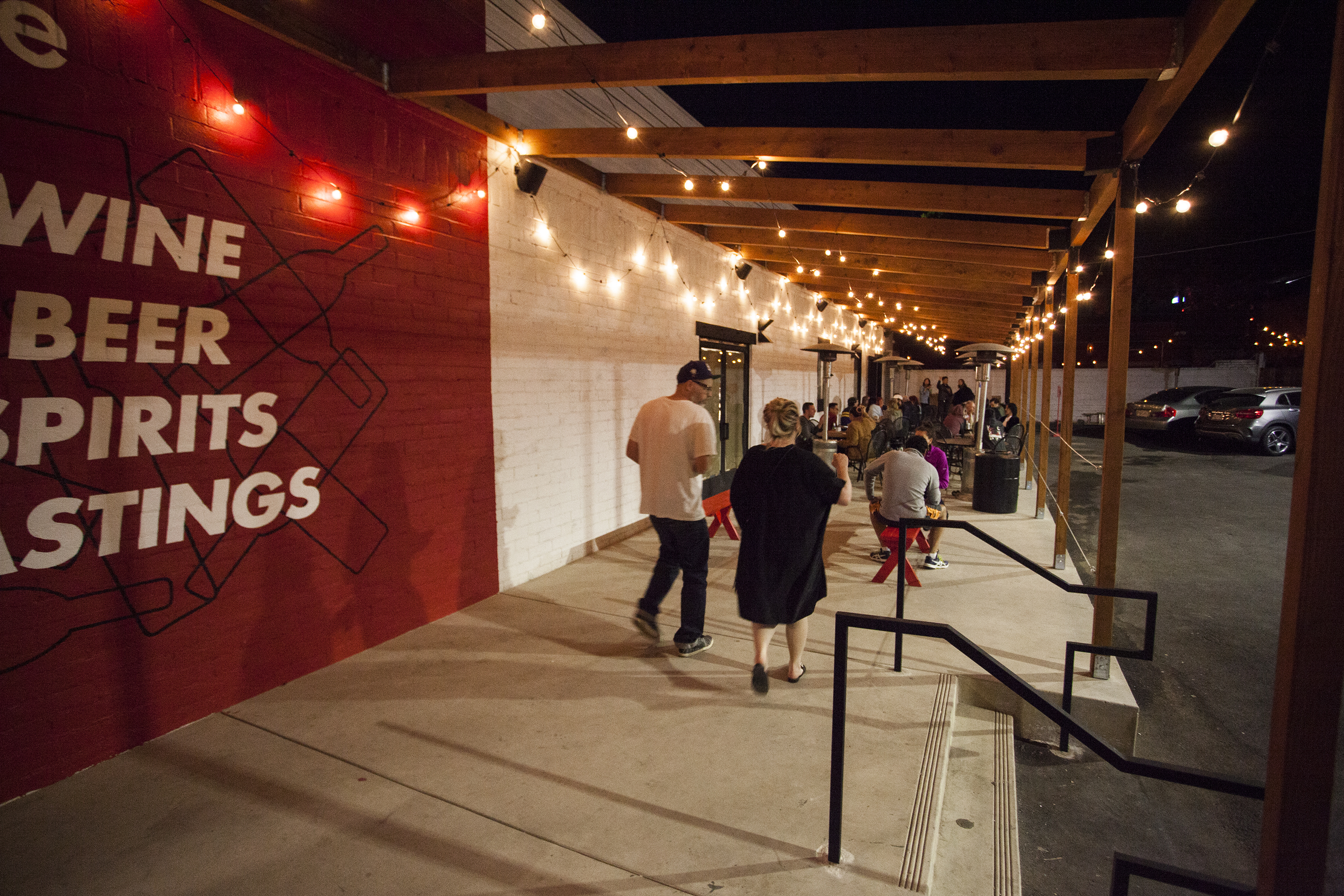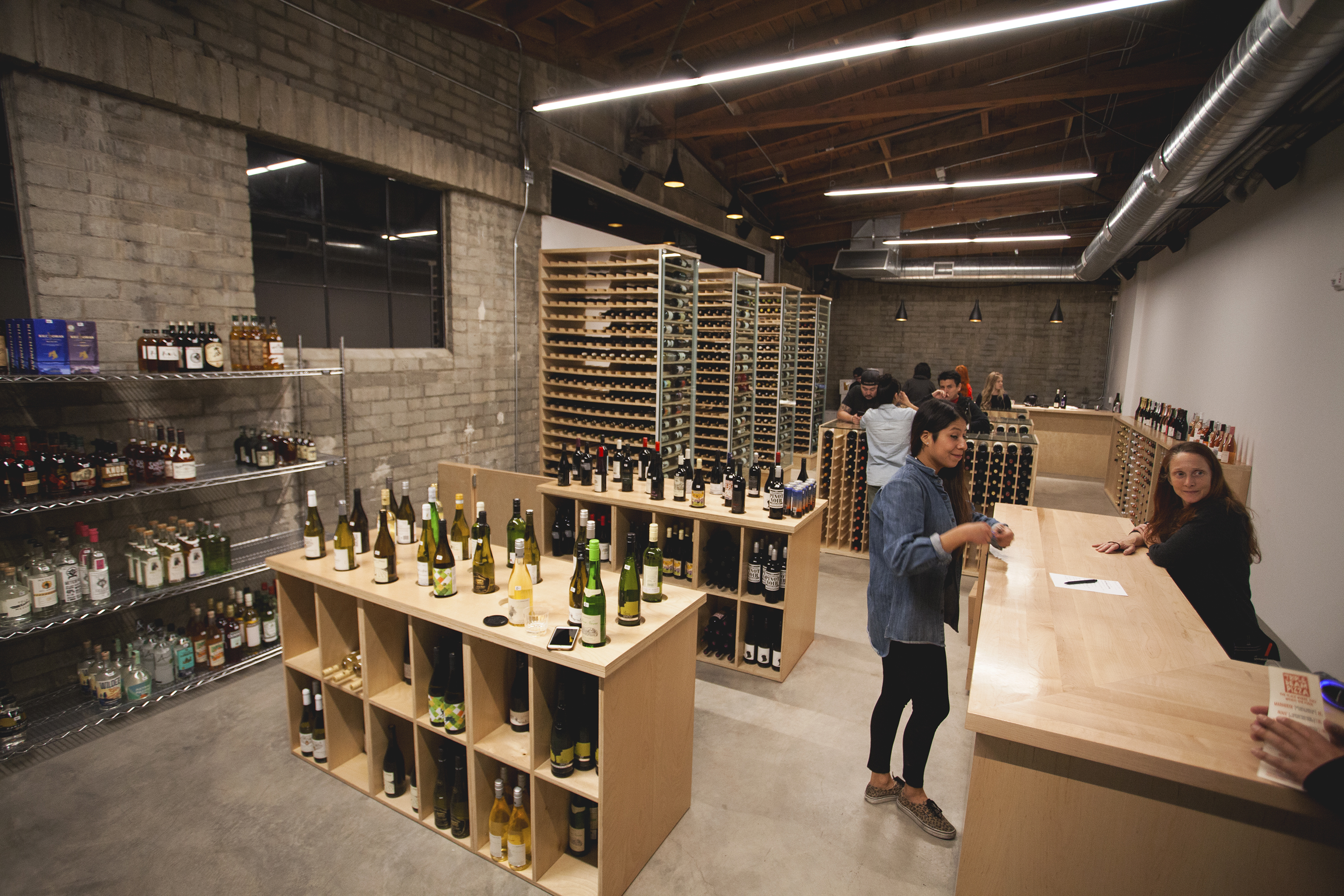 Triple Beam Pizza is located at 5918 North Figueroa Street, open tonight with limited hours of 4 to 9pm today, and noon to 9pm this weekend, with regular hours to follow. Highland Park Wine is now also open within the complex, for now sharing Triple Beam Pizza's hours of operation.