The marketing geniuses at Taco Bell unveiled their long-awaited diablo-bolical scheme today, and unlike the brand's Demolition Man-inspired pop-up or its DTLA catwalk fashion show, The Bell: A Taco Bell Hotel and Resort sold out in two minutes flat—and manages to combine the whimsical immersion of a trip to Willy Wonka's factory with all the familiarity of Stephen King's Overlook Hotel.
You haven't always been the caretaker here, but the second you step beneath the purple, orange, and Baja Blast-blue streamers dangling over the lobby's entrance, you know you've always been a Taco Bell fan. Everything is brightly colored, but in a tasteful millennial-in-Palm Springs sort of way, with bikes parked out front should you decide to cruise the hotel normally known as V Palm Springs Hotel. To the right is a boutique sporting a new line of Taco Bell shades, jewelry and bikinis; to the left and up the stairs, the Freeze Lounge: a slushie-slinging ice cave of a retrofitted hotel room.
There are DJ sets and live bands blasting from the pool—the Fire! Pool, we should specify; the smaller Mild Pool is much more chill, and next to the morning yoga class, naturally—there are fashionable sets vlogging from hot-sauce pool rafts, and "Bell hops" taking your order while occasionally doling out Taco Bell's beloved hot sauce packets from fanny packs and nearby bowls overflowing with Diablo sauce.
Everything is an Instagram trap and nothing hurts.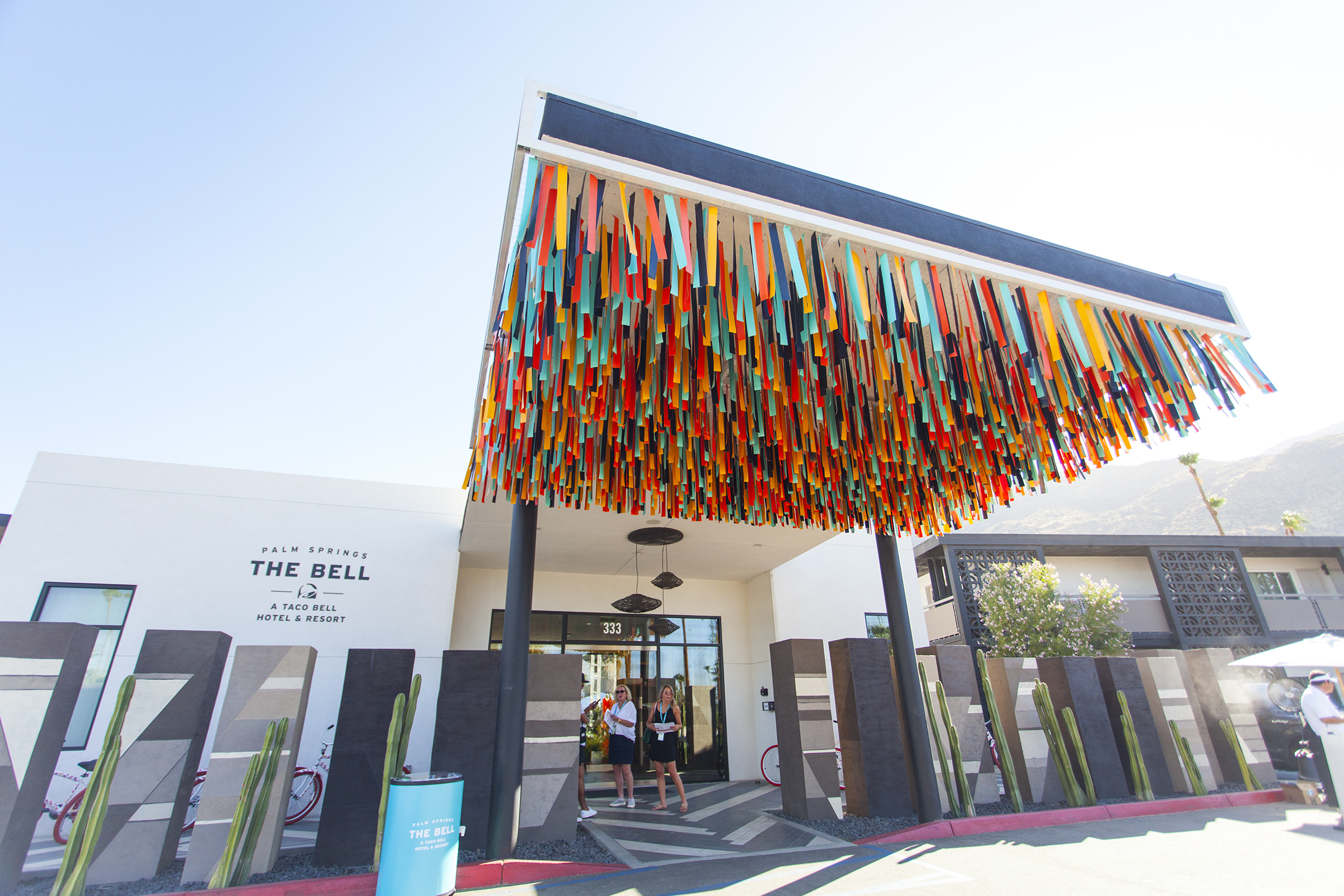 The pop-up hotel, which runs August 8 to 12, is almost an overload of the senses: Between the beauty salon—where you can get Taco Bell gel manicures, hair braids or fades, for a fee—and the free activities ("dive-in" poolside movies, silent discos, water-ballet training and game night, to name a few), you might almost miss the food.
And this ain't your average 2am drive-through Fourth Meal. The Bell hotel is taking the opportunity to test new items that may roll out nationally or to the brand's more, er, upscale concept, the Taco Bell Cantinas (you know, the ones that serve the frosé). There's a veggie quesadilla with roasted corn and caramelized onions; some truly delectable jalapeño- and pickle-topped popcorn chicken; coriander-laced, panko-breaded cod fish tacos; and even a patty melt served with chipotle-style thousand island and a heap of Taco Bell's signature nacho fries.
Why yes that is the Taco Bell version of avocado toast and yes those are the world-famous Aqualillies—yes really, the synchronized swimmers—and yes they are wearing hot-sauce swimsuits.
Like we said: It's a lot, but it's a beautiful thing.
Because the hotel somehow sold out in less time than it takes for us to scarf down a CrunchWrap Supreme (and at $169 per night, no less), here's a photo recap of The Bell's first day of business so you can live más vicariously.