Airstreams are no stranger to Southern California's desert rentals, but a new trailer-based hotel coming to Joshua Tree this year promises one of the most extensive yet elegant implementations we've seen yet.
Outdoor hotel company AutoCamp announced its latest glamping destination, a 25-acre property just outside of Joshua Tree National Park that pairs personal Airstreams and campsite vibes with a chic communal leisure space. Set to open in fall 2021, the hotel will include 47 custom-built Airstreams, four accessible suites and four "X Suites." Bookings are slated to open to the public in late April, though you can secure a spot earlier in the month if you splurge on a membership.
At other AutoCamp locations, the magazine-spread-worthy 31-foot Airstreams feature a queen bed, a couch, a small bathroom and a kitchenette, while the "X Suites" slot similar amenities into a room more like a big-windowed stationary trailer, with a slightly more spacious kitchen and a proper patio. All units will come equipped with HVAC systems for all-season stays, while some premium ones will have their own outdoor shower, as well. Though pricing isn't available yet for Joshua Tree, basic Airstreams at AutoCamp's Yosemite site hover between $200 to $300 a night depending on the time of year.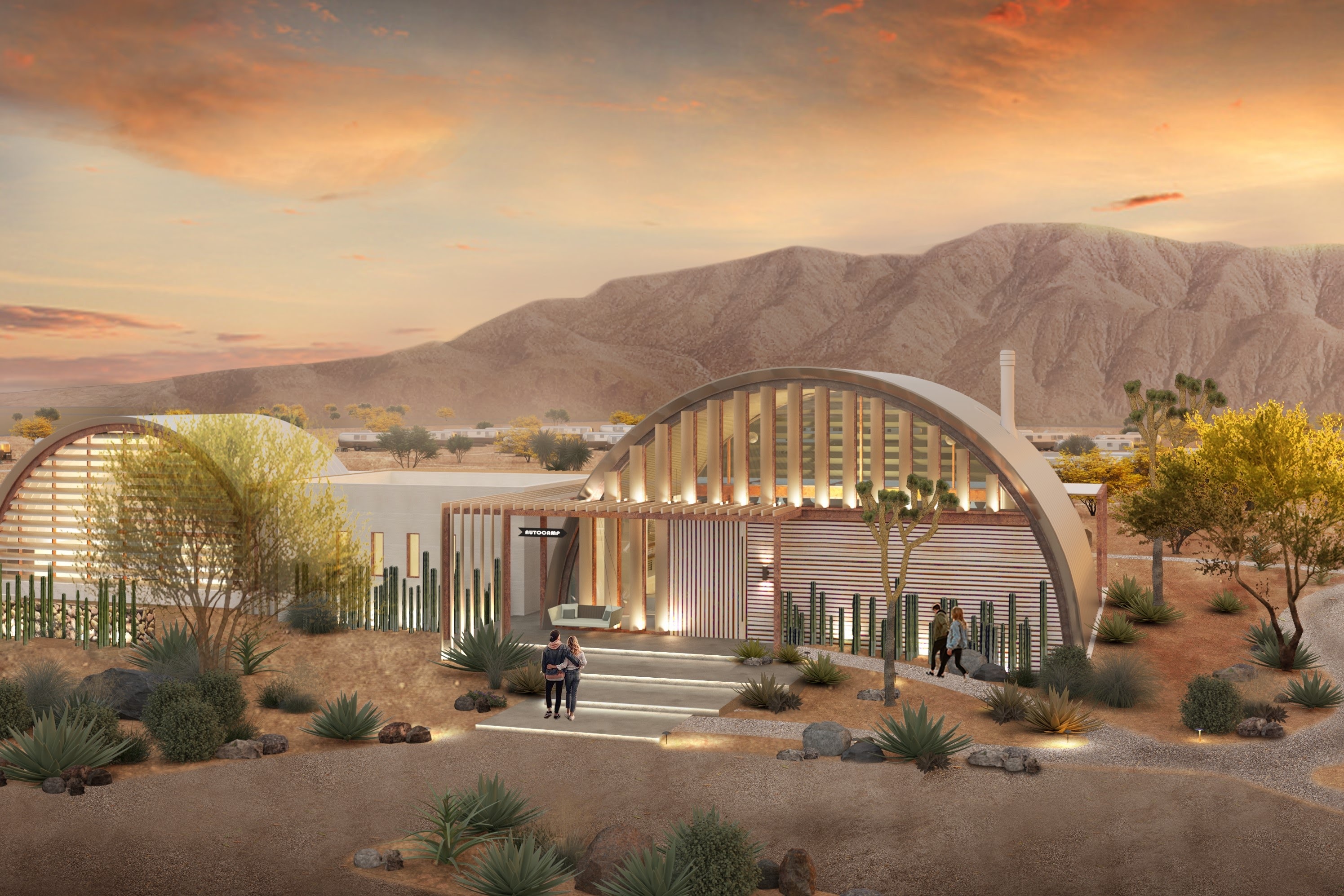 The Airstreams all branch off of what AutoCamp has dubbed the Clubhouse, a midcentury-modern–inspired hub that features a general store, an outdoor bar and mobile kitchen, a hybrid hot tub and plunge pool, and a shaded patio and fire pit. Expect to find complimentary bikes to borrow and arrangements for off-site excursions alongside on-site yoga classes, live music and wine tastings. To balance all of that hubbub, AutoCamp says the property will stick to dark-sky compliant lighting, on-site water treatment, ultra-low use water plants and irrigation-free landscaping.
Though AutoCamp hasn't unveiled the precise location, San Bernardino County documents included in a 2019 story in The Desert Sun place the site just off the corner of Twentynine Palms Highway and Sunburst Street—a then-vacant lot on the eastern edge of the town of Joshua Tree and barely a 10-minute drive from the national park's west entrance.
Most popular on Time Out
– The 'Immersive Van Gogh' exhibition is coming to L.A. to devour your social feed
– Metro is considering congestion pricing on these L.A. freeways
– The L.A. County Fair has been canceled—again
– Coachella won't be happening this spring—but, come on, you already knew that
– Here's what you can and can't do outside in L.A. right now