Go to any streetside taqueria in Los Angeles serving birria de res, and you'll find a host of street food classics—tacos, quesadillas, mulitas and the like. But a new kid has crept onto the block in recent years, one that some find novel, others apocryphal. Meet birria ramen: a fusion of birria consommé with instant noodles.
Birria ramen first originated in Mexico City in the late 2010s at the now-closed restaurant Animo. The dish eventually migrated north, hitting the streets of Los Angeles around 2019, when food trucks began offering birria ramen alongside more traditional items. Now, birria ramen is ubiquitous at L.A.'s night markets—and it's not uncommon to see a pyramid of Tapatio-flavored ramen bowls stacked alongside a giant pot of birria.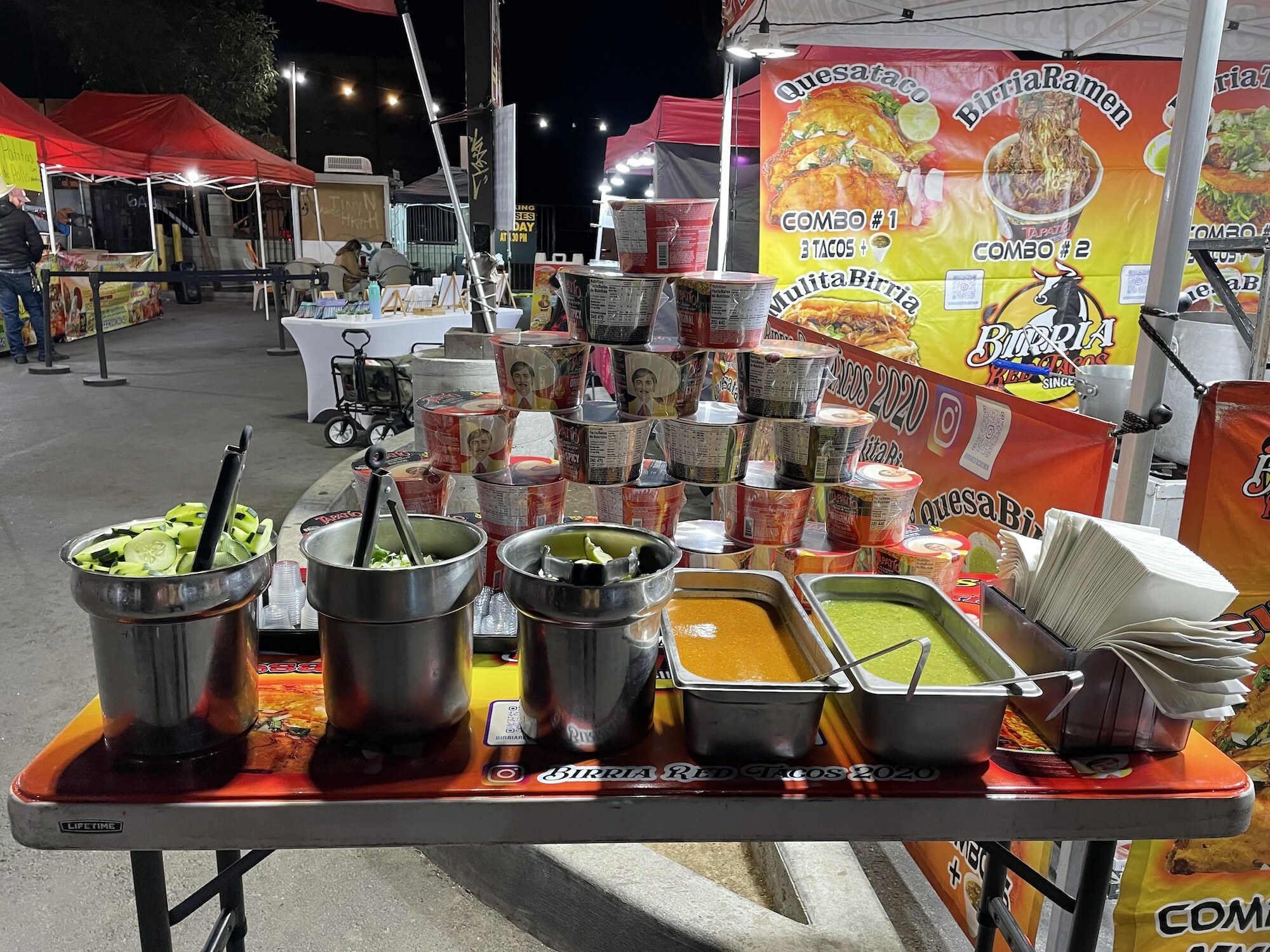 Birria de res con consome is a slow-cooked stew from the Mexican state of Jalisco; marinated beef is simmered in a hearty broth for hours with chilies and spices, until the meat becomes soft and falls off the bone. The piping hot consommé is then ladled into a bowl of instant ramen, where it sits for the requisite three minutes before being handed over to the customer. The diner then has the option of adding onions, cilantro and lime to the broth before digging in.
The combination is genius in its simplicity. The consommé is meaty, dark, and rich—heavier and saltier than, say, Vietnamese pho, but not creamy like tonkotsu. Most vendors in L.A. charge somewhere between $12 to $15 for a bowl of birria ramen, which at first glance may seem a bit much for an assembly that only takes a couple of minutes. But do note that the consommé itself has simmered for hours, and while a bowl of birria ramen may seem simple, it can easily fill you up after several bites, and can be shared by a few people at a time.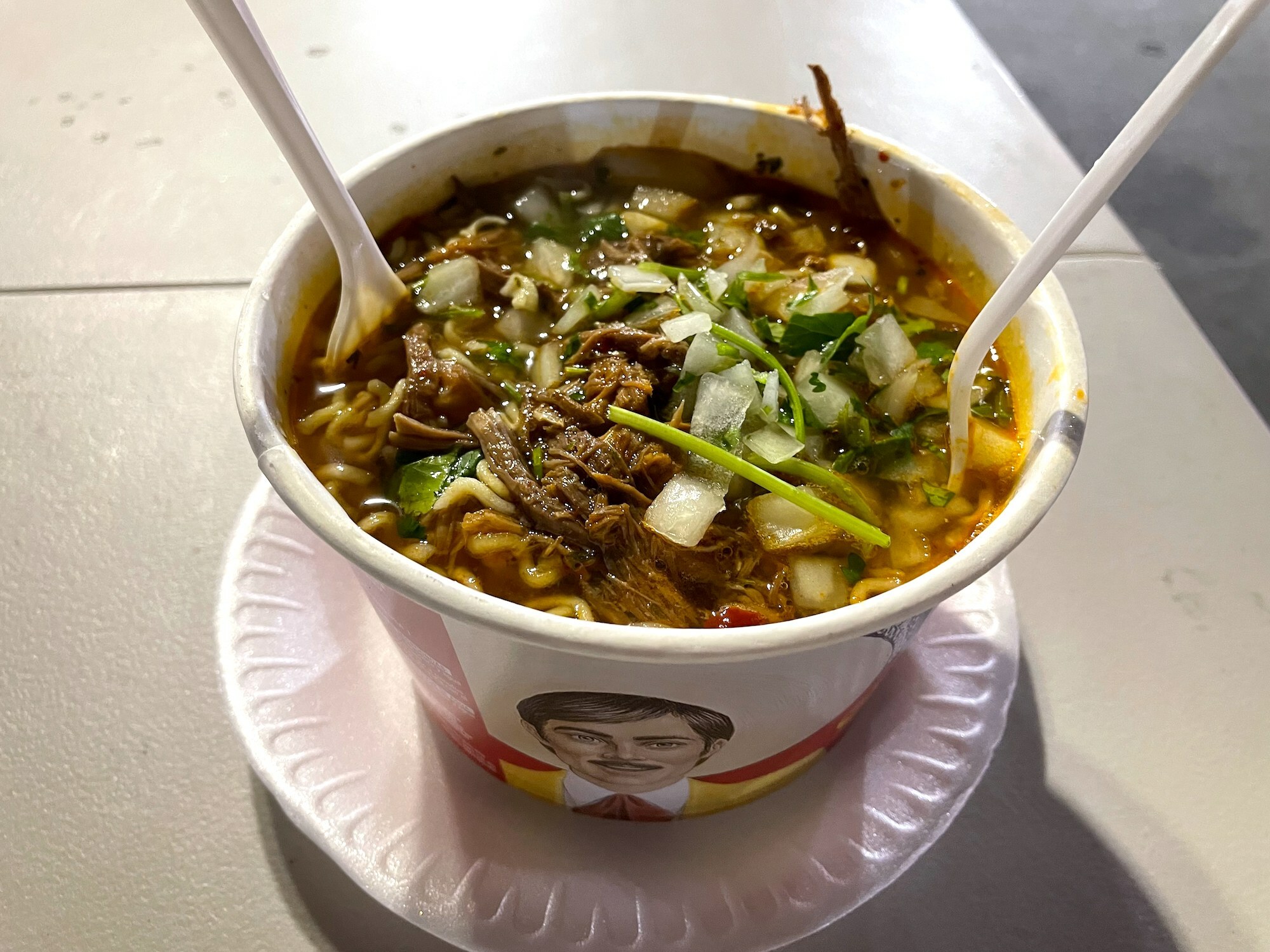 At L.A. night markets such as Alameda Night Market, El Gato Night Market and Avenue 26 Family Night Market, you can find at least two or three birria vendors with names such as "Fiesta Birria" and "Birria Red Tacos 2020." While birria tacos are still the star of the show, it's not hard to spot the stack of ramen noodle cups. All of these vendors typically offer birria ramen, with a self-serve station of accouterments to the side.
As the winter months begin to bring a chill into L.A.'s nights, make your way to one of the many outdoor night markets in the city for a warm bowl of broth and noodles. Here are a few places to find them:

Alameda Night Market
1123 S Main St, Downtown
Fri 6–11:30pm, Sat 5–11:30pm, Sun 5–11pm
Instagram: @alamedanightmarket
El Gato Night Market
936 S Union Ave, Westlake
Fri 5pm–midnight; Sat, Sun 3–11pm
Instagram: @nightmarket_elgato
Ave 26 Family Night Market
11003 Sports Arena Drive, Whittier
Sat 5pm–midnight
Instagram: @ave26familynightmarket
For more specific vendors to keep an eye out for in your hunt for birria ramen, check out Fiesta Birria, Birria Red Tacos 2020 and Birreria Los Dos Carnales.