Cathartic sing-alongs, pyro-punctuated dance routines, strobe lights piercing fog, the bounce of seats as a stadium full of people jump…the wait for the bathroom: So much about Vax Live felt like an honest-to-goodness pre-2020 concert, while at the same time offering a blueprint for more not-quite-stadium-filling concerts to come.
The first ticketed event to be held at Inglewood's new-ish NFL stadium and easily the largest one in Los Angeles in over a year, Vax Live brought together Jennifer Lopez, Foo Fighters, J Balvin, Eddie Vedder and H.E.R. for "the concert to reunite the world." The special was taped at SoFi Stadium this past Sunday, and it'll air on just about every network on Saturday, May 8 in the name of overcoming vaccine hesitancy and pushing for equitable dose distribution.
Global Citizen, an organization that advocates for the end of extreme poverty, invited thousands of fully vaccinated healthcare and frontline workers under one translucent plastic roof for a reduced-capacity event that seemed equal parts a victory lap, a proof of concept and worldwide cry for help.
While healthcare workers stood shoulder-to-shoulder swaying and belting out lyrics, it felt like a more-than-earned celebration for a city whose hospitals were overrun during the winter but now finds itself with the lowest case rate of any metro area in the country. And with that in mind, everything about Vax Live made it clear that L.A. is in a position of privilege right now: Actor Nomzamo Mbatha spoke of the staggeringly low vaccine availability in South Africa; SoCal transplant Prince Harry, to a standing ovation, described mis- and disinformation online as its own sort of worsening crisis; and taped segments from President Joe Biden and First Lady Dr. Jill Biden, Pope Francis and a host of global leaders spoke to staying safe and the need for more equitable distribution.
As for that proof of concept part, Vax Live was a late-pandemic proclamation that we've finally figured out how to safely hold massive events again—it just takes a whole host of restrictions mitigation measures, and maybe just another week from now before we can say that everyone's come out of it safely. The concert followed all L.A. County protocols (and an appearance from Public Health director Dr. Barbara Ferrer set off the first big applause among the healthcare worker crowd) in order to boost its allowable capacity (though the stadium holds upwards of 70,000 people, it seemed unlikely that even half of that was in attendance). All regular attendees were fully vaccinated, and crew and members of the media were tested on-site. Seating was distanced and masks were required, and there were a bunch of rules in regards to where you could eat or drink, depending on where you were seated.
But being there wasn't nearly as draconian as it sounds. Attendees had to bring proof of their full vaccination to the stadium gates or, on the day prior, to a trio of locations for pre-approved wristbands, which would theoretically provide a shot at better seats. That didn't really matter too much, though: Day-of vaccination checks appeared to be a breeze, and a friend in attendance who was placed practically behind the stage found it pretty easy to scooch into one of the many empty sections in the center. Distancing, meanwhile, was encouraged, at best: In my case, there were two empty seats to my left and one to my right, but then two people directly in front of me—one parked in a seat that was supposed to have been zip tied shut. Maybe that partially explains why the crowd density looked a bit more like a weekday Dodgers game than a methodically distanced show. And as for face coverings, you'll probably see mostly masked-up attendees on TV, but there were plenty of people who opted for chins rather than full faces, if at all (the luxury boxes, in particular, seemed to be playing by their own rules).
Unlike, say, a baseball game where attendees start trickling out in the seventh inning, I went in wondering how exactly an entire stadium could make a socially distant exit, particularly at a venue that nobody's ever been to before. Well, it turns out you don't, really: Elevators with posted limits of four people were packed with at least a dozen and escalators teemed with crowds; the seemingly endless zigzag of exit ramps were at least a bit more spacious.
But here's the thing: Those small bits of sloppiness weren't nearly as unnerving in a verifiably-vaxxed crowd as they would be in a way smaller one full of wildcards—say a plane or even inside of a bar. We don't know exactly what other L.A. shows this summer will look like: Other than a few evenings for healthcare workers at the Hollywood Bowl, there are no concerts of this scale slated for the next couple of months. And after that, California's reopening tiers are due to disappear in mid-June. Mitigation efforts won't go away entirely, though: The mask mandate will be sticking around, as will posted capacities for large-scale events that change depending on whether everyone's been fully vaccinated or tested. So maybe your first foray back into live shows will be a bit more lax than Vax Live, but last weekend's taping at least gives you a fuzzy idea of what to expect.
As for the concert itself, it's shocking how quickly things transitioned from weird to right. After a parade of CEO spiels, Sean Penn introduced Eddie Vedder and within a few amplified chords, things suddenly felt like a normal concert. "There's a microphone. There's a crowd," Vedder said, before using his podium to urge world leaders not to stockpile vaccines.
That good-to-be-back vibe ran through just about every set. Jennifer Lopez, surrounded by floral decor, brought her mother onstage to sing stadium staple "Sweet Caroline"—a corny choice, sure, but that "hands, touching hands" bridge really takes on some significance in our current state of reemerging.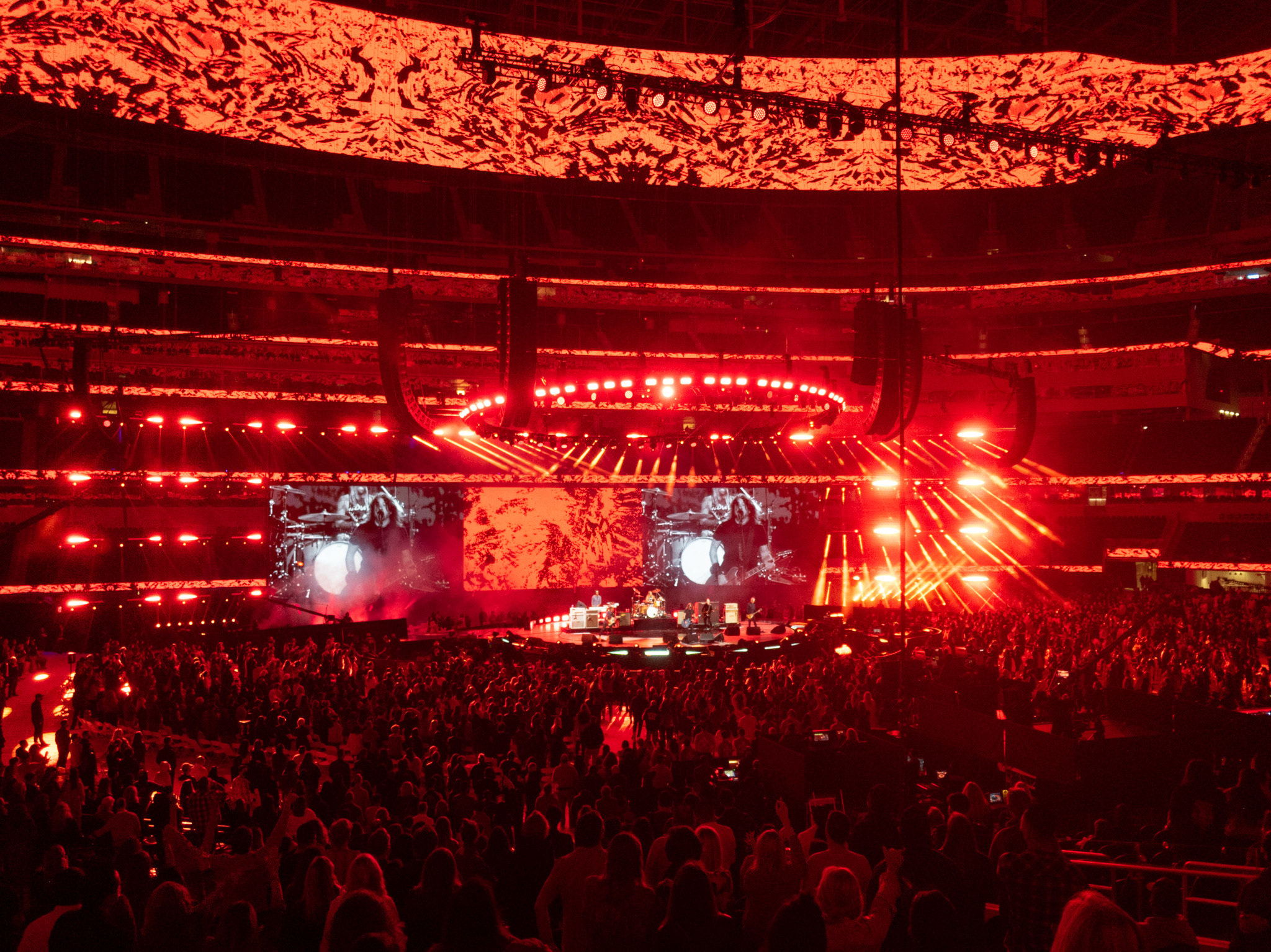 Above all others, Dave Grohl seemed utterly enamored to be there. "Let me tell you, the last year I've been having this dream that's happening right now," the Foo Fighters frontman told the crowd. The band barreled past their apparent three-song quota (most acts only played a song or two) and into a half-dozen–song set of favorites, including a cover of "Back in Black" with AC/DC singer Brian Johnson. Grohl kept reminding the crowd, in awe of the entire setting, that this was a rock concert, and that certainly wasn't lost on fans (on the way out, I overheard one saying they were vibrating in excitement, and another about how they forgot what it's like to hear a bass drum deep in your bones).
Other than the extended Foo Fighters set (and seeing host Selena Gomez and presenter Chrissy Teigen both delightfully and self-deprecatingly apologize for flubbing their lines in the presence of J.Lo), there's not much from the taping that you'll likely miss in the broadcast. But it is worth bringing up just how impressive it felt to physically be at SoFi Stadium. The sightlines are largely fantastic and the wrap-around screens are more mesmerizing than distracting. On an evening in the low 60s, a cool breeze constantly streamed through the two open-air ends of the field. It's also staggeringly massive, like a spaceport as David Letterman described it during his guest spot, and its maze-like, monotone aesthetic on the inside may have you asking where the nearest bathroom is (the concessions are at least easier to find, but they weren't open quite yet). Getting into and out of the parking lots was a breeze, but the traffic patterns surrounding Hollywood Park could use some tweaking, especially considering that Vax Live brought a fraction of the crowds that football games will in the fall. And you know, we're just going to unceremoniously end this piece here, because really there's no more getting-back-to-normal Angeleno topic than talking about traffic.
Vax Live airs on Saturday, May 8 at 8pm on ABC, CBS, Fox and on YouTube.