"Very Niche, But Where Can I Find" is a new recurring column where Food & Drink Editor Patricia Kelly Yeo will track down, and in some cases try, hard-to-find food and drink items across Los Angeles.
Have an elusive dish or drink you'd like to know where to find? Email p.kelly.yeo@timeout.com.
"What is that, exactly?"
"I'm sorry, but we don't have any passion fruit liqueur."

"I think we're out of Passoã."
This summer, after an evening of scrolling through online menus, a half-dozen Instagram inquiries, unsuccessful phone calls and a failed attempt to walk in and blindly order at the Roger Room, I finally located a bar near me capable of making a porn star martini. Though popular in London (the drink's birthplace) and across the UK, the passion-fruit-based cocktail remains fairly unknown in the United States, where the mere mention of the drink's name sends people into fits of laughter, leaves many bartenders scratching their heads and activates Google's SafeSearch function. As a result, it's also extremely difficult to find in Los Angeles—though not impossible.
The orange-hued drink's original recipe comes from the late London bar owner Douglas Ankrah, who first served the cocktail in 2002 at his now-closed bar, Townhouse. According to a 2017 interview, Ankrah wanted to make a drink that personified the attributes of "bold, sexy and playful." It consists of vanilla vodka, passion fruit purée, lime juice, simple syrup and Passoã liqueur, a Brazilian spirit. After shaking, the entire drink is strained into a coupe, garnished with passion fruit and served with a sidecar of sparkling wine, which can be poured into the glass or enjoyed side by side.
Even if you haven't experienced the drink firsthand, anyone familiar with both passion fruit flavoring and sparkling wine in sangria or even a French 75 can likely imagine the drink's refreshing, tropical feel—and it's clear our friends across the pond agree. If Google search volume is any indication, it was the second most popular cocktail in the UK this year, according to The Spirits Business.

Based on my efforts, however, Los Angeles is an entirely different story. Aside from a brief time in 2013 at Nic's Beverly Hills (now Nic's on Beverly), the drink hardly, if ever, pops up on L.A. bar menus. This is despite the fact that Angelenos, in general, gravitate towards breezy drinks with tropical flavors, whether in the form of tiki classics or refreshing, lower-ABV cocktails suited to poolside sipping or ocean views.
The porn star martini falls into the latter category, but it wasn't until my summer sidequest that I took a sip of my first porn star martini ($19) at MELROSEPLACE on a fairly dead Saturday night. Made with Belvedere vodka, the porn star martini at this glitzy rooftop bar, literally located on Melrose Place, also incorporates edible glitter for extra drama, though the effect of this was lost on me given the relatively poor lighting after dark. It was delicious, though a tad too sweet for my taste, and more than made up for the porn star martini-like drink served to me at the Roger Room the week before, which lacked liqueur.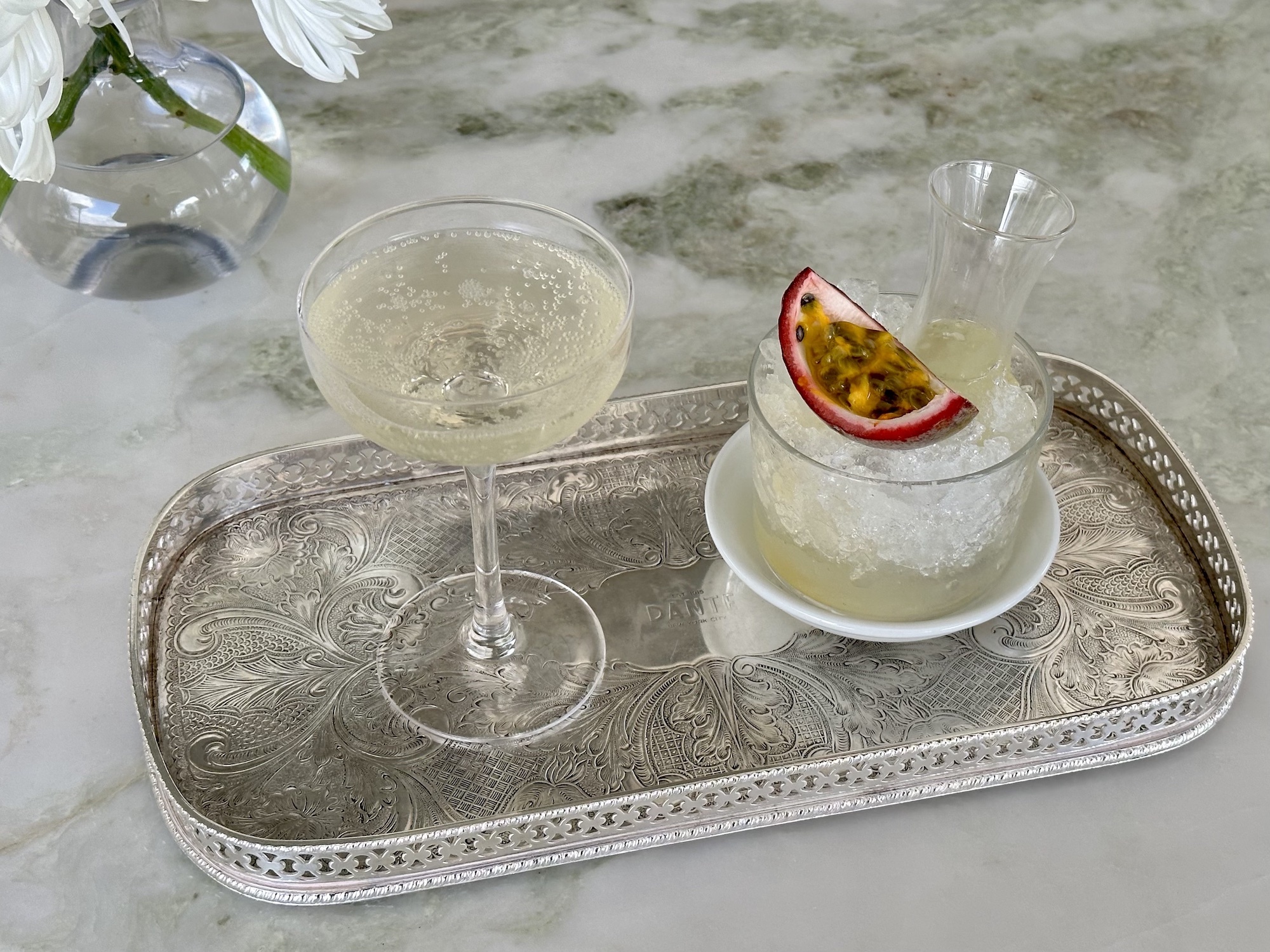 Another great option, which I had much more recently, is the Porn Star 2.0 ($30) at Dante Beverly Hills, which offers similar flavors and a higher level of refinement. The crystal-clear rendition uses a clarified milk punch, plus vodka, rum and white vermouth to create a boozy, fruity champagne cocktail without the slightly syrupy quality of the original. While pricey, the drink comes with an entire sidecar, so you're essentially getting two drinks in one.
Elsewhere in the richer parts of L.A., you can also find a "passion fruit martini" ($19) at the Ivy on Robertson and its Santa Monica counterpart, Ivy at the Shore. I've yet to personally try either version, since I'm not remotely interested in spending the money or time on the scene-y restaurant's infamously mediocre, expensive food. Silver Lake's All Day Baby also serves a porn star milkshake ($17), which I have yet to try. Per the menu description, the boozy, creamy drink incorporates cachaca (a Brazilian spirit made from sugarcane), passion fruit, vanilla, prosecco, vanilla ice cream and gold sprinkles.
MELROSEPLACE LA
8472 Melrose Pl, Los Angeles
Tue, Wed 6pm–midnight; Thu–Sat 6pm–2am; Sun 6pm–midnight
Dante Beverly Hills
225 N Canon Dr, Beverly Hills (inside the Maybourne)
Mon–Sat 11am–midnight; Sun 11am–11pm
The Ivy
13 N Robertson Blvd, Los Angeles
Tue–Sun 8am–10pm
Ivy at the Shore
1535 Ocean Ave, Santa Monica
Wed–Sun 9am–10pm
All Day Baby
3200 Sunset Blvd, Los Angeles
Wed–Sat 9am–9pm; Sun 9am–3pm