Taco Tuesday deals across L.A.
Take advantage of the best Taco Tuesday deals in L.A. and fill up without spending a fortune—or even more than five bucks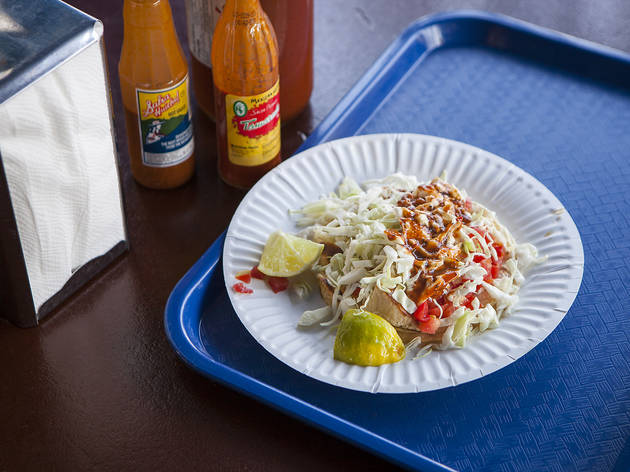 Aside from Wine Wednesday, Taco Tuesday just might be our favorite day of the week. Who can blame us? The tacos in Los Angeles are unparalleled, and while they're already an affordable snack, lunch or dinner option, all those al pastor and fish tacos can add up. That's why we're always on the lookout for taco deals—we're talking as low as $1 a pop—to help fund our habit. Check out our comprehensive cheap eats guide to the best Taco Tuesday specials in L.A. and start snacking.
RECOMMENDED: Guide to the best tacos in Los Angeles
Taco Tuesday deals in L.A.
Cabo Cantina (Hollywood, Brentwood, Santa Monica, Venice, West hollywood) has plenty of deals going on (like 2-for-1 drinks from 4-8pm, seven days a week) but their Taco Tuesday deal is super sweet: all-you-can-eat tacos for $7.
Read more
Starting at 5pm, diners can mix and match any two tacos for $5 (options include al pastor, asada, pescado, carnitas, kale and cauliflower and more). Add beans and rice for $3, and wash it all down with a Condesa margarita for $8.
Read more
Highland Park's dive-turned-Mexican-cocktail-den is Día de Los Muertos themed, and skulls, skeletons and upside-down bats unapologetically grace mezcal and tequila-lined shelves. The slightly kitschy, multi-room space hosts live music and DJ nights, including Taco Tuesdays, with DJ Sweet Caroline spinning tunes and free—yep, free—tacos with your drink orders after 10pm.
Read more
Mission Cantina has specials every day of the week, including a killer Taco Tuesday deal. Snag tacos for $1 each, including barbacoa, pollo tinga, carnitas, hongos and carne asada.
Read more
Don Chuy's celebrates Taco Tuesday with 99-cent tacos in seven varieties: asada, al pastor, carnitas, pollo, desebrada, frijol and papa. Pair with $3 cans of Budweiser and Tecate.
Read more
On Taco Tuesdays, hungry Downtown visitors can purchase tacos for $1 each at Casa La Doña, with options that include asada, al pastor, carnitas and pollo. Be sure to take advantage of their massive salsa selection.
Read more
Tacos Mexico has locations all across Los Angeles, but land at most of their stands on a Tuesday and you'll find tacos for either 65- or 75-cents.
Read more
There are Sharkeez locations up and down the Southern California coast. Find one near you on Tuesdays so you can enjoy their mini street tacos for just $1.99 each and regular tacos for $3.25—though not all styles of tacos are available through the deal.
.
Read more
Sure, you could head to Whole Foods to pick up your own taco ingredients, or head to the DTLA location's the Eight Bar for its $2 tacos, available until 9pm Tuesdays.
Read more
Malo is Silver Lake's answer to a South of the Border stay-cation, and it does things a little differently; Taco Tuesday on a Monday. Simply called "taco night," Malo offers all of their tacos for just $2 each from 4pm to close. Choose from hard shell options like braised chicken, mashed potato, beef or "mock ground beef," or more inventive soft shell versions such as chicken carnitas, baja shrimp, pork belly tinga or sugar pumpkin flower.
Book now
Read more
More cheap eats in L.A.
From shish kebab in Glendale to tacos in West L.A., here are 10 cheap food finds that cost less than $10.
Read more