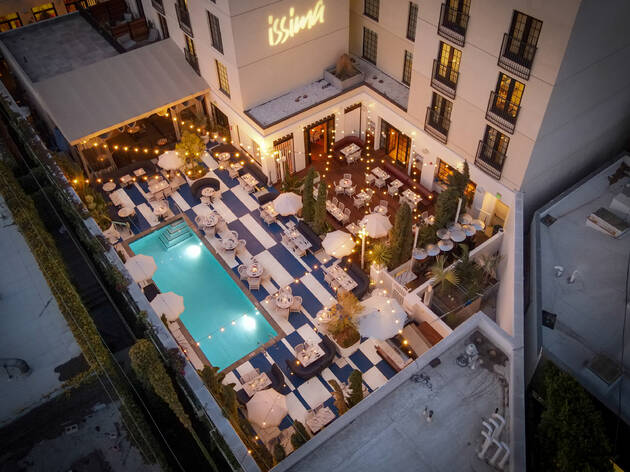 1/5
Photograph: Courtesy Moses Truzman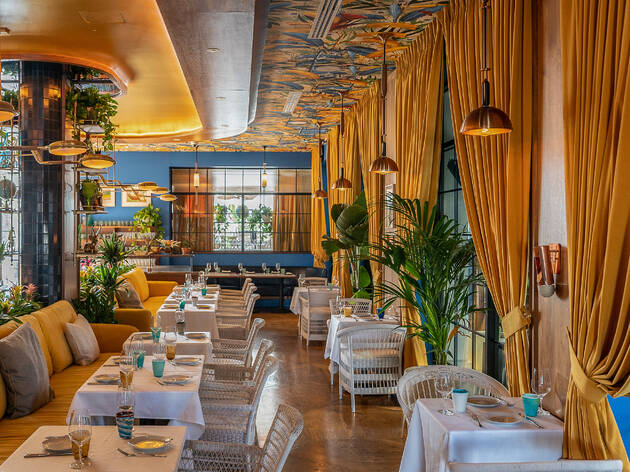 2/5
Photograph: Courtesy Moses Truzman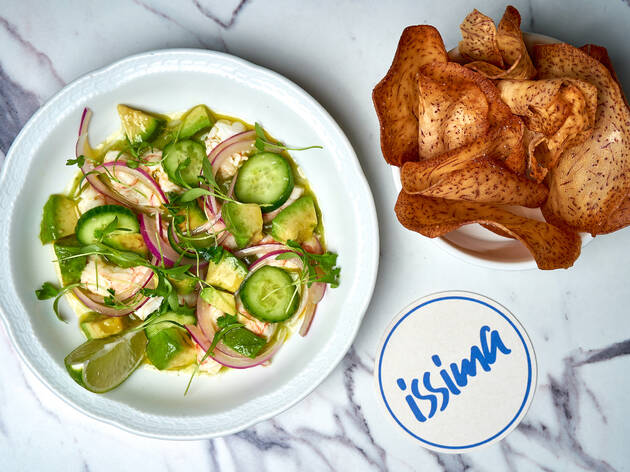 3/5
Photograph: Courtesy Moses Truzman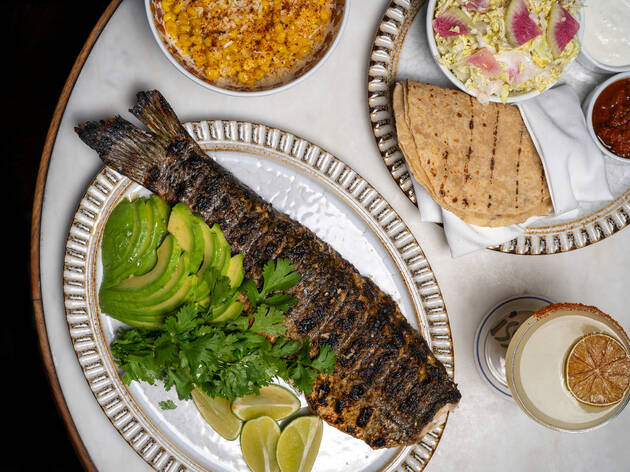 4/5
Photograph: Courtesy Moses Truzman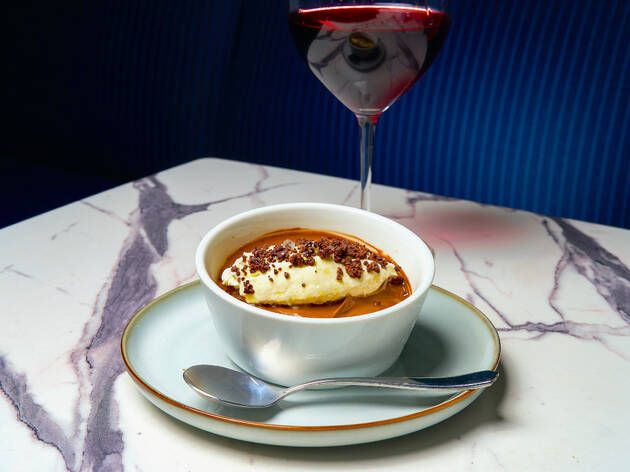 5/5
Photograph: Courtesy Moses Truzman
Time Out says
Issima prioritizes style over substance with humdrum pastas in a sceney resort atmosphere that's ideal for influencers—and basically no one else.
Billed as a tribute to a European summer holiday, Issima at the Kimpton La Peer takes its name from the end-truncated form of bellissima, the Italian word for beautiful. It's a fitting name for this immaculately designed, reservation-only hotel lobby restaurant in West Hollywood, where you'll find the sort of beautiful people L.A. is infamous for attracting and the requisite atmosphere of glamour and artifice that surrounds them—but not much else.
The product of the Boujis Group, who also own the Draycott in the Pacific Palisades and nearby Olivetta, Issima's eye-poppingly expensive, seasonally driven coastal Mediterranean menu is virtually identical to the latter—down to its raw seafood section and lobster arrabiata, a mammoth of a dish in terms of both cost and surface area, with proportional mediocrity to match. Make no mistake: Given the additional 3% hotel resort fee, $150 caviar chip 'n' dip and $185 wagyu ribeye, Issima is a restaurant that caters to the super-rich and those who wish to pretend they are. However, the menu's small plates make it possible to say you've eaten here for less than a Benjamin per head, though you'll probably leave the premises hungry.
Indoors, you'll find an eye-catching blue and yellow interior and plush seats, but the party at Issima is really poolside. Having converted most of the La Peer's courtyard into a charming, string-lit outdoor patio, the restaurant's thoughtful servers adroitly swerve between its cramped tables, which play host to meals that look better on social media than they taste in real life. Exclusively for the 21-and-over crowd, with a rooftop lounge area open until midnight, Issima traffics in the fantasy of carefree luxury that characterizes the lives of the idle rich. For the rest of us, however, this illusory bubble is likely to burst by paying top dollar for chef Michael Fiorelli's middling-at-best cuisine and the claustrophobic hotel valet parking situation that bookends your meal.
For a brief intermission from the restaurant's quasi-glamour, visit the grid of dog portraits by local artist David Heise near the bathroom. Rendered in pencil, you'll be able to peruse dogs with names like Mr. Biggie Small as you contemplate your return to the bustling main dining room full of people happily eating plates of second-rate pasta and a bowl of snow crab claws so small it wouldn't seem out of place in a kid's set of Calico Critters.
There are, however, a few high points. Issima's buttered hunk of warm toasted sourdough is one of them—it's hard to mess up bread, after all. Another is its citrus marinated skirt steak, served alongside a chimichurri sauce, charred onions and fried peppers, a bright point in a menu full of so-so small plates. At their price point, the desserts are missable, but in line with the restaurant's lounge-slash-bar atmosphere, Issima's premium priced cocktails are made strong, and well; somehow, however, the restaurant fails to consistently keep any kind of coffee available to go with dessert. A limited but thoughtful selection of European and Californian wines do justice by their food pairings, even at prices by the glass higher than L.A. average.
Like many of the celebrities who live in the hills above it, Issima is smaller than it looks in real life and far less impressive than its carefully angled refractions on Instagram. If you're in the mood to be perceived, however, this is the place to do it.
The vibe: A glitzy Mediterranean summer holiday on the patio, with a heightened sense of cozier luxury indoors and a typical West Hollywood going-out atmosphere on the roof.
The food: Downright mediocre for the price, though that hasn't stopped plenty of folks from posting the gigantic lobster arrabiata. But you're really here for the scene, right?
The drink: Cocktails are expensive, but well-made, with a decent watermelon lychee mocktail option. A small list of wines by the glass and a larger selection of mostly European wines by the bottle, with a few Californian labels for good measure.
Time Out tip: Issima's target demographic swarms the restaurant later in the evenings. For a quieter, less raucous atmosphere, try to book a table before 8pm. (Reservations are, after all, always required.)
Details
Address:
623 N La Peer Dr
West Hollywood
90069

Price:
$$$
Contact:
Opening hours:
Tues-Sat 6pm-12am
Do you own this business?
Best selling Time Out Offers