The 100 best dishes and drinks in Los Angeles 2016: Burgers and sandwiches
Some of the best dishes this year came between two slices of bread. Sink your teeth into our favorite burgers and sandwiches from 2016.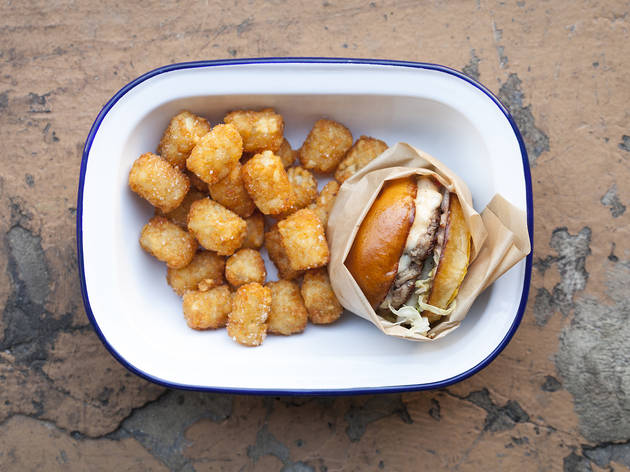 Talk about #lunchgoals. We enjoyed some pretty amazing hand-held bites this year, from burgers oozing with bacon to sandwiches stuffed with pastrami. You want fries with that? Sure, why not. Take a peek at the best burgers, sandwiches, wraps and bao buns we ate in 2016.
RECOMMENDED: The best dishes and drinks in Los Angeles
L.A.'s best burgers and sandwiches of 2016
Everson Royce Bar's happy hour burger is pretty much everything you want to coat your stomach with before drinking. A buttery bun holds together a simple construction of beef patty and cheese, but the patty is so perfectly cooked and the cheese so expertly melted that, really, it's all you need. A thick cut pickle arrives alongside it, as do a basket of fries. $10. - Erin Kuschner
Restaurants, Sandwich shops
Wax Paper won our sandwich-loving hearts this year with sammies named after NPR personalities. We're particularly taken with the Steve Julian, a banh mi-esque baguette loaded with roasted pork shoulder, pickled carrots and daikon, jalapeño vinaigrette, miso and bacon fat aioli, and cilantro. Enjoy it outside on Wax Paper's patio while watching the Frogtown folk pass by. $11. - Erin Kuschner
Hopdoddy's entrance into L.A.'s burger scene was a welcome one, especially with this beauty: the El Diablo. The fiery burger features a rich Angus beef patty piled high with Tillamook pepper jack, caramelized onions, habanero and serrano chiles, salsa roja, chipotle mayo, lettuce and tomato. It may make your eyes water, but it's totally worth it. $8.25. - Erin Kuschner
Restaurants, Mediterranean
If you already love Dune, you might find it hard to deviate from your usual falafel or pickled beet sandwich. But the fried chicken shawarma that launched this year is a nice break from tradition. Stiff house bread holds the fried chicken, spicy toum, charmoula, pickles, radishes and greens, a weighty wrap that'll fill you up while you contemplate ordering a side of falafel. $12. - Erin Kuschner
Chef Neal Fraser has proven he can execute both casual kitchen fare (Fritzi Dog, BLD) and fine dining (Redbird); with Fritzi, which sits next to Arts District Brewing, Fraser finds a comfortable place in the middle. The Fritzi burger is comprised of a bacon-beef blend topped with fontina fondue, iceberg lettuce, calabrese relish and Thousand Island dressing. With a side of crunchy, piping-hot tater tots, it makes for a seriously satisfying lunch or dinner. $12.50. - Erin Kuschner
Orleans & York Deli has a few locations across Los Angeles, but wherever you go, you'll find the same quality po'boys—especially the shrimp-stuffed variety. Mixed in with lettuce, tomato and mayo, the fried shrimp (and there is plenty) is bound by a soft, fresh baguette that sops up residual spices from the shrimp. $11.99. - Erin Kuschner
Bars, Gastropubs
Downtown Financial District
Brack Shop Tavern moved into the former Barrel Down space this year, revamping both the drink and food menu with some serious upgrades. One of the best swaps came in the form of the patty melt, an ooey, gooey sandwich marrying a beef patty with jalapeño pimento cheese, pickled green tomatoes and grilled onions on white bread toast. Paired with one of Brack Shop's excellent cocktails, it makes for a damn fine gastropub meal. $12. - Erin Kuschner
As both a meat-centric restaurant and a butcher/sandwich shop, the Cannibal L.A. brought plenty of pork, turkey, roast beef and brisket to Culver City this year. I loved the porchetta sandwich here, a massive, pork-stuffed sandwich with cherry peppers and a smear of salsa verde. $11. - Erin Kuschner
Thai Town needed a bar like Tabula Rasa, a cozy wine haven from a couple Bestia alumns with a succent food menu that includes one of this year's best sandwiches. The Cuban sandwich is perfect for coating your stomach before a couple glasses of vino: oozing cheese, perfectly grilled bread, thick slices of ham and snappy pickles. Hell, it'll even make for great hangover food after all your wine. Whatever works, man. $8. - Erin Kuschner
Smorgasburg! You're killing it at the sandwich game, including this fatty delight from Primera Taza Coffee House. On my last visit to the Arts District market, the Boyle Heights vendor was selling a pork belly sandwich, with a delicious sauce smothered on thick slices of decadent pork. Apparently, the sauce is a secret—fair enough, Primera. Just keep doing what you're doing. - Erin Kuschner
Nestled on Ventura Boulevard in Studio City, the Bellwether is a casual neighborhood spot from executive chef and co-owner Ted Hopson, known for his fantastic burgers at Father's Office. He finally put a burger on the menu at the Bellwether, too, and it's incredible. The Ploughman's Burger—only offered during brunch—features a juicy patty topped with slaw and clothbound cheddar. It's inspired by the English Ploughman's lunch (cheese, pickle and bread), and it couldn't be any more satisfying. - Erin Kuschner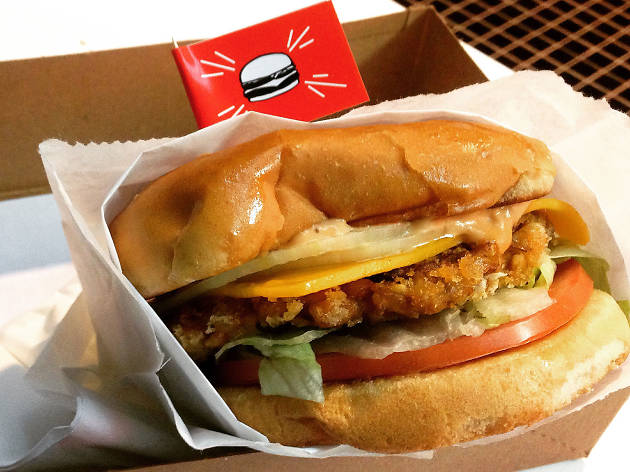 Photograph: Erin Kuschner
Vegan burger at Burgerlords
Burgerlords has occupied a charming spot in Chinatown since October 2015, but it wasn't until recently that I tried the vegan burger here. As a non-vegan, it was as close to meat-less burger nirvana as I expected to get. A blend of grains and vegetables forms the patty (and, surprisingly, doesn't result in a crumbly mess), and is supplemented by lettuce, onion, tomato and vegan Thousand Island dressing. $6. - Erin Kuschner
Eddie Huang's NYC Baohaus made its way to Far East Plaza recently, offering baos, bowls and taro fries to hungry Chinatown visitors (or those who want a momentary respite from the nearby line at Howlin' Ray's). All the baos are bomb, but the Birdhaus bao is a definite standout made with all-natural fried chicken, Haus seasoning salt, lemon-garlic aioli, crushed peanuts, Taiwanese red sugar and cilantro. $3.55. - Erin Kuschner
Nearly every vendor at Smorgasburg had something fantastic to offer this year, but Ugly Drum's pastrami—and more specifically, the pastrami sandwich—was phenomenal. Tender, fatty and flavorful, a dollop of mustard was all that accompanied the sammie—and it didn't need anything else. $20 for a full sandwich, $10 for a half. - Erin Kuschner
Nestled within the Hollywood Historic Hotel, the Edmon is an Art Deco lover's dream, a bar that glows with backlit bottles of liquor and 1930s decor. You may be more inclined to order cocktails and maybe scallops here, but the house burger is seriously delicious. Ground Angus beef is topped with caramelized onion, applewood smoked bacon, Vermont white cheddar and parsnip mustard, and comes with a healthy portion of house-cut fries. $16. - Erin Kuschner
Craving a grilled cheese?
Indulge your inner kid with one of the best grilled cheeses in L.A.