The best chef's tables, counters and private dining in LA
Cozy up to some of the best chefs and kitchens in the city with these intimate dining options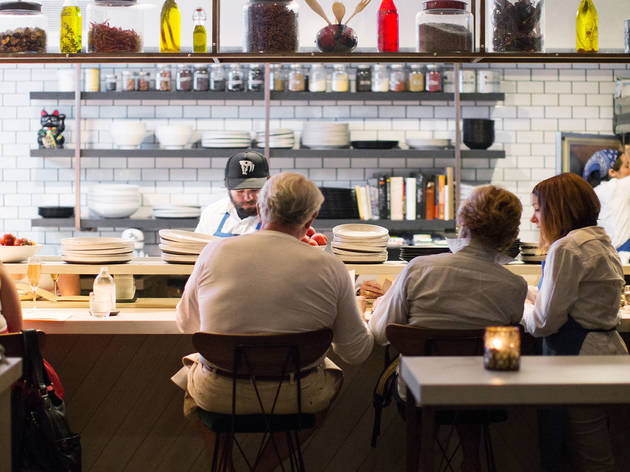 So you've snagged a reservation at one of the hottest restaurants in town—but have you scored the best seat in the house? From a chef's counter at a new Koreatown wine restaurant to a hotel's ultra-private dining room, and chef's tables that put you face-to-face with Los Angeles' top toques (like spaghetti master Scott Conant), here's everything you need to know about the city's most sought-after culinary experiences—including how much you can expect to spend.
RECOMMENDED: LA's best fine dining restaurants

Chef's counters
Restaurants, American creative
At Koreatown newcomer Saint Martha, nab one of the five available seats at the chef's counter to watch executive chef Nick Ervin (formerly of Messhall Kitchen) work his magic in the exposed kitchen. Named after the patron saint of cooks and servants, this jewel-box spot serves up the likes of lobster steamed buns, poached cod and 14-hour hickory-wood smoked brisket à la carte, alongside more than 50 wines by the taste, glass, piché or bottle, as well as sake, soju and craft beer. Keep an eye peeled for five- and seven-course tasting menus making their debut later this summer.
When to reserve it: Call about a week ahead of time for a weekend reservation, but on a weeknight you can usually call day-of or even walk in.
Restaurants, American creative
Downtown's The Gorbals first put itself on the map with its eclectic Scottish-Jewish fusion cuisine as imagined by owner and chef, Ian Hall. This summer's addition of a weekend brunch program overseen by chef Kris Morningstar has only further cemented its status as a local dining destination. Belly up to the six-seat chef's counter to witness the kitchen wizardry first-hand, and show your support by buying the chef and his team a round of beers for $13—which will not only earn you their gratitude but, most definitely, a round of cheers.
When to reserve it: During the week, call a day ahead or get lucky day of. For a weekend, call about four days in advance—it doesn't book up as quickly as the rest of the restaurant.
At smoke.oil.salt, Adam Fleischman's new West Hollywood eatery, the focus is on Spanish tapas and wine: paella, fideua, serrano cured for 18 months. The restaurant is divided into two rooms (one featuring the oven as a central focal point; the other displaying more of a wine bar feel), and there is a chef's counter with space for four to five diners, where you can order from the regular menu and chat with chef Perfecto Rocher as he whips up sea urchin flan. Come Fall 2014, however, this space will offer a prix-fixe menu, where you'll be able to order dishes in a Spanish omakase style. Stay tuned for more details on the menu!
When to reserve it: Walk in and snag a seat on weekdays—it's first-come, first-served and still a bit of a secret at the restaurant. For a weekend dinner or more popular evening, call a week ahead to claim seats.