A shopper's guide to the Santa Monica Farmers' Market
Everything you need to know to find the freshest produce and tastiest treats at the Santa Monica Farmers' Market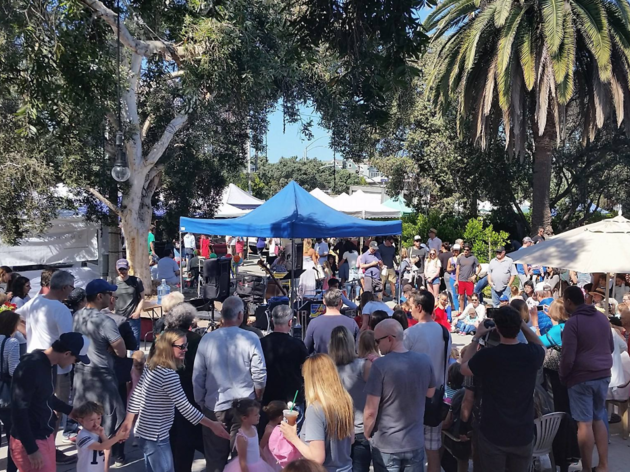 The L.A. farmers' market to which all others are compared—yes, even Hollywood's star-studded affair—Santa Monica Farmers' Market is where chefs spend their early morning hours stocking up for the dinner rush. This Westside institution packs the best vegetable growers, fruit juicers, cheese makers and bread bakers into a few blocks just east of the beach, meaning you can peruse its stalls for super-fresh, local fare with an ocean breeze at your back. It's the ultimate SoCal shopping experience.
Where is the Santa Monica Farmers' Market?
You can find this Westside market on Arizona Avenue between Fourth and Ocean avenues.
What are the hours?
The Santa Monica Farmers' Market takes place every Wednesday from 8:30am to 1:30pm, and every Saturday from 8am to 1pm.
Is it free?
You bet!
Do you have any tips for shopping the market?
Jonathan Aguilar from the Bolaños Family Sprouts stall says: "Ask questions if you don't know what something is, and take the time to get to know your vendors. These are both good ways to get free samples, too."
Our two favorite vendors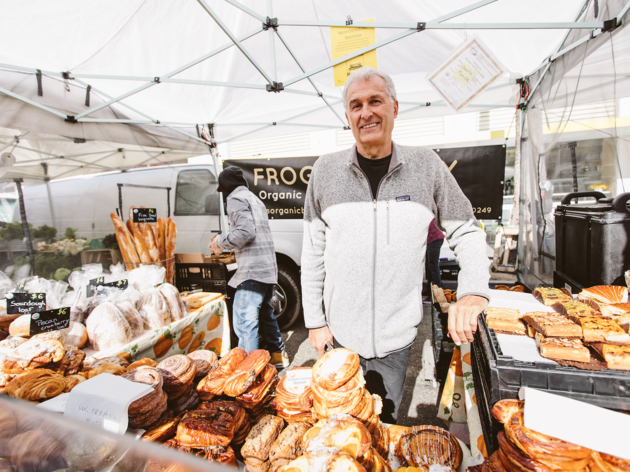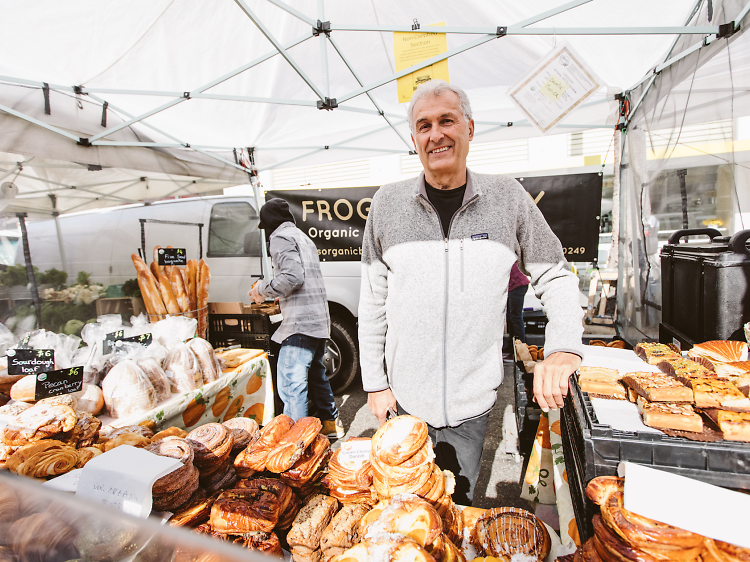 Frogs Organic Bakery
For high-quality carbs
"There's a myth in L.A. that people don't eat bread," says Frogs Organic Bakery owner Marc Lory between frenzied transactions. "But they come once and they're hooked." The line at his stall is proof, as golden-brown baguettes, king cakes, and sweet and savory pastries (we suggest the almond croissant) change hands from open to close with no discernable lull. Lory says the bakery goes through more than 2,000 pounds of flour a week to keep marketgoers rich in yeasty goodness.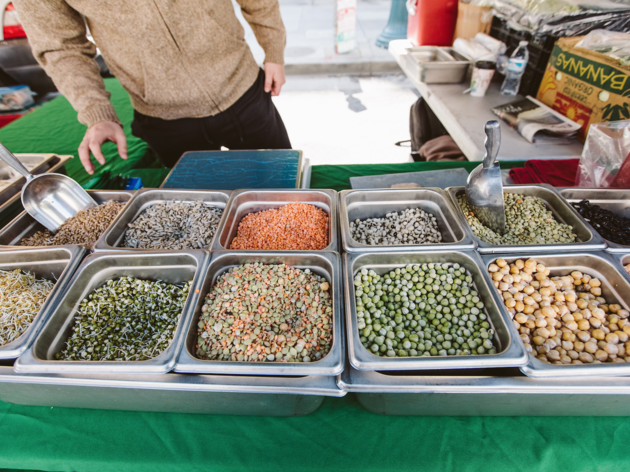 Bolaños Family Sprouts
For a rainbow of healing
Juan Bolaños and his nephew Jonathan Aguilar tout the health benefits of their rainbow-hued selection of sprouted beans, seeds and lentils, all grown in a greenhouse just down the street from USC. The sprouts range from crisp and sweet to spicy or even bitter; some (like fenugreek) are good for the liver, while others (like mung bean), are super high in protein—a popular choice for vegans. Bolaños also sells fresh wheatgrass, which you can buy by the tray or have juiced for a shot on the spot.
Make a day of it in Santa Monica
There are plenty of things to do in Santa Monica without setting foot on the pier or Third Street Promenade, from fresh dinners prepared straight from the farmers' market to bars with a view.
Read more