Heads up! We're working hard to be accurate – but these are unusual times, so please always check before heading out.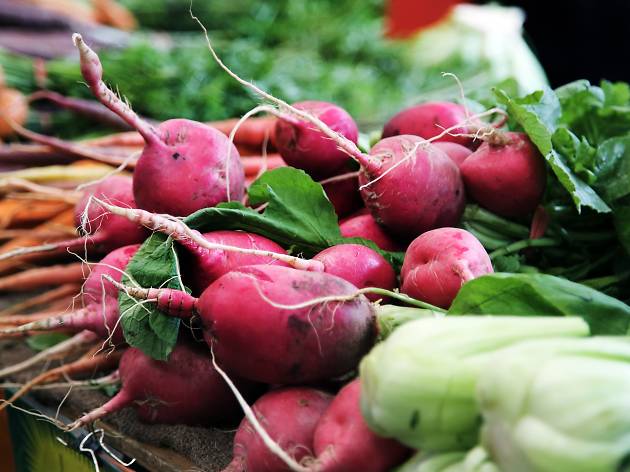 The best farmers' markets in L.A.
Take a stroll through L.A.'s bountiful, alfresco farmers' markets spanning the West, East and Valleys
Without a doubt, Los Angeles has eternal bragging rights when it comes to phenomenal farmers' markets. Oh, you think you've tried a good blood orange? Come back to us after visiting Santa Monica's on a Wednesday morning, Silver Lake's on a Saturday or Hollywood's on a Sunday. These seasonal markets are where the best restaurants in L.A. buy their produce, where you can indulge in your love for cheap eats with endless sampling, and where cartons of avocados seem to stretch as far as the eye can see. Check out our picks for the best farmers' markets on the Westside, in Central L.A., toward the East and in the Valleys, then grab your reusable bag and start shopping.
Central and East-ish L.A.
Take a break from dodging tourists and faux superheroes by paying the Hollywood Farmers' Market a visit, held rain or shine every Sunday from 8am to 1pm. As one of the first farmers' markets to pop up in California, the strip of vendors that stretches along Ivar Boulevard and Selma Avenue has grown to over 70 farmers, producers and artisans, and also serves as a venue for live music, book signing and mouth-watering chef demonstrations. Stock up on California-grown avocados, dates, seafood, honey, free-range poultry—or head to the stretch of prepared-foods vendors, where you'll find whole chickens roasting over a spit; Thai food seared, fried and grilled before your very eyes; and loaves of Bub and Grandma's bread: some of the best in the city. A gem of a community gathering space and the platonic ideal of locavore shopping, the Hollywood Farmers' Market is a true must-visit.
This neighborhood market—hosted Tuesday afternoons and Saturday mornings in Sunset Triangle, just east of Sunset Junction—is the place to see and be seen while you peruse produce. The shoppers here have style, as evidenced by the many (rather pricey) vintage clothing racks and jewelry stands dominating a corner of the market. There are also used books and records for sale, fresh flowers, plus a lot of crystals, dried sage and other hip hippie wares. And there's a ton of food, too: Grab a coffee or a fresh-squeezed OJ, pregame with a tamale or crêpe and stroll the stalls. Highlights include some pretty incredible citrus vendors, mason-jarred goat cheese, farm-fresh eggs and tons of veggies. There are also prepared foods such as hummus, guacamole and pupusas—so you've already got lunch figured out, little to no assembly required.
This little market—held in the parking lot behind Club Tee Gee every Sunday from 10am to 2pm—is a true neighbhorhood mainstay. It's small, but the patrons are regulars (and mostly locals) and the produce is top-notch. Aside from the normal fruit and veg stalls, the market offers vendors for mushrooms, beans, grains, pies and quiches. You'll find all sorts of unique treats here, from squash blossom flowers and blistered almonds to unpasteurized sugar cane juice and royal jelly from happy bees. Grab a coffee if you're an early morning market-goer, or get your knives sharpened if it's been a while (perfect inspiration to head home and cook with your market groceries). There's something for everyone here.
Looking for more alfresco activities?
Whether you're looking to trek the best hikes in L.A., surf at some of the city's best beaches, or sip cocktails at top rooftop bars, Los Angeles has enough outdoor activities to keep you entertained (and sun-kissed) all year-round. Check out our list of top attractions for things to do outside in Los Angeles.