A guide to Echo Park Craft Fair
Echo Park Craft Fair is one of the best seasonal markets in Los Angeles, and we've got the scoop right here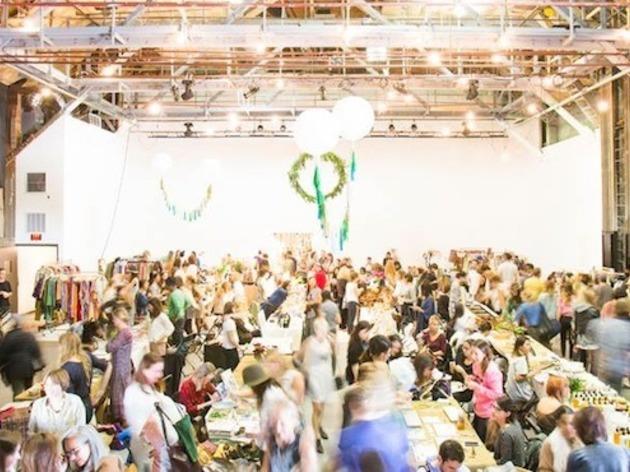 If you're talking craft fairs in LA, Echo Park Craft Fair is most definitely on your lips. The seasonal market is one of the city's best-curated, with local vendors offering quality handmade goods, seasonal fare and a place for the creative community to come together. Founded by local designers Beatrice Valenzuela and Rachel Craven, the bi-annual extravaganza has grown from a backyard hangout to an artisan's haven, providing more than 120 local craftspeople a space to showcase their handmade gems to more than 3,000 attendees.
When and where is the next Echo Park Craft Fair?
So glad you asked. It's coming up on May 13 and 14 at Mack Sennett Studios in Silver Lake, from 10am to 6pm both days.
How much are tickets?
You can buy a one-day pass for either Saturday or Sunday for $10 each, or a weekend pass for $16. Tickets are available online as well as at the door.
Who will we see there?
Echo Park Craft Fair often brings back tried and true vendors from previous fairs, while introducing a few new artists each season. A complete roster of artists who will be in attendance is listed on the market's website.
What's on offer aside from shopping?
Echo Park Craft Fair will close off Effie Street for the first time to create an outdoor annex to the fair, which will feature an entire section of children's clothing and crafts. There will also be a tintype photo booth, and Vardot Tarot will be parked outside for tarot card readings by Erin K. Smith. Moon Canyon will beautify the entire space with their unique floral designs.
What if we get hungry (or thirsty)?
Echo Park's new restaurant Winsome is providing food and beverages. There will also be an indoor bar by Spare Room Off-Site, as well as non-alcoholic drinks from juice bar Moon Juice, eclectic food offerings and music curated by renowned Dublab DJs.
What to do near the Echo Park Craft Fair