A guide to Mark Taper Forum
Find out about Center Theatre Group plays taking place this season at the Mark Taper Forum, also venue info and more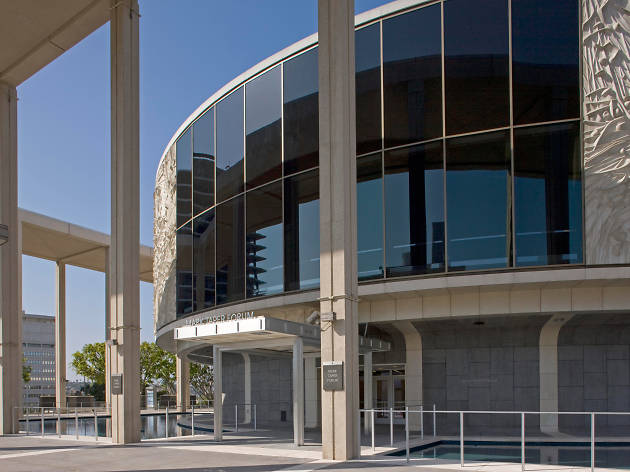 At the 736-seat Mark Taper Forum in Downtown Los Angeles, Center Theatre Group has specialized for decades in top-flight dramas, including many, many West Coast premieres and world premieres of works like Angels in America, Zoot Suit and Twilight: Los Angeles, 1992. The performing arts center has enjoyed collaborations with artists such as Tony Kushner, Luis Valdez, Anna Deavere Smith, Eric Bogosian and more. Though it may be smaller than its neighbor in the Music Center, the Ahmanson, it's just as mighty when it comes to the work being put on by CTG.
Mark Taper Forum information
Address: 135 N. Grand Ave. Los Angeles, CA 90012
Ticket prices: Mark Taper Forum's CTG ticket prices vary depending on the production, with top-end seats reaching $85. The "Hot Tix" program makes a limited number of seats available at $25. For tickets or more information, visit the website or call the box office.
Box office: 213-628-2772
Website: www.centertheatregroup.org
RECOMMENDED: A full guide to Center Theatre Group
CTG's Mark Taper Forum 2017/18 season
This world premiere production by David Henry is a provacative comedy that travels 150 years into the future. According to the Center Theatre Group's website, it's "A beloved East-meets-West musical, China's 21st-century rise, and a theatre company gala collide to make mayhem—and some beautiful music. Inspired by the West's often ridiculously inauthentic portrayals of Asia, Soft Power has been commissioned as the final production of Center Theatre Group's 50th Anniversary Season at the Mark Taper Forum."

Runs April 4, 2018-May 13, 2018. Tickets are not on sale yet.
Restaurants and bars near Mark Taper Forum
Things to do, Walks and tours