A tour of aerospace history in L.A.
See how Southern California's aerospace history has made L.A. our planet's best path to outer space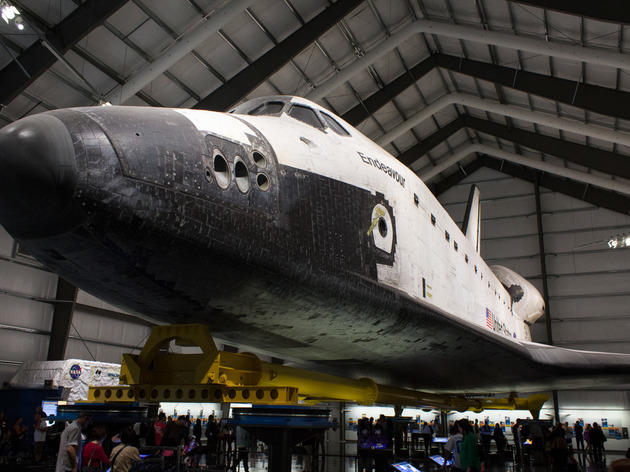 One L.A. industry has produced ambitious success stories, created American icons and glued a global audience to TV sets. We're referring to the aerospace industry, of course (sorry, movie studios and TV show tapings). You can trace humanity-defining moments, from the Moon landing to the Mars rover launches, back to research facilities and fabrication centers in Southern California cities like Downey and Pasadena. We may not be able to travel to our planetary neighbors or to the edge of our solar system (yet), but visiting these historic sites is the next best thing.
5 places to explore aerospace history
Straight out of a conspiracy theorist's fantasy, NASA's Jet Propulsion Laboratory—or JPL for short—is carved into a San Gabriel Mountains hillside next to a dry riverbed that hosted rocket experiments in the '30s. The Caltech-managed facility is mostly in the business of robots; it has overseen the research, fabrication and piloting of unmanned missions with the Voyager probes and the Mars rovers. Though JPL's annual open house sells out almost immediately, reservations for daily tours of mission control and the assembly clean room typically become available about five months in advance.
Read more
You'll find an assortment of capsules and probes on display at this Exposition Park institution, but its most awe-inspiring attraction by far is Endeavour. The final ship to be built in NASA's space shuttle program, Endeavour has a reach-for-the-stars story rooted in L.A.: It was built in Downey and Palmdale and, 25 missions and almost 123 million miles later, rolled along our streets to its permanent resting place in the museum. A future exhibition hall will place the shuttle and its external fuel tank in vertical launch position, so wander underneath the vessel's belly of thermal tiles while you still can.
Buy tickets
Read more
Part of Edwards Air Force Base, this NASA research facility—often referred to by its former name, Dryden—has hatched some of the most advanced aircraft in existence. Known for the speedy SR-71 Blackbird, it has also been responsible for testing prototype lunar landers and the very first space shuttle, Enterprise. Shuttles no longer land on Dryden's runway, but the Mojave Desert base still regularly tests sound-barrier–breaking, space-bound aircraft. Though NASA has ceased its tours, you can visit via Edwards Air Force Base; public tours are offered once a month, but reservations routinely fill up months in advance.
Read more
An Apollo escape pod and a sleek two-story museum hint at this site's place in aerospace history. Downey's aviation ambitions soared during the Space Race: The former North American Rockwell plant was responsible for building 17 Apollo Program command modules, 11 of which were used in manned missions (including the first Moon landing), as well as all six space shuttle orbiters. The Columbia Memorial Space Center explores the site's bulldozed legacy through kid-friendly exhibitions but strikes a more somber tone as the national memorial to the crew of the ill-fated Space Shuttle Columbia.
Read more
Though we celebrate the triumphs of Southern California's aerospace industry, it's also important to reflect on the losses. This ornate dome at Valhalla Memorial Park Cemetery has served as a mausoleum and memorial to early aviation pioneers since 1953. Following the catastrophic Space Shuttle Columbia disaster, a model of the orbiter was erected here with a plaque to honor its crew.
Read more
What about SpaceX?
Unfortunately, the Hawthorne-based corporation does not offer public tours. But we're just as excited about its reusable rockets and Mars-bound probes as you are.
Looking for more local history?
We've narrowed down L.A.'s long roster of museums to the essentials. Consider this your must-see list (and if you've already visited them all, take this as an opportunity to see them again).
Read more