Little Tokyo's best attractions and restaurants (map)
Explore the best of Little Tokyo with this map of the neighborhood's best restaurants, shops and things to do.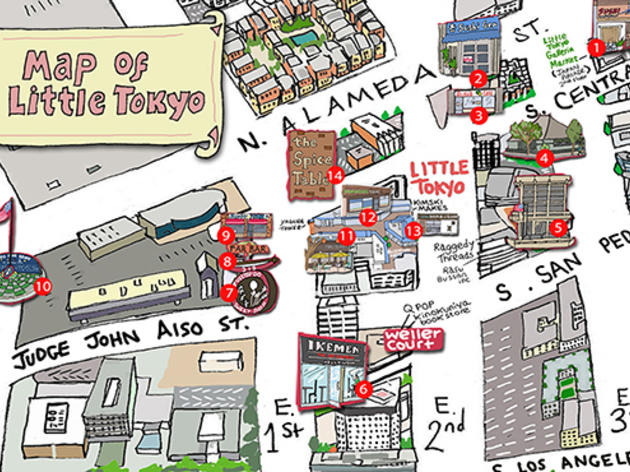 This neighborhood fixture inside the Little Tokyo Shopping Center—park inside the parking structure and make your way to the third floor—is where locals and those in-the-know drop by for sushi that won't break the bank. Sit at the long sushi bar for chirashi ($17)—try upgrading to an ikura and uni–topped version ($24)—and other raw fish plates prepared with care and skill. You can't beat the sushi lunch meal-deals from a tempura and sushi lunch for $14 to sashimi lunch for $16. Cooked highlights from the kitchen include grilled whole amaebi (sweet shrimp, head and all) topped with uni, deep-fried oysters and steamed red snapper head served with ponzu sauce. A daily happy hour (5:30-7pm) gets you $4 beer and half-priced sake.
Read more
While lines snake out the door for lunch specials at Sushi Gen, those looking for heartier breakfasts with old-school charm and a budget bargain head next door to Aloha Cafe. This no-frills, mom-and-pop cafe/diner has been serving Hawaiian plates for over a decade. So, fill up on loco moco ($7.75) or pork lau lau—served on weekends only—or, for something sweet, heavenly French toast made with thick slices of sweet Hawaiian bread.
Read more
Take a stroll through the picturesque garden outside of this Shin Buddhist temple, attend a Shinshu Otani service or stop by during a community event. In the weeks leading up to July's Obon Festival, the temple also organizes biweekly Bon Odori practices to teach traditional celebratory Japanese dances to festival performers.
Read more
This tranquil garden is one of Little Tokyo's best-kept secrets as the urban oasis isn't accessible from the street. To reach the space, enter the Japanese American Cultural and Community Center, check in at the information window on the left, take the elevator down to level B and zigzag to your right through an unembellished hallway. Food and drinks aren't allowed, but it's still an ideal setting to while away a few minutes far from the hustle and bustle of the city. According to the community center, gardens carry great importance in Japanese culture—caring for the grounds is a form of art and spending time among the flora encourages harmony with nature—so walk the outer path for a complete view of the garden's foliage, babbling stream and cascading waterfall.
Read more
Ikemen's slogan is "No ramen, no life," which pretty much sums up the slightly punk-ish atmosphere of this ramen joint. As it is as its original location in Hollywood, the specialty here is tsukemen ($9), or dipping ramen. Though tsukemen purists will want to stick with the wonderful bowls at Tsujita on Sawtelle, Ikemen's will satiate this side of the 405. Try the more creative bowls like the Johnny Dip ($9.00) where the tonkotsu broth is mixed with green onions and Italian basil and your choice of chashu pork or grilled chicken.
Read more
Tucked in the ever bustling Mitsuwa Market Place, a little jewel of a place sells Japanese sweets. Since 1903, this tiny bakery has been making mochi, chewy rice cakes, and other baked delights neatly lined against the walls and in glass display cabinets (talk about edible art!). Don't miss the ever-popular mochi and petit gaufres—thin, crispy cookies filled with rich cream.
Read more
A favorite with beer lovers, this Little Tokyo bar serves a full menu of craft beers on draft and eats. While there are burgers on the menu—try the house version with smoked Gouda and grilled cheese—the theme is Asian with a mix of sushi rolls, Korean short ribs and teriyaki sliders. Don't miss weekday happy hour from 3-7pm and all-day Sunday.
Read more
There are plenty of places for sushi in Little Tokyo, but maybe one of the friendliest and affordable experiences can be found at Toshi Sushi. In a low-key space just steps from busy First Street, owner and sushi chef Toshihiko Seki offers solid menu of bento boxes for lunch ($8.75), plus, of course, solid sushi and sashimi. On the latter, your best bet would be to trust in Toshi and allow him to choose the best cuts of the day for you ($21.95 for the sushi combination platter at dinner).
Read more
Tucked back from the corner of Alameda and Temple Streets sits the semicircular Go For Broke monument, a tribute to the Japanese American soldiers who served in the US Army during WWII—the first memorial of its kind in the US. The black granite sculpture, designed by LA architect Roger Yanagita, bears the names of over 16,000 veterans including the 442nd Regimental Combat Team, the almost entirely Japanese-American and highly decorated group that fought with the motto, "Go for broke."
Read more
Show more