Heads up! We're working hard to be accurate – but these are unusual times, so please always check before heading out.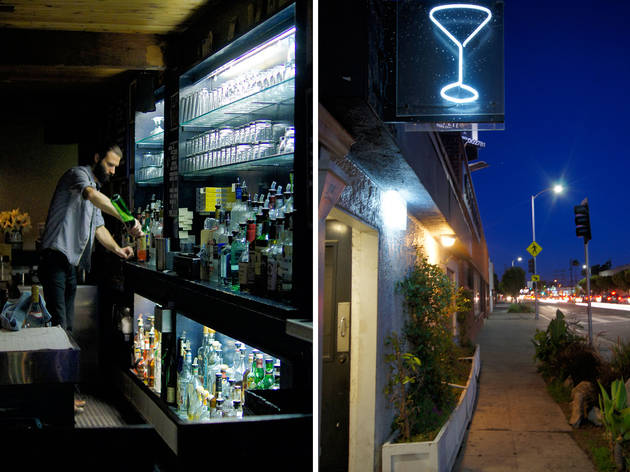 Los Angeles neighborhoods: A day in the Culver City Arts District
Explore the Culver City Arts District with the best places to eat, drink, shop and play in one of the most eclectic of Los Angeles' neighborhoods
Famous Los Angeles neighborhoods include the touristy Hollywood, hipster-centric Los Feliz and beachy Abbot Kinney. We have started to see the emergence of micro-neighborhoods such as the Downtown Arts District, Hancock Park's Larchmont Boulevard and the now bustling Culver City Arts District, nestled along the juncture of La Cienega and Washington Boulevards. The Westside community has quickly gained a reputation of being artsy, family-friendly and—gasp!—walkable. Whether you're looking for your latest acquisition of contemporary art or arguably the best coffee brewed on the Westside, here is your LA city guide to the Culver City's on-the-rise nabe.
RECOMMENDED: Los Angeles neighborhood guides
Shop
Your day starts at Cognoscenti Coffee—try to nab a metered parking spot in front—where coffee snobs congregate to chat about the precise grind grade and optimal temperature needed to brew the best cup of joe. Small but surprisingly spacious feeling, Cognoscenti's ceiling-to-floor storefront window lets in lots of natural light, even though there are only two heavily jockeyed-for tables and a few brightly colored plastic chairs outside for seating. Cognoscenti prides itself on acquiring a global assortment of beans from small coffee bean buyers, so grab a pound to try at home. Even if you don't fancy nattering on with earnest baristas about which area of Guatemala grows the best beans, grab a flakey almond croissant or chewy chocolate chip cookie from Proof Bakery.
Head for tasty and affordable eats on Washington Boulevard for some of LA's best Oaxacan cuisine at local favorite EK Valley. Look for the potted cacti and neon orange façade with a few shaded sidewalk tables out front. There are all of six indoor tables, festooned with colorful tablecloths. Either way, the amiable owner Epy Garcia and his wife will greet you with smiles, rightly proud of their spicy, fork-tender beef barbacoa platter or the creamy, nutty and densely spiced house mole slathered over chicken ($12). If grab-and-go is more your style, pick up lunch at Let's Be Frank, open Wednesday through Sunday afternoons. Housed in a cheery red trailer, this hotdog stand satisfies the appetites of Culver City residents and gourmet dog aficionados alike with grass-fed beef, heritage pork, and turkey sausages from pasture-raised animals at $5 a pop.
For your afternoon pick-me-up, head to Coolhaus for a custom ice cream cookie sandwich ($5), a cup of Handsome Coffee Roasters coffee, and servers who dance to Britney Spears during lulls. If you prefer old-world artistry in your sweets, walk farther down Washington Boulevard to Bulgarini Gelateria & Café outpost, which allows grateful Westsiders a convenient alternative to Bulgarini's original location in Altadena. A proud gelato fanatic, owner Leo Bulgarini carries Bronte pistachios by hand from Italy to create his pistachio flavor. Try the result if there is a batch available. Other favorites include the seasonal fruit sorbetti and the goat-milk or mascarpone-based gelati.
Head to Bar & Garden, where hipsters select from an eclectic assortment of wines, ales, liqueurs, mixology equipment and... stag ferns. The sleek but intimate store, outfitted in dark wood and racks and racks of hard-to-find brews, is especially self-conscious, but, hey, so is hipster mixology. If you're looking for barrel-aged gin or Norwegian aquavit, you're plumb in luck. The store's choice specialties also include shrub fruit vinegars: sharp, tangy infusions of fruit, vinegar and sugar inspired by Colonial fruit-preservation methods. We favor the peach or spicy ginger shrub vinegars for yourself or as a gift. Be sure to check out the inventive cocktail-of-the-day on the blackboard. And if you haven't tried Father's Office yet, spring for one of Sang Yoon's bacon compote-topped drool-worthy burgers. Pair "The Office" burger ($13) with one of the craft brews from the extensive draft and bottle menu. Outfitted in leather upholstery and polished wood, this hot spot's gastro grub and curated ale selection has won the heart of every studio worker from Sony from the looks of the lack of free seats both at lunch and right after work.
After a pre-dinner cocktail, make a beeline for the chef-owner Sang Yoon's other popular restaurant Lukshon back at Helm's Bakery. The contrasting modern Asian decor perfectly suits the finely nuanced Asian-fusion dishes. The steamed cod entree may sound bland, but every bite will set your tastebuds on an eloquent spice journey. Other gloriously conceived dishes include crab fried rice, clams with pork belly and whatever complimentary dessert the pastry chef has concocted. Hope you remembered to call Bucato earlier during your big day out. Evan Funke's restaurant doesn't take advance reservations—only day-of reservations by telephone are allowed. In what can only be called quintessential Californian architecture, Bucato is spacious and airy with a playful silhouette of the state made from knives and a huge display of wooden pasta rollers dangling from the ceiling. In true California style, most of the tables are outside for alfresco dining. Though Angelenos will never quit their love affair with contemporary Italian cuisine, Bucato is probably one of the only places where you'll exclaim as much about the hand-rolled pasta as the saucing, which include mouthwatering lamb and duck ragús and broccoli to write sonnets about. Don't miss the tender morsels of Dungeness crab ($9) served on a crostino with a lighter-than-air slice of lardo gleaming on top.
Eat & Drink
The historic Helm's Bakery building is now home to glamor warehouse HD Buttercup, which can realize any decor or linens your imagination can dream up. Tastefully filled to the brim with a wide selection of interior decorating styles (even Oxfordian), HD Buttercup offers one-stop shopping for luxury furnishings. Pick up a geometrically patterned baby alpaca or silk velvet throw, or snag a glossy slab of sequoia fashioned into an end table. For mid-century modern décor, head to Plummers (formerly Scandinavian Designs) for chic mustard yellow convertible sofas and other chic minimalist styles.
For portable wares and housewarming gifts, explore the extensive collection of art books and rare, out-of-print books expertly selected by Arcana owner Lee Kaplan. Formerly on the Santa Monica Promenade, Arcana is now housed in a neo-modernist architect's dream of what a library would look like if it were stocked exclusively with contemporary design books. Kaplan's store is a go-to destination to find inspiration, whether you're looking to familiarize yourself with the Tokyo avant-garde or really anything else. If you're of the indie literary persuasion, meander down Washington Boulevard to the LA outpost of & Pens Press, the sister store of the Bay Area's Needles & Pins. In this uniquely zine-focused shop, you can find a handpicked selection of the latest zines as well as poetry collections, lightweight books on Egyptian lettering, book totes, one-off jewelry pieces, chunky ceramics, vinyl, and a small gallery in the back that displays works by zine and independent artists.
Need to refresh your wardrobe? Stop by Minnie T's Culver City boutique to pick up a gauzy Italian silk wool scarf by Faliero Sarti or pieces by designer local darling Raquel Allegra, whose collection offers edgy Angeleno styling one degree more subtle than outright rock goddess. Minnie's T's also boasts hard-to-find European designers. Is your shoe closet feeling a little empty? Gramercy York offers a range of options for those wishing to be enviably well shod. The store offers the usual fashion suspects: Maison Scotch, James Perse, Ugg and the snazzy Happy Socks line, as well as richly hued goat leather ballet flats from Repetto and sophisticated, work-to-play Wolverine men's boots. And for the littlest customers, wander over to My Little Sunshine to pick up the light swaddling cloths favored by fashionable parents and colorful wood-carved toys for your next baby shower.
If you're planning a divine invite-only party, forget Facebook. Instead, class it up by ordering invites, menus, and response cards at Copper Willow Paper Studio. Then, head down the street to Surfas to pick up culinary equipment and ingredients such as specialty truffle butter, saffron threads, and fresh yeast cakes. Finally, stop in New School of Cooking to sign up for courses such as artisanal cheesemaking, Singaporean cuisine, or basic knife skills. Purchase classes for yourself, or give a friend a subtle prompt by presenting him or her with a gift certificate. Don't be surprised to see chefs from knockout restaurants such as Ari Taymor of Almateach select courses, so book in advance to avoid waiting lists.
Stop by M. Bird Studio and surrender yourself into their knowledgeable hands and sets of scissors for a free bang trim, a color and cut consultation, or other great advice for detailed explanations and recommendations for which products are best for your particular set of lovely locks.
Play
Time for a dose of art and culture. The 40-or-so galleries clustered around the intersection of La Cienega and Washington are filled with works by emerging and established artists of all stripes. Honor Fraser is known for showing off fresh and edgy contemporary artists, like muralist/graffiti-inclined Kenny Scharf. Blum & Poe is a huge two-storied space, almost museum-like in its curation of contemporary pieces from the likes of Yoshitomo Nara and Chiho Aoshima. The recently opened Taylor De Cordoba, run by the native Angeleno and multi-hatted fashion/gallerist/businesswoman Heather Taylor, who regularly features modern abstract artists such as Simone Shubuck and Hadley Holliday. Thinkspace Art's intimate and welcoming gallery distinguishes itself from the pack with intriguing pop-artists and jam-packed gallery openings. Kopeikin Gallery installations pay homage to modernist inclinations with photographers like Simone Lueck and Edgar Martins. One of the smaller galleries, Luis de Jesus, selects a panoply of emerging and rising artists across a variety of media. And pop-up by LAXART, a nonprofit art space, prides itself on public access and encouraging Angeleno artists. Most galleries are open Tuesdays through Saturday from 11am to 6pm, but in late spring, galleries are open from noon to 8 pm for the Culver City ARTWALK, which features live music as well as special promotions from nearby restaurants, cafes and bars.
For a fun night out, keep your eyes peeled for the small blue martini neon sign at Mandrake Bar on La Cienega, a rather contradictory upscale dive bar with a curious sauna motif. Drinks are strong and affordable. Try a Moscow Mule ($9) with fresh ginger or a spicy tequila shot on their outdoor patio. If you're a crime fiction enthusiast, grab your fedora and park yourself on one of the hardwood benches for the monthly Noir at the Bar reading series. The Culver City Arts District is a hot spot for literary events. Another to check out is Tongue & Groove, a showcase of short fiction, personal essays, poetry, spoken-word and music, often held at the Muddy Leek, a farm-to-table restaurant and bar where locals get cozy on the patio with blankets, heat lamps and the latest handcrafted cocktail.
After swilling one last glass of Italian wine, enjoy some live tunes at Industry Cafe & Jazz. Swaths of colorful cloth drape from the ceiling, as musicians take to a stage that fills almost a quarter of this tiny venue. With its surprising mix of Ethiopian cuisine, soul food and jazz, this night spot offers a combination hard to find anywhere else in Los Angeles, much less in the United States. It's a fitting end to a day of newly discovered treasures in the Arts District.