After first enticing us back in 2016, Super Nintendo World's opening is finally here, and it's bringing a colorful bit of the Mushroom Kingdom into Universal Studios Hollywood. It's by far the biggest addition to the theme park since the introduction of the Wizarding World of Harry Potter, so here's everything you need to know about your foray into Super Nintendo World.
Where is Super Nintendo World?
The latest iteration of Super Nintendo World can be found at Universal Studios Hollywood in L.A. Specfically, you'll encounter the land on the theme park's lower lot, near the Transformers ride (just look for the large green warp pipe—and likely an even larger crowd of people).
When does Super Nintendo World open?
Without any prior announcement, the land began to welcome visitors in mid-January for a series of technical rehearsals. But now, it officially opens February 17.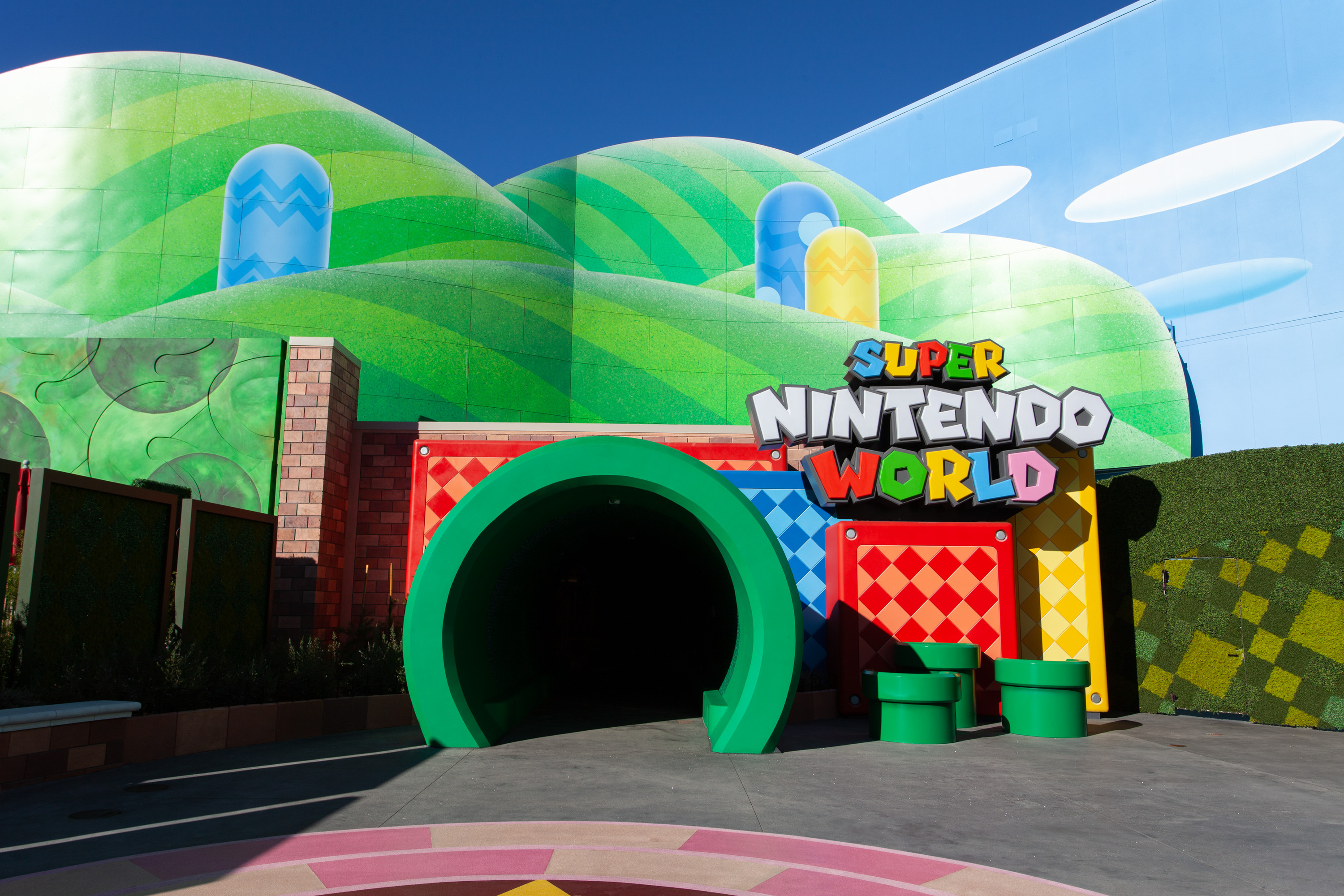 How can I make a reservation?
Though the theme park itself doesn't require reservations, access to the Super Nintendo World area may be limited via a virtual queue on the busiest days. Once on property, you can open up the Universal Studios Hollywood smartphone app to see if the virtual queue is required for entry and claim your place in it. You can add up to 10 people to a reservation, and the app will alert you if your return time is adjusted.
If you purchase a Universal Express pass, you can enter the land once without a reservation. However, it's worth noting that the pass won't let you skip the Mario Kart ride line for now (only a pricey VIP tour will let you do that).
How much do Super Nintendo World tickets cost?
Access is included with general theme park admission, which ranges from $109 to $149 depending on the day. A Universal Express pass costs $199 to $299 and includes park admission.
For an extra $20 to $25, you can also add on an early access ticket that gets you into Super Nintedo World an hour before the rest of the park opens.
How many rides are there?
Unlike the version of the land in Japan, which has both Mario Kart and Yoshi-themed rides, Super Nintendo World in L.A. only has one ride: Mario Kart: Bowser's Challenge.
This augmented reality-enhanced ride finds you competing on some of the chaotic racing series' courses. In a nutshell (or a Koopa shell, if you will), your kart follows a set path in the style of classic dark rides while most of the interactivity plays out on your AR headset. You tighten a Mario-themed visor on your head while you're still waiting in the queue, and then once you board your kart you simply magnetically snap on the lenses.
As the vehicle skids and spins along a physical course, steering prompts and combative karts appear in your visor and seem to hover in real space, as do the shells that you can launch using buttons on the steering wheel (whatever direction you're looking in is where they'll aim; it's a little weird at first, but you quickly get the hang of it).
There's a lot going on in the ride, and after having been on a bunch of times now we'd say that the many videos online don't effectively capture how it all comes together. Also, the AR component looks way more crisp in real life than it does in often-fuzzy videos; they do have a fairly narrow field of view, but given how much is going on, we didn't find that much of an issue. It's a hectic, remarkably fun ride, and the score component will absolutely have you wanting to ride again.
It's worth noting that the ride has received a bit of attention for the size of its karts: If your waistline is above 40 inches, you may not be able to comfortably fit inside of the seats. The seats do feel a bit narrow and snug, so if you're worried about whether or not you can comfortably ride, we suggest trying the sample seat in the line (once you walk through the warp pipe entrance, it's immediately to the right).
What can you do at Super Nintendo World?
The main attraction, as we mentioned above, is Mario Kart: Bowser's Challenge. But you can also eat at Toadstool Cafe, an adorable restaurant where animated mushroom-capped Toads toil away in the kitchen, and shop at the 1-UP Factory store, which features exclusive merchandise themed to the franchise's core characters. (You'll also find some Nintendo-themed merch in the Character Shop just before the entrance to the land, closer to Jurassic World.)
There are also tons of interactive experiences tied into the land: You can partake in four minigames dubbed Key Challenges; pose for photos with Mario, Luigi and Peach; peer through digital binoculars with a Yoshi ambling along in the distance; and punch ? and POW blocks to hear that familiar coin sound.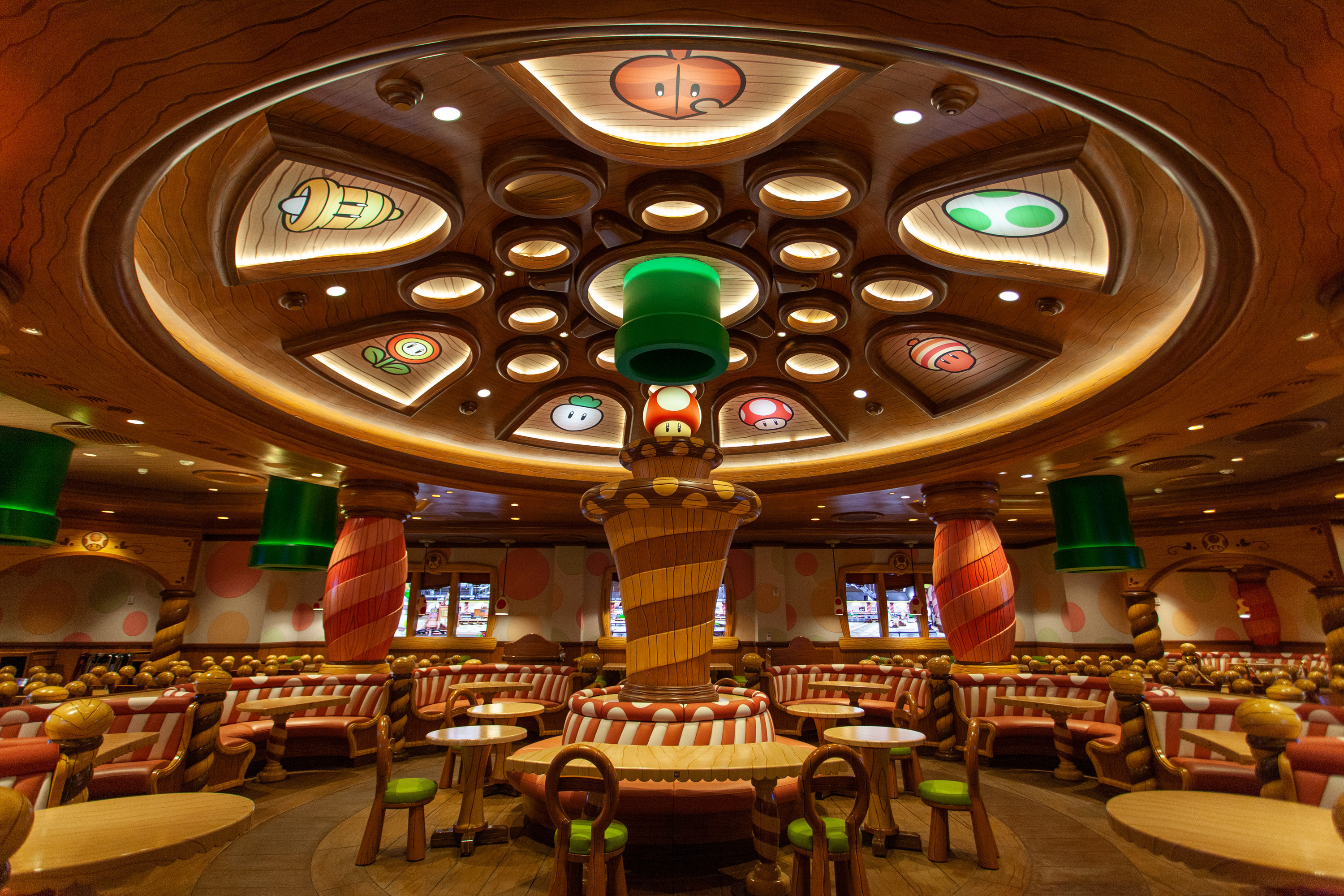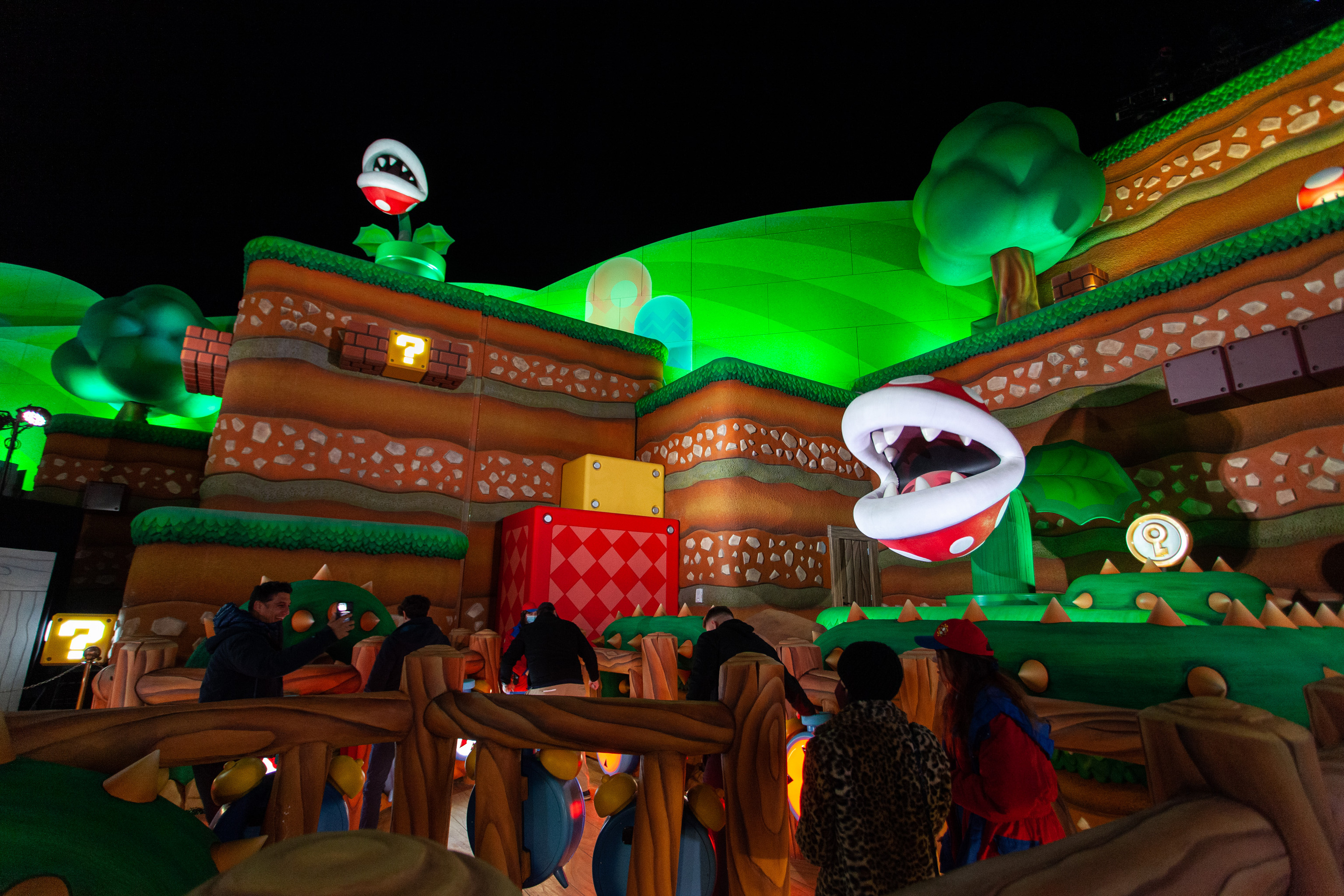 What's a Power-Up Band? And is it worth it?
Available in a half-dozen different character themes, these smart slap bracelets ($40) will track your score as you collect coins from blocks and inside the Mario Kart ride. When paired with the Universal Studios Hollywood app, your exploits then unlock all sorts of digital stickers.
It's also the only way you can enter one of the attractions, a shadowy showdown with Bowser Jr. Let's rewind a bit first, though: There are four minigames scattered throughout the world dubbed "Key Challenges"; these include tasks like perfectly timing a Koopa shell shot and smashing alarm clocks to put an angry Piranha Plant back to sleep. The Power-Up Band is the only way that you can actually track whether you've obtained the keys from these challenges, though; complete three of them and then you can tap your band at the lock-shaped entrance to the final minigame, the Bowser Jr. Shadow Showdown (only one person in your party needs a Power-Up Band to gain access).
So is it worth it? If you can spare the extra $40, then we certainly think it's an entertaining enhancement to the land, especially if you plan on repeat visits. Who knows how strictly the bands will be enforced in the future for gaining entrance into the Bowser Jr. encounter, but we happen to think that experience (where you use your shadow to hit bombs and unload fireballs on Bowser Jr.) is pretty fun. The bands also double as an amiibo for the Nintendo Switch (corresponding to whatever character you have on the band), so either that helps swallow some of the cost or means absolutely nothing to you. All that said, we'd say one for your entire party is plenty—and if you opt not to buy one at all, Super Nintendo World is no less enjoyable.
Are there any other non-Mario characters in Super Nintendo World?
Despite the Nintendo name, which covers everything from Zelda to Kirby to Pokémon, Super Nintendo World is almost entirely limited to friends and foes from the Super Mario games (a Donkey Kong-inspired area is due to open in Japan in 2024). That said, there's one very small exception: These tiny Pikmin, which were added in at least two locations just ahead of the official opening.