A guide to the Wizarding World of Harry Potter
Find out everything you need to know about the Harry Potter-themed land at Universal Studios Hollywood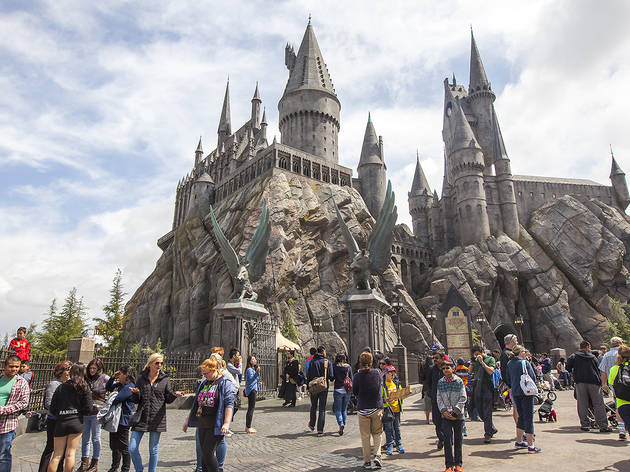 The Wizarding World of Harry Potter, the much lauded land based on the boy wizard book and movie series, has finally arrived at Universal Studios Hollywood. The landmark attraction offers enchantment to Potter fans and Muggles (that's non-magical folk) alike. Whether you're visiting Hollywood and searching for things to do or are a Potter-obsessed local looking for your fix, check out these tips and bits of info before you embark on your journey.
Is the Wizarding World of Harry Potter an entirely separate theme park?
Nope, it's just a themed land—albeit an incredibly immersive one—in the middle of Universal Studios Hollywood.
Is there an extra admission charge?
No. Access is included with a park ticket, which ranges from $105 to $116 depending on the day.
How can I skip the lines?
Universal offers Front of Line passes ($179-$254) that include access to a priority line for each attraction. If you don't want to spend that much money, though, you can also purchase a regular, date-specific ticket in advance and enter the land one hour before the posted park opening.
What can you actually do there?
The Wizarding World's village-like Hogsmeade portion features shops and restaurants pulled straight from the Harry Potter universe while the Hogwarts section features two rides.
On summer nights, you can see the four houses of Hogwarts come to life on the castle's exterior during the Nighttime Lights at Hogwarts Castle projection show. The five-minute show occurs multiple times toward the end of the evening.
What are the rides?
The centerpiece attraction, Harry Potter and the Forbidden Journey, is housed inside of Hogwarts Castle. You'll fly through the castle grounds—via a cleverly disguised robotic arm that whisks you through tangible scenes and projection domes—and encounter everything from a dragon to dementors. Across from it, you'll find the family-friendly Flight of the Hippogriff roller coaster. Additionally, you can line up for an interactive experience at Ollivanders, where one lucky would-be-wizard gets to wield a magical wand.
What about the shops?
You'll find a mix of clothes, candy and other trinkets from the books and films at shops with recognizable names like Zonko's Joke Shop, Honeydukes, Ollivanders, Owl Post, Dervish and Banges, Filch's Emporium of Confiscated Goods, Wiseacre's Wizarding Equipment and Gladrags Wizardwear.
Do they sell Butterbeer?
Of course—and it's delicious.
What other food is there?
You'll find traditional English fare at the Three Broomsticks and the Hog's Head Pub, as well as snacks from the Magic Neep Cart and two Butterbeer stands.
More about the Wizarding World of Harry Potter