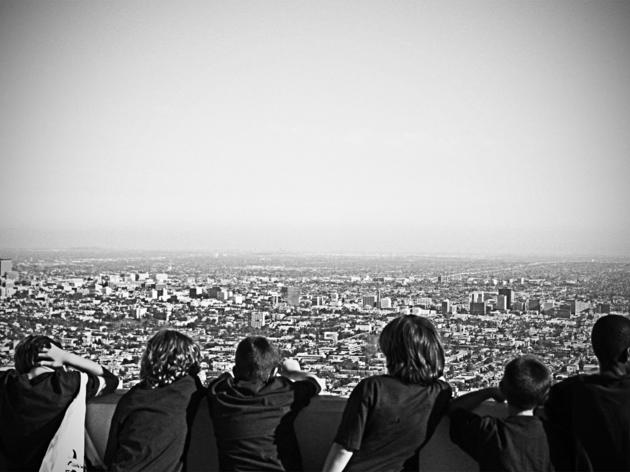 You know you grew up in Los Angeles when...
Thirty-one truths about coming of age in L.A., as told by one Angeleno lifer
Born and raised in L.A.? You're a special (read: native) breed, one who culls awe and respect not only from transplants who just moved here, but also folks who identify as "true-blue Angelenos," but were really born in Ohio. You, on the other hand, have L.A. pride in your blood. You ventured to Hollywood with fake IDs; you remember when Downtown was less hip, more scary; you've seen the City of Angels grow, change and stay the same. Here's our list of things only true Angeleno natives can relate to.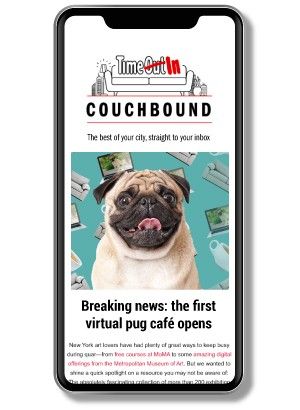 An email you'll actually love
Sign up to our Couchbound newsletter and bring the city to your sofa
Subscribe now
1. You're treated like a magical unicorn when meeting L.A. transplants.
3. You only ventured Downtown for fake IDs (on Alvarado) or fake Chucks (in Santee Alley).
4. You went on a school field trip to the La Brea Tar Pits, where you stepped in tar and ruined said Chucks.
5. You understand why people in L.A. are afraid of rain, because you lived through El Niño.


6. You bought weed for the first time on Melrose or the Venice Boardwalk (before it was legal, and even before it was "legal").
7. Your entire middle school social calendar was booked with quinceañeras and bar/bat mitzvahs. Heated arguments ensued about which themes were better than others ("Casino Night" > "Winter Wonderland").


9. Mexican food was a dietary staple in your school cafeteria (and you still don't know what was in that chalupa).
10. You can still hear Rick Dees' voice in your head from listening to KIIS FM every single morning.
11. You felt inexplicably invested in the O.J. Simpson trial.
13. Your school dances featured a lot of Snoop Dogg and Dr. Dre, and half your class knew how to crip walk.
14. You loved ice skating at the Culver City Ice Rink, but always dreaded the couples-only songs. Awkward.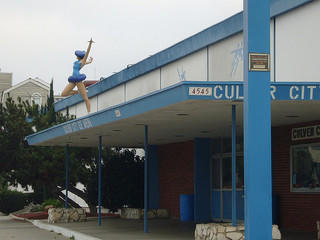 16. You discovered your allergies thanks to the Santa Ana winds.
17. You knew that the easiest place to take your driver's test (regardless of where you lived) was in Winnetka.
18. You have lots of low-budget commercials permanently imprinted on your brain, including: "Yes, Cerritos Auto Square!", "You're killing me Larry!", "You won't get a lemon from Toyota of Orange!" and "Keyes, Keyes, Keyes, Keyes on Van Nuys!"
19. You still have Chick Hearn's end-of-game mantra memorized: "This game's in the refrigerator: the door is closed, the lights are out, the eggs are cooling, the butter's getting hard and the Jell-O's jigglin'!"
20. You attended birthday parties at Castle Park, Ultra Zone and the UCLA arcade (RIP).
21. You used to walk to Thrifty for a square-shaped scoop of ice cream that was only 25 cents. Now you shell out $1.99 at Rite Aid just for the nostalgia.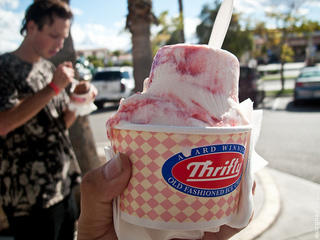 23. You learned social networking pre-Facebook by maintaining at least one friend in private or public school who could connect you to that whole other world of parties, drama and makeout opportunities.
24. You thought—and maybe still think—that Grad Night at Disneyland was the pinnacle of your teenage years.
25. You were afraid to drive on the freeways for years after the Northridge earthquake.
26. You've seen at least one of your childhood friends on TV.
27. You loved going to movies and getting approached by someone with a clipboard to sign you up for a test screening. Getting paid to watch a movie? Cha-ching.
28. You can always call out what TV shows get wrong about L.A. (We're talking to you, 90210. Beverly Hills High School is not walking distance from the beach. It will take you at least 30 minutes—probably more—in traffic to drive there.)
29. You will forever miss Chasen's, Hamburger Hamlet, Junior's and Ed Debevic's. At least you can still go to the Apple Pan.
30. You first learned how to multitask while driving.
31. You tell people you grew up in L.A., even if you really grew up in Palos Verdes, the SGV, North OC, Ventura County...