Your ultimate guide to III Points Festival 2020
Get your III Points Festival 2020 information here, from ticket sales and pricing info to lineups, schedules and more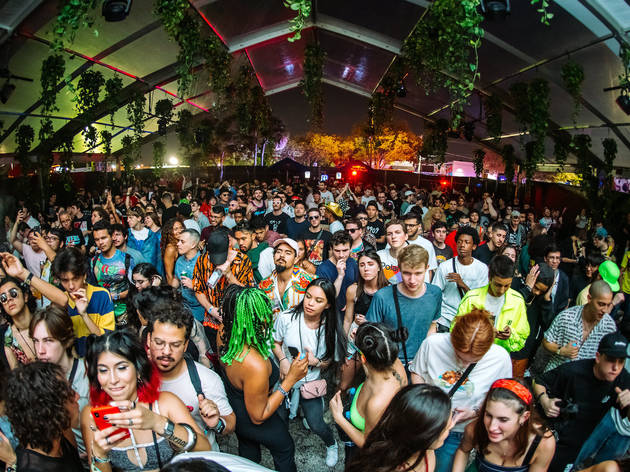 Now on its seventh run, this Miami-born music, art and tech festival in the heart of Wynwood serves up oodles of trippy, immersive installations and tropical-goth fashion alongside a cutting-edge lineup of indie, electronic and hip-hop heroes. If you're more a creature of the night than a starry-eyed day-tripper, look no further than III Points: The gates open daily at 5pm and don't close till 12 hours later.
Past editions of this eclectic fest have blessed Miami with everyone from Tyler, the Creator
and Beach House to Nicolas Jaar and Erykah Badu. While the program is one day shorter than last year's, III Points' curation continues to impress, with The Strokes, Robyn, Wu-Tang Clan and Disclosure slated as the headliners for 2020.
When is III Points Festival?
III Points Festival takes place Friday, October 16, 2020, and Saturday, October 17, 2020.
Where is III Points Festival?
III Points Festival takes place at Mana Wynwood, Miami.
How do I get tickets to III Points 2020?
Go to iiipoints.com to buy tickets for single days or the whole weekend.
What is the lineup for III Points 2020?
FRIDAY
Disclosure
The Strokes
(Sandy) Alex G
Acid Pauli
Ackdaddy
Adam at the Door
Amon Tobin Presents Two Fingers
Andres Line
Ariel Pink
Avalon Emerson
Basti
Bedouin
Bort
Byrd
Danny Daze B2B Mall Grab
Danyelino
Discosexo
Djembe
Eartheater
Ghostflower
Haute Tension
Jacques Greene (Live)
Jaialai
Jason Rault***
Jimmy Edgar
Jonny From Space (live)
Kerala Dust
Kike Roldan
Laura (of Miami)
Le Poodle
Maribou State (DJ)
Moses Sumney
Mustard Service
Palomino Blond
Patrick Walsh
Plastic Pinks
Rick Guerre
Rick Moon
Santiago Caballero
Sevdaliza
Sister System
Sohn Jamal
Soulsdeparted
Stereolab
Terence Tabeau
Thunderpony
TIDUR.
True Vine
Will Buck B2B Felipe Gordon
Will Renuart
Yves Tumor and Its Band
박혜진 PARK HYE JIN

SATURDAY
Robyn
Wu-Tang Clan
100 Gecs
Apache
Ashley Venom
Bakke
Bear
Bed Scene
Bitter Babe
Brother Dan
Butterfly Snapple
Caribou
Chris Lake
Coffintexts
Diego Andres
Donzii
Dude Skywalker
Ennio Skoto
Erol Alkan
Fiin
GAD
Gami b2b Get Face
Gerd Janson
Green Velvet
Homeshake
INVT (Live)
JBZ
Kaytranada
Las Nubes
Lazaro Casanova
Lilith
Loka
M.O.N.R.O.E.
Maccabi
Mano Le Tough
MAYE
Monterrey
Ms. Mada
Nicholas G. Padilla
Nick León
Nicola Cruz (Live A/V)
Omar Apollo
Pirate Stereo
Poorgrrrl
Radar
Rat Bastard
Richie Hell (Live)
Sel.6
Shyboi
Taimur
Tama Gucci
Tycho
Virgo
III Points Festival 2020
Check out the full, day-by-day lineup for III Points 2020 in Miami
Lots has changed since III Points came on the scene nearly seven years ago, including the date—which seems to always be up in the air. Now taking place in spring, the Miami-born music, art and tech festival takes over Wynwood May 1st and 2nd for a packed weekend of immersive installations, trippy activations and live shows. This year's cutting-edge lineup includes some of the music industry's top acts, including Disclosure and the Strokes. Still thinking about attending this year? Considering a single-day ticket over a weekend pass? We've got something that might help you pull the trigger: III Points 2020's full list of performances. We've listed them by day alphabetically below, and bumped up and bolded the headliners for you folks only interested in the main event. Tickets are on sale now and going fast!  FRIDAY DisclosureThe Strokes (Sandy) Alex GAcid PauliAckdaddyAdam at the DoorAmon Tobin Presents Two FingersAndres LineAriel PinkAvalon EmersonBastiBedouinBortByrdDanny Daze B2B Mall GrabDanyelinoDiscosexoDjembeEartheaterGhostflowerHaute TensionJacques Greene (Live)JaialaiJason Rault***Jimmy EdgarJonny From Space (live)Kerala DustKike RoldanLaura (of Miami)Le PoodleMaribou State (DJ)Moses SumneyMustard ServicePalomino BlondPatrick WalshPlastic PinksRick GuerreRick MoonSantiago CaballeroSevdalizaSister SystemSohn JamalSoulsdepartedStereolabTerence TabeauThunderponyTIDUR.True VineWill Buck B2B Felipe GordonWill RenuartYves Tumor and Its Band박혜진 PARK HYE JIN SATURDAY RobynWu-
Archive III Points Festival content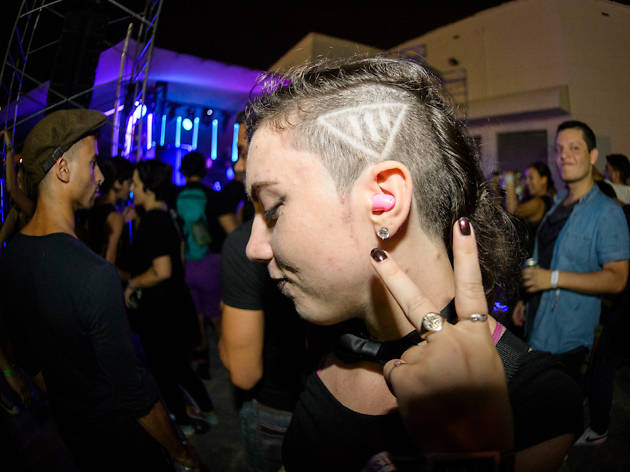 III Points announces 2019 lineup: SZA, A$AP Rocky, Beach House and more
III Points fans have had to be extra patient. This year, the born-and-bred in Miami music festival pushed back its date from October to February 15 to avoid those pesky hurricanes, so we've had to wait an extra few months to start salivating over its lineup. Well, folks, that wait is mercifully over. III Points announced its 2019 lineup today and it's a doozy. Deep breath. Okay, ready? The artists piling into Mana Wynwood this February include SZA, A$AP Rocky, Erykah Badu, Tyler, the Creator, Beach House, James Blake, the Internet, Blood Orange, Herbie Hancock and tons more. There's also a whole bunch of local talent like Nick León, Danny Daze, Virgo and a lot (like, a lot) more. You can check out the full lineup below. View this post on Instagram A post shared by III Points (@iiipoints) on Sep 25, 2018 at 10:06am PDT Tickets are available right now over at iiipoints.com from $111 to $375 and if you're anything like us, you're already searching for that credit card.    Want more? Sign up here to stay in the know.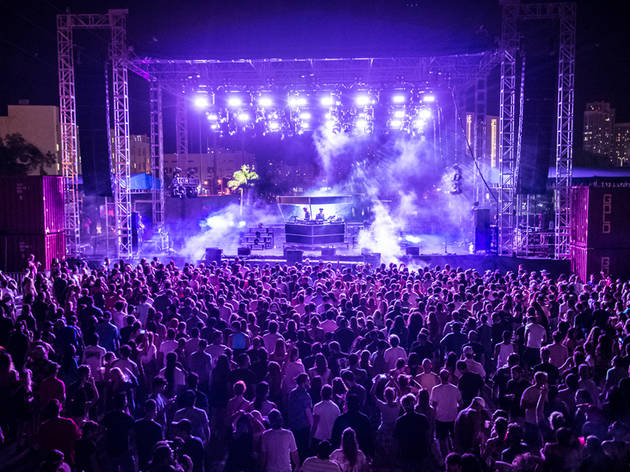 III Points' new "dinner and a show" is a perfect date for music lovers
Miami music peeps have been counting down the days until III Points for more than a year. And that countdown is now mercifully close. Our awesome made-in-Miami music festival rolls into Wynwood in just over three weeks on Friday, February 15. We've already been over the dope headliners: Tyler, the Creator, Beach House, SZA, James Blake, Herbie Hancock, A$AP Rocky and Erykah Badu (not to mention gobs of local talent, world-class dance music, local art, food and a freshly-added DJ set from LCD Soundsystem's James Murphy). But III Points is debuting another new feature this year in honor of the festival's proximity to Valentines Day: A dinner and a show package. In partnership with the reliably delicious Fooq's, III Points is offering a limited amount of spots for a special three-course pop-up dinner during the headliner set of your choice. Tables come with a prime view of the main stage and dinners will be booked according to set times, so you and your lover can catch your favorite headliner while sharing a romantic meal and complimentary bottle of the Palm by Whispering Angel. Afterward, head over to III Points' new "slow dance room," complete with an intimate dance floor, disco ball and carnations. The slow dance room is a collaboration with Miami's own RnBae collective, who are experts on all things sensual. III Points also just released a selection of Valentines Day cards you can download to ask that special someone to dinner and a dance. Tables ($50 per person) are sure to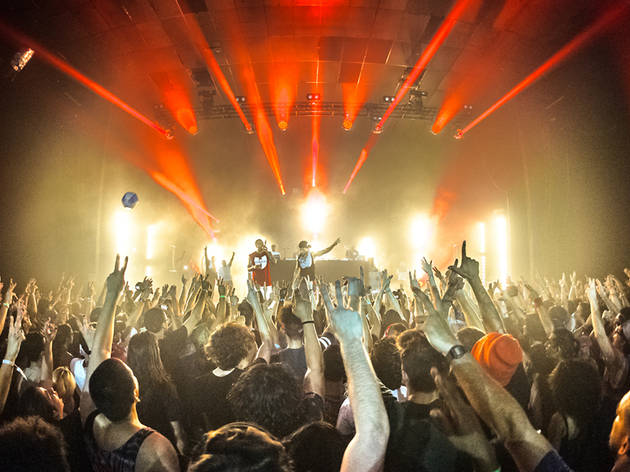 III Points moves to February to get away from hurricane season
For all its awesomeness, Miami's III Points has always had one—sometimes literal—dark cloud hanging over its head: hurricane season. Travel complications from 2016's Hurricane Matthew cost the festival multiple artist cancellations and one of its biggest headliners, LCD Soundsystem. Thankfully, 2017 went off flawlessly but III Points has decided to take no more chances. The music, technology and arts festival will be moving from October to February. In a statement, the festival said, "…with the hope and mission to make III Points a festival that will live on 10-20-30 years in the future, we have decided to fully respect Mother Nature and leave our October dates." The next III Points will be happening February 15 through February 17, 2019. A lineup announcement is due in the fall and the first wave of prophet passes goes on sale tomorrow, May 17, at 10am, via iiipoints.com. III Points has been the single most exciting music festival to hit Miami in the last decade and, while we will have to wait a few extra months for the next installation, it's comforting to know that no rude hurricane will interpret the sixth edition.   Want more? Sign up here to stay in the know.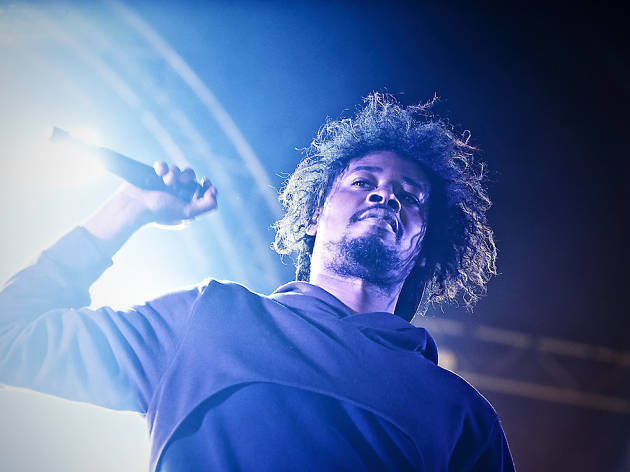 The 10 can't-miss acts of III Points 2017
This weekend, III Points will take over Mana Wynwood for three days of music, art, technology and whatever else the Miami-born collective has been dreaming up over the last year. We've been saying it for weeks, but allow us to repeat ourselves a final time: buy your tickets now. Lucky for you there's still some up for grabs over at iiipoints.com. Once you do that, you can sit back, relax and get pumped for these awesome acts—among many others.  1. Gorillaz. Friday at 11:30pm; Mind Melt Stage.We'll admit, this one is a no-brainer. Still, it needs to be said. Not only will this show be the only Florida date on Gorillaz current tour, it will be the first time the band has ever performed in Florida. Ever. 2. Kali Uchis. Saturday at 10:45pm; S3ector 3 Stage.The Colombian-American singer earned quick praise after her debut EP, Por Vida, showcased a sultry yet raw aesthetic that blended elements of classic soul with modern R&B. Her debut full-length album is dropping soon and its most recent single, "Nuestro Planets" (sung in Spanish), is going to be a really fun one to watch live in Miami. 3. Thundercat. Friday at 8:30pm; Mind Melt Stage.Drunk, the latest LP by Stephen Bruner, a musical octopus better known by Thundercat, captivated critics around the world with its odd yet poignant style. Expect no shortage of laughs, tears, funk, jazz and irreparably blown minds during his set. 4. The Ship: an audio installation by Brian Eno. Friday, Saturday and Sunday. III Points will be hostin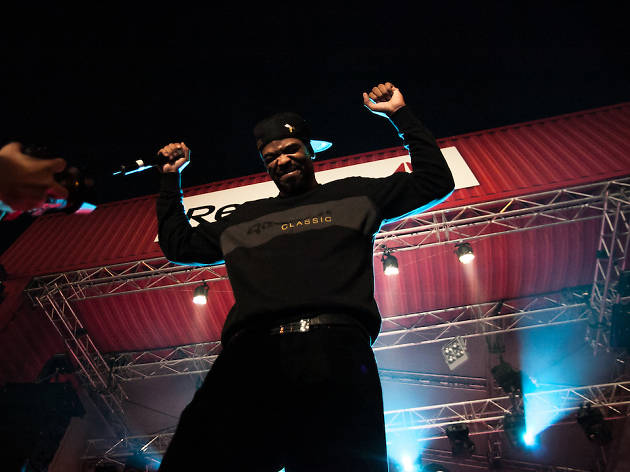 III Points is bringing Wu-Tang Clan to Miami for Art Basel 2017
Fresh off last week's huge announcement that Björk will be making her Miami debut for a DJ set during Art Basel, III Points just announced the second act coming to its Basel concert series: the Wu-Tang Clan. III Points veterans probably aren't too surprised by the news. In previous years, Ghostface Killah, Method Man and Redman have all performed at III Points. But now the entire Clan will be taking over Mana Wynwood on Saturday, December 9. Tickets are available now via showclix.com for $35 to $95. Wu-Tang's placement on III Points' Art Basel concert series might seem a bit odd to those remembering that the rappers were originally slated to perform at the inaugural Off Weekend Festival, happening during Art Basel weekend. Sadly, though, Off Weekend has been canceled according to the III Points press release. Either way, it looks like we'll still get some Wu come December.   Want more? Sign up here to stay in the know.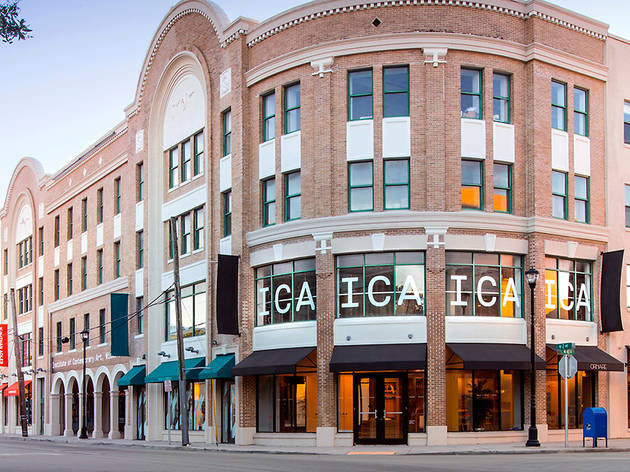 Brian Eno's The Ship heads to ICA after its III Points debut
At least one part of III Points will be sticking around after October 15. ICA Miami announced today that Brian Eno's The Ship, an audio installation created by the revered British composer, will head to the museum after its North American debut at III Points. The exhibition will be the ICA's final one before it debuts its new space in the Design District, which will have just about double the square footage of its current building. The Ship will run at ICA from October 20–31 and, as is always the case at the museum, admission is free.  The Ship, while a bit difficult to describe, should be a pretty sweet exhibit for both fans and those that really know nothing about Eno, who helped pioneer the "ambient" sound and has worked with artists like David Bowie, U2 and Talking Heads over his impressive career. The Ship is designed to change along with its environment, so every viewing experience is different. And if you really just can't wait until the 20th, III Points tickets are still very available via iiipoints.com.    Want more? Sign up here to stay in the know.