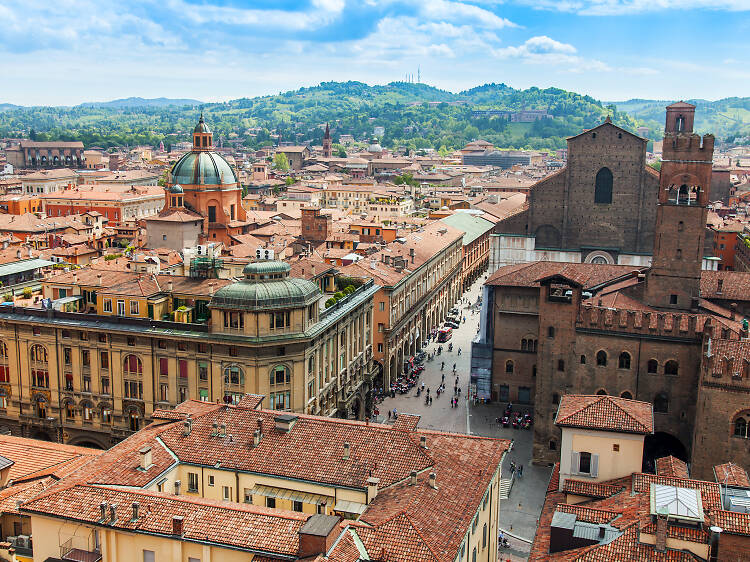 Photograph: Shutterstock
Bologna is the cradle of European higher education, home to the first-ever university in Europe (the University of Bologna was established in 1088), and it's not rare to see the Italian iterations of "Greek" life taking place in the cobblestoned streets of the town. The city is also known as "the fat one" because of its rich and elaborate culinary tradition, so make sure to indulge in one (or two) decadent meals while visiting.
EAT:
All'Osteria Bottega is one of the last authentic "osterie" standing in Bologna, and we highly recommend you visit and eat everything, starting with the pork-heavy selection of local cold cuts and the tortellini.
DRINK:
Head to Boavista if you want an atmosphere that's both old-timey and lounge-like: the venue is known for its mojitos, its muddled, fruit-based cocktails and the notable selection of gin.
DO:
Walk off whatever you had for lunch by taking a stroll through Piazza Maggiore, where you will see the odd-shaped Basilica of San Petronio (the bottom is made of marble and the top of bricks).
STAY:
Aemilia Hotel boasts views of the rolling hills outside the city, and its roof garden is even home to a jacuzzi.
If you do just one thing...
Sure, you might feel part of a quintessentially medieval city in Bologna – but a visit to MAMbo will change that. At the contemporary-art museum, jump into an unprecedented array of Italian visual arts dating back to the end of World War II.