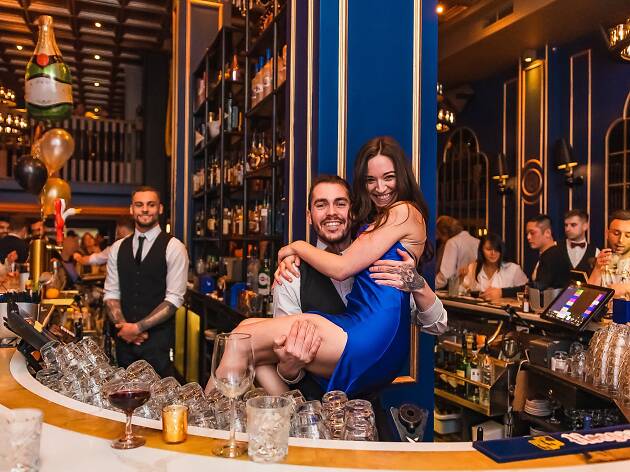 The 15 best Old Montreal bars
Find all the swanky cocktails, old fashioned pubs and secretive hideaways you need with the best bars in Old Montreal
Anyone looking for some choice libations in the city can rarely do better than taking their pick from the best bars in Old Montreal, full stop. Seldom can you find so many excellent addresses in one neighbourhood alone, making it a mighty microcosm of neon-soaked nightlife and the site of some of the top boozy institutions in the country. Every denomination of watering hole can be found in this historic hub, from haute culture rooftop bars and secret speakeasy bars to fine wine bars and taps flowing with the best beer. If you want a top-shelf selection, you've come to the right place.
RECOMMENDED: Full guide to the best bars in Montreal
Best bars in Old Montreal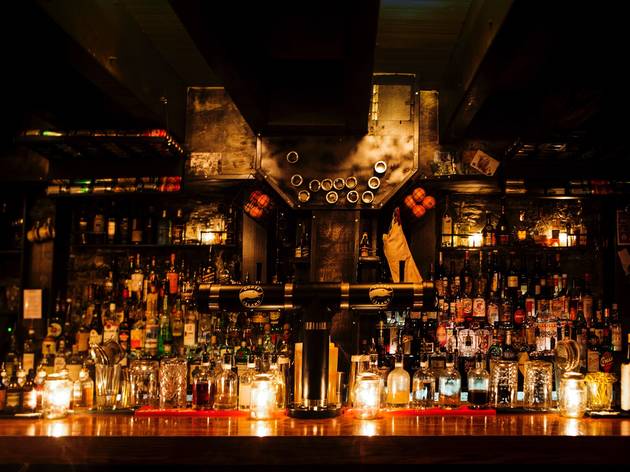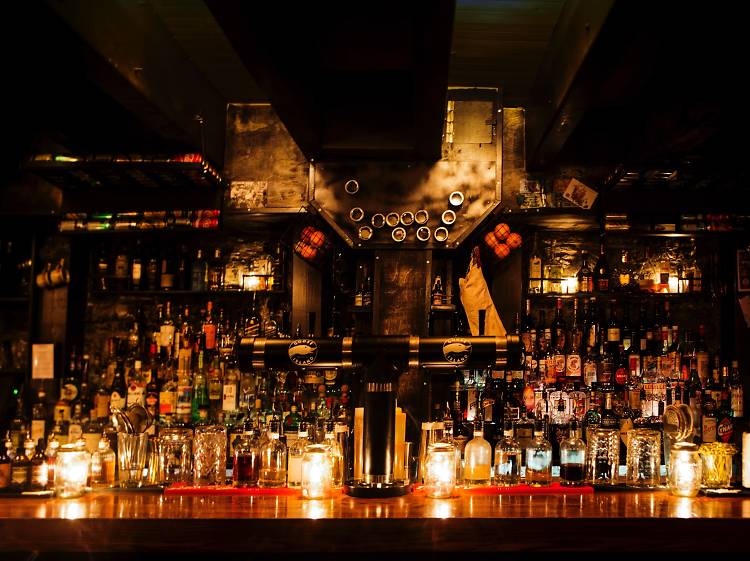 Photograph: @dan.esteban
Blink and you might miss the plain black entrance to this downstairs speakeasy carved from an old cold storage area. Exposed steel beams and brick walls help accomplish a hush-hush Prohibition-era aesthetic, but it's the award-winning staff behind the bar that make this an indelible spot on anyone's list of where to drink in Old Montreal. Star players like Daniel Boulianne and Pierre-Hughes Marois are sure-fire masters of their trade with seasonally inspired libations and a no holds barred approach in their creativity.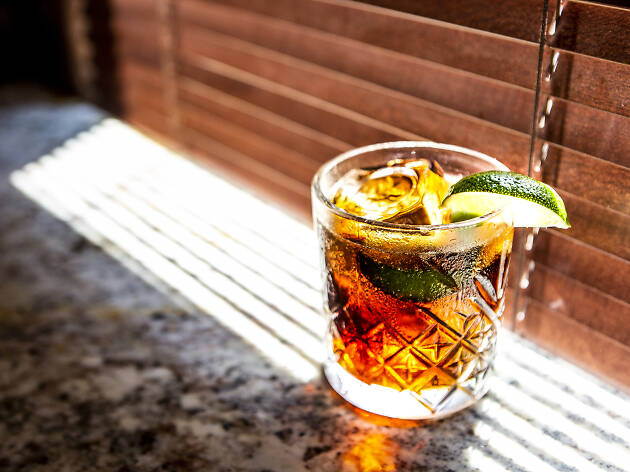 Photograph: Marcia Hum Photography
This tiny nine-seater bar fashioned after a mid-20th century Havanan bar comes from the minds of the folks behind the Coldroom—the entrance to which is right next door to it—and sports the mixology to match. Bartenders work at lightning-quick speeds to deliver classic cocktails like daquiris, mojitos and cuba libres with impressive levels of flair. It's twice as impressive when considering how this bar dishes out some solid Cubano sandwiches at the same time.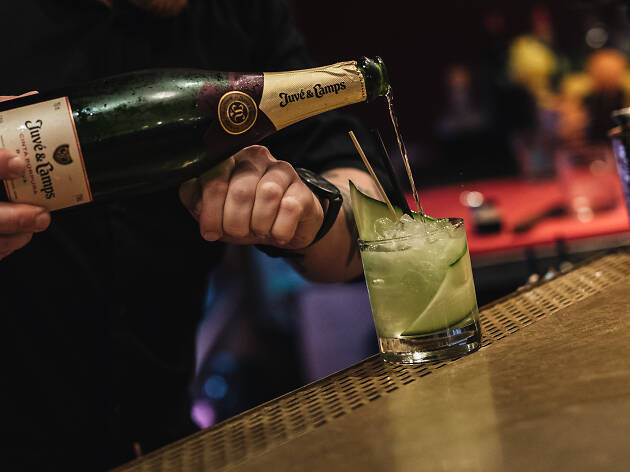 Photograph: Courtesy Flyjin
One of the neighbourhood's most solid locations for nightlife, this address is a Japanese fusion izakaya in the late evening until the lights dim, the volume's up and the dancing starts. Clubs aren't always first to mind when it comes to the city's best bars, but Flyjin makes a point of offering a lot of solid creative cocktail options with pan-Asian inspirations, forming an ever-shifting menu that's incorporating a variety of textures and techniques worth the trip.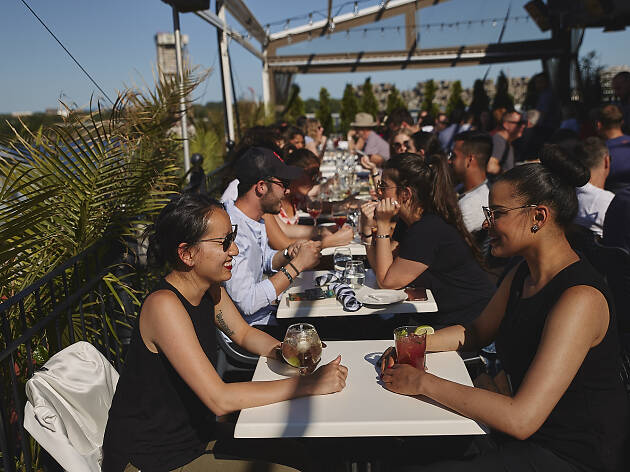 Photograph: Bruno Guerin
This rooftop bar is one of the first that commonly comes to mind when looking for top summer destinations in Old Montreal. Cocktails, small-but-mighty wine lists and pitchers of red and white sangria are the cherry on top when considering the picturesque skyline views it offers. If you find yourself a bit too tipsy, consider booking a room at Hôtel Nelligan below, one of the best hotels in town.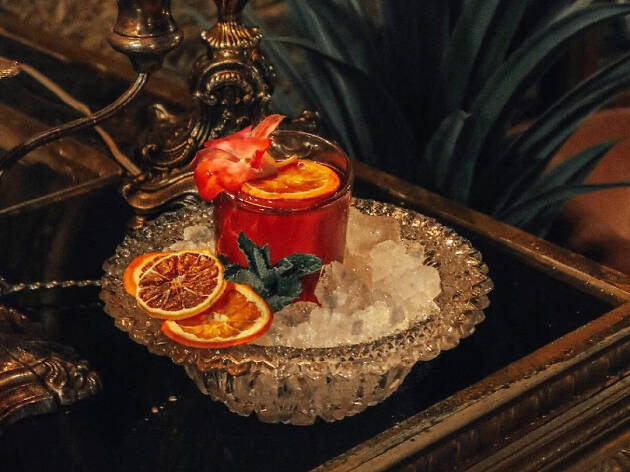 Photograph: @clandestino_mtl
A novel speakeasy-within-a-speakeasy operation not found anywhere else in the city, Clandestino's located under the stairs of Boho (ask the staff to let you in and they'll take you through its nondescript entrance). Once you're down below, take advantage of the bar's massive list of mezcals numbering in at over one hundred bottles or one of the ornate cocktails made from some of them. You come here for the real dark'n'spooky secret bar experience.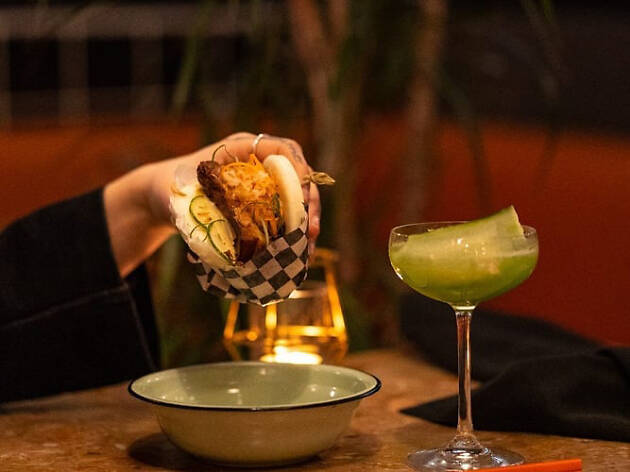 Photograph: Courtesy Bulma Bar
Running a business in Old Montreal usually demands that newcomers match the posh nature of the area, and Bulma Bar ticked all the boxes the moment it opened in late 2018. The high-ceilinged and airy interior of wood and concrete's the first element that impresses, and it only gets better once you dig in to their street food-style menu alongside some seriously delicious cocktails (mocktails too!). Got to love a place that makes an excellent Caesar, and theirs is enhanced by a homemade 'Dragonspit' sauce that gives a spicy kick.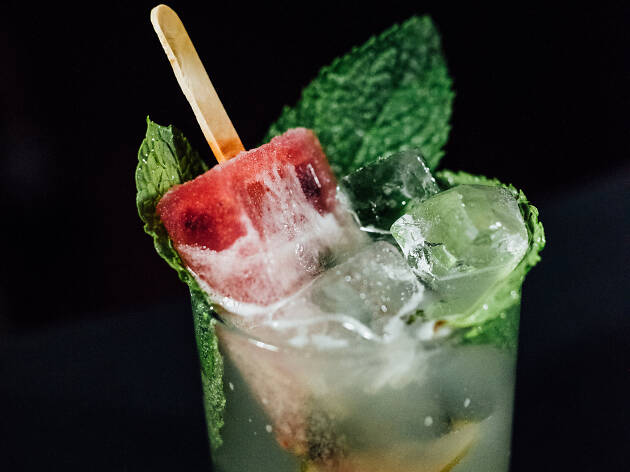 Photograph: Alison Slattery Photography
Hard to believe that this speakeasy-style bar's only been around for a couple years, seeing as Montrealers are now quick to feel at home here. Located behind the bookshelf of a paleta shop next door to the Old Montreal location of Californian poke bowl restaurant Venice, Boho gives off major Miami vibes thanks in part to its palm frond and Bird of Paradise-themed décor, as well as some tiki drinks and fun, fruit-heavy mixology. DJs here are regularly on point.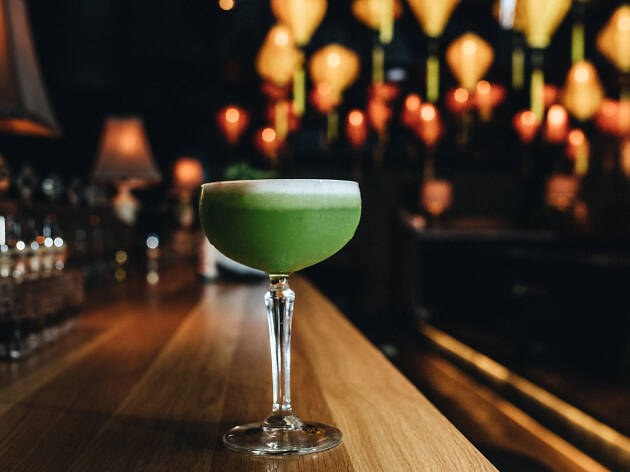 Photograph: Courtesy Nhậu Bar
Located below the Old Montreal outpost of the Vietnamese restaurant Hà, this beautiful bar decked in lanterns boasts an impressive cocktail program that makes the most of a variety of teas and in-season fruits. While selections are kept lively with an oft-changing menu, one thing we hope they never change are their sharing drinks fit for four people and served in massive vessels like hollowed buddhas or conch shells.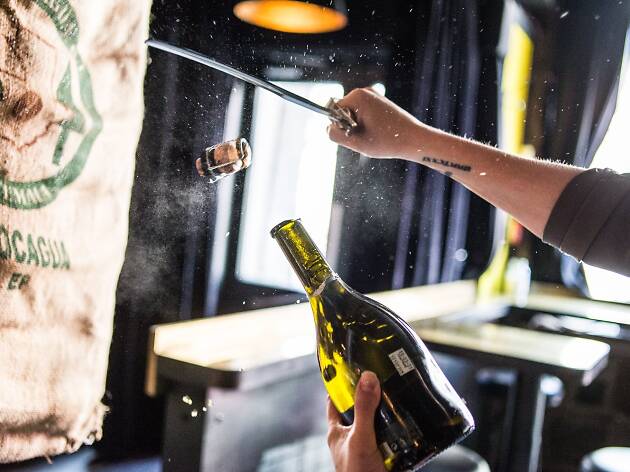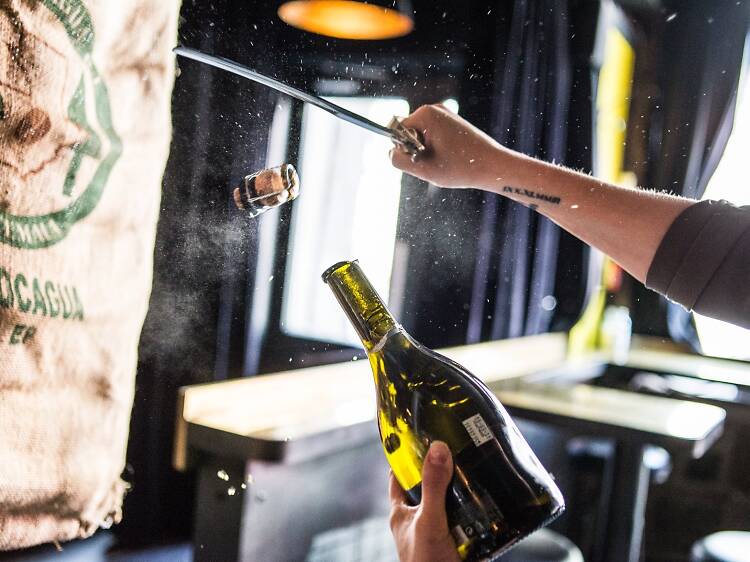 Photograph: David Afriat
Montrealers may remember this one as the Champangnerie, and while a rebranding with a new name might suggest trouble, you can still expect all the old drawcards at this sparkling wine-forward bar. Now they're sporting tasting courses and luxuriant surf'n'turf sharing menus, but nothing really can beat participating in the old Napoleonic practice of slicing the cork from a bottle with saber. Ask the bar nicely to try it yourself and add your decapitation to the pile on display.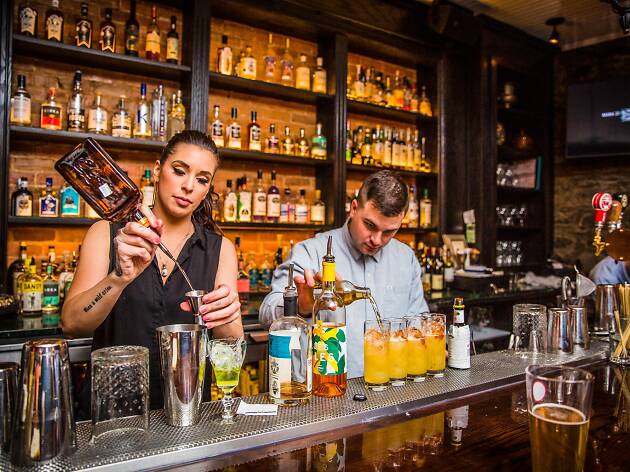 Photograph: Courtesy Wolf & Workman
The group behind Burgundy Lion and Bishop & Bagg must have pubs in their blood, as this latest venture hits all the right notes. The only difference is location, and Old Montreal's been made all the more charming thanks to this hardwood-lined Victorian-style fount for pints, cocktails and hearty eats. Aside from the fresh leather seats and refined tastes indoors, this new spot earns a firm spot on our list for the choice terrasse they've got in the back.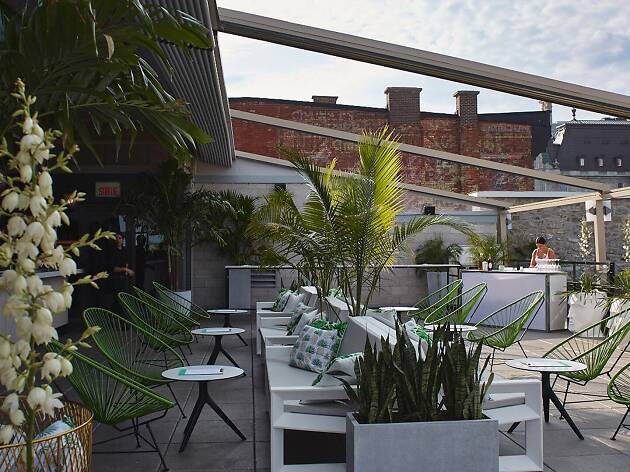 Photograph: Perché Bar Terrasse
Finding somewhere to roost and watch the crowds go by in Place Jacques-Cartier in the summertime never gets better than this. View street performers and passersby from the comfort of this rooftop bar or turn to face your company who you'll be no doubt enjoying some cocktails, mocktails or pitchers of sangria with. Best time to be here is by the late evening when the sun's setting and the party picks up, but it's best to save your spot early—no reservations here.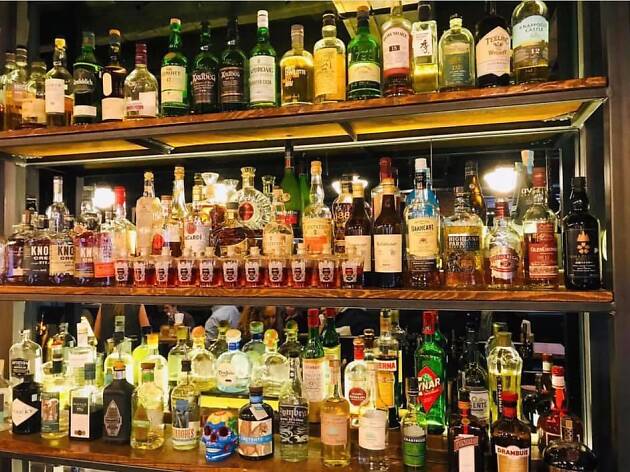 Photograph: Courtesy Pub Saint Pierre
Having been a member of the British Empire for a time, Canada's among the countries where a classic pub experience can be enjoyed, and it seldom gets as classic (or historic) as this one on Saint-Pierre Street. Happy hours here run cheap with $5 pints and $18 pitchers—none too common in this part of town—and the taps don't stop flowing with homegrown Quebec beer brands. Try their Seafood and Swine Caesar that's topped with tiger shrimp, house bacon and cheddar (only available from 4pm onwards).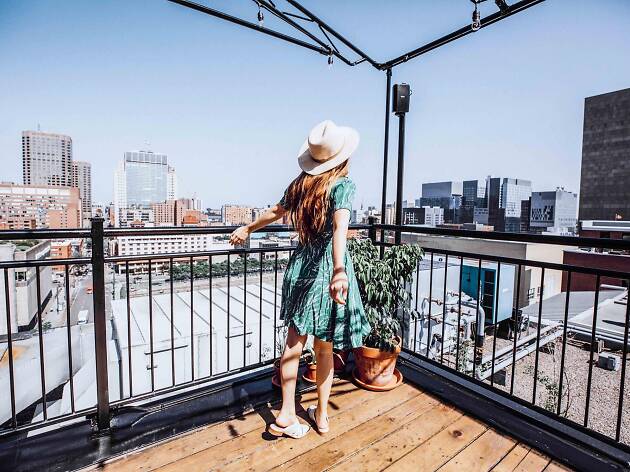 Photograph: Terrasse Place d'Armes
13. Terrasse Place d'Armes
One of the most refined offerings when it comes to rooftop bars in Montreal, this sunny location looks down on Place d'Armes Square and out over a downtown skyline. Sure, lunch, brunch and dinner are all reasons to plan a visit, but dropping in for a casual drink's highly recommended with their top-shelf mixes best paired with a charcuterie board or ice cream from the delicious Mlle Catherine.
Photograph: Courtesy Philémon Bar
A slick wine bar in the early evening that gets turnt late at night with DJs and dimmed lights, Philemon is a discreet favourite among locals. Their lists aren't exactly the longest for a wine bar, but they are choicely curated with bottles of delicious bubbly, reds, whites, macerations and rosés. If you want to really ball out, consider dipping into your wallet (or pool together with friends) and order up a towering magnum. Seems like sakes are starting to make an appearance on their menu, so that's a little extra something to look forward to.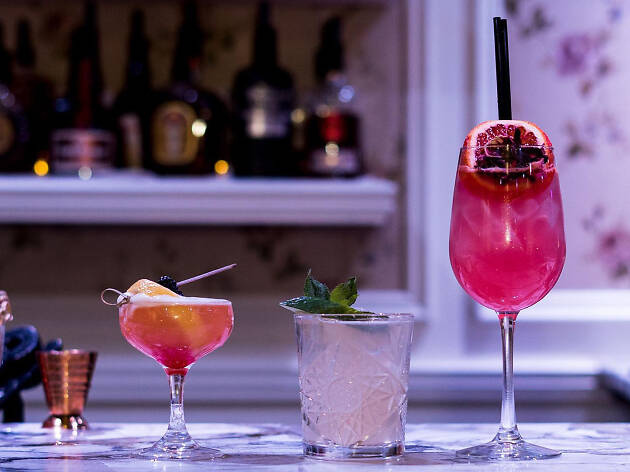 Photograph: Courtesy Bord'Elle
Old Montreal's a neighbourhood that accomplishes a serious wow factor in the city, but the jaw dropping doesn't stop once you set foot in this multi-level nightclub and bar that keeps the Roaring Twenties alive and well. The floor starts to shake with flapper girl and aerial dance performances alongside popped bottles once the clock strikes midnight here, with folks either tearing up the dancefloor to electro swing or kicking back in one of their upstairs lounges. Make like Gatsby and get luxuriant to the fullest extent here.
Something to eat before the booze?
These Old Montreal restaurants are the finest of fine dining and the top casual options found in the city's historic hub.
More things to do in Old Montreal
Time to crawl the cobblestone streets of Old Montreal, our ground zero for some of the best attractions and activities.