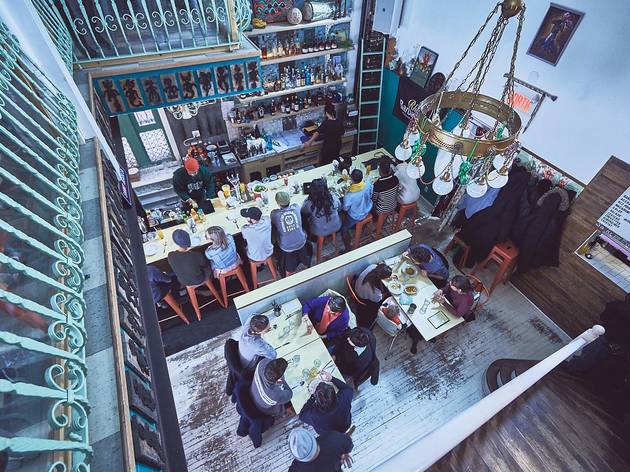 36 notable Montreal restaurants and bars permanently closed due to the pandemic
These notable restaurants and bars in Montreal have permanently closed, serving as a reminder to keep up supporting local businesses.
UPDATE January 4, 2021: A new year can mean new hopes for many, but permanent closures of restaurants and bars in Montreal continue due to the pandemic. What started with an original 15 names on this list now sits at 36, growing to include well-known cafés and venues that deserve to be remembered for their service to the city. The latest names that have shut their doors for good can be found at the top, and if these names are revived under new ownership with the same name, they'll be removed; for example, Saint Henri's Café Joe has reopened, so it's been removed. Please note that this list only tracks what has closed since Québec's first lockdown on March 15, 2020—anything beforehand is excluded.
We're working hard to keep track of how much our city is changing. Know of a noteworthy restaurant that's not listed here? Send our editors an email.
Don't get us wrong, no one's more excited than us to start going back to when restaurants can reopen in Montreal, but it's also a bittersweet time for us. We're happy that many of our favourite cafés, bars, bistros, restaurants and spots for the best cheap eats in Montreal have managed to weather the pandemic, but some haven't.
Dining rooms and bars can't open right now, and even when they can, it's a rough start with limited capacities and a lot of new rules and regulations concerning public health. It's more important than ever to support local businesses, either by buying merch and gift certificates or continuing to order up the best delivery and takeout—every little bit counts. We want to take this time to remember the amazing work of places that have given us some of our fondest memories, but did not make it through this current crisis.
RECOMMENDED: Full guide to what is open and closed in Montreal right now
Notable Montreal restaurants and bars that have permanently closed
More from Time Out Montreal's restaurant and bar coverage
There's nothing quite like diving into the best things to do in Montreal. Here you'll find an essential bucket list that every self-respecting Montrealer and eager visitor should experience, from a combination of eye candy attractions and landmarks, the city's amazing lotus-eating lifestyle of art, culture, restaurants and bars, and incomparable character that makes it one of the finest cities in the world. It's a top destination for tourists and a daily celebration for locals spread out across numerous vibrant neighbourhoods: Discover them all with our curated recommendations and have the time of your life. Want to stay updated on what's best in Montreal? Keep your ears to the ground and your eyes on the prize by following us on Facebook. Done something on this list and loved it? Share it with the hashtag #TimeOutDoList and tag @TimeOutEverywhere. You can also find out more about how Time Out selects the very best things to do all over the world or take a look at our list of the 50 best things to do in the world right now.
Do you feel that, Montréal? The excitement of the city slowly reopening in time for summer is palpable. As small outdoor gatherings resume, restaurant terrasses spring back to life and curfews lift, we too are preparing to reopen the doors at Time Out Market Montréal, our 40,000-square-foot culinary playground at Centre Eaton. After all, you'll need somewhere to reunite with friends and family over great food and drink. Leave it to us to make sure the bar is stocked accordingly. So, what's new at Time Out Market Montréal? And when will the doors swing open once again? We'll share more delicious details—including our reopening date and the full vendor lineup—right here on Time Out Montréal in the coming weeks. But here's what we can tell you: Our one-of-a-kind downtown destination remains committed to celebrating the best of Montréal through food, drink and culture—all curated by our editorial team. After all, there's truly never been a better time to spotlight the people and places that make this city shine. If you're as excited as we are, give us a follow @timeoutmarketmontreal for up-to-the-minute updates. Needless to say, we can't wait to fling open our doors, fire up the ovens and feed you again. Let's do dinner soon, Montréal!
Opening in the last week in Hochelaga, the pizza and milkshakes slingers at Les Garnements seems to have arrived just in time for a city that's plunging into a second complete lockdown with new curfew measures. If there was ever a time to try out eating pizzas given a touch of food dye and then topped with stuff like poutine or fried cheesesticks, followed by some boozy milkshakes? This is it. Coming from Guillaume Maillé of MTL Bar, Marc-André Plante (Huis Clos, La Grenade, Madame Smith and MTL Bar) and Dave Tremblay (the chef at Madame Smith), the restaurant is named for the concept's childlike and playful approach to food ('garnements' are rascals in English). The menu's full of options that throw caution to the wind, including as many out-there options—'La Punk' that's topped with poutine, the 'Pizza Kimchi' topped in kimchi and an egg, and 'Poulet Fromage Kentucky' that's got fried chicken bites come to mind—as there are more recognizeable pies with vegetables or prosciutto and burrata. Image: Courtesy Les Garnements "We wanted to take that theme to the limit," the owners told Time Out Montreal in an interview. "The milkshakes were therefore the beverage of choice. Being used to creating cocktail cards, we wanted to use our knowledge of mixology and apply it to our milkshakes." They're also selling boozy sodas from the Quebecois company Baron Artisanal. Photograph: Jean-David-Lafontant View this post on Instagram A post shared by Baron Artisanal (@baro
When is the last time Montrealers got excited over a new sandwich from their city? My guess is that it was sometime around 2020. Montreal has more great restaurants than it can count, both before and during the beginning of the pandemic (and RIP to the ones we've lost). However, those great restaurants can make a Montrealer complacent with their city, one that rests on the laurels of its world-famous smoked meat, a gallery of local standbys—the Larrys breakfast sandwich, stacked deli bites from Boucherie Provisions, cubanos from Olive et Gourmando, and so many others—or anything put between two slices of Montreal bagels by default. I get it: We already come from greatness. View this post on Instagram A post shared by larrys (@larrys.gram) However, the last year's series of lockdowns (and reopenings and re-lockdowns) in Montreal have created an amazing new wave of comfort food, and I'm not just talking about how many fried chicken places have popped up. Enter the sandwich: It's versatile. It travels well for takeout and delivery. It contains multitudes. We don't have much to thank 2020 for, but this is something. This is one of the few fresh lemons life gave us in a sack of mostly moldy lemons. With dining rooms shut down for most of the year and the city already stuck with a stunted street food scene, restaurateurs and chefs and cooks needed to get innovative. Whether it was someone well-established coming from a fine dining background or just someone who
Show more
Best selling Time Out Offers