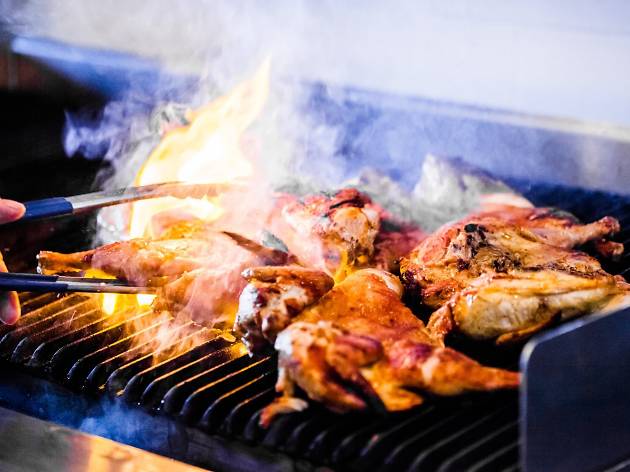 Where to find the best Portuguese chicken in Montreal
Find some serious skill on the grill with our guide to the choicest charcoal-fired Portuguese chicken in Montreal
It ain't all about bagels and smoked meat: If you really want a deep dive into some of the city's most iconic food, it won't be complete with the best Portuguese chicken in Montreal. From Little Portugal in the Plateau to neighbourhoods all across this city, there are tons of spots firing off some delectable birds on charcoal grills. Considering the heaps of fries and other sides that come with orders of legs, thighs and breasts, Portuguese chicken easily secures itself a spot among the best cheap eats in Montreal no matter the time of year, especially when that chicken comes chopped atop the best poutine in town. These aren't to be confused with the Portuguese community's best seafood restaurants or steakhouses—don't get us wrong, they're just as mouthwatering—and you'd do well to eat at these places because they've got roasted chicken in their wheelhouse.
RECOMMENDED: Full guide to the best restaurants in Montreal
Portuguese chicken we love so much that we welcomed it into Time Out Market
Ask any Montréaler what should be on someone's dining bucket list in this city, and Romados is right up there at the top. The local love for this churrascaria's Portuguese chicken and poutine burns hotter than their fiery grills. Anyone who tells you chicken makes for a boring dish has never licked their fingers after devouring Romados' juicy pieces of poultry, slathered with an addictive, bright-orange piri piri sauce. Leave room for dessert—you won't be able to resist their tantalizing pasteis de nata. Best of all, you won't have to wait in line up in the Plateau to get your hands on any of it.
Where you'll find the best Portuguese chicken in Montreal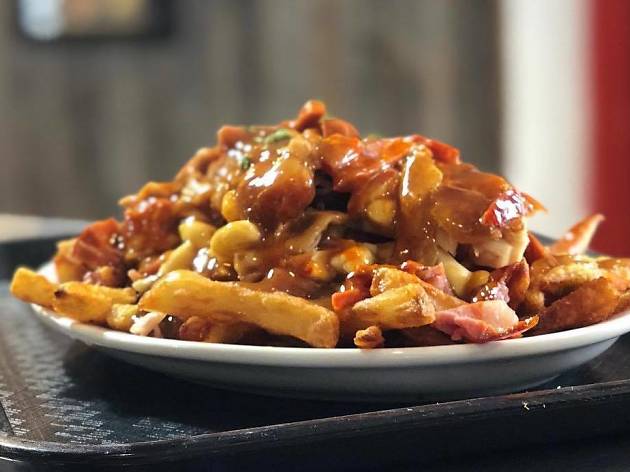 Photograph: Ma Poule Mouillée / @MaPouleMouillee
If there's one place that's vying for the top Portuguese chicken spot in town, it's found a mere 10-minute walk away at Tony Alves' restaurant. A disciple of Romados for two decades, many-a Montrealer will contest that Alves and his well-kept secrets of deliciously grilled birds and fiery piri piri sauce are the best in town. Maybe we're being a bit too sentimental when we say we'll breathe the smoky air of Romados over MPM's any day of the week, but we'll definitely concede that Alves has some of the best poutine between the two.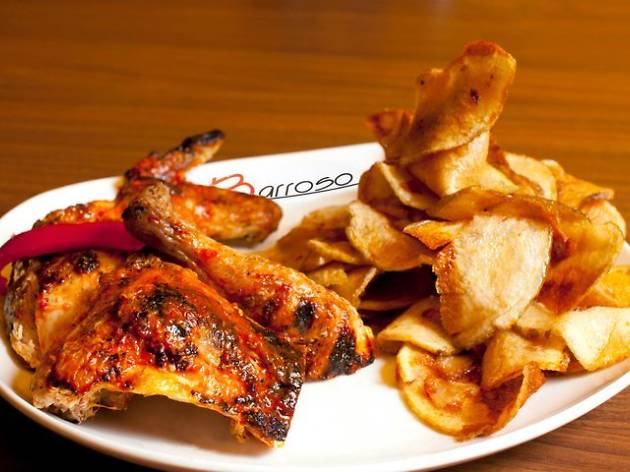 Photograph: Barroso / @legrillbarroso
It took one taste for us to find that this restaurant with two locations (in the Gay Village and farther east in Tétreaultville) is among the city's most excellent options for Portuguese chicken. Its founder Alberto Barroso first came to the city in the 1950s and cut his teeth by cooking it up across town before opening these eponymous restaurants, ones that live on with incredibly moist cuts of grilled chicken and—this is one of our favourite parts—thinly-sliced potato chip-style fries. More of a sit-down affair than other casual grab-and-go spots, you'll be thankful you're planted in a chair after you plow through one of their platters.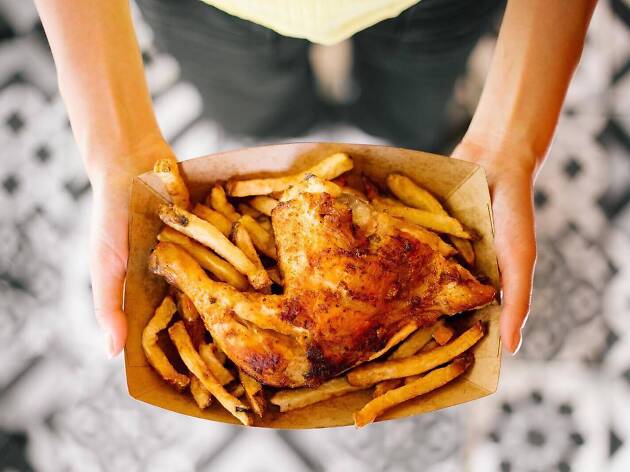 Photograph: Campo
If it comes from the restaurateur Ferreira family, you know it's good: Campo was the fourth operation to come from this Montreal-Portugal dynasty, and it's no less excellent than their inimitable seafood restaurant Ferreira Café, and both are considered to be among the best restaurants in Downtown Montreal. The difference lies in how this one focuses on chicken so intensely that it's been boiled (grilled?) down to perfection: Birds and booze are what's available here, and it barely took a couple months since it opened in 2016 to secure a spot in our hearts and stomachs.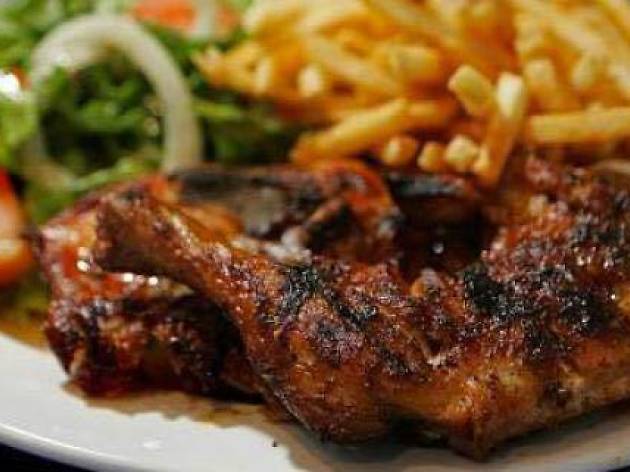 Photograph: Rotisserie Portugalia / @rotisserieportugalia
If you're standing at the corner of Rachel and Saint-Laurent Boulevard, wondering where that wonderful smell is coming from, this is it. Found off the more beaten paths of Little Portugual, this is one of our little secrets we tell to those looking for a more intimate place to eat classic chicken dishes and mixed meat platters alongside liters upon liters of house red. This restaurant boasts a secret marinade that makes its birds so good, and we're inclined to believe them.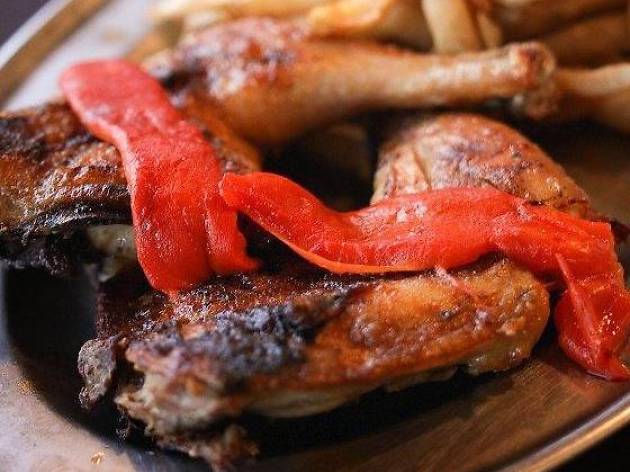 Photograph: Jano / janogrillades.ca
A classic Portuguese eatery in the Plateau, its dining room is packed with regularly packed with locals tucking into long meals of grilled meat and seafood topped off with a hot bowl of traditional caldo verde. You can't go wrong with any of its menu's surf or turf—from rabbit and ribs to squid and sardines—but the chicken here is especially good, a quality that merits its own section to the menu and best paired with a cold beer. Enjoy having a full mug of hot sauce with a paint brush so you can slather on the heat as much as you'd like.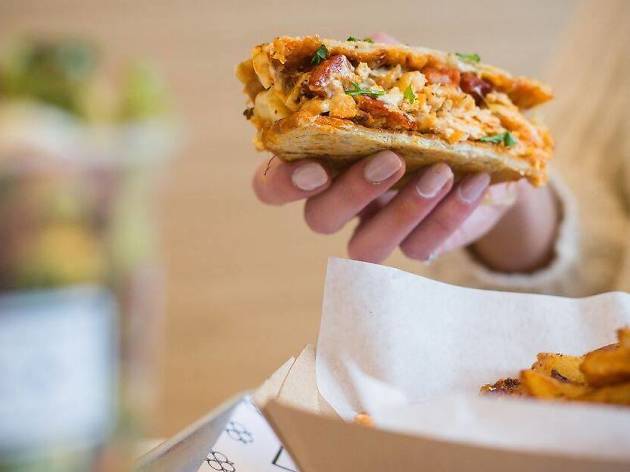 Photograph: Cantine Emilia / @CantineEmilia
If you're in the Ma Poule Mouillée > Romados camp, then you'd do well to pay a visit to this fledging operation that was started by a MPM co-founder. Rather than simply pull ideas from the original restaurant, its owner Pedro Medina ups the ante with meat and cheese curd sandwiches, chorizo and parmesan popcorn, Portuguese hot dogs and some seriously good chicken. The convenient location next to Jarry park (a Montreal park made for snacking in the sun) is simply a plus.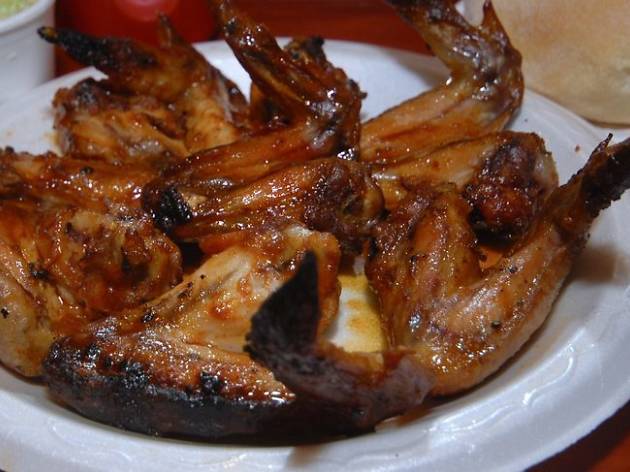 Photograph: Courtesy Yelp/Globeater M.
This counter service Portuguese rotisserie on the Main touts that it was the first in Montreal, having opened in 1970. We can't say for sure if that's true, but what we can verify is that picking any of their rotisserie for a meal on the go is a solid choice. You can't miss the place when walking down the street, as they cook and stack the birds high by the beginning of the day, only to have a few left by the end of it. A must while stopping in here: A big bag of their potatoes that soaking up the juices of the rotating chickens above.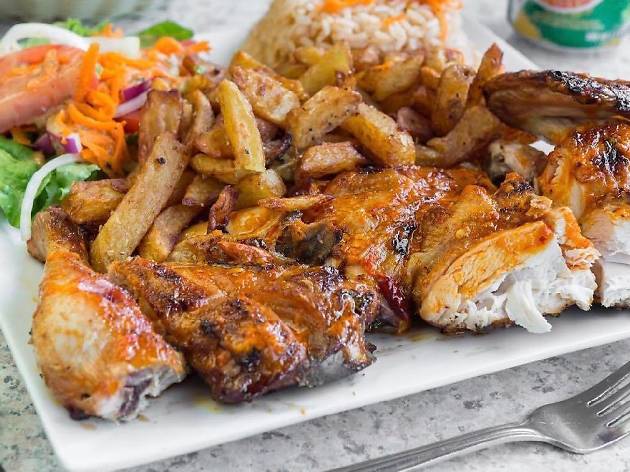 Photograph: @poulet3pattes
Fashioning itself as the odd one out from the rest of Montreal's Portuguese chicken offerings, this 'three-footed chicken' on the western side of Rosemont-La Petite-Patrie serves up a fully charcoal-fired menu of seafood, sausages and chickens upon chickens. That last part's no joke: This place serves all-you-can-eat chicken and fries for $15 on Sundays. Thank them for the deal by ordering a three-litre "giraffe" of beer and enjoy passing out before 8pm.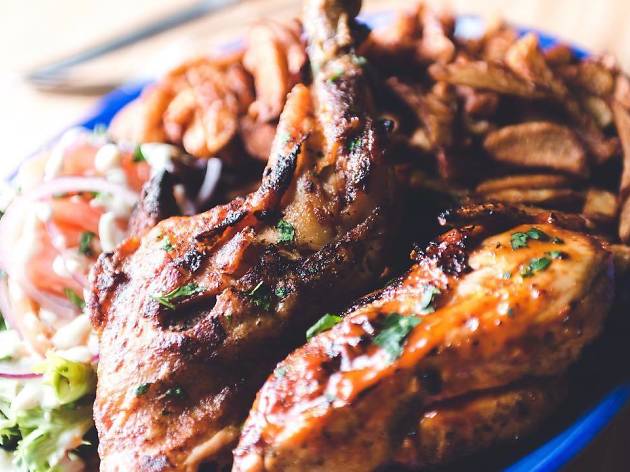 Photograph: Viana / @vianagrillades
After Carlos Costa's family settled in Lasalle in the early 1980s from their village in northern Portugal, he went to work at Jano in the Plateau and stayed there for 30 years. He then took that experience back to the southwestern side of the island to open this family-run gem. Is it better than Jano? It definitely gives them a run for their money. Plus, we'll concede that this place packs the best follow-up acts to their chicken with some seriously awesome desserts and cod croquetas.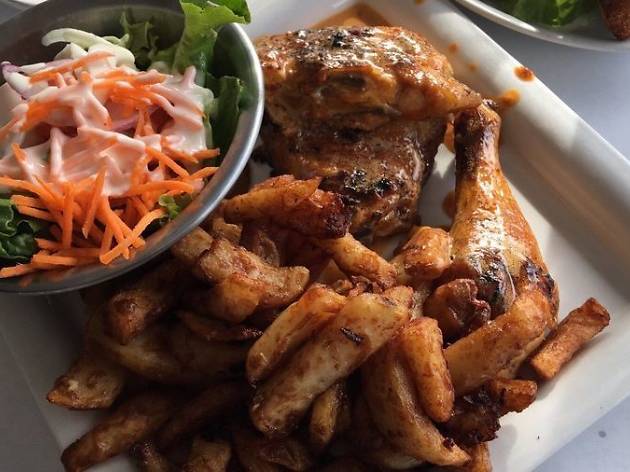 Photograph: Courtesy Yelp/Mai Lynn L.
If you're at (or find yourself at) the easternmost end of the Blue Line, there's two things you need to do: You grab some classic, down-to-earth grilled chicken at Cantinho—racking up points on their loyalty card if you're regular—and you follow it up with a trip to St-Michel Market, one of the best flea markets in Montreal. Both amount to a full afternoon of cheap eats and cheap shopping that's seldom rivalled elsewhere in the city.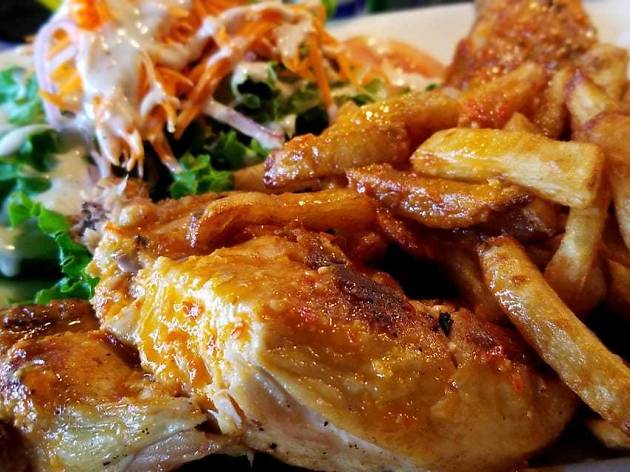 Photograph: Imperio / @imperioportuguesegrill
Ask locals who the reigning champ for Portuguese chicken is on the northern side of the island, and it's this informal eatery devoted to cooking on its coals. There's over two dozen different items to order up, and while we've got a preference for their chicken, folks will tell you their seafood's equally as delicious. Heck, why not just order both and enjoy the best of both worlds?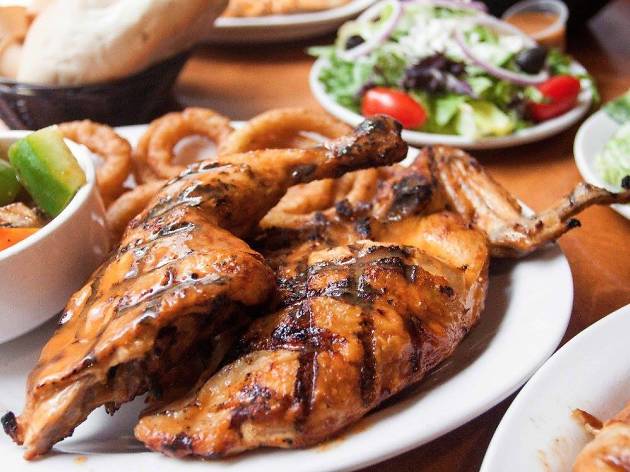 Photograph: Grillado's Poulet Grillé Peri Peri / @GrilladosGrill
When it comes to this city's spectrum of Portuguese chicken options, there's casual spots on one end and table service at the other. Grillado's finds itself squarely in the middle, just as good for either experience: Either drop in quick for a quick set of full wings with a heaping cup of slaw, or gather a huge group and order up one of their massive platters fit for as many as 5 people at a time. This one's Halal-friendly, so don't be surprised to find some pita sandwiches and kebabs on the menu as well.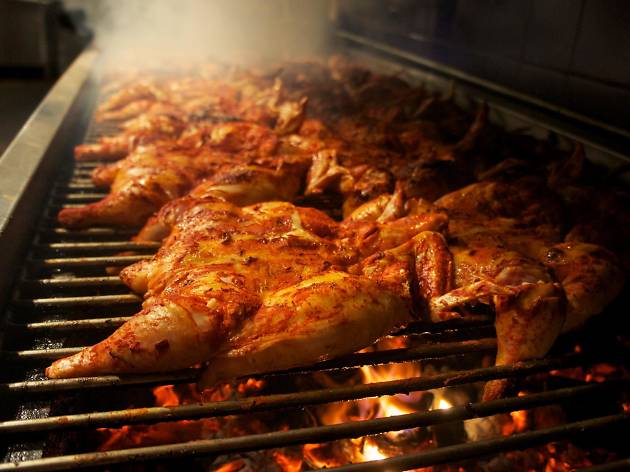 Photograph: Grillades Da Silva
For those who live in the vicinity of their two locations of Côte-Des-Neiges or in the Gay Village, this charcoal-grilled chicken spot is king. Regularly selling out, neighbours will tell you it's sometimes better to order ahead of time to dig into one of their chicken cuts accompanied with fries rolled in Montreal steak spice. Between the two locations, the top pick's the Village address for its proximity to the best things to do in Downtown Montreal.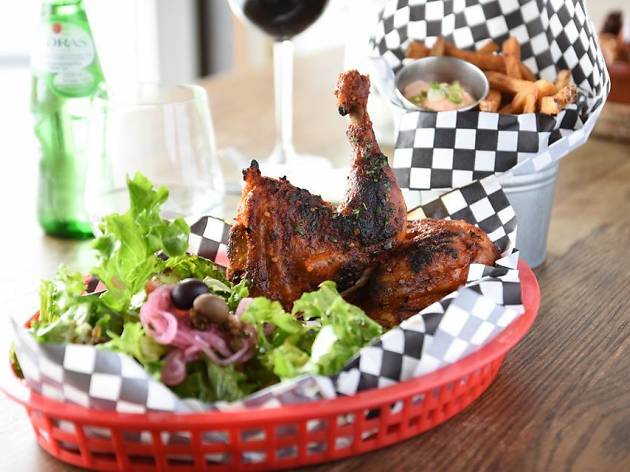 Photograph: Bocado Grill / @bocadogrill
Casual eateries for Portuguese chicken tend to get the most attention, but this discreet restaurant on the South Shore keeps things a tad classier with its plating and menus of imported Portuguese wines. You might not notice it when driving by their location—squeezed into a strip mall with the same black awning as its neighbours—but the meal's memorable. Settling in for a full meal while checking out their wood paneling composed of past wine crates they've received over the years easily outshines just taking your food to go.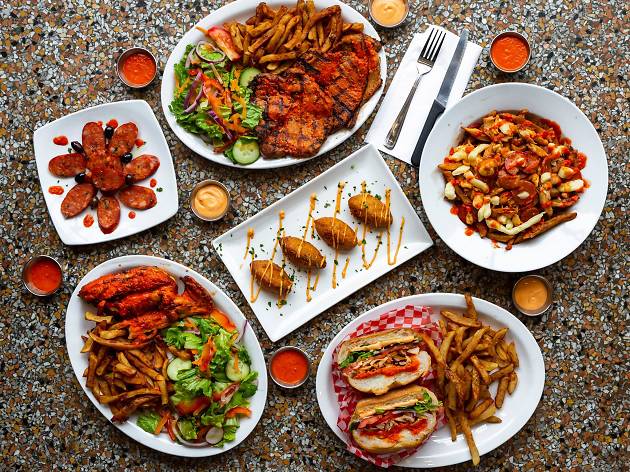 Photograph: Boca Boa Grill / @bocaboagrill
Among the slowly growing amount of dining options in Pointe-St-Charles, Boca Boa is a relative newcomer whose combination of Portuguese, Brazilian and Quebecois dishes has quickly gained a status as a reliable standby. Folks generally fall in love with their conviviality, but the real drawcards are their huge portions of Portuguese chicken and chicken-chorizo poutines. Wash all that down with a couple glasses from the Douro region, and you're likely to be planning a return trip shortly after eating there.
More iconic eats in Montreal
We dove into plates upon plates of fries, cheese curds and gravy to bring you the best poutine in Montreal right now.
If you're looking for the best bagels in Montreal, look no further than this list of the city's top bagel bakeries.
The best delis in Montreal are the vanguard and standard-bearers, carving up top cuts of smoked meat across town.
Best selling Time Out Offers