Heads up! We're working hard to be accurate – but these are unusual times, so please always check before heading out.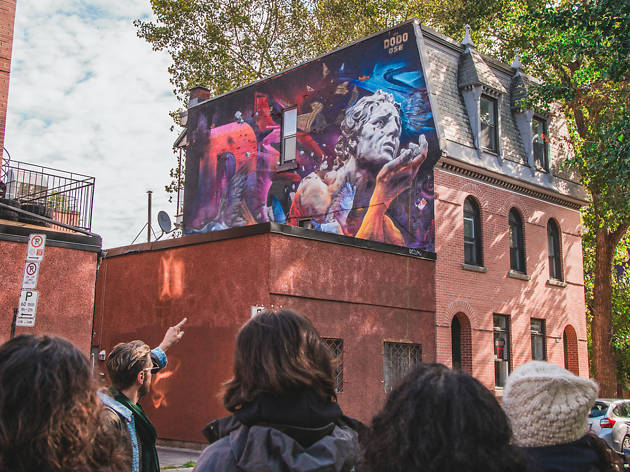 The best walking tours in Montreal for education and exploration
Whether you're a local or a tourist, get to know the 514 better than ever on foot with the best Montreal walking tours
While wandering around this city often reveals attractions at every turn, sometimes the best way to truly understand Montreal—and all its inner workings—is to go with guided walking tours. Tour guides here undertake a rigorous training process before being certified, making Montreal one of only two places in North America that require such levels of expertise (the other being Quebec City). With that said, the tours here will whisk you away on adventures in iconic Montreal food and through neighbourhoods like Little Italy, Mile End, Old Montreal, Chinatown and more. If you're the kind of person who prefers a more self-guided experience, you're better spending time in the best museums in Montreal (but they, of course, have tours as well).
RECOMMENDED: Full guide to the best things to do in Montreal
The best Montreal walking tours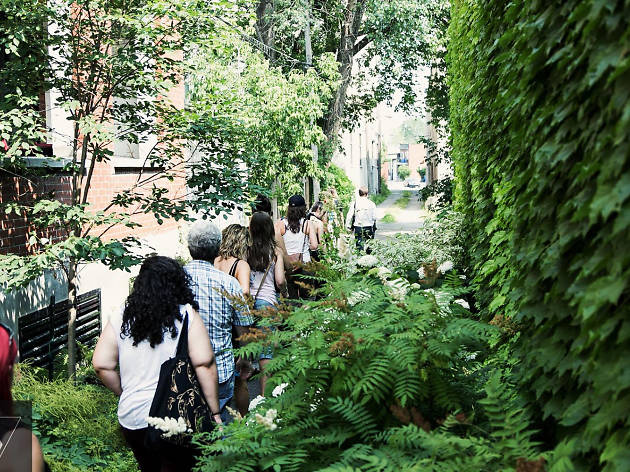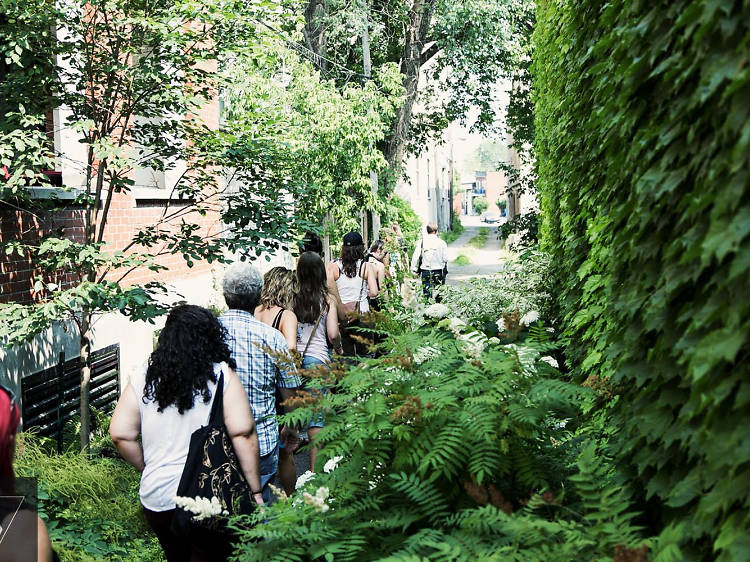 Photograph: Les Tours Spade & Palacio
1. Spade & Palacio: Beyond the Basilica
Spade & Palacio was founded by two local guides with the idea of promoting non-touristy tours to its diverse clientele. The 2.5-hour Beyond the Basilica walking tour, offered year-round, begins in Old Montreal but quickly exits the touristy neighbourhood, passing through a section of the International Quarter, Chinatown, the Entertainment District, and eventually to a collection of street art, ending at a local coffee roastery on Saint-Laurent Boulevard right in the heart of the Plateau-Mont Royal district. A great option for a first-timer.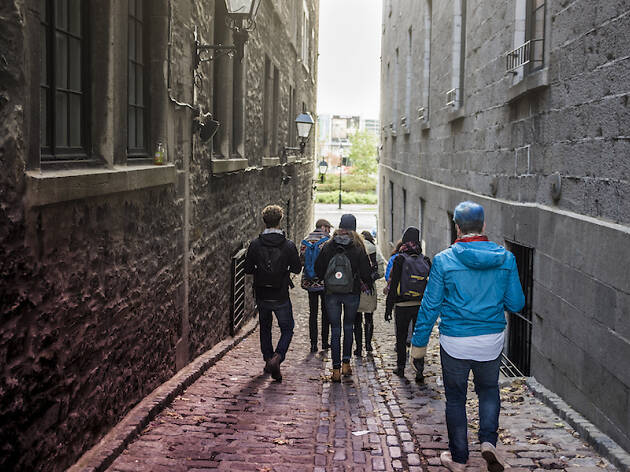 Photograph: Fitz & Follwell Co.
2. Fitz & Follwell: Old Montreal
While Fitz & Follwell may be better known for its bike tours, their 3-hour walking tour of Old Montreal is a great way to discover some hidden secrets about the beloved historic district. With a focus on the story of the city's foundations and industrial past, as well as some important attractions and architectural gems in the area, this tour also includes a visit to the majestic Notre-Dame Basilica.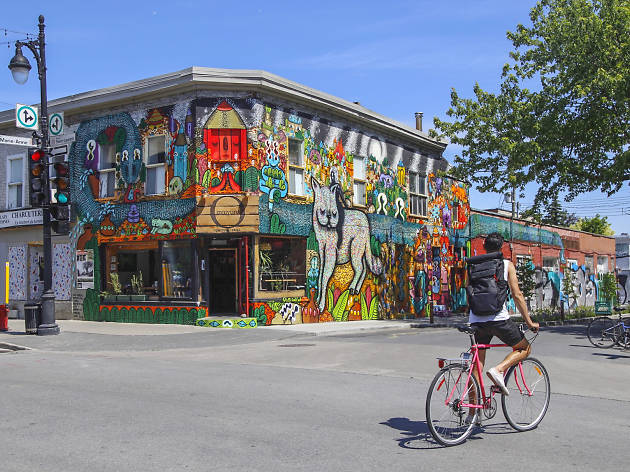 Photograph: Waxhead, 2018 (Photo: Spade & Palacio Tours)
3. Spade & Palacio: Montreal Mural Art
As the first company to offer guided tours of Montreal's street art scene, Spade & Palacio offers a 2-hour walking tour concentrated on the plethora of murals found in the Plateau-Mont-Royal district. This tour offers a unique approach to learning more about the artistic side of Montreal – including the annual Mural Festival and its lasting effect on the cultural development of this trendy borough.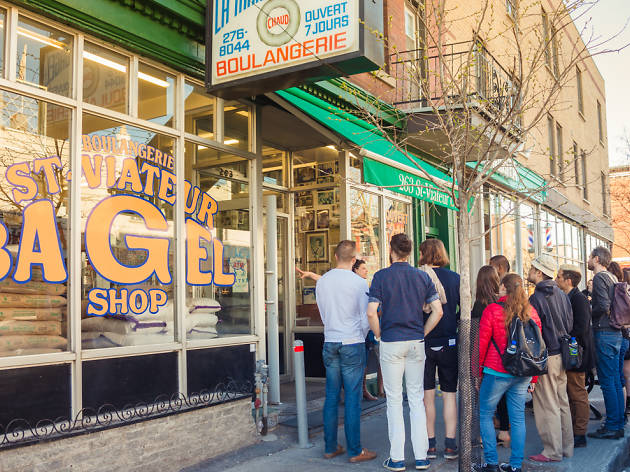 Photograph: Local Montreal Visites Gourmandes
4. Local Montreal Food Tours: Mile End Food Tour
While the secret on Mile End has long since been out, the ultra-trendy subsection of the Plateau continues to attract visitors with its impressive food and nightlife scene. Local Montreal Food Tours prides itself on delivering a well-rounded tour of the area, including six food stops (and a 7th non-food stop) that showcases some local iconic Montreal food. The 3-hour tour also includes portions on the historical, architectural and cultural elements of the neighbourhood.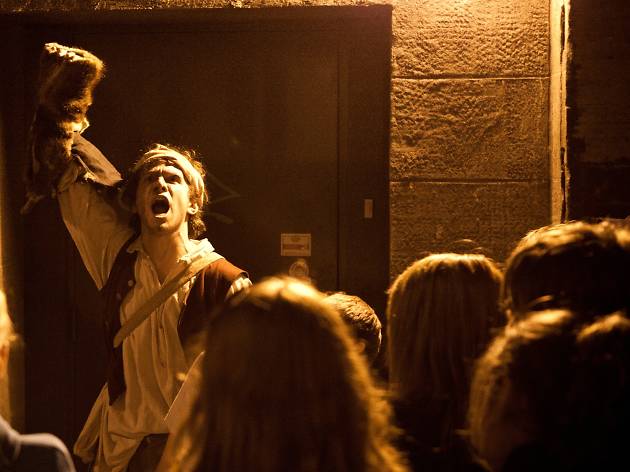 Photograph: Guidatour/Fantômes Montréal
5. Guidatour: Various tours available
With a handful of private walking tours available—everything from Old Montreal and Chinatown to Golden Square Mile and Little Italy—Guidatour has been around for 34 years and continues to be a popular choice for tourists seeking to discover various area of the city. It's worth mentioning that their Montréal Ghosts thematic tour uncovers stories of Montreal's dark and haunted past; as nice as Montrealers are known to be, they've got some seriously creepy history under their belts.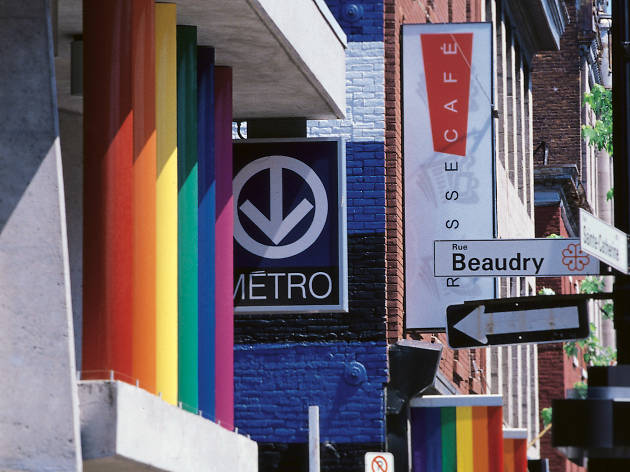 Photograph: Tourisme Québec, Linda Turgeon
6. Kaléïdoscope: Mosaïcs & Centre-Sud
Offering a variety of services to school groups, conference participants and the general public, Kaléïdoscope focuses primarily on a local Montreal audience with most of their tours are offered exclusively in French. The company added a new tour this year (with the help of a first-year guide) highlighting a series of handmade mosaics in the largely unknown Centre-Sud neighbourhood.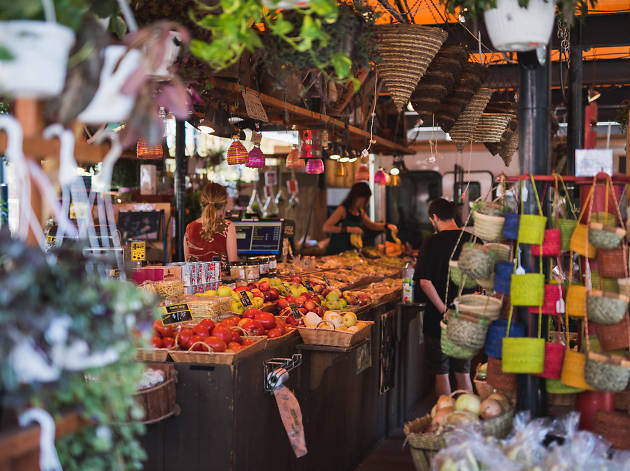 Photograph: Alison Slattery
7. Round Table Tours: Iconic Dishes: Jewish Montreal, The Original Tour
Founded by former chef and certified guide Mélissa Simard, Round Table Tours is a gastronomic tour company that explores Montreal's neighbourhoods, cultures and food genres through eating and storytelling. Its Iconic Dishes: Jewish Montreal food tour is a 4-hour marathon of eating, walking, poetry reading and historical exploration of the Mile End and the north end of the Plateau, an area where most Eastern European Jews settled at the turn of the 20th century and left an indelible mark on the city.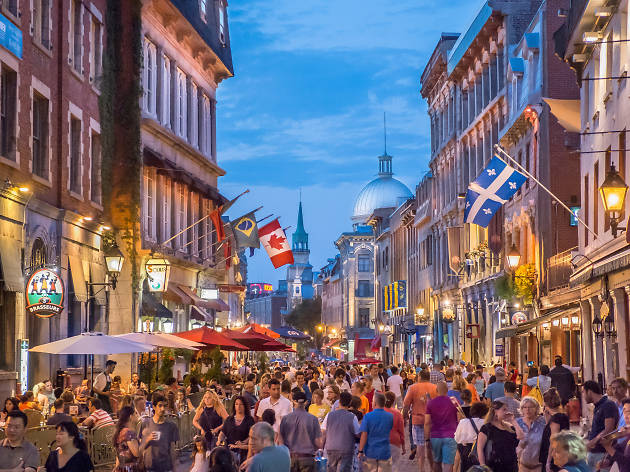 Photograph: Tourisme Montréal, Stéphan Poulin
8. VDM Global: Flavours and Aromas of Old Montreal
For those looking to get past some of the architectural and historical details of Old Montreal and scratch the surface of the best restaurants in Old Montreal that make up its happening food scene, this 2.5-hour walking tour might be the best bet. This tour dives deep into the origins of the cuisine in Montreal, exploring French, British and international genres and their impact on the local culinary reputation here.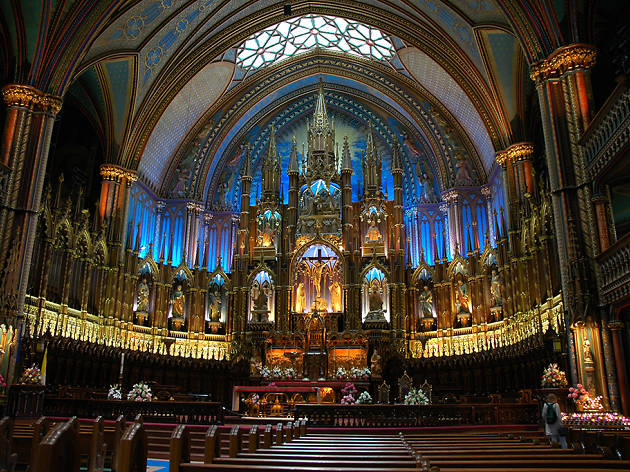 Photograph: Courtesy CC/Flickr/Moiggi Interactive
9. Ça Roule: Architecture Tour
Launched at the beginning of the 2019 season, this new tour highlights some of the contrasting elements of Old Montreal's historic buildings to the latest trends in urban design and architecture. The 2-hour tour starts in the heart of the cobblestone quarter and extends out to the neighbouring district of Griffintown before ending at the very site of the city's original foundations.
Photograph: Palais des congrès de Montréal
10. Héritage Montréal: ArchitecTours
This non-profit organization dedicated to the protection of the architectural, historic, natural and cultural heritage of Greater Montreal offers guided tours focused on how the city's architecture and urban design have been influenced by industrialization, gentrification, or otherwise. Each year, Heritage Montreal releases a new program of 2-hour walking tours in both English and French, offered Saturday afternoons in August and September, rain or shine.
Photograph: Elias Toui
11. Quartier des Spectacles: Free Walking Tour (June to October)
While the Quartier des Spectacles area has undergone a dramatic transformation in the last decade to act as the central stage for some of our major outdoor festivals, this area also holds the title as the former Red Light district of Montreal. This free walking tour offered by the area's not-for-profit organization allows visitors and locals alike the chance to discover the role of the neighbourhood in past, present and future, including our connection to jazz, dance, and the undeniable artistic jouissance that remains omnipresent in the city.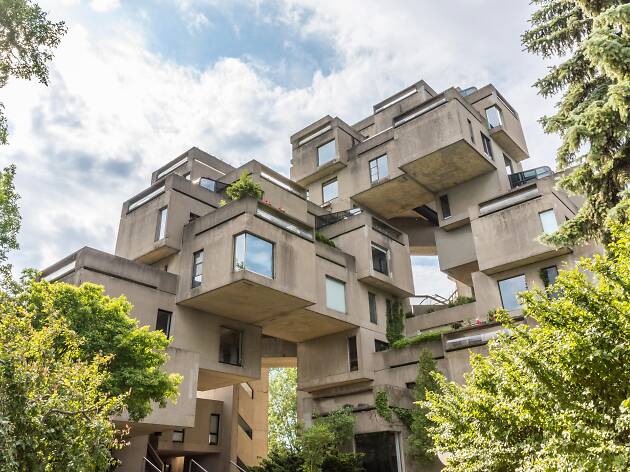 Photograph: Eva Blue
12. Habitat 67: Seasonal Tours
Designed by Israeli-Canadian architect Moshe Safdie for Expo 67—still known as one of the world's top five World's Fairs of all time!—this architectural attraction and housing complex was conceived as the development of the future, with each resident having access to natural light and greenspace. Access to the site, including a visit to the exterior of the architect's former apartment, is limited to 90-minute private guided tours held in French and English from May to October.
More great things to explore in Montreal
The best Montreal attractions reveal the city's rich history and landmarks, all waiting to be (re)discovered.
Ponder fine art, explore historical crypts, go on walking tours and more at the most inspiring museums in the city.
Our top picks for the best things to do in Montreal with kids make sure you'll be having just as much fun as they are.