Things to do in New York: 12 museum shows for kids in fall 2013
The best things to do in New York City this fall include a stellar lineup of family-friendly museum exhibits. Use our guide to find out what's planned.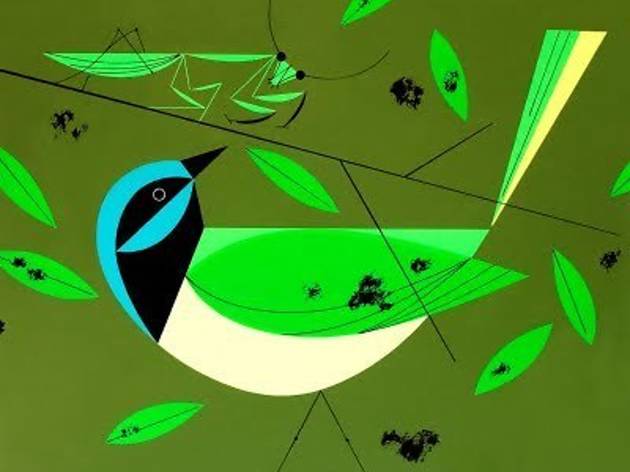 1/12
Courtesy Charlie Harper Art Studio
"Tweet" at the Children's Museum of the ArtsCMA surely loves Twitter as much as the rest of us, but this exhibition spotlights not the social media instrument but the feathered creatures who make the old-fashioned kind of tweets. The show presents a huge and delightful array of avian-themed art, from Vik Muniz's enormous Hummingbird, made of industrial scraps, to a collage of Patagonia-clad birds by Fred Tomaselli and a MetroCard mosaic of common city bird species by artist Nina Boesch—plus more traditional renderings, like gouache artist Amy Jean Porter's bird portraits. The works are meant to inspire kids to stop and look at nature, which smartphones can sometimes get in the way of. The show's interactive aspects include bird call workshops taught by Audubon naturalists; on-site art workshops galore, with kids making everything from Egyptian bird hieroglyphs to cockatiel costumes and rolling penguin push toys; and an off-site bird scavenger hunt through the city on Columbus Day weekend, in which kids seek out a given number of birds across the city—whoever finds and tweets images of all them first wins a free CMA membership for a year. On view at the Children's Museum of the Arts from September 26 to January 26, 2014.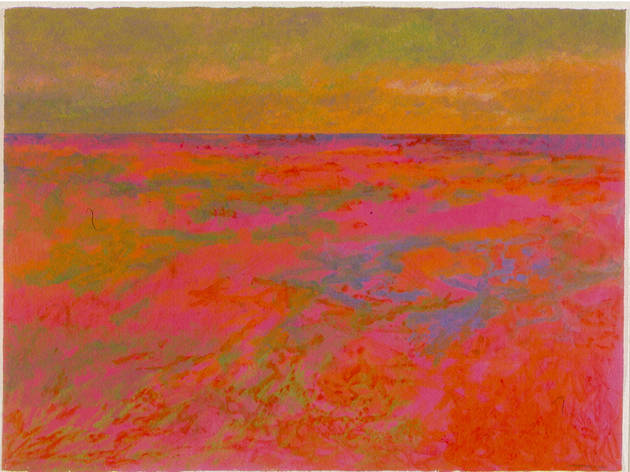 2/12
Courtesy National Museum of the
"Modern Spirit: The Art of George Morrison" at NMAIThe National Museum of the American Indian may not seem a likely place to see colorful, abstract work by a 20th-century modernist, but that's just what lies in store for museumgoers there this fall. "Modern Spirit," which originated at the Minnesota Museum of American Art, is a retrospective of work by the Minnesota-born artist George Morrison: paintings, prints, drawings and sculptures that reveal a fascination with landscape and horizon and resonate with a distinctive combination of quiet introspection and the energy of the Abstract Expressionists. Kids will especially love Morrison's exuberant use of color and light. On view at the National Museum of the American Indian from October 5 through February 23, 2014.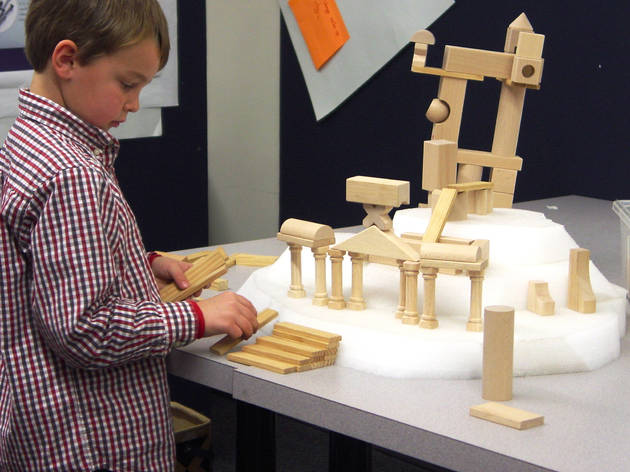 3/12
Courtesy the Brooklyn Children's Museum
"Building Brainstorm" at the Brooklyn Children's MuseumInspired by the aesthetic of midcentury designers Charles and Ray Eames, this BCM offering is less an exhibition and more of a hands-on design studio filled with models, building elements, photos and architectural plans for kids to play with. Various interactive "workbenches" and "job sites" encourage young visitors to explore the process of building and the nature of architecture by coming up with solutions to common engineering and architectural challenges. In the process they'll come to fully appreciation the diverse needs of a building's inhabitants. Opens at the Brooklyn Children's Museum on October 5.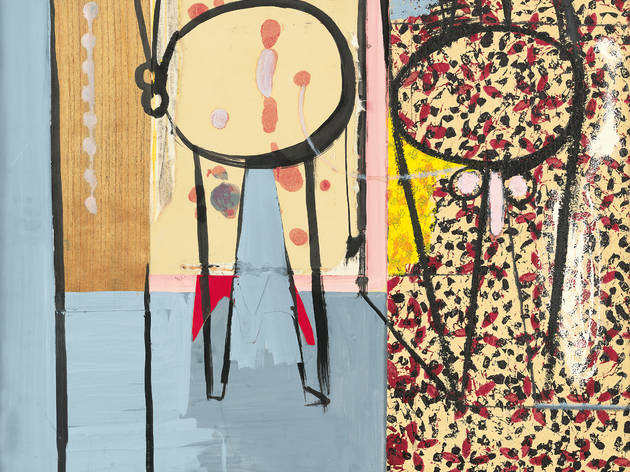 4/12
Courtesy the Solomon R. Guggenheim Museum
"Robert Motherwell: Early Collages" at the GuggenheimThis Guggenheim show focuses on the early works of the seminal Abstract Expressionist painter Robert Motherwell, specifically in the kid-friendly medium he once called "the greatest of our [art] discoveries": collage. It looks at the young artist's style and the significance of collage in his lifelong oeuvre, as well as the ways in which he broke ground with the medium's techniques. The works' geometric, abstract shapes and layers are never boring, thanks to ink drawings that pop, gouache passages that float and sometimes humorous anthropomorphic elements that are sure to draw kids in. On view at the Solomon R. Guggenheim Museum from September 27 to January 5, 2014.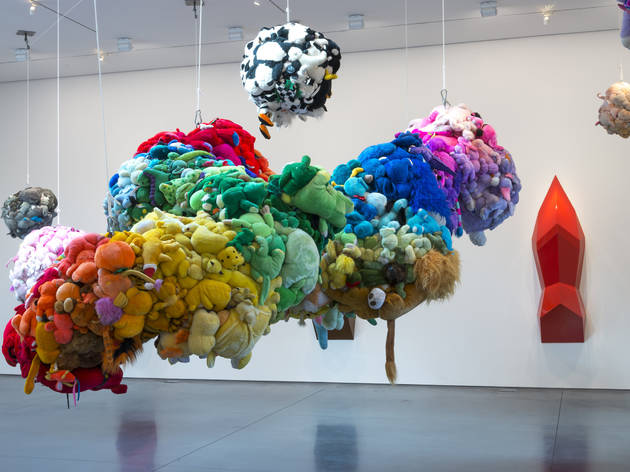 5/12
Courtesy MoMA PS1
"Mike Kelley" at MoMA PS1This retrospective of the late, Los Angeles–based Mike Kelley, a maverick artist who mined pop culture to the core for the materials and subject matter of his work (sculptures, installations, performances), features one of MoMA's newest acquisitions: the monumental installation Deodorized Central Mass with Satellites (1991–99). Why should kids care? Well, it's supremely rainbow-colored and was made almost entirely of stuffed animals the artist found in rummage sales, which he stitched together over the course of many years to form an enormous, amorphous growth-cum-sculpture. It will be suspended with wires and surrounded by all sorts of other colorful hanging objects and wall-mounted pieces, creating a magical environment little ones ought not to miss. Note that it may, as the artist intended, spray aerosol at timed intervals (hence the "deodorized" in the title). On view at MoMA PS1 from October 13 to February 2, 2014.
6/12
Courtesy the American Museum of Natural History
"The Power of Poison" at AMNHEver wondered what Cleopatra fed her foes? In this exhibit at AMNH, somewhat older kids can explore poison from many points of view, learning its basic biology—how different kinds of creatures use naturally lethal material to survive; the potential benefits of certain poisons for powerful medicines in the future—the role it's played in the narratives of many myths and legends; and such morbid historical facts as how poisons have been used throughout history, from Cleopatra's asps to the penchant of Renaissance Italy's powerful Borgia family for arsenic. On view at the American Museum of Natural History from November 16 to August 10, 2014.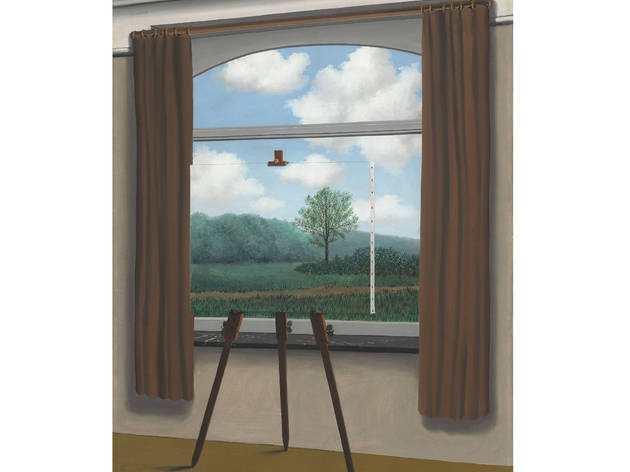 7/12
Photograph: Greg Williams
"Magritte" The Mystery of the Ordinary, 1928–1936" at MoMARené Magritte, one of modern art's most recognizable giants, is best known for works in which real life is taken over by dreams and nothing—not even the most ordinary of situations—is quite what it seems. And because of the work's intrigue, older kids are likely to revel in its visual play. Ironically, it was Magritte's use of highly realistic painting techniques that enabled his work to subvert the cannon of realism itself. This exhibition focuses on the years 1925 to 1938, the time right between two world wars, when he developed his iconic style. On view at the Museum of Modern Art from September 28 to January 12. 2014.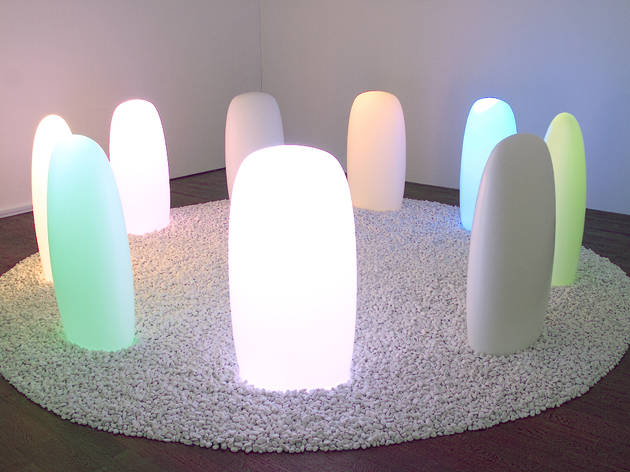 8/12
Courtesy the Japan Society
"Rebirth: Recent Works of Mariko Mori" at Japan SocietyJapanese artist Mariko Mori's first NYC solo show in more than a decade explores the deep spiritual connections of man to both the natural world and ancient civilizations with 30-plus installations, sculptures, drawings and videos. Kids will be most impressed with the large-scale works, including the lit-up Ring, which will later take up residence above a Brazilian waterfall; Transcircle 1.1, a pastel-colored Stonehenge (pictured) whose colors change in sync with planetary positions; and White Hole, a white, energy-generating spiral, her take on the opposite of the famed Black Hole, developed with an astrophysicist. On view at Japan Society from October 11 to January 12, 2014.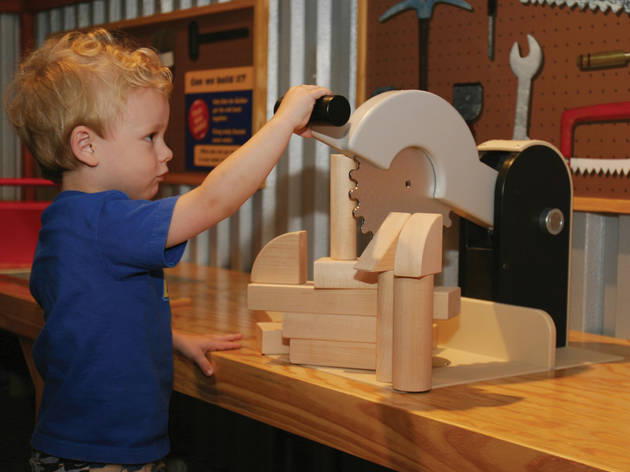 9/12
Photograph: Courtesy of Liberty Science Center
"Bob the Builder—Project: Build It" at Liberty Science CenterAnother hands-on show all about building is this Bob the Builder–themed exhibit, which riffs on the TV show's themes and characters. Kids can fix up Wendy's home and plant flowers in her garden at Wendy's Caravan; fix Bob the Builder's dripping faucet and watch clips of the show at Bob's Mobile Home; and climb on huge construction-machine characters, such as Roley the Steamroller, at the "Drive" a Machine station, among other interactive activities. On view at Liberty Science Center from September 21 to April 27, 2014.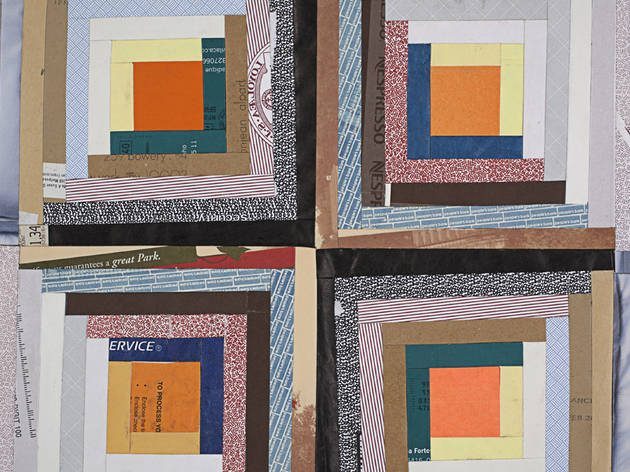 10/12
Photograph: Tom Powel Imaging
"alt_quilts: Sabina Gschwandtner, Luke Haynes and Stephen Sollins" at the American Folk Art MuseumThe American tradition of quilts has always had a unique tension between form and function, with the design often functioning as a secret language that in fact gave quilts a double function. This eye-opening show introduces families to three contemporary artists—Sabina Gschwandtner, Luke Haynes and Stephen Sollins—who use unique materials, (Tyvek envelopes, 16mm film strips) and techniques to make the art form their own. Works from the museum's collection will provide a counterpoint to their quilts, letting museumgoers discover how the artists' work resembles but is different from that of their predecessors. Kids may also be fascinated that while quilting was traditionally the work of women, two of the three featured artists are men. On view at the American Folk Art Museum from October 1 to January 5, 2014.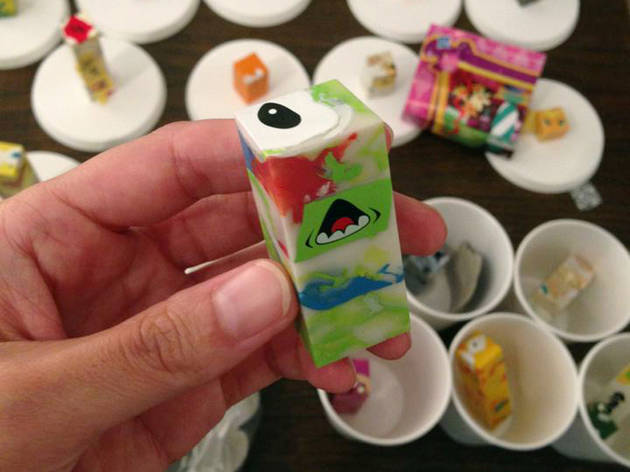 11/12
Courtesy the Japan Society
"three is a magic number 7" at Japan SocietyThe Japanese art collective three takes found action figures of recognizable comic book and cartoon characters (think Sailor Moon or SpongeBob Squarepants) and melts them down into 555 cubic bits, paying homage to the five boroughs of NYC. As children guess which bit corresponds to which character, they can check their scores (on a smartphone) with a QR code showing the original figure. On view at Japan Society from August 27 to October 13.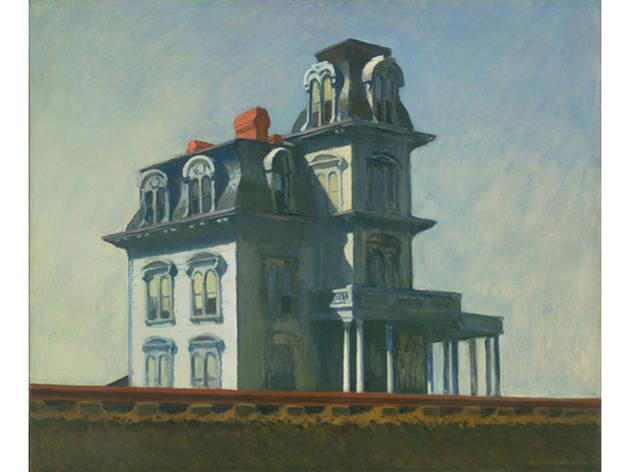 12/12
Photograph: Courtesy Museum of Modern Art
"American Modern: Hopper to O'Keeofe" at MoMADespite its love affair with the European avant-garde of the 20th century, MoMA has always had a soft spot for stateside artists. In fact, Edward Hopper's House by the Railroad, included in this exhibition, was the first painting in the museum's collection. Take the kids on a tour through American art history, where they'll get acquainted with jazz-inspired work by Stuart Davies, abstract NYC cityscapes by John Marin, such rural scenes as the haunting Christina's World by Andrew Wyeth, still-lifes and portraiture. Find out which artists strike a chord and you'll get ideas for your next MoMA visit. On view at the Museum of Modern Art from August 17 to January 16, 2014.
RECOMMENDED: More things to do in the fall with kids
However many things to do in New York there may be this fall, we have a penchant for the kid-friendly cultural offerings that NYC museums always seem to put together in celebration of the season of renewal. The crop of shows this fall is wide-ranging, featuring everything from two hands-on building studios (at the Brooklyn Children's Museum and Liberty Science Center) and art made of melted superheroes (at the Japan Society) to a much buzzed-about contemporary artwork fashioned from plush animals (at MoMA PS1). And when you're planning things to do in New York around museum exhibits, don't ever think of it as choosing indoors over outdoors: You can always work in a trip to a nearby park or playground afterward to make your outing as yin-yang as it gets.