Museums
Must-see exhibitions at the very best NYC museums for kids, including the American Museum of Natural History, MoMA and children's museums
Best kids' exhibits at NYC museums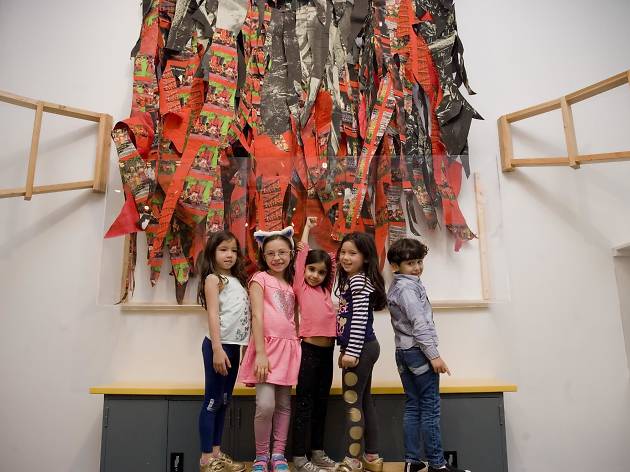 "Art, Artists & You"
The Children's Museum of Manhattan is putting little visitors in the driver's seat. "Art, Artists & You," a combination of an art studio and exhibit, encourages children to explore the creative process with several main components: working on stop motion animation, crafting a model of a pet or contributing to a wall hanging. "We want visitors to consider what it means when art is made of familiar object and materials, and how they can use these everyday items to make something new that expresses their thoughts, aspirations, and personal perception of the world," David Rios, Children's Museum of Manhattan's director of public programs and the exhibit's curator, said in a statement. Artists Amir Hariri, Antonia A Perez, Camille Hoffman and Jasmine Laura Murrell have just been added to the roster, so explore the pieces while you still can! All ages.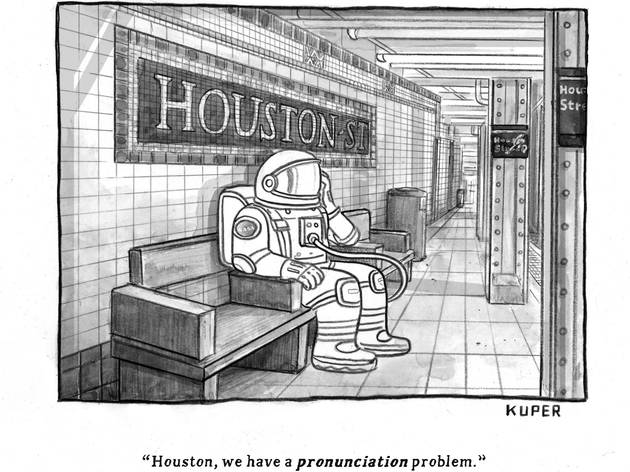 "Underground Heroes: New York Transit in Comics"
We need a little levity while commuting, so why not get a chuckle with "Underground Heroes: New York Transit in Comics"? The New York Transit Museum just released this silly (yet all-too familiar) exhibit of cartoons—ranging from the 19th to 21st century—depicting rides through on the trains. All ages.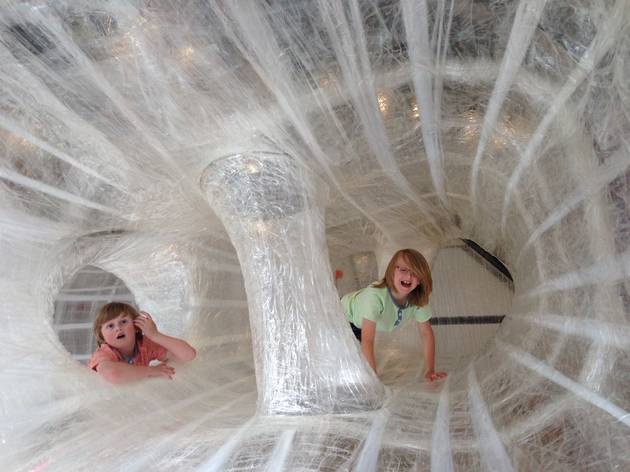 "TapeScape" at BCM
Let your imagination run wild as you climb through a massive playscape made from miles of TAPE! This interactive exhibit by Brooklyn Children's Museum in collaboration with Eric Lennartson is custom-built for the museum and created from unexpected everyday materials, and it'll be located in the Visiting Exhibit Gallery. The exhibit will span about 400 square feet (about the size of a studio apartment here in NYC), offering plenty of tunnels to crawl through, and it's open for anyone to explore, even adults. "TapeScape" encourages creativity, curiosity and gross motor play. The artist, Eric Lennartson, weighed in with Time Out New York Kids: "Because the exhibit is so crazy, it attracts everyone to play in it. One of the reasons I love the exhibit is that I see adults playing with kids in the exhibit. I see older kids playing again like they did when they were younger and didn't have to act so cool. I tell people it lets you act half your age again." Building the exhibit will take around two weeks: the first will be used to create the skeletal structure, and the second for adding around thirteen miles worth of tape—that's enough to go back and forth across the Brooklyn Bridge a dozen times! Lennartson continues: "I love that tape is such a common thing that everyone has, but it can do extraordinary things. It is completely unexpected material to build with, right? Why would you think that that roll of tape in your desk drawer could make something as big as a three-dimension
Unseen Oceans
Travel deep beneath the Ocean's surface to discover what lurks in the dark, cold depths of the sea with this special exhibit. Visitors learn about the new, cutting edge technologies like robotics, satellite monitoring, miniaturization, and high-definition imaging that scientists use to explore the ocean's vast realm. They can also see some of the new discoveries, like a new island forming near Hawaii and the behaviors of deep sea animals. The exhibit features mesmerizing displays, like a floor-to-ceiling array of biofluorescent species (animals that absorb and re-emit light) and a virtual ride in a submersible.
Buy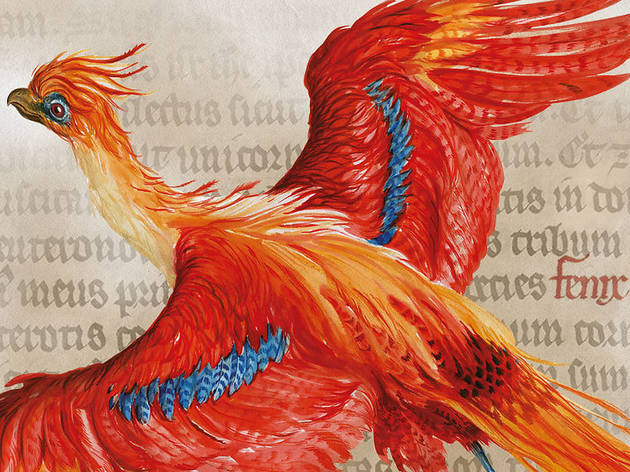 A History of Magic
Take a trip to Hogwarts—without leaving NYC! Potterheads can experience "Harry Potter: A History of Magic," a British Library exhibit that is coming to the New York Historical Society. Take a peek at what Hogwarts students study, see drafts from mastermind J.K. Rowling and of course, have a magical, whimsical time. All ages. 
See more permanent exhibits