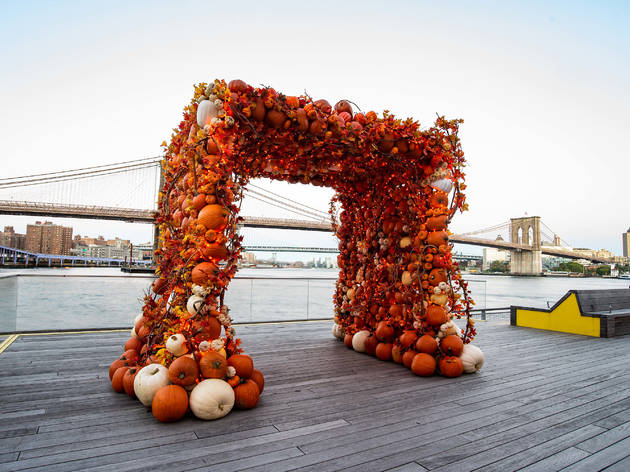 Where to find a gourdeous pumpkin display in NYC
We found many a pumpkin display in NYC to brighten up your Instagram feed this fall
'Tis the season of ghosts, ghouls and gourds. Make the most out of autumn by paying a visit to a pumpkin display at one of the best family attractions in NYC.
From the fall wonderland at Queens County Farm Museum to the pumpkin arch at Pier 17, these Instagrammable spots are a must-visit if you're looking for a family photo. Plus, you'll want to stick around for fun fall activities in the area. (QCF is essentially a Halloween haven.)
While you're mapping out your to-do list, be sure to check out our favorite corn mazes, haunted houses and pumpkin picking locations.
Pumpkin display
This waterfront complex transforms into a Halloween hotspot come October. Expect hundreds of pumpkins adorned on the campus, as well as mummies, skeletons and other spooky sightings!
In a spooky state of mind? Head to Boo at the Zoo! Thursday through Sunday from Oct 1 to Nov 1 is your chance to revel in the Halloween fun, from magic shows and pumpkin carving demonstrations to mind reading and trips through the spooky extinct animal graveyard. From 11am–4pm, you and your can wander through Butterfly Patio's Pumpkin Trail to get a glimpse of hand-carved gourds!
Though best-known for its Christmas displays, Rockefeller Center's gorgeous fall decorations are not to be missed. A few snaps in front of the pumpkins and mums make the perfect fall family photo!
More fun for kids: Halloween events for kids
Photograph: Courtesy Angela Pham/BFA.com
2. Halloween at American Dream
New Jersey's entertainment epicenter is celebrating Oct 31 with a slew of cool things to do. Learn about the safety measures online.
Get tickets for Nickelodeon Boo-Niverse (11am–3pm, 4–8pm) for a spooky event with rides, music and, of course, your favorite characters. Come in costume!
Venture to the rink from 5–8pm for a spooky skate!
Stop by IT'SUGAR, Mulberry & Grand, Sephora and Sunice for trick or treat goodies!
Show more