NYC Neighborhood Scavenger Hunt for Families: Chelsea
MasterCard and Time Out New York Kids have teamed up to give families a "priceless" new way to explore Chelsea. Read on for a virtual walking tour of this distinctive and artistic nabe, complete with an interactive scavenger hunt.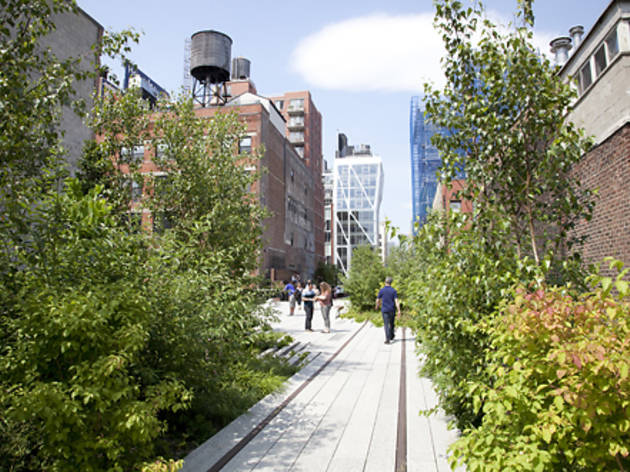 1/9
Photograph: Ilenia Martini
The High Line Park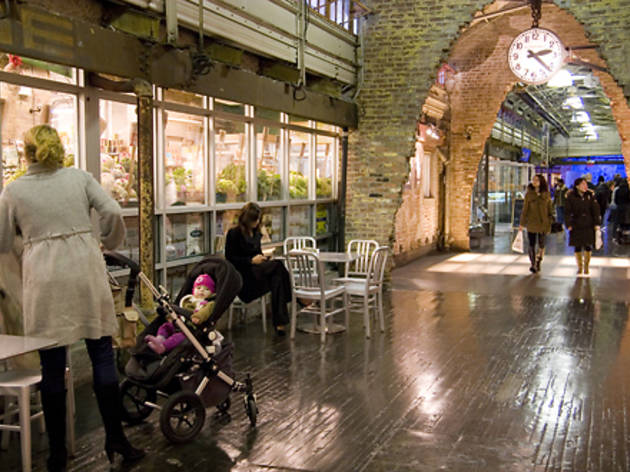 2/9
Photograph: Beth Levendis
Chelsea Market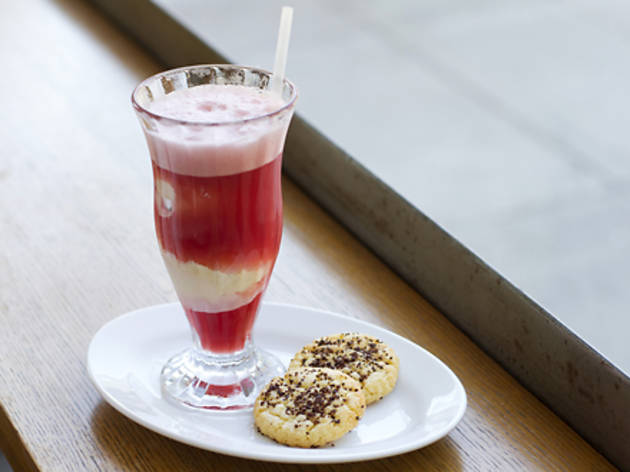 3/9
Photograph: Caroline Voagen Nelson
Strawberry Float at Cookshop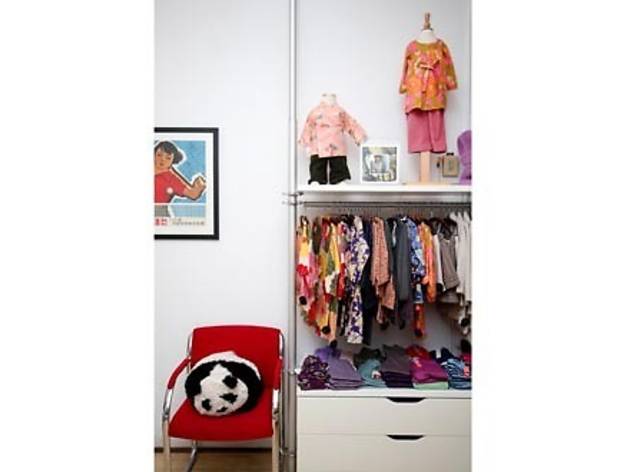 4/9
Lucky Wang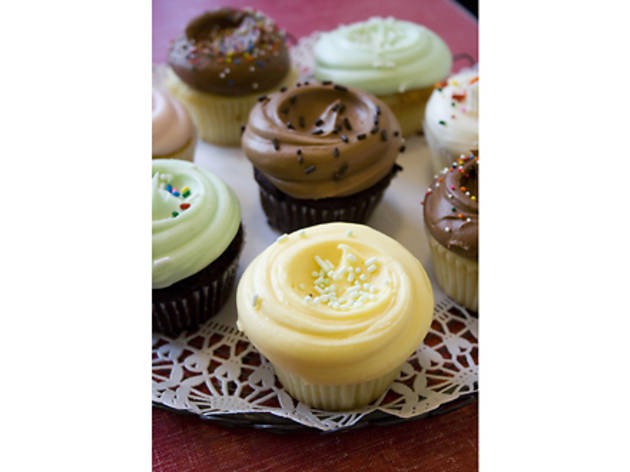 5/9
Photograph: Stephanie Gussin
Billy's Bakery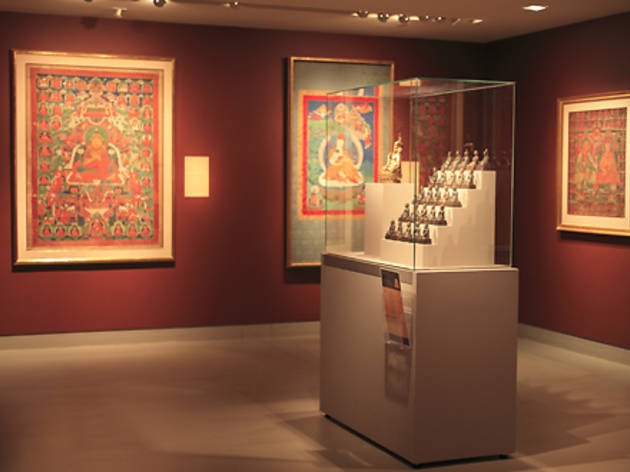 6/9
Photograph: Wendy Connett
The Rubin Museum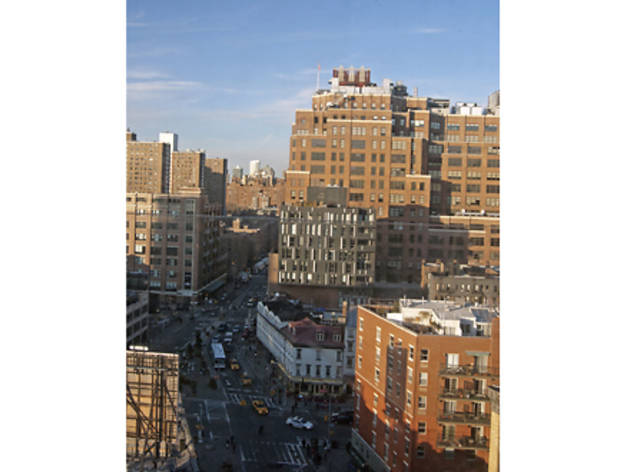 7/9
Photograph: Virginia Rollison
Chelsea Streets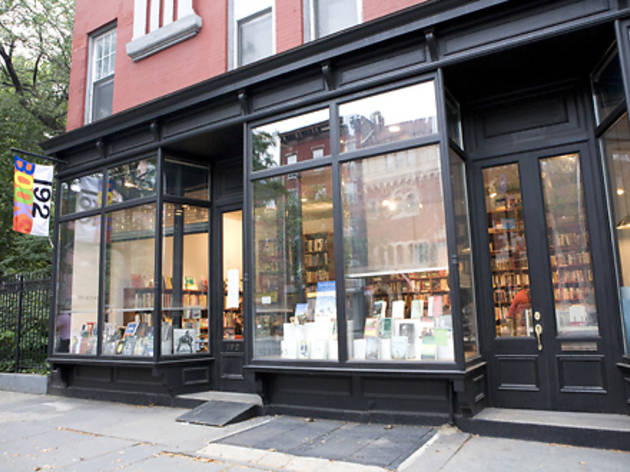 8/9
Photograph: Michael Kirby
192 Books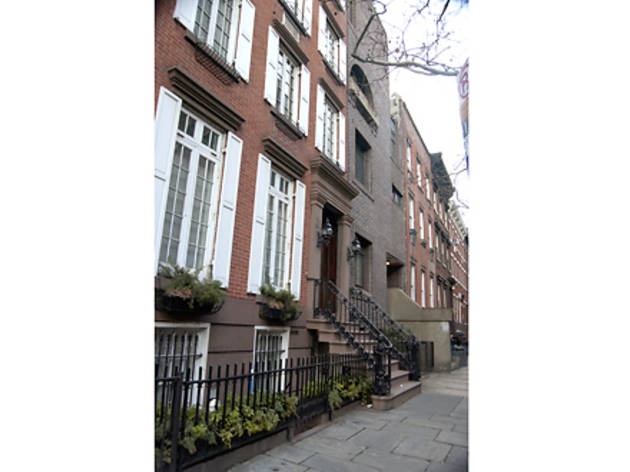 9/9
Photograph: Virginia Rollison
Chelsea Streets
The historic heart of the bustling 'hood is Chelsea Market (75 Ninth Ave at 15th St, chelseamarket.com), inside a former factory building of the National Biscuit Company (Nabisco), inventor of the Oreo. Its pedestrian concourse, bursting with postindustrial flourishes, has become a nosher's paradise, with independent food purveyors whipping up everything from fresh-baked bread to artisanal gelato. The urban waterfall that gushes out of a huge pipe at the corridor's halfway point is mesmerizing. Just across from it, kids can ogle the vast daily catch at fresh-fish emporium Lobster Place (212-255-5672, lobsterplace.com). In addition to its ice-bedecked fish displays, the spot offers portable fare such as sushi, lobster rolls and six daily fish chowders, making it a perfect place to grab lunch to go. Just overhead at the Tenth Avenue exit is the urban park that's put Chelsea on the international radar: The High Line (from Gansevoort St at Washington St to Tenth Ave at 30th St, thehighline.org), a former freight-train trellis turned public promenade. Kids will especially love the low-lying water feature (between 14th and 15th Sts), where they can splash on a hot summer's day without getting drenched; Tenth Avenue Square (at 17th St), an amphitheater-like space with a huge panoramic window overlooking Tenth Avenue; and the lawn (between 23rd and 24th Sts), a section of bright-green grass where families can play, sprawl out and picnic.
For a primer on the intriguing culture of the Himalayas, head to the Rubin Museum of Art (150 W 17th St between Sixth and Seventh Aves; 212-620-5000, rmanyc.org), a unique, six-floor showcase for artwork and cultural artifacts from Tibet, Nepal, China and Bhutan, among other regions. Besides its collection studded with colorful, intricate scroll paintings (called tangka) and everyday objects like lamps, bells and trumpets, the museum holds frequent children's art workshops, and its gift shop, stocked with handcrafted toys and home decor, and caf add to the spot's family-friendly allure. On the opposite side of Seventh Avenue, Lucky Wang (82 Seventh Ave between 15th and 16th Sts; 212-353-2850, luckywang.com) is a must for style-savvy tykes, thanks to its eclectic cache of clothing and accessories, which includes a kimono-inspired line for babies.
If the gang's hungry, laid-back New American eatery Cookshop (156 Tenth Ave at 20th St; 212-924-4440, cookshopny.com), which has sidewalk seating in warmer weather and an emphasis on farm-fresh ingredients, is an excellent spot to refuel. For lunch, parents can dig into the likes of a warm squid salad and pesto pizza while kids keep it simple with an applewood-bacon BLT and french fries. About a block north on Tenth, light-filled 192 Books (192 Tenth Ave between 21st and 22nd Sts; 212-255-4022, 192books.com) has one of the best curated lit selections in the city, including a choice kids' section, which mixes classics like Jenny's Birthday by New Yorker Esther Averill with the latest from kid-lit heroes such as Mo Willems (Knuffle Bunny). Next door, kids can let off steam at Clement Moore Park (Tenth Ave at 22nd St), a leafy enclave that once was farmland owned by the grandfather of its namesake, the reputed author of "A Visit from St. Nicholas." Swings, a newly refurbished play surface and its two copper seals, which spray water in the summer, make it one of the neighborhood's most beloved parks.
Take a break from winding through the tree-lined streets of the West Chelsea Historic District (from 20th St to 22nd St between Eighth and Tenth Aves), whose stately 19th-century brownstones and carefully tended gardens are reminiscent of another time, at the charmingly retro Billy's Bakery (184 Ninth Ave between 21st and 22nd Sts; 212-647-9956, billysbakerynyc.com). If it's too tough choosing between a yellow daisy and a German chocolate cupcake, kids can spring for a Hello Dolly, a bar made with graham crackers, chocolate and butterscotch chips, coconut and pecans. All of the bakery's wares are made from scratch on the premises.
Sea breezes and salty air await at piers 62, 63 and 64 (Hudson River between 22nd and 24th Sts), a cluster that's one of Hudson River Park's most recent—and snazziest—additions. After taking a spin on the carousel and a gander at the daredevils in the enclosed skate park (both at Pier 62), head to Pier 63's landscaped open lawn, where kids can roll down grassy slopes while their parents catch a few rays—or z's.
Click here to see our family-friendly scavenger hunt in Chelsea!