If your New Year's resolution was to have way more fun in 2017, you've come to the right place. 17 fantastic openings, releases and experiences are coming your way in a hurry, and here's your guide to them all! (And don't forget to see our guide to things you can't miss in 2018, too!)
Your kids will love exciting adventures at "National Geographic Encounter: Ocean Odyssey," where you'll dive into a simulated ocean experience, or great stuff like Gulliver's Gate, a 50,000-square-foot attraction full of miniatures. Did we mention Nitehawk Prospect Park is opening in 2017 too? There's so much to get excited about! Read on for the full details (and to be the most "in the know" parent on the block). For more fun activities, try our favorite 101 things to do with kids in NYC and the best free activities for kids, too.
1. "National Geographic ENCOUNTER: Ocean Odyssey"
The great minds of National Geographic Partners, award- winning special effects teams, composers, designers and sound engineers are behind Times Square's upcoming permanent multisensory experience for families. Visitors travel through a 60,000-square- foot maze of screens to virtually visit the Salomon Islands, the Pacific Ocean and the California coast (among other places), seeing humpback whales, sea lions, great white sharks and Humboldt squid along the way. 226 W 44th St (natgeoencounter.com). Opens in fall, date TBA. All ages.
2. Charlie and the Chocolate Factory
Enter a world of pure imagination when this musical version of the Roald Dahl children's classic comes to the Broadway stage. Though the story— which follows a child who wins a golden ticket to visit Willy Wonka's magical sweets factory—will feel like a slight departure from the films families know and love, fans of the Gene Wilder–starring 1971 flick will be pleased to know that some of the songs, including "The Candy Man" and "Pure Imagination," are performed. The staged version of the iconic Great Glass Elevator should leave both young and old audiences gobsmacked. Lunt-Fontanne Theater, 205 W 46th St (charlieonbroadway.com). Opens Apr 23. Ages 8 and up.
3. Steve from Blue's Clues + Steven Drozd of the Flaming Lips present Foreverywhere
Two famous Steves from different beats team up for a new album, Foreverywhere, after coining the new band name STEVENSTEVEN. The music allegedly has a psychedelic vibe—but it's appropriate for all ages! If you're wondering what that sounds like, you can check out the new single and video "The Unicorn and Princess Rainbow" online. Album releases in Feb. All ages.
4. The Peter Pan Experience
This joyful import from the Dutch children's theater company Het Laagland comes to BAM bringing a playful reminder to children and their parents that they should shake off the real world's stress and drama more often. Five adults wearing business suits are whisked into an innocent sense of wonder when an invisible force changes everyday adult objects into toys. There's plenty of music, pop culture references and jokes, both those directed at the tykes and those given with a wink to their chaperones. BAMFisher, 321 Ashland Pl, Brooklyn (bam.org). Mar 18–25 at various times; $15. Ages 7 and up.
5. A Series of Unfortunate Events
Just 10 years since the best- selling 13-book series came to a conclusion, the macabre world of the Baudelaire orphans makes its way to Netflix. Neil Patrick Harris, nearly unrecognizable under prosthetics, stars as the villainous Count Olaf who terrorizes three precocious children using antics that will appeal to kids amused by dark humor. With Lemony Snicket (a.k.a. the author Daniel Handler) on hand to help write the script, fans are hopeful this adaptation will go a lot smoother than the 2004 movie did. Releases Jan 1. All ages.
6. Gulliver's Gate
Your whole crew will be enamored with this 50,000-square-foot attraction filled with interactive miniature cityscapes. Upon entry, visitors are handed an old-timey key that, when twisted into locks, sends a digital signal to make the miniature towns come to life. Cars drive, planes fly, replicas of historic buildings from all around the world light up, and there are plenty of unexpected surprises, too. Other mind-boggling tiny activities include a 3-D scanner that can print mini dolls of your little one and a first-of-its-kind "mechanical rainbow" that is built through a series of levers, buttons, wheels and, of course, teamwork. 216 W 44th St (gulliversgate.com). Opens Apr 4. Ages 7 and up
7. Anastasia
Twenty years after the animated musical debuted in movie theaters, the story is adapted for the Great White Way. Based on the legend surrounding Grand Duchess Anastasia Nikolaevna, the youngest daughter of Tsar Nicholas II, the musical imagines a world in which Anastasia survived the revolution but developed amnesia. Several songs from the film's Oscar- winning score are included in the production, but a different villain and several new numbers make the staged show markedly different from the movie. Broadhurst Theatre, 235 W 44th St (anastasiabroadway.com). Opens Apr 24. Ages 7 and up.
8. A new permanent location for Pearl River Mart
Kids and parents alike were distressed to learn the Chinatown staple Pearl River had closed its doors after more than four decades of hawking cheap and fun tchotchkes, but the new pop-up location (open now) in Tribeca sounds like a happy compromise. The recently reopened store doesn't accommodate as many Asian instruments and replicas of terra-cotta soldiers, but we're happy to once again have a place to find vibrant fabrics for craft projects and trinkets galore. Thankfully, we also hear that a new, permanent location opens in May, so your kid's love of fans, fantastical Chinese lanterns and cool plastic jewelry will forever be satisfied. Pop-up location: 395 Broadway. · Permanent location TBA. Opens in May. · pearlriver.com.
9. Star Wars: Episode VIII
Rey, Finn, Luke Skywalker and, perhaps most excitingly for young audiences, BB-8 are coming back to the big screen with the next installment of the iconic space epic. Though the blasters and lightsabers might be a bit much for very small children, the franchise's return to form in 2015's The Force Awakens— including heartwarming characters and fun action sequences—will make this follow-up a much buzzed about favorite for older grade-schoolers. Opens Dec 15, 2017. Ages 9 and up.
10. Playground 52
This Bronx play area, to the relief of many local families, is currently undergoing a $3 million renovation. It'll include a noteworthy new skate park for all ages, a basketball court, benches, new pavement, lighting, plantings and drainage, plus an amphitheater. Phase one's (skate park, courts, amphitheater) projected completion is in June.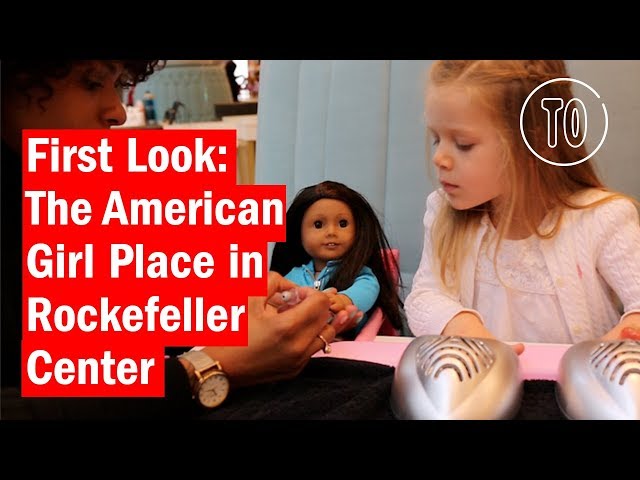 11. American Girl store
Samantha, Addy, Kit and the rest of the American Girl dolls are moving into some fantastic new digs next fall at Rockefeller Center. This 40,000-square-foot location has plenty of the features families have come to expect from the store, like the café and the doll salon, with some exciting updates (see page 2 for more details). 75 Rockefeller Plaza (americangirl.com). Opens in fall, date TBA. 
12. The Lego Batman Movie
The undisputed breakout star from 2014's fantastic The Lego Movie, Lego Batman (voiced by Will Arnett), now has his own flick, and he's bringing the rest of Gotham with him. Here the Dark Knight has a goofy sidekick who hates wearing pants (Robin, voiced by Michael Cera) and a girl who could very likely kick his butt (Batgirl, voiced by Rosario Dawson). Bad guys like the Joker and Harley Quinn abound, but like its Lego predecessor, the movie portrays the evildoer's plans as petty shenanigans rather than anything actually scary to little kids. Opens February 10. Ages 6 and up. 
13. Hilde Cracks the Case
Children's books are filled with kids doing remarkable things, but few are written by an actual kid. Yet this series, which is authored by spunky 10-year-old reporter Hilde Lysiak (with the help of her journalist dad Matthew Lysiak), chronicles some of her experiences as the publisher of Selinsgrove, Pennsylvania's only monthly newspaper. The illustrated early-reader chapter books depict in detail what it takes to be a pint-size sleuth and ends with a news article Hilde has previously published. Aspiring Nancy Drews and Boxcar Children will definitely dig it (and so will you). Releases in fall, date TBA. Ages 6–8.
14. Nitehawk Prospect Park
Williamsburg's dine-in luxury movie house Nitehawk Cinema is the perfect favorite date-night and kiddie-brunch spot, and to meet demand, the company is taking over Park Slope's old Pavilion Cinema (sure to be another favorite family hangout). With seven screens and 650 seats, Nitehawk plans to create kid-friendly programming with new releases and vintage screenings befitting the neighborhood's reputation for growing families. Expect to see more events like Nitehawk's series "Little Bookworms," which features different movies adaptations of literary favorites, like Harry Potter, and some tasty menu items that tots will appreciate. 188 Prospect Park West, Brooklyn (nitehawkcinema.com). Opens in fall, date TBA.
15. Cars 3
When summer vacation hits, you'll race to the theaters to catch the latest installment in Pixar's blockbuster franchise. Lightning McQueen, Mater and Sally head back to Route 66, with new cars Cruz Ramirez and the shady Jackson Storm in tow. This time around, McQueen is feeling a bit old and outdated, but that just makes him want to prove to the young racers that newer isn't always better. Good luck telling that to your kids when they see the new toys released with the film. Opens June 16. Ages 6 and up.
16. Despicable Me 3
Minion-obsessed tykes will be delighted to know that Despicable Me 3 is on its way! Though most of the storyline is still under wraps, we know that Steve Carell returns as the voice of Gru (and also Dru, Gru's long lost twin brother), Kristen Wiig returns as Lucy Wilde, Russell Brand and Miranda Cosgrove return as Dr. Nefario and Margo respectively, and Trey Parker of South Park fame will appear as Balthazar Bratt, the movie's '80s-child-star villain who has aspirations (as you might expect) for world domination. Opens June 30. All ages.
17. Nintendo Switch
Nintendo's much-anticipated new gaming console is a hybrid (gasp!) that can be played on the go or through a monitor at home. Furthermore, a new version of Pokémon Sun and Moon will likely launch for Switch, as will another Mario Kart and Just Dance, plus The Legend of Zelda: Breath of the Wild. The console is projected to cost anywhere between $250 and $299 (about the same price as Wii and Wii U when those first hit the market), so encourage your kids to save their pennies. Releases in Mar, date TBA.
—Coauthored by Tolly Wright and Allie Early
Want more? Sign up here to get our newsletter!