Heads up! We're working hard to be accurate – but these are unusual times, so please always check before heading out.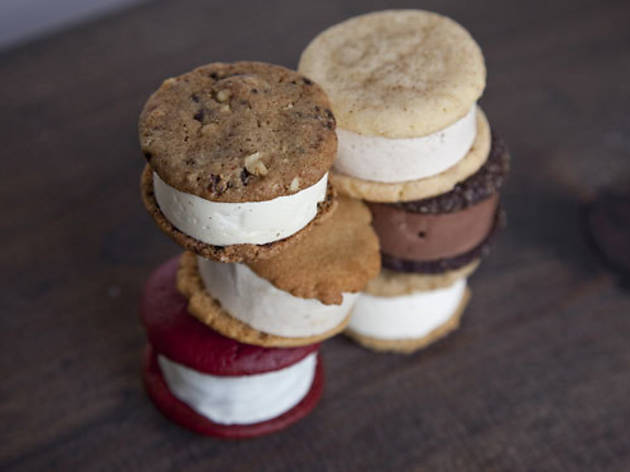 1/10
Photograph: Melissa Sinclair
Melt Bakery Forget the cake—when it comes to birthdays, kids always scream for ice cream! Avoid drippy cones and opt for mini ice cream sandwiches that put the grocery-store freezer section to shame. Freshly baked cookies are paired with offbeat ice cream flavors to form killer combinations like the Elvis (peanut-butter cookies with banana ice cream) or the Cinnamax  (snickerdoodles with cinnamon ice cream). 132 Orchard St between Delancey and Rivington Sts (646-535-6358, meltbakery.com). Ice cream sandwiches $3 each, coolers and dry ice available for $25.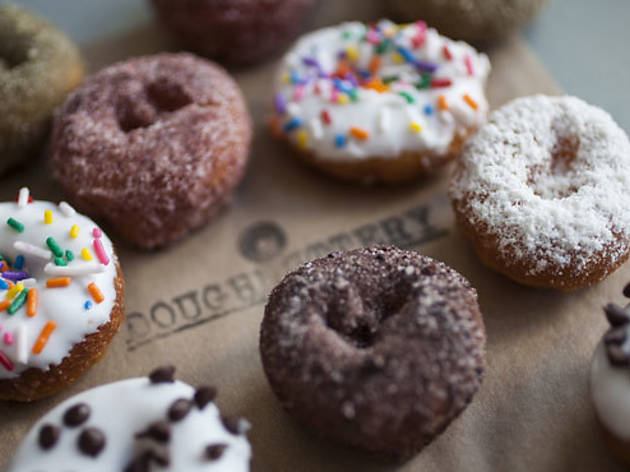 2/10
Photograph: Laura Gallant
Doughnuttery Fried dough has never been a tough sell with kids, and the minuscule doughnuts from this popular Chelsea Market vendor are no exception. The dough—sweet with a hint of spice—is fried until crispy on the outside and soft on the inside, then glazed or tossed in unique sugar blends. Order a combination of flavors arranged in a pizza box, or have the shop bring its Donut Robot to you and fry the minis right before the kids' eyes. 425 W 15th St between Ninth and Tenth Aves (212-633-4359, doughnuttery.com). 6 mini doughnuts $5.50, box of 25 $20, box of 50 $40; plus delivery (around $15). 2oz dipping sauce $1, large dipping sauce $10. On-site doughnut fryer starting at $750.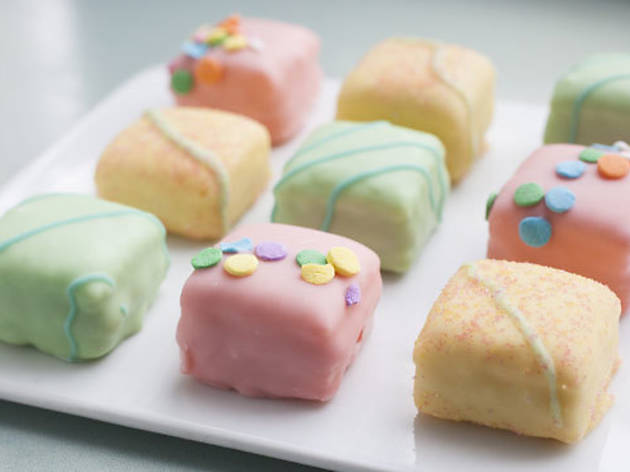 3/10
Photograph: Lauren Spinelli
Harry and David Pretty petits fours decked out in bright birthday colors make for an elegant treat, perfect for a tea-party-themed fete. Dainty lemon-blueberry, strawberry shortcake and lemon-raspberry treats come nestled in a small box, delivered right to your door. Just place an order through the website and your work is done. (harryanddavid.com). Box of 15 petits fours $29.95.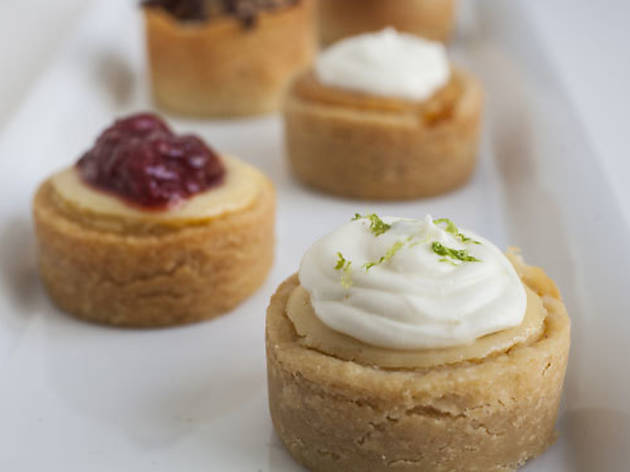 4/10
Photograph: Laura Gallant
BiteMe Cheesecakes Cheesecake, a dessert that's usually more popular with the grown-up crowd, shrinks down to adorable    bite-size morsels that kids will love, thanks to this Smorgasburg regular. Little graham-cracker-crust cups are filled with a creamy cheesecake base, then crowned with a variety of fun toppings. Build your own assorted box with classic cheesecake minis, plus fun spins like key lime, salty caramel– apple and pumpkin spice. 27 North 6th St between Kent and Wythe Aves, Williamsburg, Brooklyn (551-574-0840, bitemecheesecakes.com). Box of mini cheesecakes $36 (plus shipping).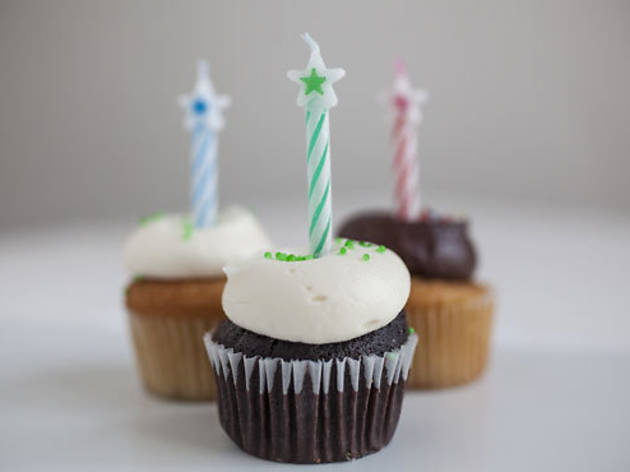 5/10
Photograph: Laura Gallant
Billy's Bakery You can't go wrong with these  simple but delicious cupcakes in classic flavors like chocolate, yellow cake, red velvet, banana and carrot, topped with light and silky buttercream or cream-cheese frosting. The miniature versions are the perfect bite for little ones, and they look precious with a single birthday candle when it comes time to sing. 184 Ninth Ave between 21st and 22nd Sts, plus two other locations. (212-647-9956, billysbakerynyc.com). Mini cupcakes 12 for $18.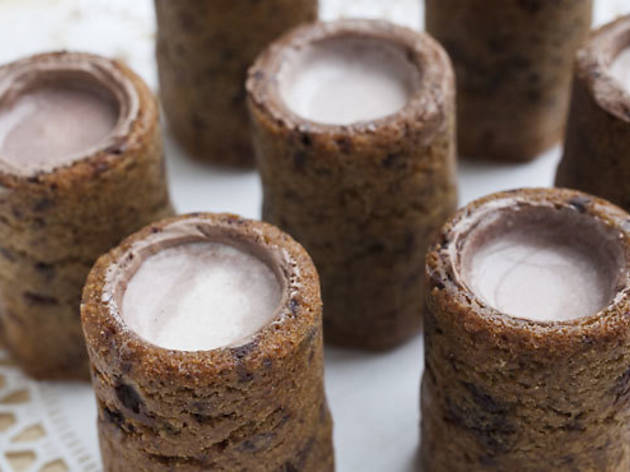 6/10
Photograph: Lauren Spinelli
Dominique Ansel This genius pastry chef's follow-up to the Cronut has families flocking to his bakery for a fun, kid-friendly treat. Buttery, chocolate-chip-cookie shot glasses are lined with chocolate glaze and filled to the brim with vanilla-infused milk. Trot out these raved-about confections and your tyke's party is sure to be the talk of the town. 189 Spring St between Sullivan and Thompson Sts (212-219-2773, dominiqueansel.com). Milk and cookie shot $3 each, box of 8 $25, bottle of milk $3.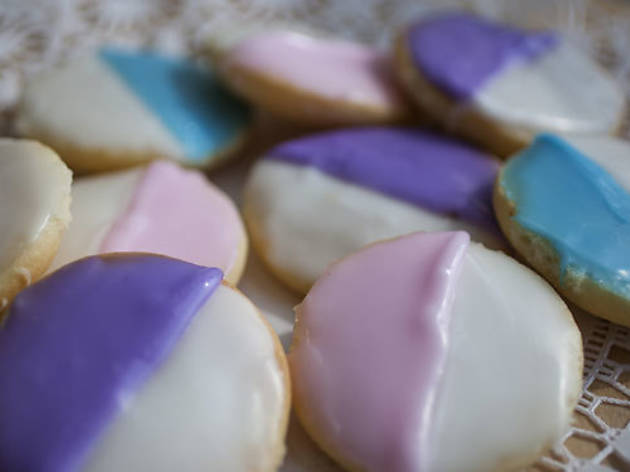 7/10
Photograph: Laura Gallant
William Greenberg Desserts This famed Upper East Side bakery offers a Big Apple favorite in a little package. Their mini black-and-white cookies, coated with a layer of rich chocolate and vanilla frosting, come frosted in the classic style, or customized in your choice of colors (pick from red, blue, pink and more). 1100 Madison Ave between 82nd and 83rd Sts (212-861-1340, wmgreenbergdesserts.com). 18 black-and-white minis (or custom colors) $27.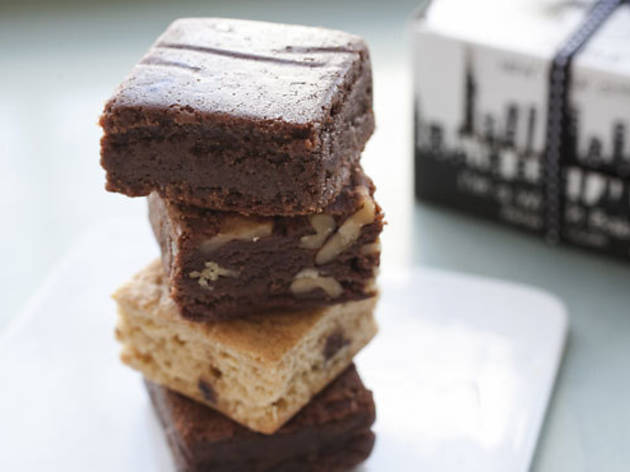 8/10
Photograph: Lauren Spinelli
Fat Witch Bakery The delightful packaging on these individually wrapped brownie bites makes the fudgy treats great for arranging on a dessert table or sending home with party guests in goody bags. The classic, caramel, walnut and blondie Witch Babies (tiny versions of their signature Fat Witch brownies) will be a hit with chocolate-loving kiddos. 75 Ninth Ave between 15th and 16th Sts, (888-419-4824, fatwitch.com). Witch Babies $1.85 each, gift box 8 for $17.95, 16 for $33.95, 24 for $46, 36 for $68, plus shipping.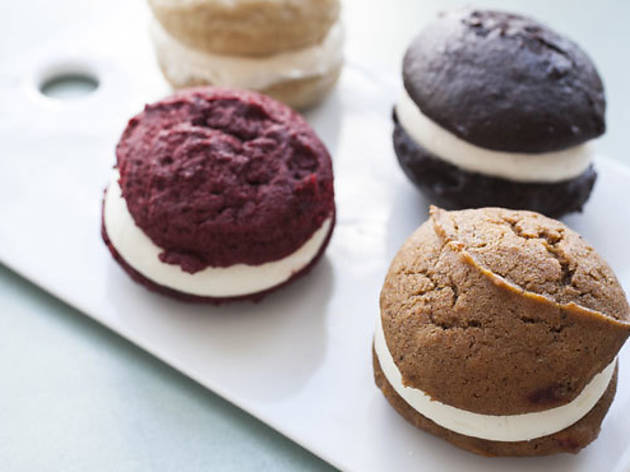 9/10
Photograph: Lauren Spinelli
Baked Almost as fun to say as they are to eat, these wee whoopie pies will win over parents and kids alike as a tasty and whimsical birthday dessert. Two pillowy, not-too-sweet cakes in heavenly flavors, like pumpkin, red velvet, chocolate and banana, sandwich a rich buttercream frosting filling to make a fun, handheld confection that rivals any traditional layer cake in flavor. 359 Van Brunt St between Dikeman and Wolcott Sts, Red Hook, Brooklyn (718-222-0345, bakednyc.com). Mini whoopie pies $2.25 each.
10/10
Photographer: Laura Gallant
Twelve Oaks Bakery There's something about food on a stick that makes it more fun to eat! Ditch the forks and paper plates and hand out cake pops instead—dense yet moist cake balls dipped in frosting and presented on an easy-to-hold stick (or in ruffled  cups for cake bites). The decadent sweets are a playful riff on traditional birthday fare and come in a variety of flavors, including vanilla, chocolate, red velvet, cookies and cream, peanut butter cup and even funfetti. Delivery in Manhattan and some areas in Brooklyn (646-460-0641, twelveoaksbakery.com). Cake bites $2.75 each, cake pops $3 each, minimum order 24, add $10 for more than one flavor. Cake pop stands $10–$15. Delivery $15–$20.
Bite-size birthday treats for kids
These ten tiny desserts are perfect for pint-sized party guests! Bring them out at your next birthday bash for a no-fuss treat the kids will eat right up.
No matter which birthday party place you choose for your tyke's celebration, delicious desserts will be a must-have element to make the fete a sweet success. Kids will always love birthday cake and ice cream, but the traditional party fare can lose its luster when repeated year after year. For your next bash, try out these ten miniature confections on your party gests—from teensy doughnuts to decadent milk-and-cookie shots.
Click the right arrow on the image below to see our best kids' cakes.