Ramen in NYC for kids and families
Grab the best ramen NYC has to offer! These bowls are worth the trip, plus the kids will love 'em.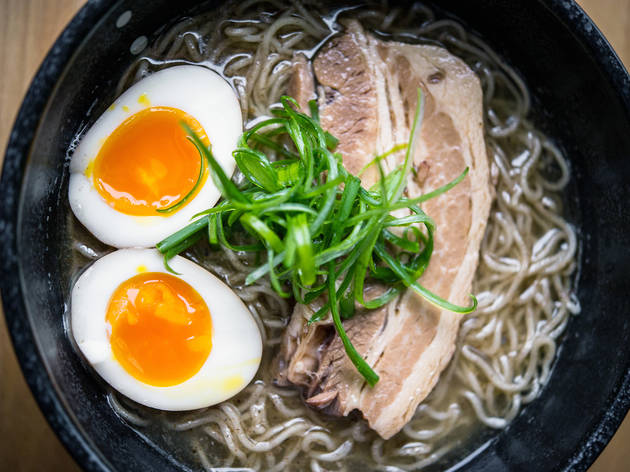 Have you and the kids enjoyed the best ramen NYC has to offer? If you haven't (or if you're an aficionado looking for your next great bowl with the kids in tow), here's where to look. These sweet ramen joints offer everything from kid-friendly meal options to stroller storage and cozy seating. Don't forget to explore our other favorite family restaurants, farm-to-table restaurants and restaurants where kids eat free!
What are your favorite ramen places in the city to bring the kids? Be sure to let us know in the comments below!
Nom on some Crispy Gyoza ($9) or Spring Rolls ($9) while you wait for your delicious bowl of ramen. The littles will dig selectons like the Ganso Kakuni ($14, pork belly, ajitama egg, greens) and Tasai ($14, shiitake-soy milk broth, thick fried tofu, moyashi sprouts) whil you might try the Spicy Soboro Miso ($15) with ground pork, pork belly and greens. Ask your server for kids' dishes and kid-sized ramen selections if your mini mes can't handle the full serving. Additionally, Ganso has children's seats on offer, a changing table in the bathroom and they're happy to store folding strollers for you while you eat. 25 Bond St, Brooklyn (718-403-0900, gansonyc.com).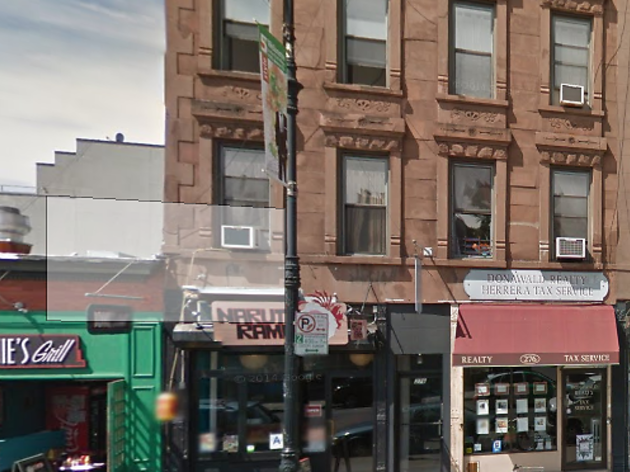 We love ramen…especially when it's conveniently located in the heart of family-friendly neighborhood Park Slope. Naruto is known for its sizeable portions and thick, wavy ramen, so grab a bowl of the Naruto Ramen ($9, soy sauce-based noodle soup with bamboo shoot, boiled egg scallion and roast pork) or Miso Ramen with soy bean-based noodle soup featuring beansprout, fish cake, boiled egg and corn, also $9. There are roughly six tables in the back (plus a counter with a handful of seats) for chilling with the little ones. Plus, you can walk over to Old Stone House and JJ Byrne playground (at 5th Ave and 3rd St) when you're done eating. P.S.—Make sure to bring some bills, because this noodle joint is cash only! 276 5th Ave, Brooklyn (718-832-1111, narutoramenex.com).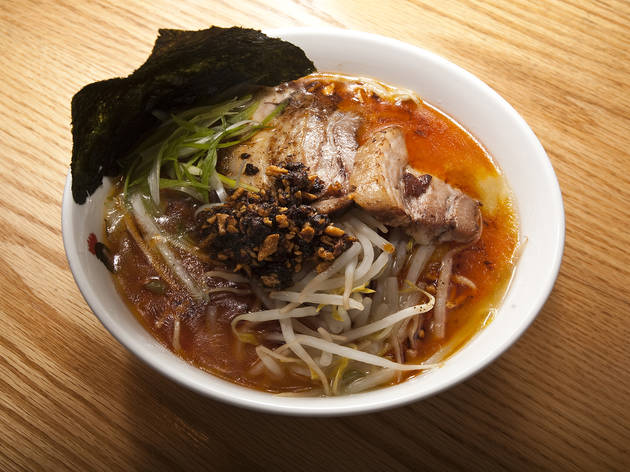 Totto Ramen Hell's Kitchen
This cool ramen spot is roomier than most (plus there are two other locations around the city to get your fix)! Squeeze in with the kids for generous bowls of homemade noodles, scallions, Koji miso and melt-in-your-mouth slices of char siu pork. We'd recommend the Miso Paitan Ramen ($12) for the little ones, and they'll love picking their own toppings like bamboo shoot and seasoned avocado. 464 W 51st St (646-596-9056, tottoramen.com).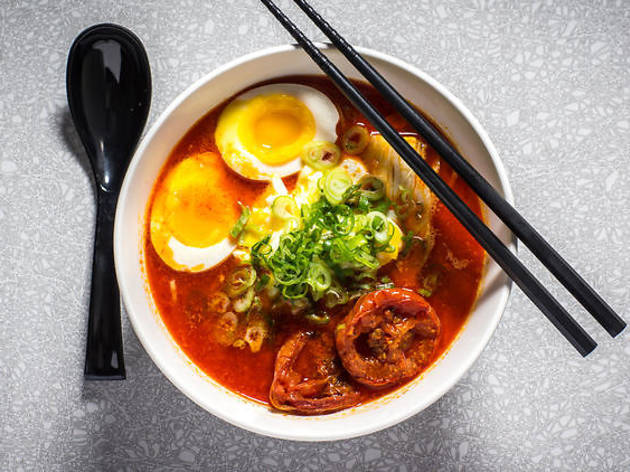 Ivan Ramen Slurp Shop (Gotham West)
Slurp up some Roasted Garlic Mazemen ($13) with chicken broth, nori and pork belly or Tokyo Shio Ramen with sea salt, pork belly and dashi ($12) at this lively lunch spot. There are also delicious rice bowls on offer, including slow-cooked Pork Donburi ($12, small $7) and Ginger Chicken Donburi ($11, small $6). There's plenty of seating throughout Gotham West (with outdoor seating in the warmer months), and if your kiddos decide last-minute that they can't possibly eat a bowl of delicious ramen (as kids do), there are plenty of other options in the food hall. 600 11th Ave (212-582-7942, ivanramen.com).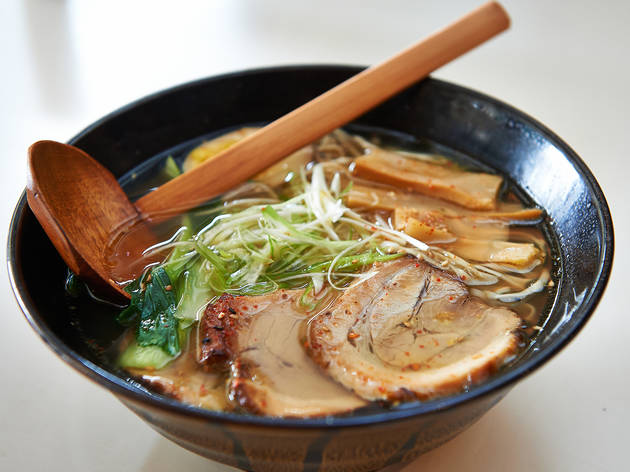 Start off with a handful of edamame tossed in sea salt ($4) and chicken gyoza dumplings ($6) before diving into Jin's extensive ramen selection. For spicy ramen-loving parents, try the Green Coconut Thai Curry ($14) or Spicy Tonkotsu Ramen (with rayu, spicy soybean and roasted garlic paste, also $14). Little ones may prefer more mild (but equally delicious) options like Shio Ramen ($12), which is considered to be the lightest ramen out there, or Tonkotsu Ramen ($13) with pork bone. 3183 Broadway (646-559-2862, jinramen.com).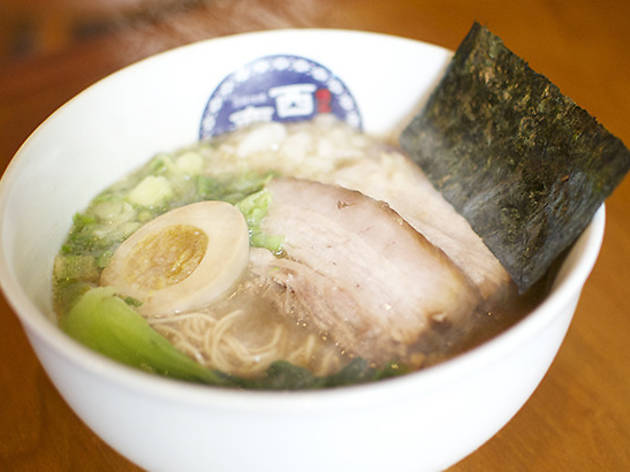 There are tons of ramen bowls to try at Nishida—plus, you have the option to top them with things like homemade chile oil, egg, corn, bok-choy, pork belly and extra noodles! Try the Original Kakuni Ramen ($10) for the little ones. Families will definitely love this place for its cozy vibe and affordable menu. 302 E 49th St (646-271-1443, nishidasho-ten.com).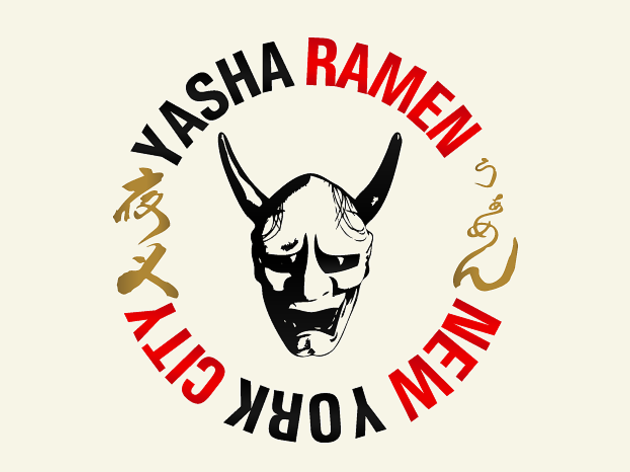 Grab a heavenly ramen bowl at Yasha Ramen (and never mind the scary mascot near the signage). You can snack on Yasha's Pork Buns (2 pieces $6) or Tatsuta Age ($7, deep fried boneless marinated chicken) before ordering the Children's Ramen ($6.50 with chicken broth, cha-shu chicken and bamboo shoots) plus a Yasha's Tonkotsu Ramen ($13.50, pork broth, cha-shu pork, scallion, nori seaweed) for yourself. Top the meal off with some amazing Mochi ice cream in green tea, strawberry or classic red bean ($4). 940 Amsterdam Ave (212-222-2995, yasharamen.com).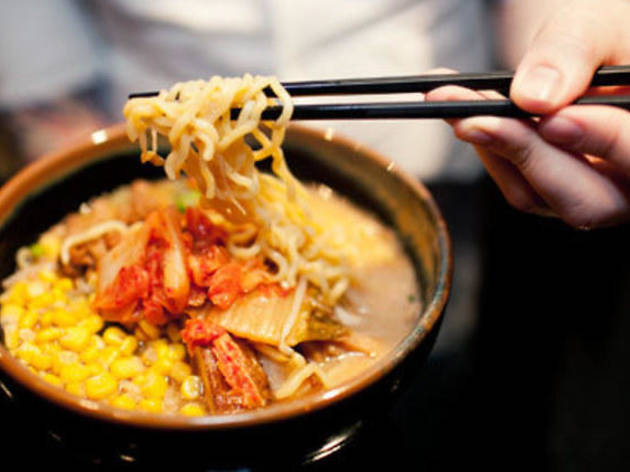 Ramen Misoya is known for specializing in three types of ramen: Kome Miso, Mame Miso and Shiro Miso. Options include milder Mame Miso Ramen and Miso Kara Age ($12 and $14.50 with fried breaded shrimp and fried ginger chicken) and wilder Kome and Shiro Miso Spicy ($12). 129 2nd Ave (212-677-4825, misoyanyc.com).